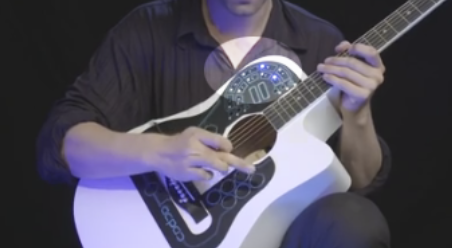 image via – youtube.com
When Berlin based musician Robin Sukroso wanted to be able to play his two favorite types of music together simultaneously he had to get creative. Nothing on the market was available at the time that would allow him to blend and play both electronic and acoustic music together at once. Which is why he set out to design a piece of equipment that delivered both types of sound and could be easily attached to a guitar.
What you see and hear in this video, uploaded to his YouTube channel RobinSukroso, is the end result of three years of research, development, and trial testing. It's called the ACPAD and it gives guitar players the ability to blend acoustic and electronic music sounds with the touch of a finger. One only needs to slap the ACPAD onto a guitar, via its self-stick-on feature, and they are ready to go.
There are no wires to mess with since it's powered by a rechargeable battery or invasive screws that could damage a guitar and the alter the sounds it produces. Watch closely in the initial few seconds of the video and you can see how quick and seamlessly it sticks right onto the guitar. Once it's attached you can play right away and create custom music by simply touching the tap pads, which can be assigned different sounds.
The quality of the device is clear as soon as you see and hear it in action. The song played in the video is unbelievable. The ACPAD creates a number of completely new auditory sensations that I personally have never heard before. The way he is able to blend and mix acoustic and electronic sounds is magic to my ears and the effect is mesmerizing. He basically is turned into a one man electronic orchestra with the ACPAD attachment. If you heard this at a show you would think how on Earth is he doing that?
Sukroso is definitely a talented and innovative musician. His design sounds good, easily incorporates onto a guitar without damaging it, is slim and portable, and looks cool as well. To get it on the market he has launched a Kickstarter campaign, so be sure to check it out if you are interested. If this one incredible sounding demo is illustrative of what it can do, then I can't wait to hear the new music people come up with the help of this new technology!
Please Share With Family and Friends