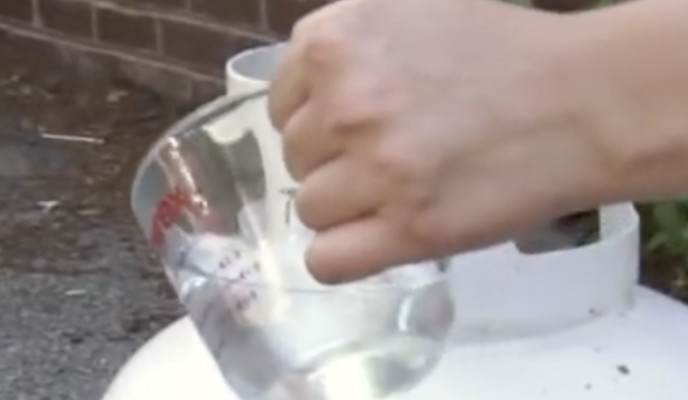 image via – youtube.com
Nothing tastes quite as delicious as food barbecued on the grill in the summertime, it just hits the spot. Everything from meat to corn on the cob and every other veggie under the sun takes on a whole new dimension of flavor when barbecued to perfection. There's also nothing worse than finding out that you're low or close to running out of gas right when you're about to start grilling!
It happens, usually at the most inopportune times, especially if your propane tank doesn't have a gauge on it. However, rather than abandon your BBQ plans you can try this neat little trick from America's Test Kitchen to measure exactly how much propane is left in the tank. That way, you won't ever run out of gas unexpectedly ever again.
First, boil up a pot of water and bring it outside to where your propane tank is located. Carefully pour the hot water all around the tank and down every side, making sure that the entire thing is covered. Next, feel around the tank with your hand and test areas to see if they are warm or cool.
Warm spots indicate that the tank was heated up by the water because with no gas to cool it down, there's no propane at that level. Cool spots indicate the opposite. Where the tank is cooler to the touch is the level the propane is at. That's because the liquid in the tank is absorbing all the heat, leaving the surface cool to the touch.
So the next time you are unsure about how much propane is left in your grill's tank simply unleash your inner MacGyver, boil up a pot of water, and drip it down and around the tank. Cold spots will reveal the level and you can go from there.
Check out the video for more details and to get a better visual idea, and don't forget to pass it on and enjoy!
Please SHARE This With Family and Friends