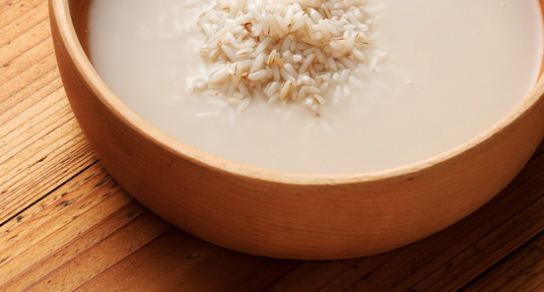 image via – shutterstock.com
The next time you cook rice for dinner, make sure to save the leftover water it was boiled in. Rice water, that milky white liquid you're left with, is brimming with all sorts of vitamins and minerals that your body craves.
Japanese women have used it for centuries in their health and beauty routines to make their hair shine and skin glow. It's one of the easiest and all natural ways to effectively moisturize and protect hair and skin, plus it's super affordable and you get a meal out of it!
To get the most out of rice water, you should aim to use organic rice and distilled water. First rinse the rice off and then simply boil it, drain the excess water into a container, and allow it to cool. Now you can use it right away or pop a lid on and store it in the refrigerator for later use.
Below are some of the most common ways that people use it in their health and beauty routines: Facial cleanser and toner- After washing your face, soak a cotton pad in rice water and gently apply it all over your face and neck area.
This helps to even out skin tone, as well as smooth and tighten it, and your skin will feel soft and moisturized. The antioxidants and B vitamins in it help slow aging and protect skin against the harmful effects of UV radiation by preventing age spots.
Hair treatment- After shampooing and rinsing your hair, drench it in rice water. Massage it gently into your hair and scalp and allow this to soak for about 5 minutes. Rinse well with plain water and do this once or twice a week for best results.
The proteins in the rice water strengthen and fill in cracks in hair shafts, leaving you with silky smooth, shiny hair. Full body soak- Add some rice water to your bath, or place a ½ cup of rice in a muslin bag and drop that in the tub.
Sit back, relax, and soak it all in for at least 15 minutes. Taking a rice water bath is an excellent way to alleviate painful or irritating skin conditions, like eczema and rashes. The moisturizing and healing properties of the rice water helps to reduce inflammation and restore moisture to skin.
There are other ways to harness the powerful benefits of rice water, the three above are the most simple and main ones. Check out the video for more easy and effective ways to work it into your beauty routine.
Try them out and see what it can do for your hair and skin!
Please Share This With Your Family and Friends