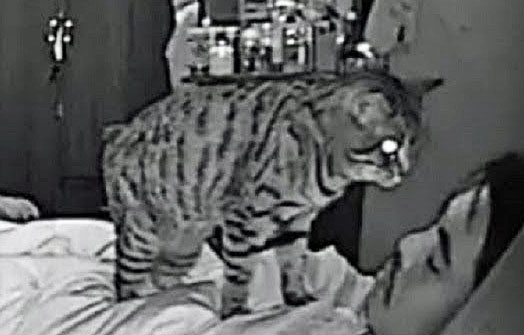 image via – youtube.com
If you have a cat or know anyone who has a cat you are probably pretty aware that these majestic creatures can be quite strange and weird and times. Unlike their canine counterparts, they do not seek constant affection and seem to do just fine on their own. That isn't to say that cats don't like getting affection and attention, they do it's just on their own terms when they feel like it. Cats are mysterious and amazing creatures and that is why they are one of the most popular pets in the world.
A man in Thailand had a weird feeling his cat was up to something at night while he was sleeping. As many people know cats spend most of their time sleeping during the day and then become quite active at night. This is pretty standard, as cats like to run from room to room as fast as they can making strange sounds and acting completely crazy as soon as the lights go out. However, this man had a suspicion that his cat was up to something even stranger.
He decided to set up a hidden camera while he was sleeping to try and catch his feline friend in the act. The footage is just absolutely adorable and hilarious. I don't want to give too much away because it is all captured in the video below.
During the night the footage is comical as he sits closely by his human and just stares at him. Then multiple times he climbs directly on his face. A lot of the night he just sits on top of his human guarding him like a lion would guard his cub. But the best part which you will see in the video below is the next morning when somehow this kitty realizes that there is a camera and he is being filmed without permission!
Watch the video below for the hilarious footage this man caught:
Please SHARE This With Family and Friends