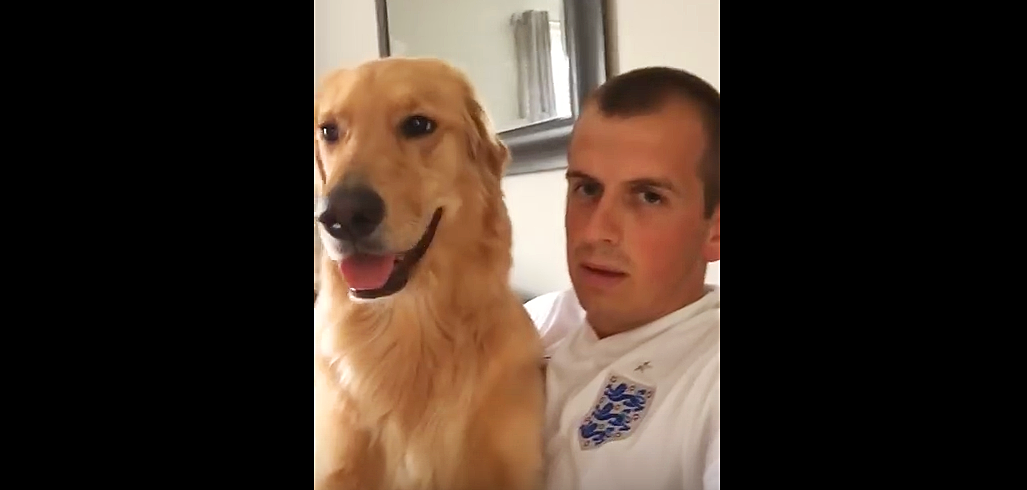 image via – rumble.com
The natural reaction is to smile and congratulate someone when they tell you that they are expecting a baby on the way. After all, it's a major milestone in life and wonderful, big news to break! Most people break out into smiles and there are happy hugs exchanged all around, some even cry and get quite emotional. There's often a wave of excitement and an unmistakable buzz of anticipation spreads across the room.
Some people however, usually family members, don't react so happily to baby news. Most of the time it's an older sibling who doesn't want a new little brother or sister in the family. They're usually still too young to understand and one of the biggest concerns seems to revolve around the thought that the new baby will take all of mom and dad's attention away from them.
Sometimes even our pets find baby news hard to take in. They're part of the family too and fur-babies in their own right! Such was the case for this funny and adorable Golden Retriever who really wasn't ready for a new sibling. When the dog's owner, John Bache, sat him down on the sofa for a man to man talk the Retriever adorably crawled up onto his lap to get even closer and snuggle.
When the moment of truth finally arrived Mr Bache told his dog in a very straight forward manner that "Someones going to have a baby brother." Upon hearing the big announcement the dog's face and behavior changed instantly and dramatically. He stopped panting, closed his mouth, and whipped his head around to face towards Mr. Bache. The Retriever seemed alert and yet at the same time he suddenly appears to be far away as he gazes off into the distance, as if searching for something.
It's quite a strange reaction but who really knows what was going through his head at that moment. However, one thing does seem certain and it looks like he's really not all that excited about having a new baby brother!
The Retriever's funny response is definitely not what you'd expect when telling your dog you're expecting. The expression on his face is priceless so check him out if you need to laugh or smile!
Please SHARE This With Family and Friends 🙂