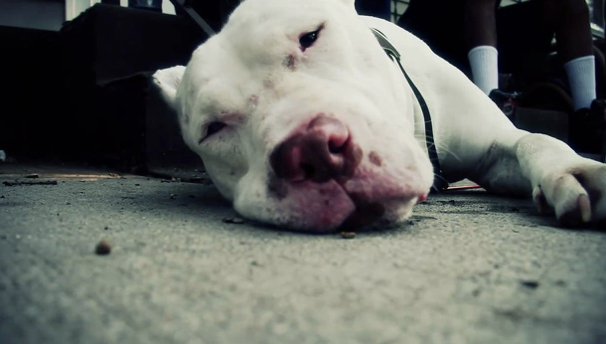 The story of Nico, a deaf Dogo Argentino, is so important.  He represents so many other dogs who have been abused, misrepresented and labeled as dangerous after living in animal shelters with no hope.  You will hear of Nico's devastating journey that almost brought him to the point of being euthanized.
Because of the posting  of his picture on Facebook, the attention he needed began.  The person who was to rescue him for a "death with dignity" was to bring him to the vet in order to be  euthanized.  However, she met a dog who was totally unlike his description.  The Nico she met did not appear to be dangerous.  She saw and felt his soul and his life changed forever.
Nico's journey from then on, was no immediate happy ending.  He needed veterinary care to remove many cancerous lesions, and he required a foster mom to begin his process of socialization, before he could have the possibility of being adopted by a family and have a forever home.
As you watch this heartwarming video you will hear the tale of his adjustment, his excitement at playing in his first snow and the unfortunate recurrence of his cancer.  His outcome is nothing short of amazing. Nico is a survivor of unimaginable physical and emotional trials, who turned out to be anything but dangerous.
He is a most affectionate dog… a real cuddler, who despite everything is getting to enjoy a life that at one time seemed completely hopeless. Make sure you watch this video to the very end, so you don't miss an adorable lighthearted moment.
Please Share this Amazing Rescue with your Friends and Family 🙂