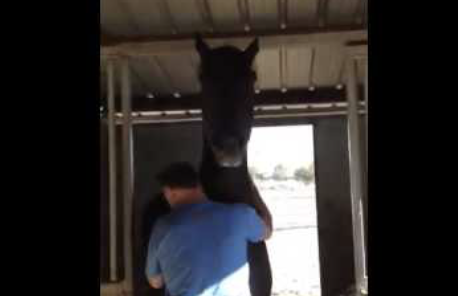 No matter what type of species an animal may be, they all seem to have one thing in common; they love getting pet and scratched. Whether it's a dog, cat, bear, elephant, human, and so on, animals always find comfort and relief in a good scratch. People even pay good money for a relaxing massage and it's easy to see why. When someone has the magic touch, it just feels good and you don't want it to ever end.
Which is exactly how a sweet horse named Levi felt about getting his neck scratched. Levi is a 14 year young Oldenburg gelding who resides at the Maxfield Equestrian riding center in Turlock, California. The huge horse absolutely loves having his neck scratched and rubbed.
In the video Tom Dunn can be seen giving him a pet and when Tom tries to walk away from the horse he is promptly stopped. Levi uses his long neck and teeth to gently bring Tom back in close for more pet-pets and the wonderful scratching his human hands provide.
For such a large and imposing horse, Levi is remarkably gentle and sweet, which is likely due in part to him being a gelding. He measures in at 18.1 hands high, which means his back is about 6 feet off the ground. To see just how big he is, look at where Tom comes up to him. Tom is 6'2" and the horse towers over him!!
Levi's owner summed up the big, softhearted horse best when he said "[He] is the biggest goof of any horse I have ever known. He convinces people to pet him by making faces and 'scooping you up,' as we put it." Check out how Levi gets more scratches and attention, and how big, he is in the video.
It'll put a smile on your face and make you wish you had a horse of your own to love!
Please Share This Video With Family and Friends