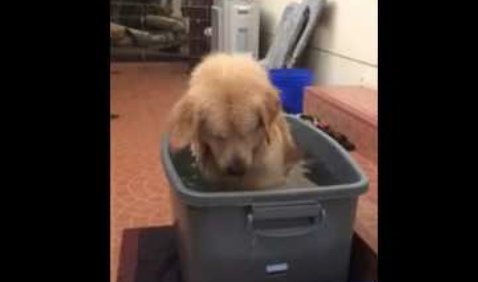 Golden Retrievers live up to their name as they were originally bred in the mid 19th century to find and recover game birds and waterfowl. Retrieving activities required the dogs to jump into all sorts of marshes, ponds, streams, and other bodies of water.
They had to be easily trainable and strong swimmers who didn't hesitate to get wet. Over the years the breed has become well known for their love of water, and with their naturally water-repellent coats, they are more than built for it.
Nothing demonstrates a Golden Retriever's natural affinity for water better than this video. In it an adorable, happy, and very playful puppy is taking a bath and cooling off on a hot summers day. He has the perfect tub all set up and it looks like there was no having to coax him into it!
He goes to town churning up the water, splashing it over the sides, and it seems as if he's trying to make bubbles and fizz by pushing it down so quickly. He looks so excited and overjoyed to be immersed in water and he's definitely getting a lot of energy out while doing his bath time activities.
Golden Retrievers are awesome companions and if you want a dog who will hang out at the beach and go swimming with you, look no further. They are sweet, loyal, trainable and even-tempered dogs who are perfect for families with young children.
Those traits, along with their intelligence, also makes them excellent service dogs, especially for the blind. The list goes on and on and there are so many other great qualities to this breed, but the one that stands out the most is their love for water!
Please Share With Family and Friends Who Need a Smile Today! 🙂