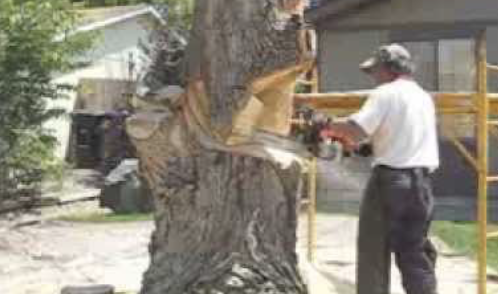 If you live in your own home, and are lucky enough to have beautiful trees on your property, you have lived through the heartbreak of losing them in large storms. Some may be hundreds of years old, or you may have lovingly planted them and watched them grow, year after year.
Sometimes it isn't a storm that's the culprit, rather precarious distance to your home may require removal, for safety's sake. Tree removal people eliminate the problem, but more often than not leave an unsightly stump.  In the case of the homeowner in the following video that you are about to watch, they were lucky enough to call Lueb Popoff.
Who, may you ask, is Lueb Popoff?  He is a man who could cut down her tree, but rather than leaving the dreaded ugly stump in front of her house, watch what he does! Lueb was a man with a mission.
After cutting down the tree and removing it, he left a big enough stump and within 2 weeks, with his chainsaw and some smaller tools, Popoff created a masterpiece! It is literally a sculpture that anyone would be proud to have grace their home.
In the 2-minute video below you will be mesmerized by what he created in two weeks time. The finished product is astoundingly lifelike!
Please SHARE This Mesmerizing Video With Your Family and Friends