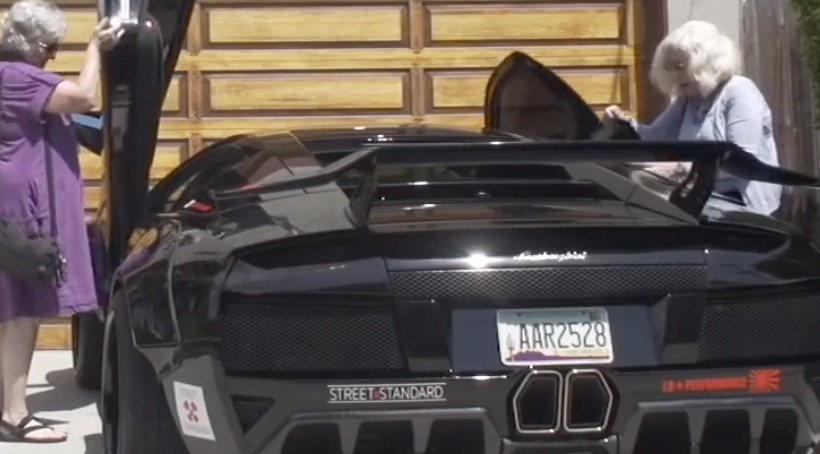 image via – youtube.com
They say that laughter is medicine. If you haven't had your daily dose yet, do yourself a favor and check out this video. It's hilarious, adorable, and refreshingly PG. The concept explored in it centers around the question of what happens when you give two grannies the keys to a 650hp Lamborghini Murcielago for the day? Hilarity ensues, and it's quite interesting.
The two grandmas, Audrey and Peggy, first have to figure out how to work the car's infamous vertical doors before they can head out. As they hop into the very powerful, very expensive, and very low slung supercar Audrey remarks "You call it 'lambo' I call it 'ghini'!" and with that they're off! Not so much, Peggy puts it into drive and almost hits the garage door. Once she figures out how to reverse, they're off!
The pair are headed out to do some errands and head to the grocery store. On the way there everyone they pass by stares and turns their heads, some even take pictures. The exotic car is a natural attention grabber and the fact that two grandmas are driving in it, with one waving out the window like royalty, make it nearly impossible for anyone to not stop and stare! Their banter back and forth is hilarious, they refer to themselves as "Lamborghini Queens" and giddily live it up. These two know how to have a good time and seem more like teenagers than someone's grandma.
By the end of the video they're attracting a lot of male attention with the help of their hot new ride, and even pick up a nice old man in the grocery store parking lot! I wonder if they ever figured out how to open the trunk so they could put their shopping bags away….
Please Share This Hilarious Video With Family and Friends Who Need A Smile Today 🙂