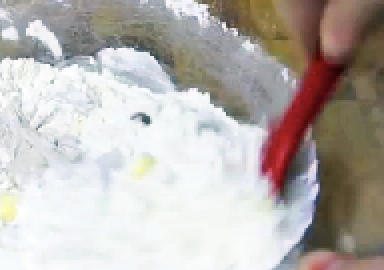 image via – youtube.com
This heavenly sounding recipe for cookies n' cream flavored ice cream bread may sound too good to be true, but it's real and it's delicious. With just two simple ingredients you can whip up a tasty loaf of your own ice cream bread and this quick, easy to follow recipe is sure to please all types of palettes.
Children will love that it's made with the sweet treat and any sane adult will want to try it for themselves just as much, if not more, than the kids! Most breads can be tricky to make and are time and labor intensive projects that require exact measurements, kneading, rising, resting, and so on. This bread is the complete opposite of those types.
Instead, it is simple to make and requires little time on your part. Also, if you have an old carton of ice cream laying around uneaten in your freezer, that perhaps didn't live up to your taste-buds expectations, you can use it up here instead of letting it go to waste.
To begin, start by taking the ice cream out of the freezer beforehand so that it thaws to a smooth, creamy consistency. You are going to need 2 cups of ice cream and may use any flavor you desire. In the video, by CookingwithKarma, cookies n' cream flavored ice cream is used and according to the comments in the discussion under the clip this is an excellent, very well-liked choice.
Place the thawed ice cream in a bowl and sift 1 ½ cups of self-rising flour over the top of it. This is also the time to add in any extras that you may want to bake into the bread, such as chocolate chips or nuts. You can get as creative and fun as you'd like, maybe add sprinkles to the batter to make it pop with color or swirl in chocolate sauce to marbleize it.
Furthermore, if you don't have self-rising flour simply add 1 ½ teaspoons of baking powder to regular flour. Once all the ingredients are in the bowl mix it all up and pour it into a bread tin. Heat the oven to 350 degrees Fahrenheit, slide the tin in, and bake for 40-45 minutes. When it's done and has cooled off, serve with fresh fruit or warm it up and drizzle on chocolate sauce, caramel, or perhaps a scoop of ice cream.
Really anything will compliment this sweet, yummy bread! Enjoy the recipe and watch the video below for detailed instructions!
Please Share This Delicious Recipe With Family and Friends 🙂