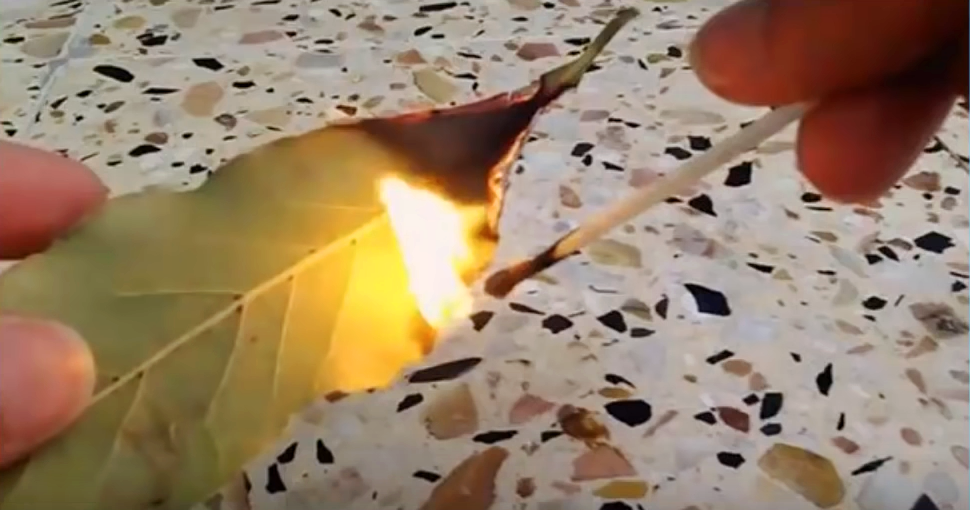 image via – youtube.com
Bay leaves are a common staple in many people's spice collections. The dried green leaves are most commonly used in cooking and many people drop a leaf or two in the pot to simmer along with their food. The heat releases the flavor and adds to the dish, but there are other ways to harness the power and benefits of bay leaves.
One such way is by burning the aromatic herb in order to release the active compounds that are found within the leaves. These properties can help to fight against bacterial infections, detoxify our bodies, improve cardiac and respiratory health, and even slow down the effects of aging. Here's more on what burning a bay leaf can do for you!
Ease Tension, Anxiety, and Fatigue to Help You Relax- Bay leaves contain compounds such as cineol, pinene, and elemicin that when burned produce a relaxing and energizing effect. These chemicals get released into the air and can be breathed in for the stimulating effects which have been described by many as feeling slightly psychedelic in nature. Here's how to do it:
Take a dried bay leaf and light one end of it on fire over a metal tray, glass dish, or any other type of fire-proof container. Once it's lit gently blow out any flames so that it smolders and place it safely on the container. The air will soon fill with smoke, don't breathe this directly. Rather, aim to breathe in the vapors it produces indirectly, as if it were incense.
Once the leaf has burned itself out and the smoke clears you should be able to feel the calming effects. You will be more relaxed and at ease and your mind will be clearer. At the same time, you will feel more awake and less drowsy, so if you ever feel stressed try burning a bay leaf!
Helps to Clear Respiratory System- Bay leaves are a natural remedy that can help treat clogged, backed up respiratory passages and lungs. It acts naturally to help break up and remove the nasty mucus and phlegm that's causing all the problems. Instead of burning the leaves, soak fresh ones in clean water or pick up a small vial of bay leaf oil and use it in a humidifier to create a steamy vapor which you then breathe in. You can also simply boil the treated water on the stove top or rub the oil on your chest area to alleviate respiratory problems, allergies, and asthma.
Helps to Improve Cardiovascular Health- Bay leaves are rich in a caffeic acid which is a natural organic compound that helps strengthen and support the heart's capillary walls. In addition, caffeic acid also works to eliminate low-density lipoprotein cholesterol (LDL), which is the bad type that no one wants in their cardiovascular system. Rather than burning or inhaling treated steam, add the bay leaves to your cooking and you'll take in all the heart healthy benefits by simply eating the delicious food you make!
Please SHARE This With Family and Friends