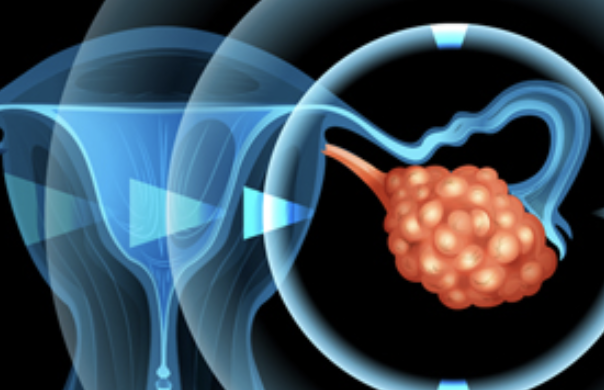 image via – shutterstock.com
I truly hate alarmist health reports, but when I came upon the video you are about to watch below, I did become a bit scared as I had been experiencing several of the symptoms discussed.  It is an unfortunate fact that generally speaking, most women are unaware, that OVARIAN CANCER does have symptoms associated with it.  More people do know that it is known as one of the "Silent Cancers", that gets diagnosed too late to prevent death.
The truth is that approximately 22,280 women in the United States will be diagnosed with ovarian cancer this year and 14,240 women will die.  It is not, however, true that there aren't any symptoms that can forewarn women to go see their doctor, and be tested to rule out the possibility of ovarian cancer.
This cancer starts in the ovaries, and if not caught in the early stages, can spread to the rest of the reproductive system.  The problem lies in the fact that symptoms of ovarian cancer get overlooked, because they can be associated with many less harmful health disorders.
If you have some of the symptoms that might be associated with Ovarian Cancer, ruling out the possibility, is a worthwhile action. Information is power!
There are 6 Commonly Missed Signs of Ovarian Cancer: 
The first is a SWOLLEN OR BLOATED ABDOMEN.  This bloating occurs as a result of a fluid, called "ascites", getting trapped in the abdominal cavity.  Unfortunately, this symptom occurs in the later phase of the progression of ovarian cancer, and obviously can be a symptom of many less serious health problems.  If this symptom occurs along with a couple of the other ones discussed, it would be prudent to see your doctor.
The second potential sign is a PERSISTENT PAIN IN THE ABDOMEN OR PELVIS.  Severe and unrelenting pain in this area, that goes on for a few days, should not be ignored!  It is a clearer sign that could be indicative of OVARIAN CYSTS or OVARIAN CANCER.
Women have hormones that control metabolism.  If these hormones get disrupted by ovarian cancer, a woman will experience the third often missed sign, which is a FEELING OF BEING FULL FASTER that can lead to DIFFICULTY EATING AS MUCH AS USUAL.
A fourth potentially missed sign of ovarian cancer may be an INCREASED NEED TO URINATE.  This occurs as a result of the buildup of the fluid discussed above, which presses on the bladder.  The problem, yet again, of this symptom being missed (by patients and doctors alike) as a symptom of ovarian cancer, is that bladder problems are a "normal health issue" that so many women experience.
When ovarian cancer spreads to the Colon, it can cause constipation or diarrhea.  This fifth potential missed sign of a change in BOWEL MOVEMENTS can also be a result of the fluid buildup pressing on the bowels.
For women who are pre-menopausal, a sixth potentially missed symptom of ovarian cancer that can be associated with other health issues, is SPOTTING BETWEEN PERIODS.  This is never normal if it persists, and should be immediately looked into.
Having one or two of the symptoms, that have been discussed, can obviously be attributed to a health problem that isn't as serious as ovarian cancer.  Having one or two of these symptoms is common for many women, which is why the diagnosis of ovarian cancer gets overlooked until it is too late.
The testimony of the women in the video below, speaks to the notion, that it is better to be safe than sorry.
Please SHARE this with your family and friends