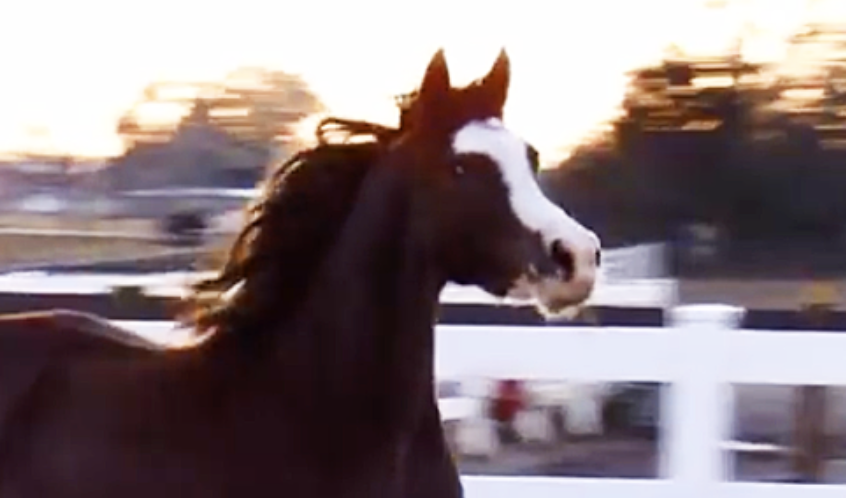 image via – youtube.com
No matter what type of animal our pets may be, they all have their own unique quirks and personalities. Whether it's a dog, cat, hamster, bird, horse, and so on, animals are always finding ways to make us smile and laugh and love them even more.
Some animals even take on and adopt human-like traits, such as dogs who sing and howl along to music and horses that dance! Which is exactly what one sweet horse named Silvr Lining was captured on tape doing. When she runs across the pasture it appears as if she's dancing.
Her movements are rhythmic, graceful, and unlike any other horse's I've ever seen. Her trot has some major flair and it's almost as if she's floating and gliding on air the way she bounces and moves her feet so effortlessly.
According to information posted along with the clip, on allanglos's channel, Silvr Lining is a 32 month old purebred black Arabian filly. She trots this way without any type of training or encouragement and simply loves to play and run around, doing it naturally as she trots.
The video of the her horsing around has quickly gone viral and captured the hearts and attention of people all over the world. You don't need to be a horse lover to appreciate this clip. It'll put a smile on your face and make you wish you had a horse of your own to love… and dance with!
Let us know what you think of this horse!
Please Share This Video With Family and Friends Who Need A Smile Today 🙂