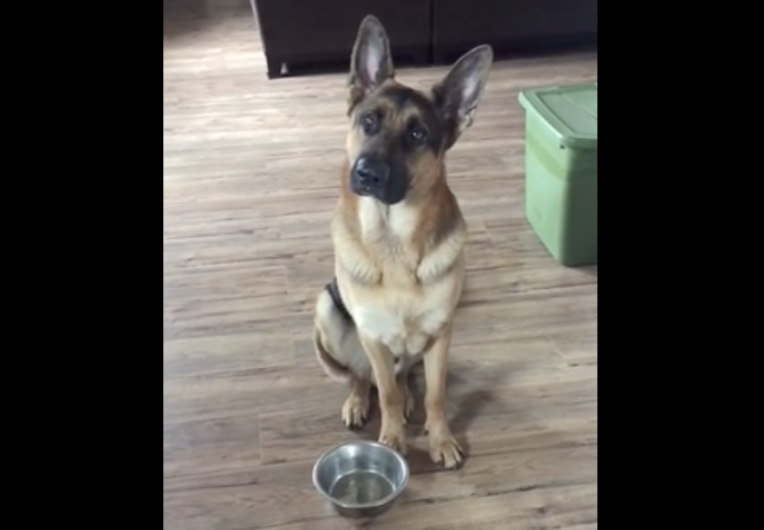 image via – youtube.com
Many of our beloved pet animals have voracious appetites. It seems that no matter how often or how much you feed them, they'll always want more tasty treats! For those types of endlessly hungry pets, you can't leave a bowl of food out for them to graze on, it will always be empty! If you want to keep them in shape and as healthy as can be, you have to limit their food and feed them on a schedule.
This seems to be most true when it comes to dogs. They often eat everything in sight and thus do best with set meal times. But just because a dog gets fed around the same time everyday it doesn't mean they still won't try to get some extra kibble in their tummies! Which leads us to this adorable video where one German Shepherd works his cuteness to his advantage in order to get more food.
The handsome dog's name is Apollo and like many fellow German Shepherds, he's very intelligent and perceptive. He starts off his begging by placing his empty metal food bowl in front of his owner in order to gain the man's attention. Then he paws at it so that the bowl clanks around noisily on the kitchen floor. When that doesn't work, Apollo heads over to his owner and nuzzles his hand, directing him to the pantry where his yummy food is kept. After pawing and sniffing at the bin for a bit he's finally asked by his owner "Are you hungry?" A swift, hungry sounding bark is what he gets in reply!
We soon find out that Apollo has already eaten his breakfast just a few hours ago and it's only just around noontime at this point in the day. Although it's not time for him to eat again just yet, his adorable persistence proves impossible to resist. In the end, it appears as if his owner has given in to his charms and is about to scoop some food into his bowl.
Please SHARE This With Family and Friends 🙂