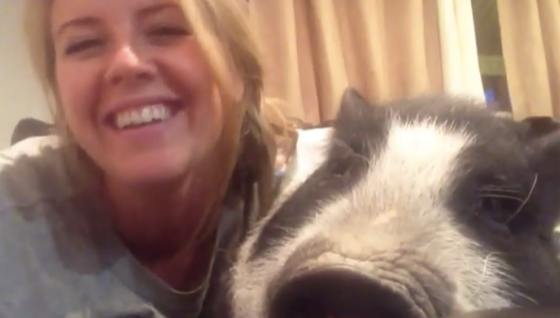 image via – youtube.com
Pigs are some of the most intelligent animals on the planet.  Not only are they smart, but they are filled with personality.  Meet a very funny pig, who may be just a slight bit grumpy. His human tries to communicate and cuddle with this adorable grumpster, but this piggy let's her know how she feels about cuddles.
According to her human he likes Oreos, pho, and dog bones but when it comes to cuddling, don't try it, unless he is in the mood! This big grumpy adorable baby is almost too much to handle. I feel like my heart is going to explode from his big goofy cuteness! This pig communicates in it's native tongue, with hilarious grunts and displeased grumbling.
It really is amazing how much of a personality these pigs have. I'd love to have one of these big cuddle bugs but I think he might just be a tad too much work. He is definitely a bit extra but I'd love to see him when he's out of his grumpy mood and into his cuddle mood!
Have you ever cuddled with a pig before?  Let us know!
Please Share This Hilarious Video With Family and Friends