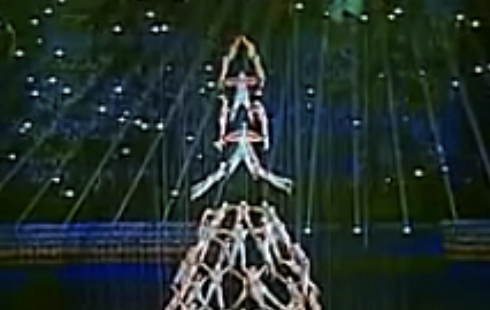 Combining dance and acrobatics, the opening ceremony of the Youth Olympic Games, is a performance  that is profoundly magnificent.  Held in Nanjing, the act named '500 People Dancing in the Sky', featured performances in the air and on the ground. Together, in unending graceful movements, (with the aerial performers attached with a large wire rig), they created formations of constantly changing trees.
The filming is done from so many different vantage points, creating magical illusions; at times the dancers did not even seem human! They created a magnificent work of art, with such fluidity, as they constantly changed shape.  The different angles captured in this video you are about to watch below, will take your breath away!
The close-up shots allow you to witness the intricacy and artfulness of each acrobatic movement, while the distant shots formed every-changing images of a "Human Tree".  Be sure to watch until the very end; it's stunning!
The performance is hypnotizing, to say the very least, so check it out in the video below and let us know your thoughts!
Please Share This Amazing Performance With Family and Friends