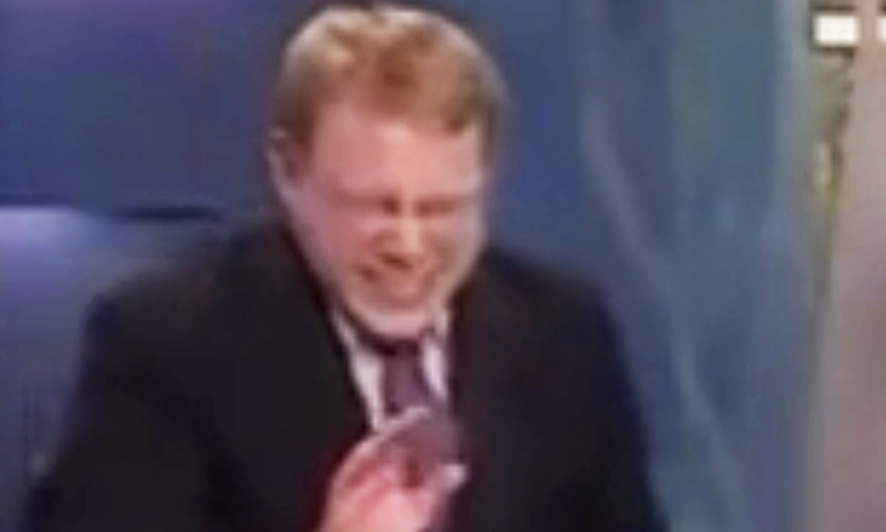 Television news anchors have to read many different types of stories live on air. It's the main part of their job to report on everything from breaking news to local and national events. While it may seem simple and straight forward enough, broadcasting live is not as easy as it seems.
On live TV anything can happen at any moment and newscasters have to be prepared for whatever comes their way. They need to be alert, informed, professional, and on top of their game. However, sometimes a story can throw an anchor off and make them lose all composure, like the reporter in this video!
The newsman's name is Robert Bradfield and he works for NBC's WPSD Local 6 in Paducah, Kentucky. Mr. Bradfield was nearing the end of a newscast one night when he came across a story about a disabled pot bellied pig. As he was reading the teleprompter the pig's name flashed across the screen and that's when he lost it! The porker's name, Chris P. Bacon, was just too much for him to handle and made him burst into a fit of giggles.
At several points Mr. Bradfield can't even breathe he's laughing so hard and as much as he tries to move on, he just can't seem to get over the pig's clever name. His laughter is full-on, out of control, and hilarious to watch! Eventually the newsman gives up on trying to read the rest of the story because he knows he can't, he even tries to have someone else read it but to no avail. His reaction is simply hilarious, check it out if you want to laugh along with him because his laughter is truly contagious!
Here's a little more background on the pig that the video missed, just in case you were wondering. Chris P. Bacon was born without the use of his hind legs and because of that he was brought in to a Florida vet's office where he was scheduled to be euthanized. Instead of putting the piglet down the vet, Dr. Len Lucero, stepped in and saved him. He fashioned his new pig a wheelchair to help him get around and a video he shared of the pig learning to use his new set of wheels quickly went viral. The rest is history. Now Chris P. Bacon is a celebrity pig who travels the globe. He attends fundraisers for the disabled and visits school children to spread his inspiring story of overcoming both the odds and his disability. He's really special and has a natural way of brightening everyone's day… and making news anchors laugh out loud!
Please SHARE This Hilarious Video With Family and Friends Who Need a Good Laugh Today 🙂