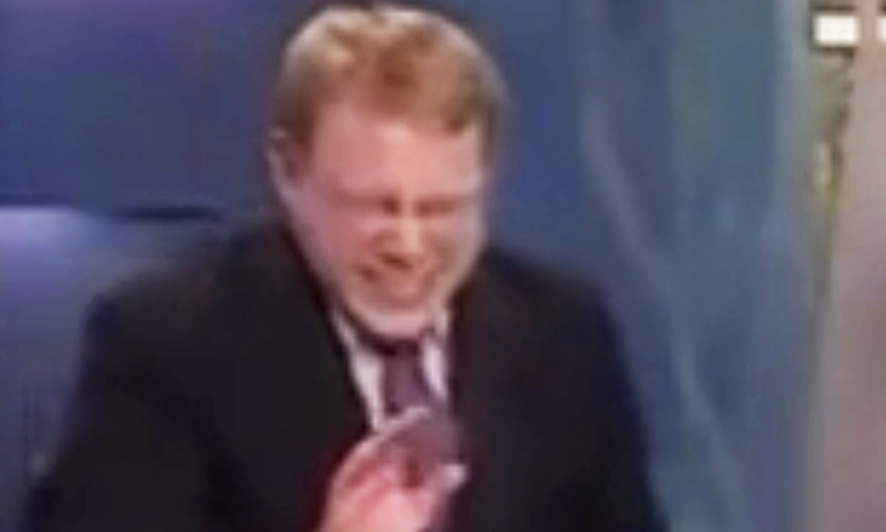 Television news anchors have to read many different types of stories live on air. It's the main part of their job to report on everything from breaking news to local and national events. While it may seem simple and straight forward enough, broadcasting live is not as easy as it seems.
On live TV anything can happen at any moment and newscasters have to be prepared for whatever comes their way. They need to be alert, informed, professional, and on top of their game. However, sometimes a story can throw an anchor off and make them lose all composure, like the reporter in this video!
The newsman's name is Robert Bradfield and he works for NBC's WPSD Local 6 in Paducah, Kentucky. Mr. Bradfield was nearing the end of a newscast one night when he came across a story about a disabled pot bellied pig. As he was reading the teleprompter the pig's name flashed across the screen and that's when he lost it! The porker's name, Chris P. Bacon, was just too much for him to handle and made him burst into a fit of giggles.
At several points Mr. Bradfield can't even breathe he's laughing so hard and as much as he tries to move on, he just can't seem to get over the pig's clever name. His laughter is full-on, out of control, and hilarious to watch! Eventually the newsman gives up on trying to read the rest of the story because he knows he can't, he even tries to have someone else read it but to no avail. His reaction is simply hilarious, check it out if you want to laugh along with him because his laughter is truly contagious!
Here's a little more background on the pig that the video missed, just in case you were wondering. Chris P. Bacon was born without the use of his hind legs and because of that he was brought in to a Florida vet's office where he was scheduled to be euthanized. Instead of putting the piglet down the vet, Dr. Len Lucero, stepped in and saved him. He fashioned his new pig a wheelchair to help him get around and a video he shared of the pig learning to use his new set of wheels quickly went viral. The rest is history. Now Chris P. Bacon is a celebrity pig who travels the globe. He attends fundraisers for the disabled and visits school children to spread his inspiring story of overcoming both the odds and his disability. He's really special and has a natural way of brightening everyone's day… and making news anchors laugh out loud!
Please SHARE This Hilarious Video With Family and Friends Who Need a Good Laugh Today 🙂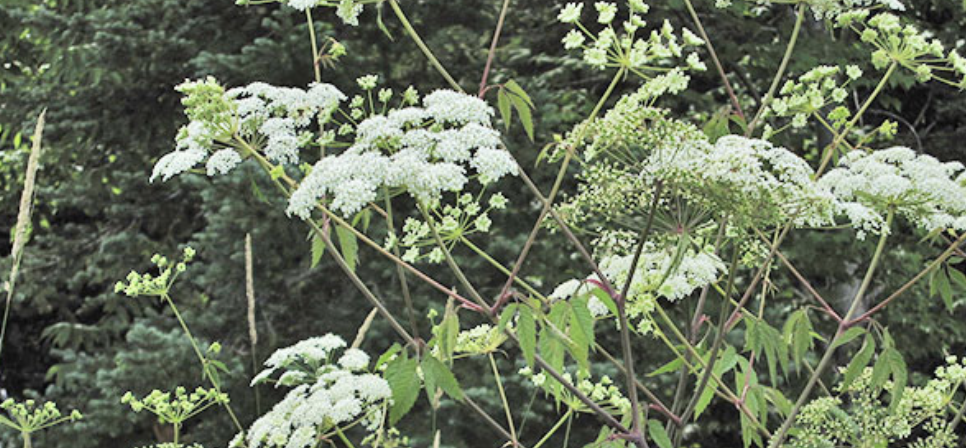 There is a renewed sense of urgency in spreading the word about a very common, dangerous and deadly plant that can kill a dog within an hour if any part of it is consumed. Water hemlock is the plant that is responsible for the recent death of a 3 year old Border Collie in Colorado, and it poses a risk to all animals as well as humans. The dog was out playing at Horsetooth Reservoir when she ate the plant, which is known as one of the most toxic plants in all of America. Soon after ingesting it she started panting and her tongue was hanging out, then she lost her motor functions and couldn't stand up, within 60 minutes she had passed away. The shocking death has many pet owners and lovers on edge, since the water hemlock plant is so widespread and common in North America, yet not many people know about its extreme deadliness.
The plant is most often found around moist, wet areas such as lakes, marshes, rivers, ditches, and streams. It sports serrated green leaves with sharply toothed edges and in the springtime it flowers with green or white petal blossoms that appear shaped as an umbrella.
While dogs are not drawn to the plant they could chew on it, plus owners and the public in general should be aware of the danger it poses. Even a large dog who eats just a few leaves can die within two hours, and smaller ones often succumb to it's toxic effects much quicker. In some instances dogs have been poisoned by hemlock roots that were soaking in water and thus had contaminated it. Symptoms from water hemlock poisoning in dogs show up within minutes after they ingest it and include dilated pupils, seizures, twitching, and drooling. Eventually the dog becomes paralyzed and soon after death sets in, so it's vitally important to get the dog to a veterinarian quickly. They need to induce vomiting as soon as possible and get the toxic poison out of the dog's system.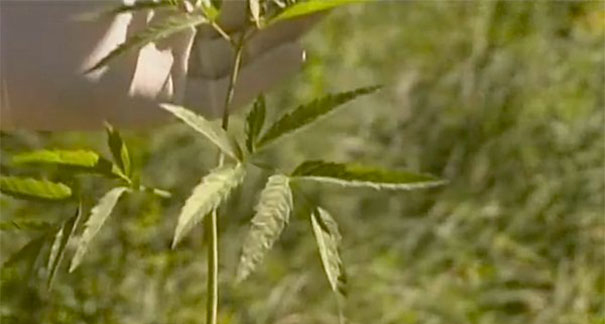 Please Share Information This With Family and Friends, It Could Save a Life!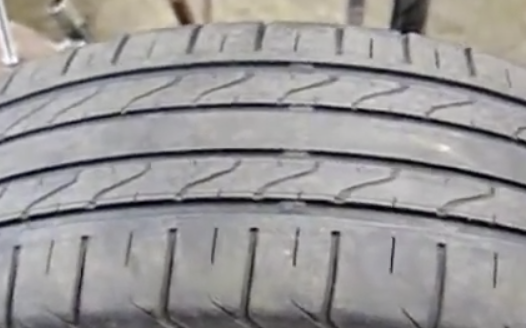 Hardly any vehicle owner looks forward to the inevitable day when they have to buy new tires for their car. The whole process is confusing and involves a number of different factors that need to be considered. Tire buyers have to determine what weather, climate, and season they will be driving in, the proper size, speed rating, tread design, and life expectancy or mileage of the tire, all while sorting through the many brands and prices that fit their needs.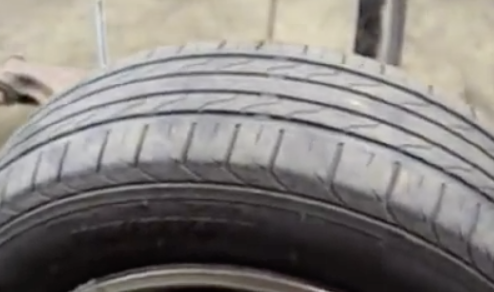 Proper tires are essential for safety and getting the most out of your vehicle, but brand new quality ones can cost around $150-200/tire on average.  The high cost of new tires is why so many people often buy used ones that sell for much less. Every year in the US alone some 30 million used tires are sold. Most often they end up replacing a single tire that was damaged or went flat.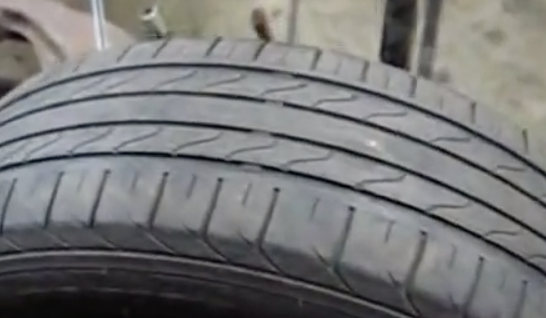 The problem with buying used tires is that they are not subject to any industry oversight. There are no legal standards set for them, or even a universal method of inspection that ensures consumers receive safe, quality used tires.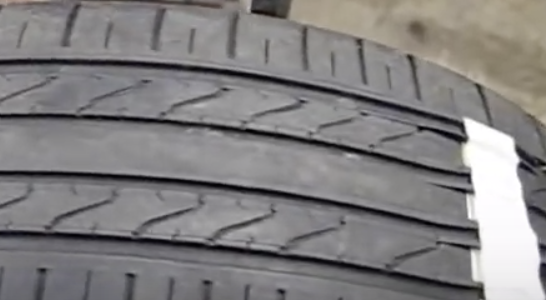 This has led to many scam artists taking old, worn out tires and re-grooving them into newer looking ones that they can sell as used for more money. These con artists re-condition tires by cutting new grooves into the tire, then they pull out the old rubber, and they even shave down the grooves on the edges or shoulders to make it look all the more unused and uniform.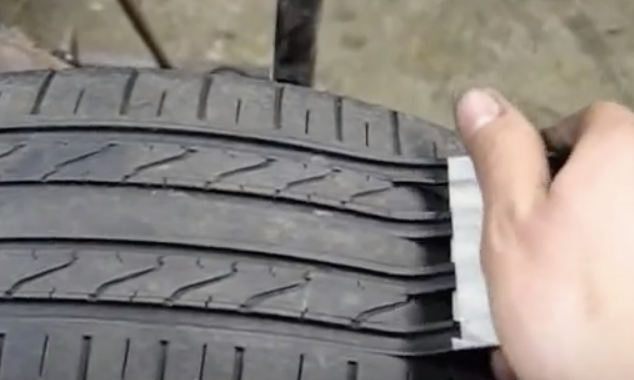 The video shows how easy and quick it is to make an old tire, that should be scrapped as junk, into one that can be sold second hand to an unsuspecting buyer. These stripped tires are completely unsafe and are much more likely to blowout or be punctured. The scam artists selling them don't care if the buyer gets hurt, kills someone, or dies, they are only concerned about getting more money.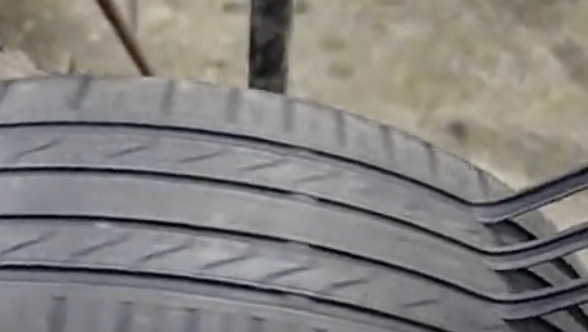 If the price of those used tires you may be eyeing sounds too good to be true, it probably is. Don't jeopardize your family's health and safety, not to mention everyone you encounter on the road, for the sake of saving a few dollars. It's just not worth it. Instead, buy from a reputable dealer or an authorized used tire retailer, and make the best, most informed, and safe decision possible.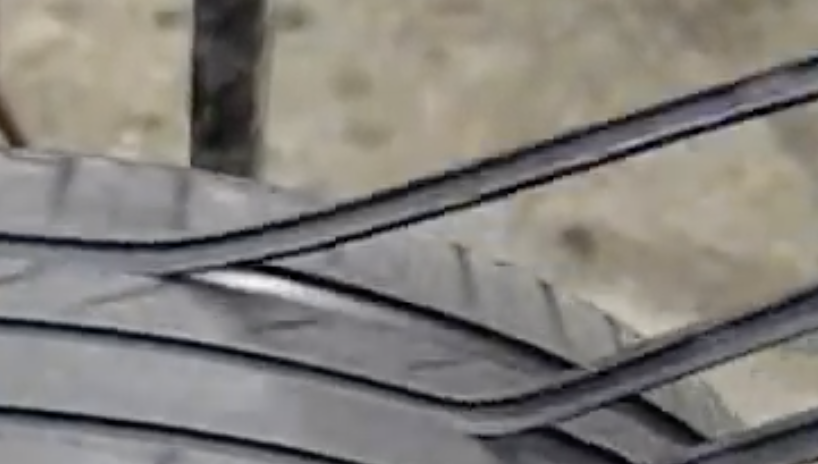 Please Share This Scam With Family and Friends It Could Save A Life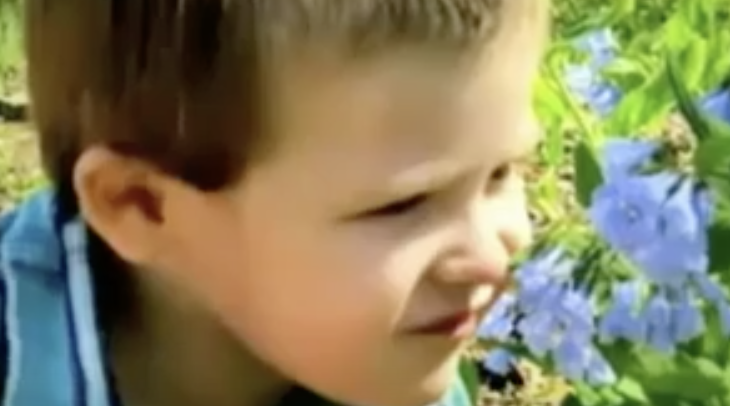 Matthew Radar was a happy and and healthy 4 year old little boy.  He was energetic, inquisitive, and just the perfect son to his mother Brianna Radar.  He happened to be a climber and loved getting perched up on high places in the house. One day Mathew was in the kitchen by himself and he got into the spices.  He got his hands on the cinnamon and put some inside his mouth.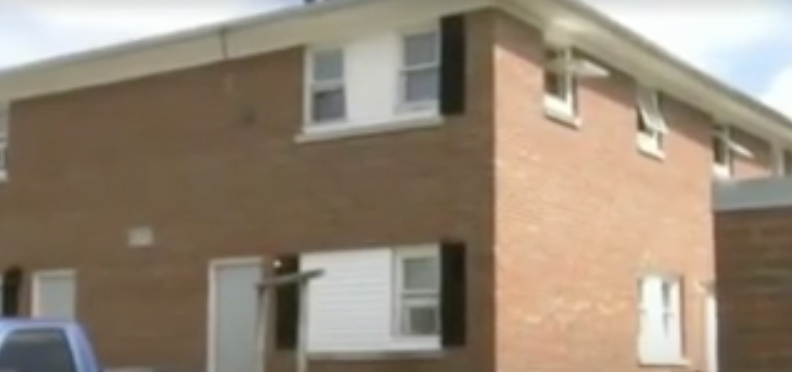 Moments later, he began coughing and choking.  When his mother found him he was on the floor having a seizure.  She immediately called 911 and he was taken to the hospital. Within 2 hours Matthew was dead.  His death was pronounced accidental by cinnamon asphyxiation.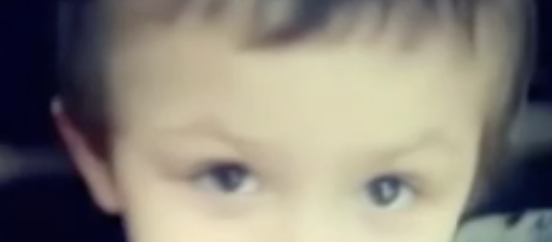 Brianna is now trying to get her story out there to try to prevent another tragic accident from happening. This is especially important for those who decide to take part in the 'Cinnamon Challenge.'  If you aren't aware, the 'Cinnamon Challenge' is a viral internet phenomenon where people take a full spoon of Cinnamon and try to swallow it whole in under a minute with no liquids.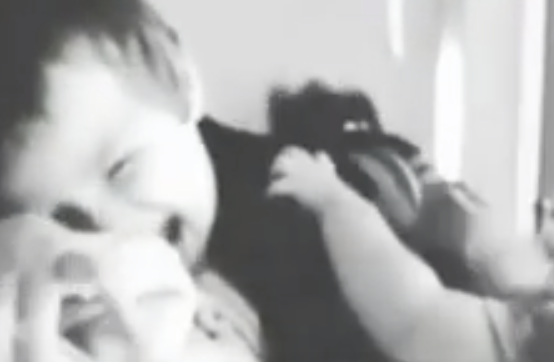 Many of the participants end up with breathing difficulties and some have even had collapsed lungs.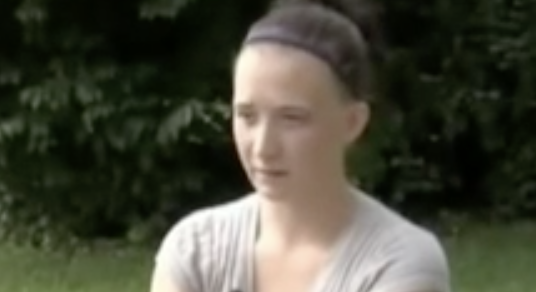 Please Share This Story With Family and Friends, It Could Save Someone's Life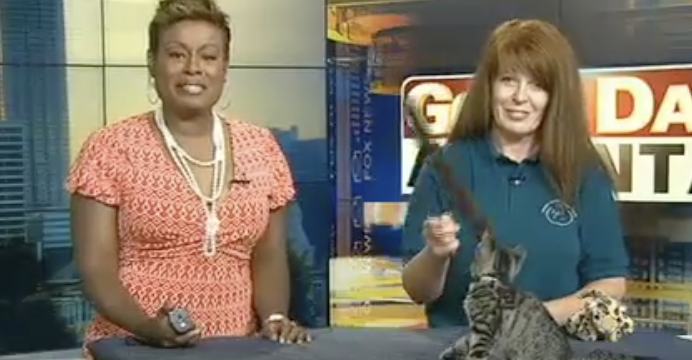 Anyone who has spent time around kittens knows how rambunctious, playful, and amusing they are.  The internet is full of videos showing cats behaving crazy and this kitten on a Fox 5 Atlanta's pet of the day segment can join their ranks.  Mister Meowgi is an adorable little domestic brown tabby kitten who got his name because he tends to meow a lot.  He was being featured on the live newscast because he would soon be old enough for adoption at the Humane Society of Cobb County.  While he was on air he took full advantage of the spotlight and showed the audience what he can do.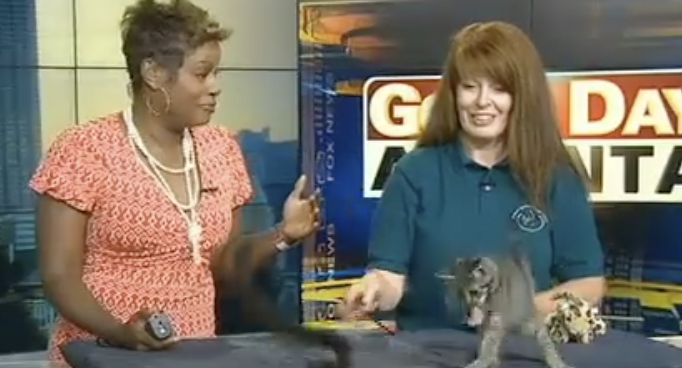 News cameras captured Mr. Meowgi performing an intricate and perfect series of back-flips off the news desk he was playing on.  He had been entertaining the ladies he was with, before the shot went live, by enthusiastically attacking and playing with a furry tailed wiggle toy.  Apparently the toy was too exciting for him and he had to ninja flip away from it.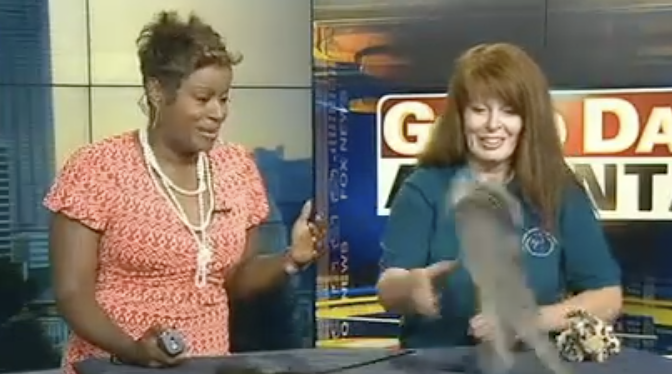 While the women tried to catch him as he fell, he was simply too evasive for their slow reactions.  Don't worry though, like most felines, he landed on his feet.  At that point his human companion decided it was best to pick up the little guy and hold him for the rest of the segment.  Even though he was secured in the woman's arms he was still feeling amped up, judging by how he chewed on her clothing and shirt collar.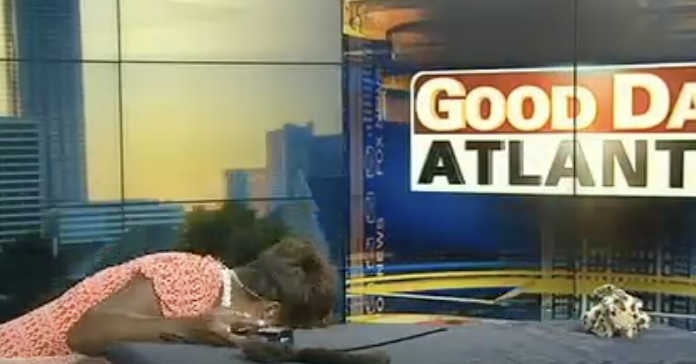 Videos like this brighten people's day, raise a smile, and hopefully make them think about adopting a furry friend to share their home and life with.  There are millions of adorable cats, dogs and other animals all over the world that need help and every donation of food, toys, blankets, time, and money helps.  If you are thinking of getting an animal companion don't buy them from pet stores, adopt!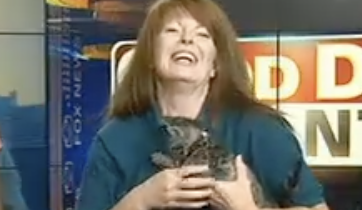 Please SHARE With Family and Friends