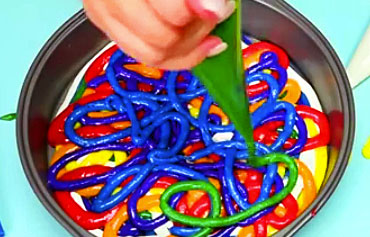 image via – youtube.com
There is nothing better than delicious tasty treats, all the incredible sweets are here in our lives to satisfy our sweet tooth with enticing and delicious yummies.  Everyone loves cookies, and traditional gingerbread, but there is nothing better than a really spectacular cake that just screams festivity!
What you are about to watch in the video below, is a tutorial for one of the wildest cakes you have ever seen.  It starts off looking like a big mess and ends up as a work of art!  It is named, "Rainbow Drip Candy Cane Cake", brought to you by "Cookies, Cupcakes and Cardio".
Not only is this cake a feast for the eyes, almost too beautiful to eat, but it tastes even better!  You will need: Candy canes in all different sizes and colors; Clear and light blue rock candy; Vanilla Cake Batter; Royal Icing and Vanilla Buttercream.  The batter gets separately colored into red, orange, yellow, green, blue, purple and white, and then follow our great baker as she shows us how to put this together.
I can't wait to try this out later this week! Will you be trying out this yummy recipe? Let us know!
Please SHARE This Recipe With Your Family and Friends 🙂