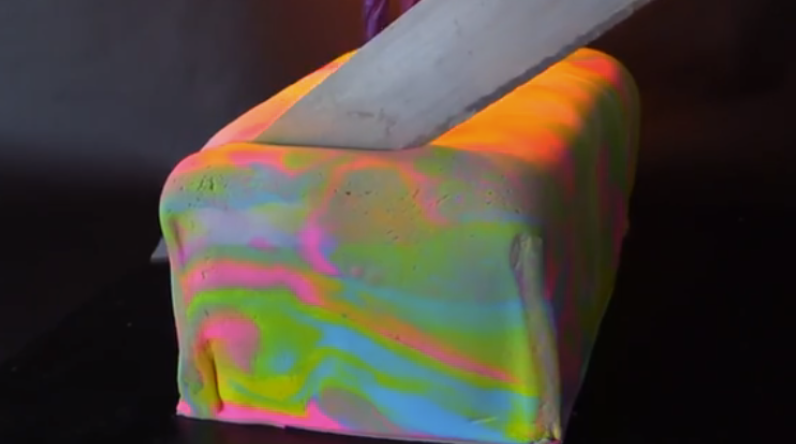 Have you been trying to make the perfect cake? Well you may have found the recipe here for the most awesome cake ever. The woman in the video uses cookie cutters to cut out different shapes to make rows of hearts. These hearts are marbled, but that's not where she stops. She takes the row of hearts she just put together and places them on a second cake. That way each slice of cake will have it's own heart!
This Rainbow tie-dyed heart surprise cake is not only beautiful but it is delicious as well. If you want you can swap the heart cookie cutter for any shape cookie cutter and have all sorts of different surprises inside when someone slices the cake open. I can't wait to try this out.
Watch the video below to learn each step to making this awesome cake. By the end of the video I was drooling! This recipe is sure to impress all your friends and family. Bon appetite! Enjoy! 🙂
Please Share This With Family and Friends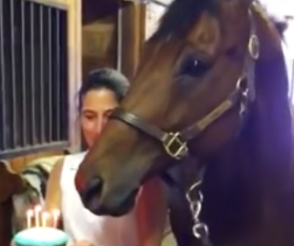 image via – rumble.com
Horses have huge personalities and are full of surprises. If you've ever spent time around them then you know how they're always finding ways to make us laugh and love them even more. Some horses even take on and adopt human-like traits. There are ones who have been caught doing things like talking, singing, and dancing along to music and more than a few have been observed blowing bubbles in the water to pass the time!
JD the horse is no exception to the rule, he's just full of hilarious surprises. He's always interested in what's going on around him and sometimes he reacts to things in totally unexpected ways. Being the social and affable horse that he is, he was naturally thrilled when his human companion Sarah threw him a little birthday bash.
To celebrate her beloved JD's milestone properly, Sarah bought him a festive gourmet birthday cake that was special made for a horses dietary needs. That way he could chow down on it without feeling guilty or sick the next day. After she gathered her friends together and lit the candles on the cake they all began to sing Happy Birthday to the big fella.
At the end of the song she told JD to blow out the candles and what he did next was hilarious. Not only did he blow out the candles like a pro, right after that he made the funniest horse face ever! He knows how to work a stable and a camera because the megawatt smile on his face was just magical, contagious, and downright fantastic!
JD happens to be the grandson of the legendary America Thoroughbred racehorse Secretariat who was a Triple Crown winner back in 1973. But don't let that fact fool you because while his grandfather may have been lightning quick fast, JD apparently didn't inherit his record-breaking speeds. What he lacks in swiftness he more than makes up for in personality and charm!
And that face, it's too cute, you have to see the expression he pulls for the camera so check it out and smile!
Please SHARE This With Family and Friends Who Need a Smile Today 🙂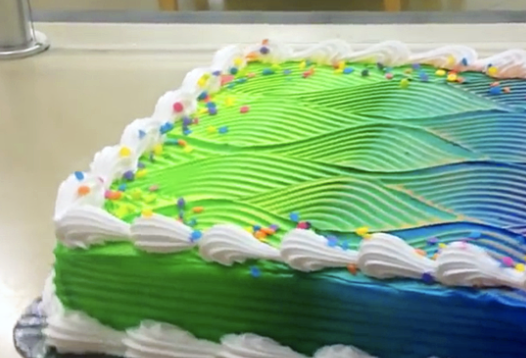 image via – youtube.com
Everybody loves cake, right?  Right!  We have all heard the expression "Presentation is everything", and that saying definitely pertains to the incredible creation you are about to view in the video below.  I love watching cooking shows that involve baking with such talent, that the final result ends up looking like a piece of art that you hesitate to eat, because of it's beauty.
In the case of this optical illusion cake, that Ayarel has come up with, it is not only totally delicious, but she has ingeniously created a mind-blowing way for the cake to change colors!  Using  two different techniques, she illustrates how this illusion can be done, even by those of us less talented than she is.
The tutorial begins with an iced cake, upon which Ayarel creates a swirling pattern of ridges with an "icing comb".  With an airbrush she shows us how to apply different colors at certain angles, so that that each color only hits one side of the ridges she has made.
She goes through the steps slowly, so that if you are an adventurous baker you can give it a try, and the end of the tutorial is a sped up version.  The secret to the illusion will be revealed, and the result is mesmerizing!
Watch the video below and enjoy:
Please SHARE This With Family and Friends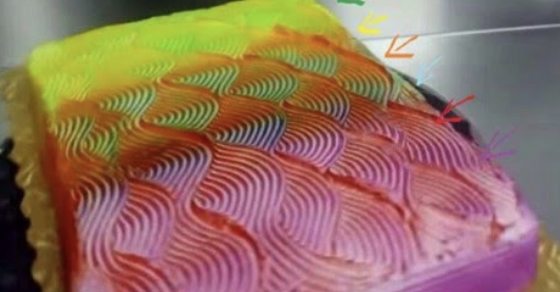 image via – youtube.com
Who doesn't want to taste the rainbow in cake form? If you do, this awesome color changing cake video will make your day. The icing on the cake is exactly what makes it appear so magical. The contrasting colors look like they melt all across the top and sides of the tasty frosted treat in a series of neat waves.
The psychedelic effects were achieved by combining a system of clever decorative wave techniques to the icing, with the bright colors airbrushed on afterwards. Spraying on the different colored food dyes at certain angles, so that they only cover one side of the peaks and ridges, makes them appear to effortlessly change color as the cake is spun around.
The result is a seriously cool cake which can be perceived a number of different ways, all depending on where you stand!
The rainbow hued sheet of baked deliciousness was uploaded by YouTuber CharlotteSometimes who shared a short clip that shows her spinning the cake around so that you can really see how it transforms depending on the angle it's viewed from.
In addition, she also made available an easy to follow tutorial on how you can re-create the visually stunning cake at home in your own kitchen. While it appears tricky and super hard to do, it's really not.
The biggest hurdle to replicating the masterpiece is that it requires the right tools, like a cake decorating airbrush and an icing comb. Other than that, it seems like a really fun, interesting, and challenging baking project that anyone can take on.
This is the perfect cake to whip up for a birthday party, special occasion, or for anyone who holds a lot of love for neat, colorful, sweet things. Make sure to check it out below.
Let us know how yours turns out!
Please Share This Incredible Cake With Family and Friends 🙂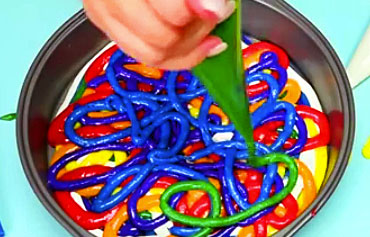 image via – youtube.com
There is nothing better than delicious tasty treats, all the incredible sweets are here in our lives to satisfy our sweet tooth with enticing and delicious yummies.  Everyone loves cookies, and traditional gingerbread, but there is nothing better than a really spectacular cake that just screams festivity!
What you are about to watch in the video below, is a tutorial for one of the wildest cakes you have ever seen.  It starts off looking like a big mess and ends up as a work of art!  It is named, "Rainbow Drip Candy Cane Cake", brought to you by "Cookies, Cupcakes and Cardio".
Not only is this cake a feast for the eyes, almost too beautiful to eat, but it tastes even better!  You will need: Candy canes in all different sizes and colors; Clear and light blue rock candy; Vanilla Cake Batter; Royal Icing and Vanilla Buttercream.  The batter gets separately colored into red, orange, yellow, green, blue, purple and white, and then follow our great baker as she shows us how to put this together.
I can't wait to try this out later this week! Will you be trying out this yummy recipe? Let us know!
Please SHARE This Recipe With Your Family and Friends 🙂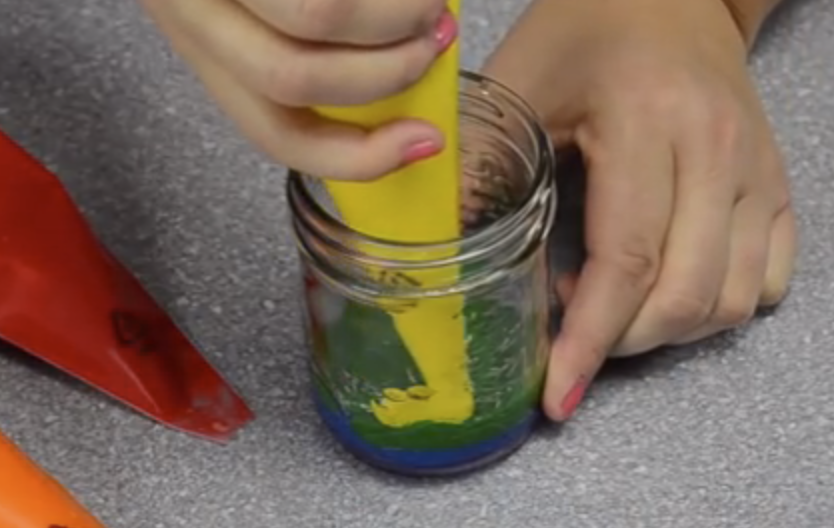 image via – youtube.com
Meet Jen a popular youtube chef from Cookies Cupcakes and Cardio.  She is always taking traditional recipes and transforming them into something unique, creative, and incredible. It truly is amazing how a little imagination can take something from being ordinary too extraordinary. People never cease to me amaze me!
In the following video you will learn how to make rainbow cupcakes in a jar.  I pretty much love rainbow anything, so cupcakes with rainbows sounds like an awesome idea.  Add some sprinkles and let's make this a party! The best part about the rainbow jar cupcake recipe is that it's super easy and really fun to make!
The first thing you will need is some canning mason jars.  You will also need Cake batter, icing and gel paste. Watch the video below where she goes over each step thoroughly and clearly. Get ready to take a normal cupcake and make them amazingly epic! Enjoy and let us know how your rainbow jar cupcakes came out!
I'm totally making them this weekend!
Please Share With Family and Friends 🙂