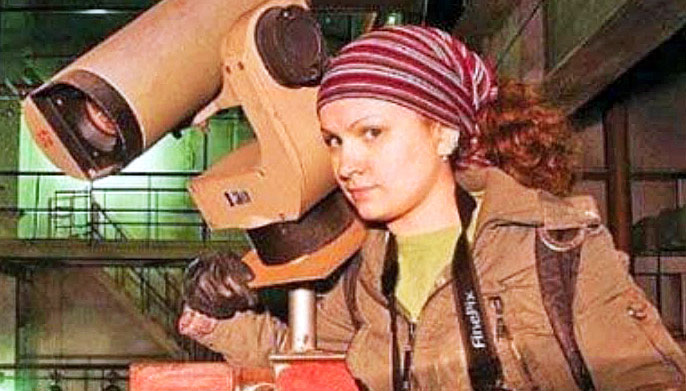 image via – youtube.com
For some people urban exploring is more than just a pastime, it's a way of life.  Such is the case for Lana Sator, a Russian photographer who writes about the places she visits on her blog.  She's explored many old abandoned buildings and long forgotten places in her country, but it was one site in particular that got her in a lot of trouble.
Other urban explorers and her fans had given her hints and tips about how to reach a mysterious factory located in the Khimki Forest just outside of Moscow.  No one knew for certain exactly what went on at the site and so Lana made it her mission to find out. She enlisted the help of her two closest friends, and they set out on a moonless night through the woods towards the factory. 
It didn't take long for them to find a hole in the fence to slip through and once they were on the other side, they noticed dog tracks in the snow. The place was being guarded by several large dogs who suddenly appeared up ahead.  The group shined their flashlights on the animals who then ran off towards the shelter of a barn.
Lana set her sights on gaining access to the large pipes sticking out of the ground that loomed up ahead.  Once they got closer, they were able to simply walk inside the buildings and into whatever room, hallway, or corridor they came across and climb up any ladder they pleased.  There was no one else around, not even a security guard or signs of anyone have recently been there. While they did come across some old security cameras, they were either not functioning or no one was watching them because no one ever came, no alarm ever sounded, nothing stopped them.   
The group took pictures of the rooms that were packed with tubes, pipes, and control panels.  Still unsure as to what they were dealing with, they forged on and that's when they came across a rocket engine and it all started to make sense.  They were inside a top secret rocket factory. Before leaving, Lana posed to take a picture with one of the rockets, which turned out to be a huge mistake.  
Days later Lana uploaded photos of her latest trip to her blog and not only did her fans take notice of them, the Russian government did as well.  A short time after that she received a cease and desist letter from Dmitry Rogozin, the Deputy Prime Minister in charge of Defense industry in Russia.  On that same day, police came to her door and told her she could never enter the top secret facility ever again. If she did, there would be consequences the next time around.  Lana did receive a fine for trespassing, but when she was told to remove the pictures she had taken from her website, she refused to take them down!
Once the story broke about how easily three civilians were able to sneak into a top secret missile facility, Russian defense officials were obviously not happy.  Most of their disdain fell not on Lana and her friends, but on the dismal lack of security at the sensitive site. New and improved security measures were ordered to be put into place at all Russian military and space related factories and anyone who allowed similar types of breaches going forward would be harshly punished. 
In the end, Lana and her friends escaped prosecution for sneaking onto the site.  It turned out that they were at an active NPO Energomash rocket factory. Energomash manufactures the Soyuz rocket, as well as the RD-180 liquid fuel engine which America uses to power its Atlas rockets among others.  Rather than apologize for what she did, Lana claims she exposed serious security flaws that were being overlooked and that she hopes they have been fixed and improved since then.
Watch the video below for the full story:
Please SHARE This With Family and Friends