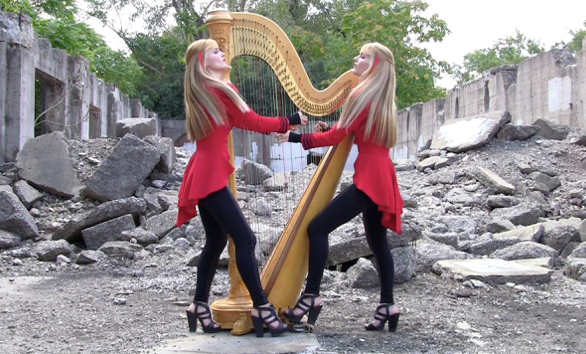 I, for one, have never been a fan of Metallica's sound; heavy metal just isn't my thing. However, I would never have imagined that underneath all the aggressive musicality of Metallica's classic single "One", lay a piece of musical writing that had complex textures and layers of expression that are masterful.
YouTube identical twin harpsists, Camille and Kennerly, reinterpret and create a classical arrangement of "One" that brings us some otherworldly music. Their magnificent instrumental skill reveals music that is reminiscent of the Renaissance. They have arranged the piece as a  duet.
They use their harps as not only ethereal string instruments, but use their feet and hands to create percussive sounds against the wood. This magnificent and original video appears to be set in some kind of ruins. This combined with their elegant costumes bring us back to a majestic period of music, illuminating the aura of the haunting melody of Metallica's piece.
These sensational musicians have helped to change my opinion of the musicality that can underly the heavy metal genre. The video is truly magical. Watching these beautiful women perform was mesmerizing.
They at once caress the harp, while seeming to dance on and through them, as they intricately unfold a musical arrangement that will leave you wanting more. I hope you enjoy this uniquely stunning performance.
Please Share This Incredible Performance With Your Friends and Family 🙂