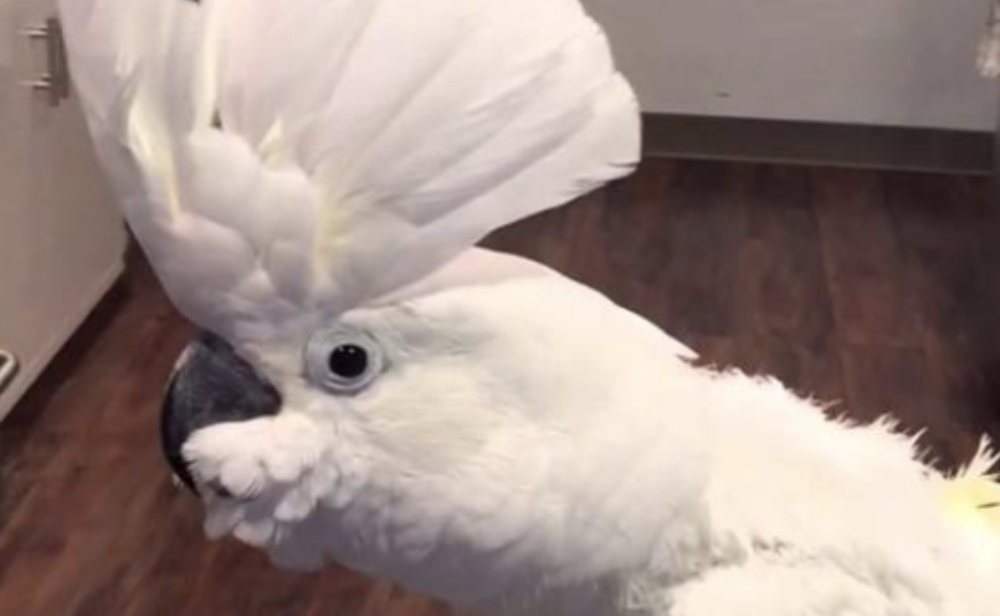 image via – facebook.com
Parrots are among the smartest species of birds in the world. The sometimes colorful, always clever, birds have long captured the imaginations and hearts of people everywhere. They are often quite playful and fun to interact with, and much more complex than a typical, average bird. In fact, parrots are anything but simple and they require a lot of attention, love, and training to truly thrive and be all that they can be. The beautiful snow white cockatoo in this video is proof of how energetic and fun loving parrots truly are.
Cockatoos are a sub-species of parrots and are recognizable by their less colorful plumage and showy head crests. The one seen here is named Louie the cockatoo, and he's happily rocking out to the 70's hit "Shake Your Groove Thing" by Peaches & Herb in this entertaining clip uploaded by Teresa Buxton to YouTube.
The boogieing bird bobs and dances to the catchy tune while his female friend cheers him on from off camera. The sprightly little fellow dances to the disco beat just as good, if not even better, than the dancers on Soul Train! He struts back and forth while pulling off some sweet moves and it's awesome to see this bird's energetic, hippity-hoppity display.
It's safe to say this parrot has a superb natural talent and excellent dancing abilities. At several points Louie raises his stunning head crest and fans it out to show it off completely in all it's glory. He seems to be having a fun time and appears to get really into the music.
His bird dance will make anyone smile and brighten the day! Interestingly, cockatoos love to dance and the beautiful birds share something in common with music history. They bear a striking resemblance to the king of rock and roll, Elvis himself, with their prominent feathered head crests.
The crests look like the popular 1950's men's hairstyle, the type that Elvis rocked, called the pompadour. All 21 species of cockatoos, which are parrots, have the movable head crest which is usually raised when the birds come in to land or when they are aroused.
Going off that information, it's likely that Louie the cockatoo was excited by the music and he just had to rock out to it. It seems like he even manages to keep pace with the tune and overall he puts on a great show!
Please Share With Family and Friends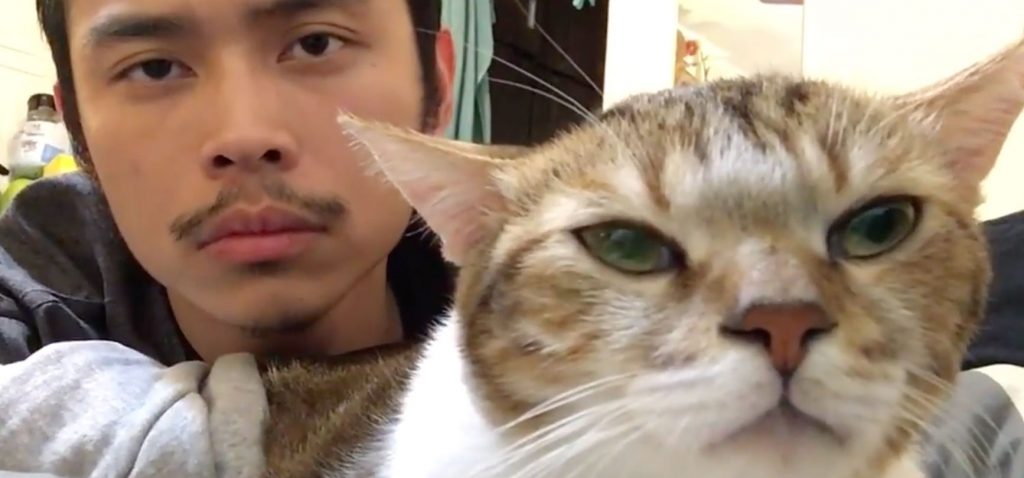 Remember the Drake song, Hotline Bling which has been making waves ever since it was released. What got people talking about it the most wasn't the lyrics or the beat, rather it was the music video. The minimalist styled video starts off with a bunch of ladies working at a call center!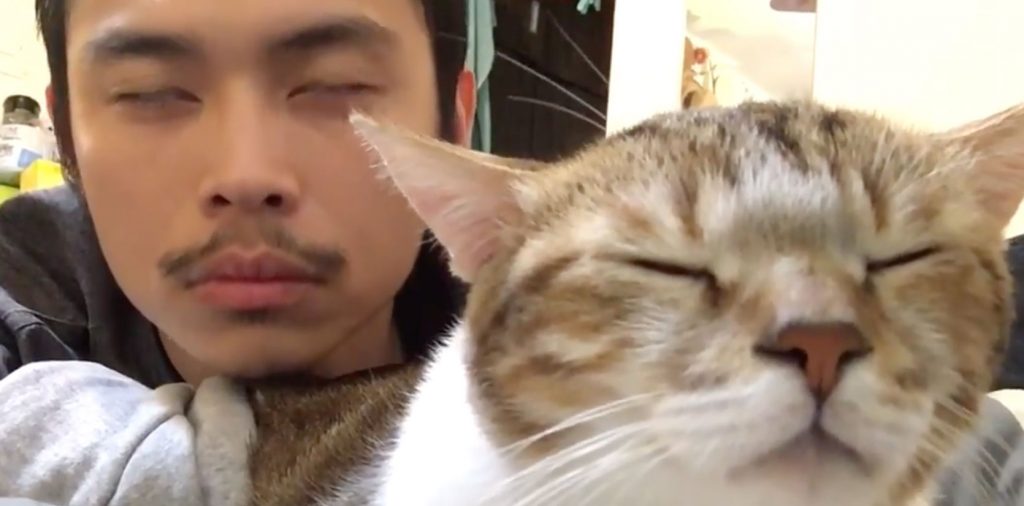 Soon after the shot switches to several women and Drake dancing around while pulling off some unique, and kind of strange, moves. The quirky dancing is what quickly propelled the video to viral status and spawned a whole bunch of hilarious parodies, gifs, remixes, interpretations, and more. Everyone from comedians to animals have got in on the action, including one cool cat who goes by the name of Duchi.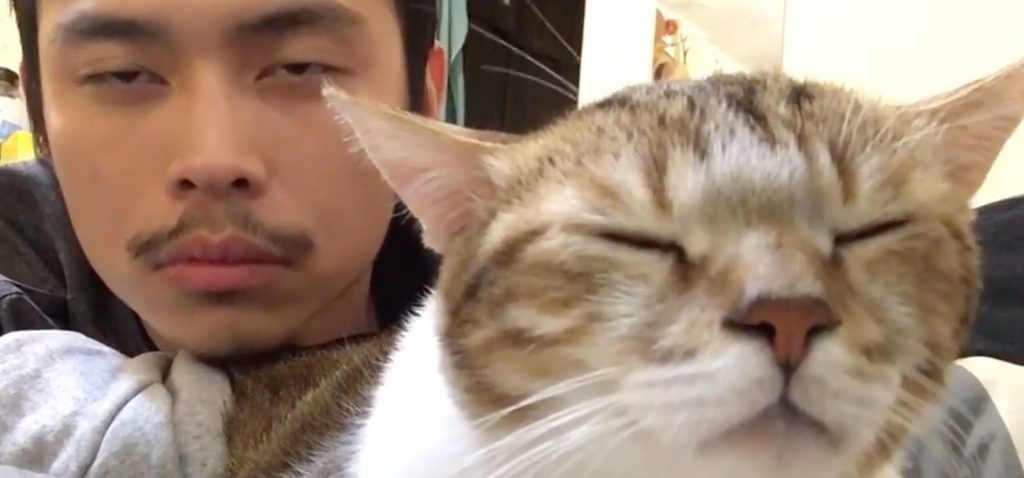 The adorable white and light brown furred kitty loves nothing more than just chilling at home and listening to music while hanging out with his human companion, Lilice. When a song comes on that Duchi likes he gets really into it, and thankfully Lilice recorded his cats reaction to Hotline Bling. The clip starts off with the pair sitting comfortably on a bed while the song begins to play.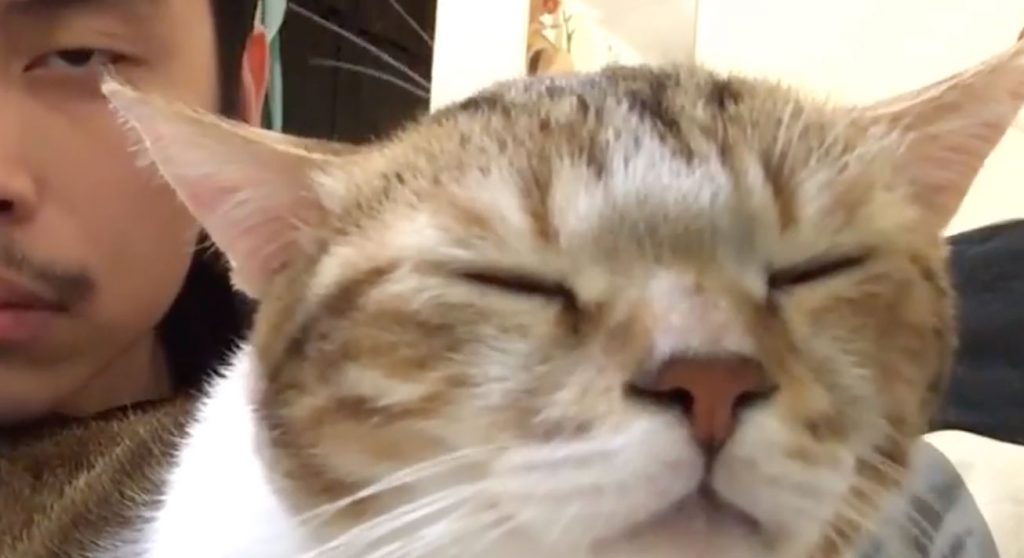 Duchi's eyes are open at first, but they soon close and you can tell he's really feeling the beat. Then, just as Drake begins to croon his first few lyrics, Duchi and Lilice start to bob their heads in unison gently up and down in time with the beat. At the same time, the cats eyes close and Duchi turns into the chillest, most zen, music loving cat the internet has seen in ages. The reaction is priceless and dare I say that Duchi might just be smoother and cooler than even Drake himself.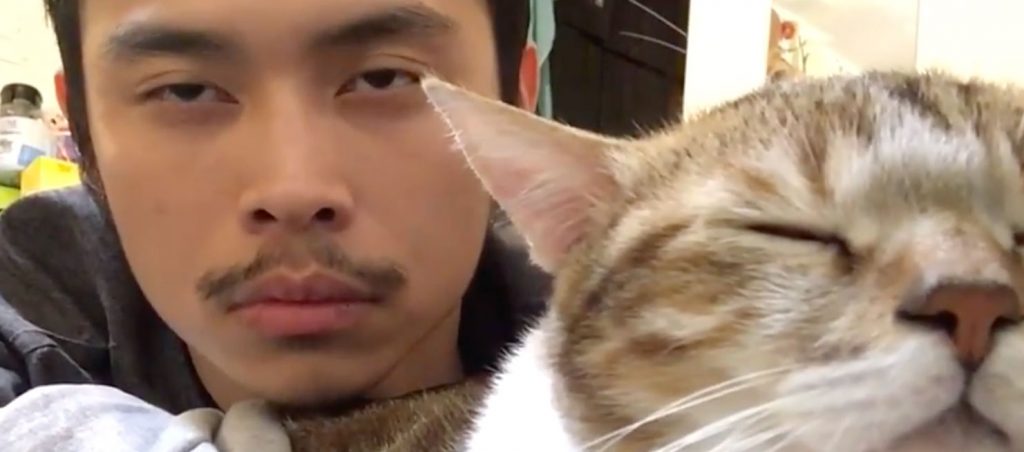 Thank you internet and thank you YouTube user yen-ching su for uploading and sharing the cute kitty's adorable antics. To see more of Duchi you can visit his Facebook page by following the link under the video. It looks like he's a very sweet cat who enjoys pulling off a lot of funny and unique faces. He's definitely well loved and is certainly leading quite the cat life!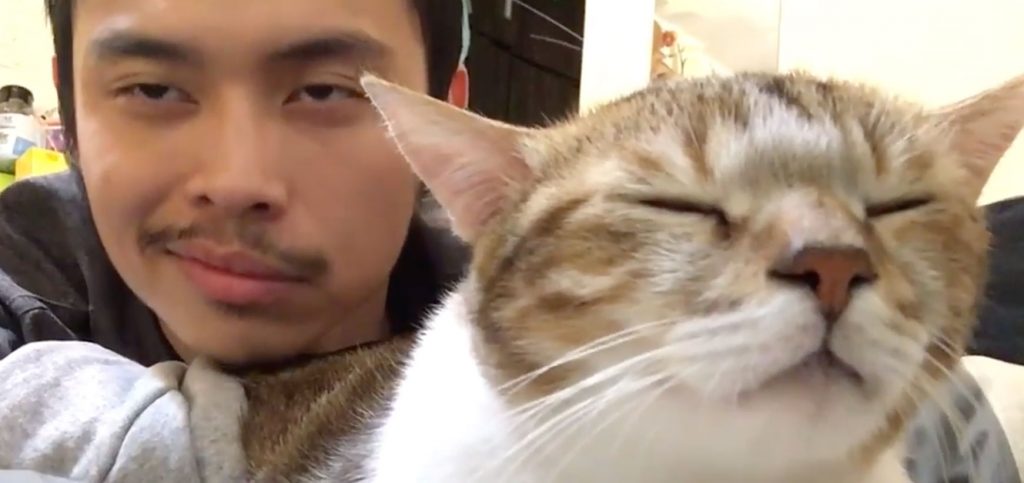 Please SHARE This Adorable Video With Family and Friends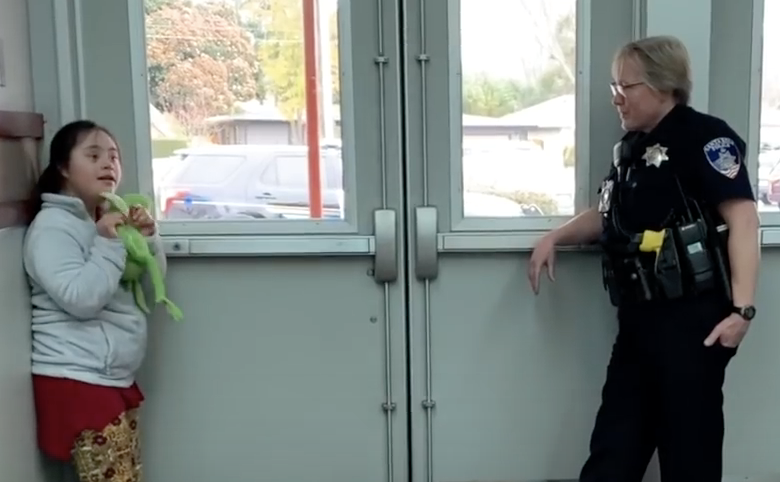 image via – youtube.com
Do you remember your favorite stuffed animal, toy, or maybe a blanket when you were a kid. No matter where you went you always had your friend with you by your side. There was no obstacle or problem that couldn't be taken care of as long as you and your favorite toy were together.
Scary things just weren't as scary and just having your small friend with you gave you the courage to do things you wouldn't otherwise do as a young child out of fear. One of the main reasons kids carry a 'special' stuffed animal, blanket or toy is because it lowers their anxieties and fears in almost any situation they face.
This brings us to today's story featuring a young 12-year old girl named Raquel Zuniga, she is currently in the 7th grade and goes to classes that are specifically designed for children with moderate to severe mental disabilities.
Raquel carries a special friend with her everywhere she goes. This friend is none other than everyone's favorite frog Kermit! Raquel hangs out with Kermit the Frog all day everyday, whether she is home or at school Kermit is always right by her side.
Due to Raquel's disability she has severe anxiety especially when she is transitioning from one place to another. This tends to flare up at school when the bell rings and it's time to go from one class to another. On this day, Raquel was having an extremely rough time transitioning from one class to another and she froze. She couldn't walk or get to her class and she wouldn't say anything. She just stood in the hallways frozen clutching Kermit silently.
Multiple teachers came up to Raquel and tried to get her to unfreeze and comfort and make her feel safe in her current state and situation. None could help, Raquel stood their frozen for just about a full hour clutching on to her stuffed frog.
That's when a special soul enters the story, school security officer Kris Morrison who spent the last 20 years as a school officer for special needs children. However, before that she was an officer Kris was a teacher for children with disabilities and instinctually somehow knew exactly what to do to help poor Raquel.
Kris spoke to Raquel in a soothing voice and then began to sing Rainbow Connection, the famous song that Kermit the Frog, 'Raquel's best friend' is most known for. As Kris sang Raquel's anxiety and fear just began melting away.
Soon after she began moving and it was as if a miracle just occurred and she unfroze! This was Raquels favorite song, so it immediately triggered her brain to relax and feel safe. Just like that, the magic of music, an amazing school security officer and Kermit the frog had saved the day!
Watch the video below for the full story:
Please SHARE This With Your Family and Friends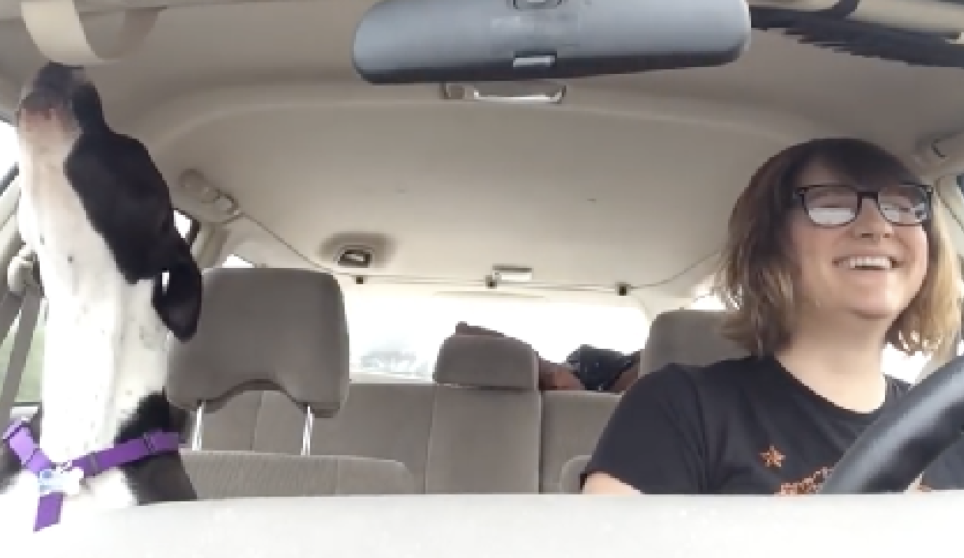 image via – facebook.com
Singing in the car is by far one of the best places to belt out a tune. The sound is contained, the acoustics aren't that bad, and it helps to pass the time. The only thing better than singing your favorite song in the car is singing it alongside your best friend in the whole entire world in your car!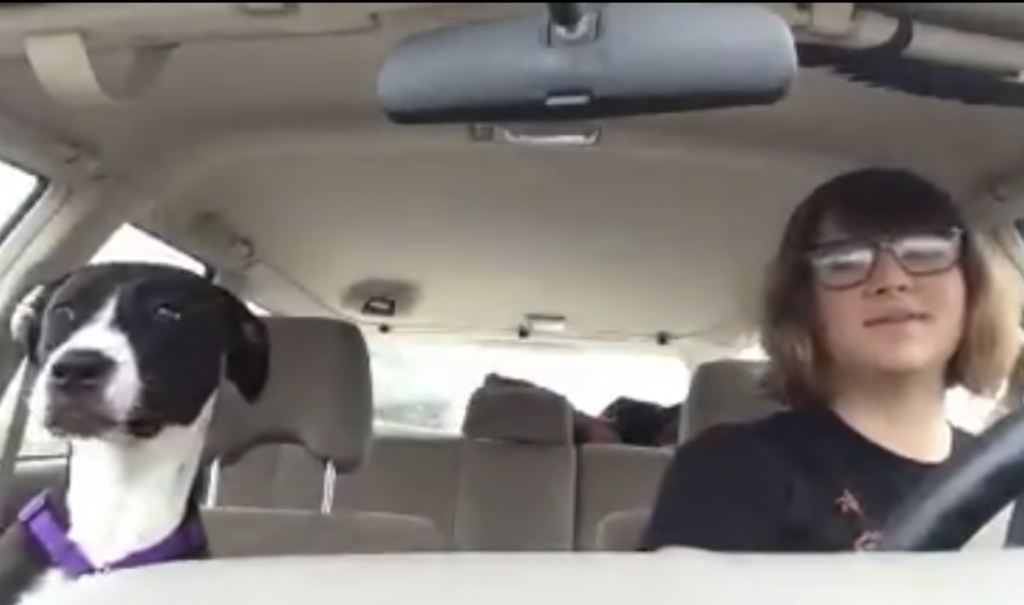 For one girl, that means taking her adorable dog named Honey along for a ride. The sweet black and white spotted pup seems to know what he's in for because he doesn't hesitate to jump right into the passenger seat. It's as if he's been waiting in eager anticipation for this moment to finally come.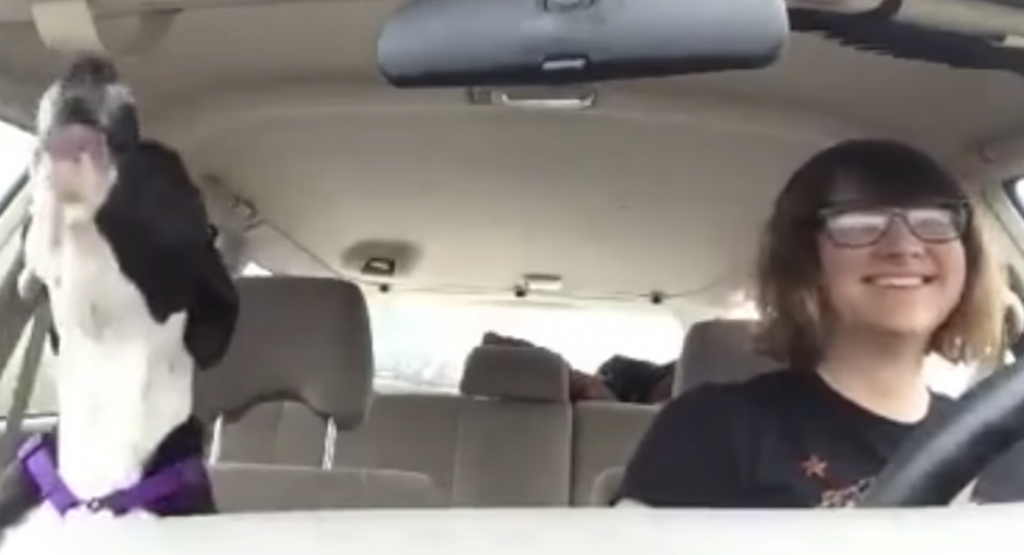 As the pair cruise down the street the girl looks over and gives her dog a sweet smile because she knows what's coming up next! Seconds later Michael Jackson's hit song Will You Be There comes over the speakers and when Honey hears the opening chords her face lights up. The song, which was famously featured in the Free Willy movie soundtrack, is her absolute favorite and the dog goes wild whenever it's played.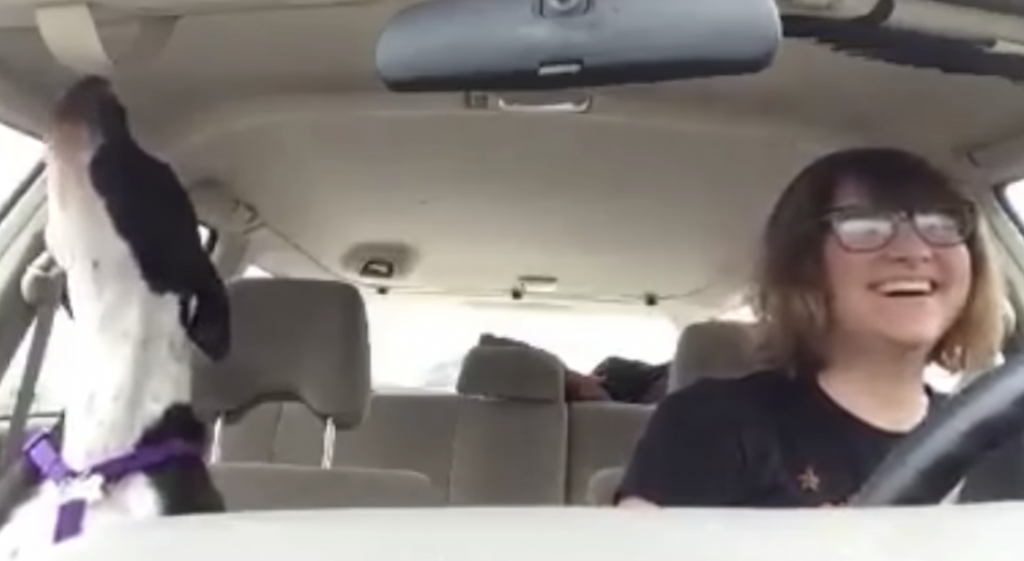 When you hear her sing, you may think she's kind of off key at first, but she's just warming up her vocals and getting started. After a few moments Honey begins to find her voice and before you know it she's howling along in sweet, harmonic unison to the beat.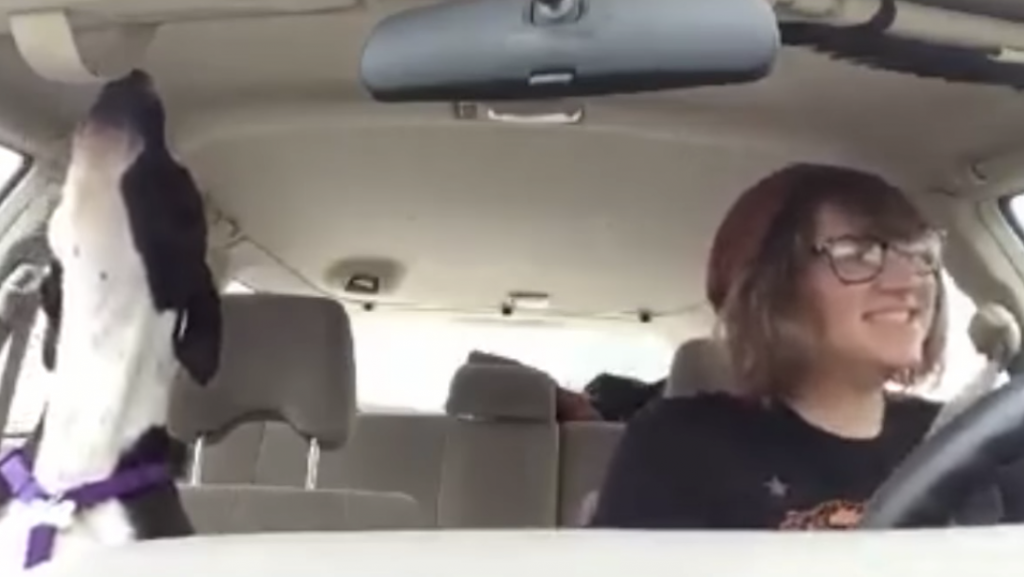 Her voice is one that only a mother could love, and that's what makes it even more special. When you look over at Honey's owner, it's clear that she loves it when her dog sings. He's by her side, happy, and just spending one on one time and being there with him makes her happy too!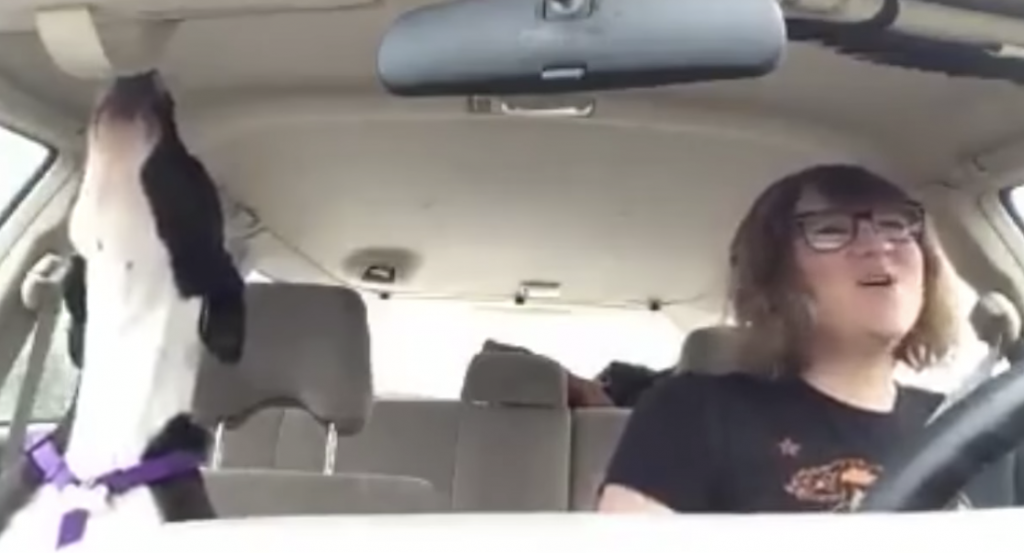 Check it out, pass it along to all your animal lover friends and family, enjoy!
Please Share This With Family and Friends 🙂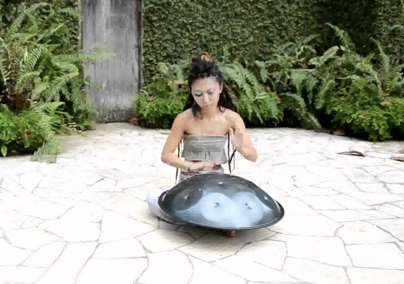 image via – youtube.com
In a musical performance that feels otherworldly, you are about to watch a young girl play an instrument that I've never seen before.  It may be some kind of steel drum, but the notes and complex melody that she produces is unlike anything I have heard before. I could listen to this hypnotizing and mesmerizing sound all day long. It's so relaxing and magical.
As she begins to move her hands in a rhythmic tap, she builds on a melody that grows more and more hypnotic.  Her hand movements are key to the variation in tones that she produces. It builds to a crescendo that made my heart beat faster, as the melody grew more hypnotic. I also got goosebumps as the performance progressed towards the end!
What is so amazing is that there is no microphone, yet the very acoustics of this awesome instrument amplifies itself!  Her performance is only 3 minutes long, but she leaves you wanting more.  If anyone knows who she is, where she is from and what this magnificent instrument is, please let us know! Enjoy!
Please SHARE This With Your Family and Friends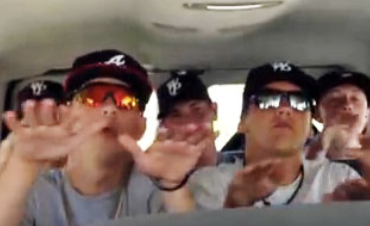 image via: youtube.com
High School sports are a great school activity, which teaches teamwork, friendship, working with others, and most importantly staying out of trouble. In the following video, this hysterical high school baseball team shows the world how a little fun can make any boring situation extraordinary.
They were on a 5 hour journey to Seattle trapped in a small van and were desperate to pass the time. They decided to make an awesome country music video that millions of youtubers would see. When the Florida Georgia Line Song, 'Cruise' comes on the boys immediately put on their game faces and perform perfectly choreographed dance routine. Their precision and teamwork as a baseball team is really on full display on this one.
It is truly amazing what can be accomplished when people work together in harmony. They are so on point throughout the entire performance, and never miss a move. I have to be honest I wasn't expecting much from this video but I was completely wrong about it. I can't stop watching it.  These guys are totally awesome! Enjoy! 🙂
Please Share With Family and Friends