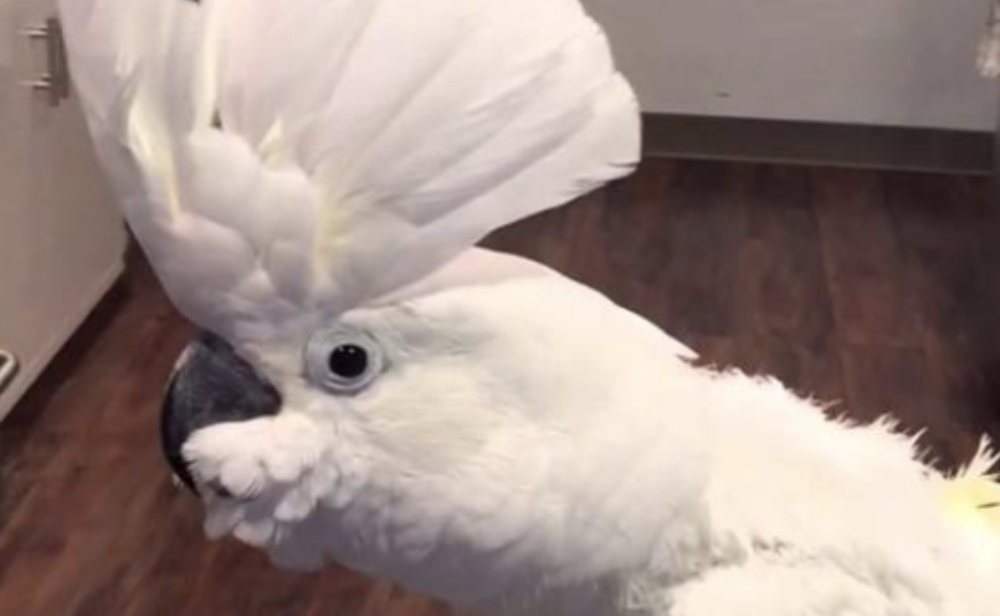 image via – facebook.com
Parrots are among the smartest species of birds in the world. The sometimes colorful, always clever, birds have long captured the imaginations and hearts of people everywhere. They are often quite playful and fun to interact with, and much more complex than a typical, average bird. In fact, parrots are anything but simple and they require a lot of attention, love, and training to truly thrive and be all that they can be. The beautiful snow white cockatoo in this video is proof of how energetic and fun loving parrots truly are.
Cockatoos are a sub-species of parrots and are recognizable by their less colorful plumage and showy head crests. The one seen here is named Louie the cockatoo, and he's happily rocking out to the 70's hit "Shake Your Groove Thing" by Peaches & Herb in this entertaining clip uploaded by Teresa Buxton to YouTube.
The boogieing bird bobs and dances to the catchy tune while his female friend cheers him on from off camera. The sprightly little fellow dances to the disco beat just as good, if not even better, than the dancers on Soul Train! He struts back and forth while pulling off some sweet moves and it's awesome to see this bird's energetic, hippity-hoppity display.
It's safe to say this parrot has a superb natural talent and excellent dancing abilities. At several points Louie raises his stunning head crest and fans it out to show it off completely in all it's glory. He seems to be having a fun time and appears to get really into the music.
His bird dance will make anyone smile and brighten the day! Interestingly, cockatoos love to dance and the beautiful birds share something in common with music history. They bear a striking resemblance to the king of rock and roll, Elvis himself, with their prominent feathered head crests.
The crests look like the popular 1950's men's hairstyle, the type that Elvis rocked, called the pompadour. All 21 species of cockatoos, which are parrots, have the movable head crest which is usually raised when the birds come in to land or when they are aroused.
Going off that information, it's likely that Louie the cockatoo was excited by the music and he just had to rock out to it. It seems like he even manages to keep pace with the tune and overall he puts on a great show!
Please Share With Family and Friends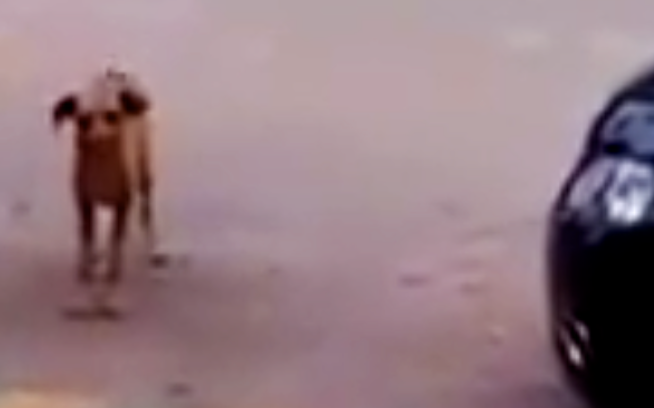 image via – facebook.com
I never love it when people feel the need to blast the music in their car so loudly, that it imposes on everyone else.  However, in the case of the car playing a Latino song in the video you are about to watch below, I had to drop my judgement…it put a big smile on my face! This pup doesn't seem to mind the music whatsoever. He shows all the onlookers just how good his fancy paw work is..
The music had a 'feel good' beat and melody, made better by a dog who happened to be passing by…he was clearly feelin' it.  No judgement for this pup who is drawn to cross the street to get closer to the music.  As he saunters over, you won't believe his moves. He rides the beat like he was a classically trained dancer except he adds his own style and flare to his dance.
He bops up and down to the beat with such precision!  Seriously, has he been taking dance lessons?  I've never seen any video of an animal moving to a beat, that approaches anything like the skills, of this 'beyond cool' dog!  It may actually motivate you to get up and dance along.
Watch the video below and enjoy!
Please SHARE This With Family and Friends 🙂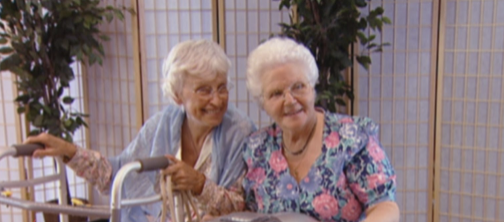 Two elderly women have gotten together for quite a prank.  I kept looking to see if they were young women made to look older.  Nope, they are just the age they look and not only haven't they lost their senses of humor, but clearly they haven't lost their libidos!
Sitting there with a boom box, they each take turns feigning that they need help from younger men of all ages.  Get ready for big laughs, as they pull tricks like pretending to lose hold of their walker.  Reaching out to a man to catch her balance, she pulls him in for a dance and a squeeze!
The friends take turns playing tricks to get men to dance with them.  It is hysterical watching the men's reactions as they go to help and get shocked by what they encounter.  Prepare to really laugh out loud!  I was crying.. I was laughing so hard!
Please SHARE This With Family and Friends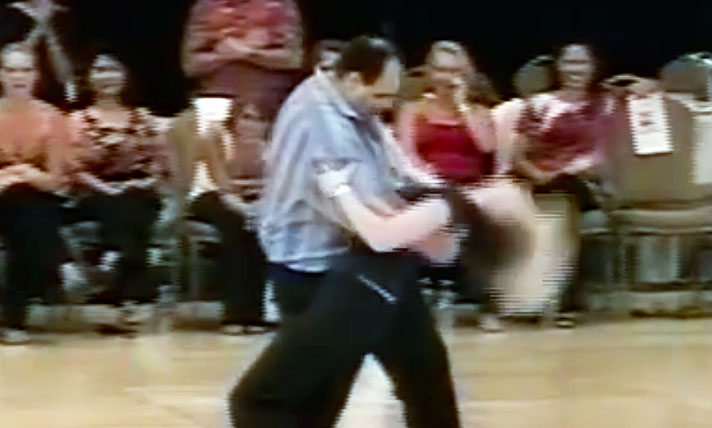 image via – youtube.com
There is nothing more entertaining than an amazing dance performance. Whether it's dance to country music, hip hop or swing if they are extremely talented their moves will cross all boundaries. Professional dancers sacrifice their entire lives and body for their art. Hours and hours of practice will eventually lead to absolute perfection.
This brings us to today's featured video. Stephanie Batista and John Lindo who are two of the best swing dancers in the world today. What sets this particular dancers apart from the rest is the extremely gifted John Lindo. When you first look at the guy, you probably don't think this guy can move as technically skilled and finesse his moves like a ballerina in swing form.
When he first steps on stage, most people had probably never seen a dancer quite like Mr. Lindo. His entire life he has basically been leaving people stunned by how gifted he is. His "it factor" is off the charts, his flawless technique and his instant likeability set him apart from the rest the proffessional swing dancers.
This man is definitely an inspiration to anyone who doesn't think they can become whatever they want. If you have a dream and put the work in, you can do anything! No matter what people say, if they try to tear you down, tell you to give up, just remember to believe in yourself and never let the haters get the best of you!
Enjoy the video featuring this amazing performance below:
Please SHARE This With Your Friends and Family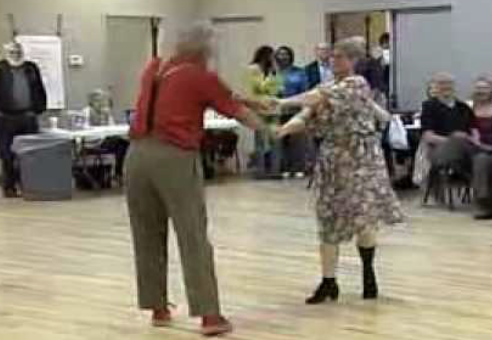 image via – youtube.com
Get ready for some unexpected fun!  Pete and Beulah Mae get out on the dance floor at an old age home, as some funky music starts to play.  Nobody in the place expected what was about to happen. This elderly couple started off slow performing for some senior citizens.
They've been dancing together for years and start off their routine like some clunky vaudeville act.  Goofy mistakes and slapstick contortions don't prepare you for what is about to come.  They are about to really startle their audience with their moves.
They are incredible swing dancers with a modern edge; watch Beulah Mae twerking!  I kept looking to see if they were actually younger people dressed up to look elderly.  They are not in costume, but have maintained a "young at heart" vitality that is a joy to watch.
Let us know what you think of this epic performance!
Please SHARE This With Your Family and Friends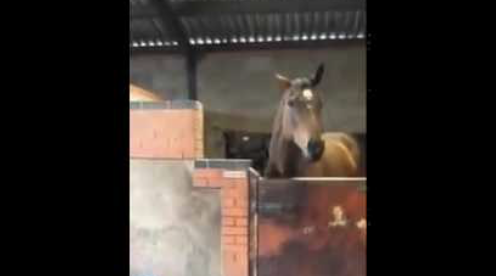 image via – youtube.com
No matter what type of animal our pets may be, they all have their own unique quirks and personalities. Whether it's a dog, cat, hamster, bird, horse, and so on, pet animals are always finding ways to make us laugh and love them even more. Some animals even take on and adopt human-like traits, such as dogs who sing and howl along to music and horses that dance!
Which is exactly what one sweet horse named Cheeky was captured on tape doing. He and his owner, Emma Jones, were hanging out in the barn one beautiful afternoon in Worcester, England. They were relaxing and spending some quality time together when all of a sudden the hit song "All About That Bass" by Meghan Trainor came on the radio.
That was Emma and Cheeky's jam and the beautiful chestnut brown horse couldn't help himself, he had to rock out to it! Emma started their duet off and began dancing near Cheeky's stall, then a few second later she pointed and handed the dance floor over to him.
Cheeky was ready and rearing to go, he immediately started boogieing down and was shaking and bobbing his head like a pro. The two take turns dancing and having the time of their lives, it's the cutest thing ever and perfectly timed. Cheeky certainly lived up to his name that day!
Ever since then, the video of the pair horsing around quickly went viral and captured the hearts and attention of people all over the world. You don't need to be a horse lover to appreciate this clip. It'll put a smile on your face and make you wish you had a horse of your own to love… and dance with!
Enjoy the video below!
Please Share This Adorable Video With Your Family and Friends 🙂