Some people can only dream of swimming in the open ocean alongside wild whales. For two extremely lucky boaters who were out on the water, that dream became a reality. They now have one heck of a whale tale to tell after their extremely rare and awesome encounter with two of the massive mammals.
Brad Nicholls and his girlfriend Emmy-Rose Curtis had left dry land and gone out in search of sea turtles off the Gold Coast of Australia when they happened across a mother humpback whale and her baby calf. Not wanting to miss the opportunity, the adventurous couple seized the moment and quickly jumped into the water to swim around with the huge mammals.
The whales didn't seem to mind the human company and even hung around for about an hour or so. That's much longer than what they typically stay for, which is usually just a couple of minutes. Thankfully Nicholls and Curtis brought along plenty of film equipment since they also happened to be testing out some new camera gear suited specifically for underwater use.
Curtis told the local news station, ABC 7, "we were just playing around underwater with the GoPros and all of a sudden there was something much larger than a turtle there. In ten years I have never seen this type of behavior for whales with a boat, let alone with us in the water." Both he and Curtis work for whale watching companies and so they're really familiar with whale behavior and comfortable being in the water with them.
The fact that they see the mammals day after day and never get a chance to be able to swim with them also makes their story all the more sweeter! They managed to snap a few selfies with the massive mammals as well as capture some video footage that you can check out below.
For the most part, the whales stayed near the surface while the pair swam happily around. One of the cooler things that happened during their encounter was when they managed to communicate with the peaceful giants by slapping on the surface of the water and the whales slapped back with their fins.
What began as a routine boat ride for the couple turned into the swim of a lifetime- You have to see the footage to truly appreciate how magical it all was, enjoy!
Please Share This With Family and Friends 🙂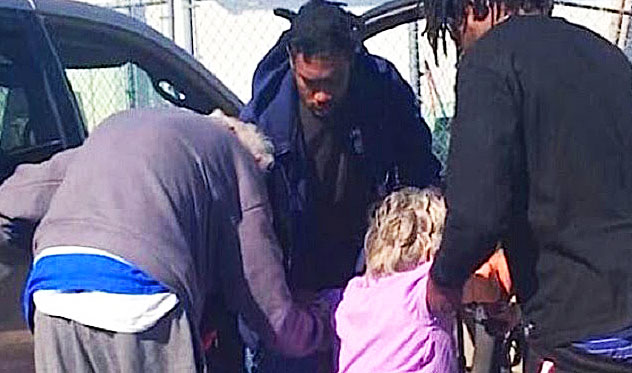 image via – youtube.com
Many elderly people want to remain as independent and self-sufficient as they possibly can, even when they know that they might need a little extra help.  They hate to admit that they can't do what they used to be able to, which is understandable because no one really does, no matter what age they may be.  
Rose and David Griest were adamant about not giving up any of their independence and they didn't want to rely on others.  Rose, who was 89 and David, who was 100 years old, shrugged off offers from their family and friends to help whenever they might need it.  One day Rose had to go to the doctor and she and David decided they could get themselves to her appointment. After visiting the doctor's office they headed home and on the way back they noticed that they needed to get gas.  Not only that, they both had to use the restroom, so they pulled over at a nearby gas station and parked at the pump.  
Rose and David headed for the restrooms and on the way back they ran into trouble.  Both of them were exhausted from the whole trip and were struggling to make it back to their vehicle.  Rose was using a walker and was visibly shaking, it seemed like she was about to fall over. A police officer on duty, Kanesha Carnegie, was across the street nearby when she noticed the pair clearly having problems walking across the gas station parking lot.  She decided to head over and help them out, but on the way, she noticed that three young men were following right behind the elderly couple.
The men were running towards Rose and David and so officer Carnegie whipped out her cell phone and started recording.  She knew nothing bad was happening, instead she believed that she was watching something amazing unfold. The three men surrounded the elderly couple, making sure that if either one fell, they could catch them right away.  They very slowly and gently assisted them back into their car, being completely careful and respectful.  
The men happened to be a trio of rappers from Orlando who were at the gas station that day picking up some snacks.  Joc Koe Stoe, Marty, and Freddy G were inside when they glanced outside and noticed the elderly couple struggling and immediately rushed over to help them.  In a Fox 5 interview, Marty later told the reporter that "I kept thinking, 'She could have been by grandmother.'"  
Without hesitating the young men had dropped what they were doing that day to help the elderly couple in need.  Officer Carnegie shared the heartwarming footage of their selfless act online and it quickly went viral with people happy to see what a difference a simple act of kindness can make. 
Watch the video below for the full story:
Please SHARE This With Family and Friends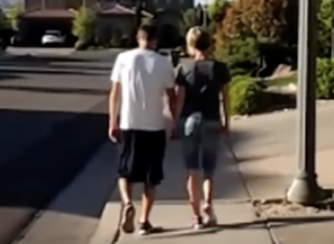 image via – youtube.com
On a beautiful sunny morning in March, Leslee and David Henson of St. George, Utah, decided to take a walk together.  Parents of three children and twelve grandchildren, they had moved to this lovely neighborhood to enjoy as much time with their expanding family as they could.
They had no way of knowing that their walk would change their lives forever, as a driver's distraction would result in tragedy.  In the video below you will hear Leslee share what happened, in the hopes that her story will finally be the wake-up call about the destruction caused by texting while driving.
Carla Brennan, 52, was late for work that morning.  She didn't wake up with the intention of hurting someone…just in a rush, she was speeding and texting.  She rear-ended another vehicle which hit the Hensons; David, 57, died on the way to the hospital, and Leslee suffered multiple fractures to her neck and lower back, as well as other injuries requiring 5,000 stitches.
Shockingly, Brennan only received a 240 day jail sentence with a plea deal.  Her car was unregistered and uninsured, and she was driving 20 miles over the speed limit when she crashed. ABC 4 UTAH reported the Henson's daughter, Haley's, anguished recall; because a woman had to text that she was late to work, she lost her father and her children their grandpa.
In order to raise awareness, and to help ease the overwhelming pain over the tragedy that befell her family, Haley founded "Stop the Texts, Stop the Wrecks."  Thanks to the unrelenting efforts of the Henson family, the state laws of Utah were changed in 2014, strictly prohibiting texting while driving.
Despite the fact that so many states have these strict laws, texting while driving still persists.  Watching Leslee's story in the footage below, provides more information that brings home the consequences of distracted driving.
The Henson's are one out of thousands and thousands of families whose lives are ruined, because people still believe nothing will happen if they look away from the road for a moment.
Help spread their story and stop tragedies like this happening in the future.
Please SHARE This Story With Your Family and Friends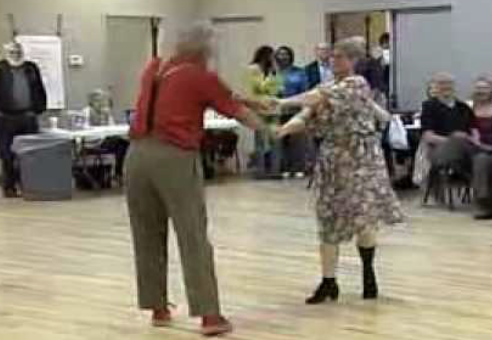 image via – youtube.com
Get ready for some unexpected fun!  Pete and Beulah Mae get out on the dance floor at an old age home, as some funky music starts to play.  Nobody in the place expected what was about to happen. This elderly couple started off slow performing for some senior citizens.
They've been dancing together for years and start off their routine like some clunky vaudeville act.  Goofy mistakes and slapstick contortions don't prepare you for what is about to come.  They are about to really startle their audience with their moves.
They are incredible swing dancers with a modern edge; watch Beulah Mae twerking!  I kept looking to see if they were actually younger people dressed up to look elderly.  They are not in costume, but have maintained a "young at heart" vitality that is a joy to watch.
Let us know what you think of this epic performance!
Please SHARE This With Your Family and Friends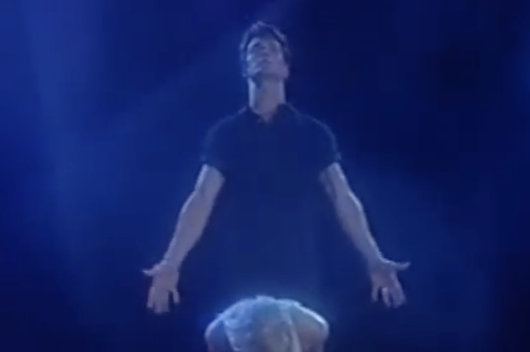 Some dancers have the ability to dance as a pair with beauty and grace.  When you mix such talent with a deep passionate love of dance and each other, you have the privilege of watching Patrick Swayze and his wife Lisa Nieme.  The year was 1994.  It was a few years after Patrick Swayze's amazing breakthrough performance in "Dirty Dancing" that had everyone swooning.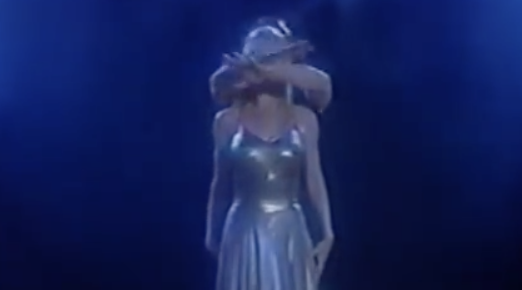 This dance occurred at the World Music Awards, broadcast on international TV.  It was their debut, dancing for such a vast audience.  As a salute to Whitney Houston, their duet was danced to the song "All the Man That I Need".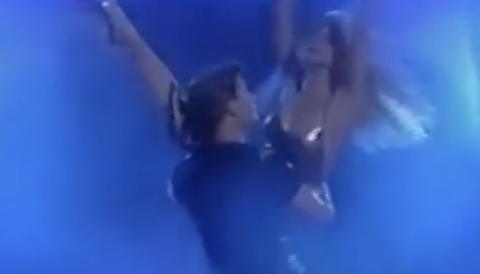 Their love was palpable, as their fluid movement graced the stage.  Theirs, was a 34-year-old love story and marriage that lasted until Swayze's untimely death, in 2009, from pancreatic cancer.   Knowing that this loving and talented man is gone makes watching this video all the more powerful and poignant.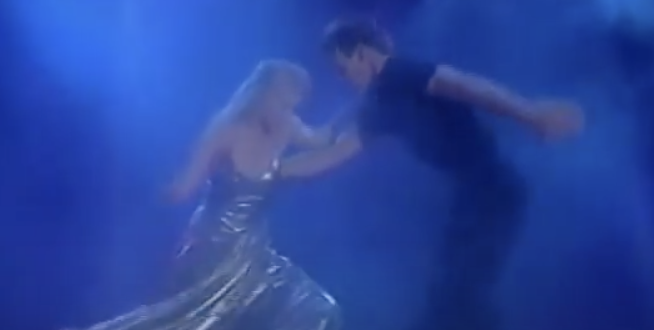 As the audience bursts into applause at the end of this masterpiece, you can see the late Whitney Houston clapping wildly at the end of their performance.  Watch and enjoy talent and an amazing moment that with live forever!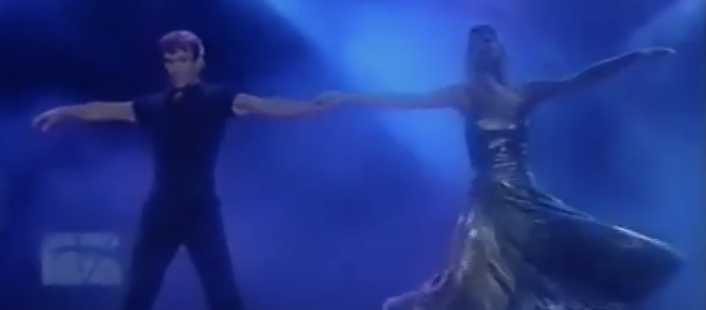 Please SHARE This With Family and Friends