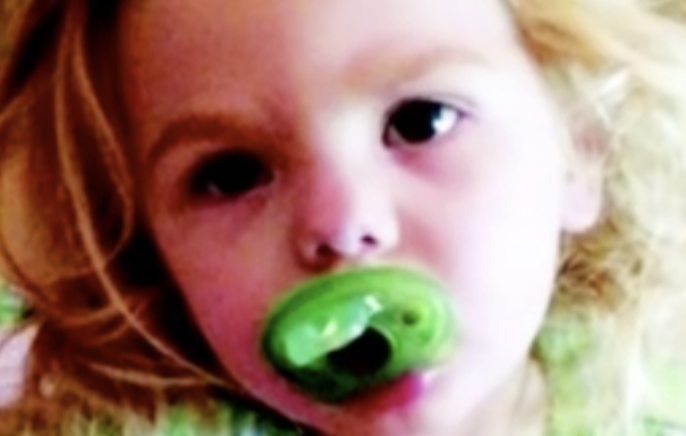 image via – youtube.com
The parents of little Vivian Keith, were in a children's hospital.  They had received the terrible news that is a parent's worse nightmare; Vivian had been diagnosed with acute lymphoblastic leukemia.  Each day Ginger Keith, Vivian's mom, would hold Vivian up to the window and they would both wave, like crazy, at the construction workers who were building across from the
hospital.
This group of ironworkers soon noticed Ginger and sweet little Vivian waving each day and they would wave back.  Greg Combs, one of the workers whom you will see interviewed in this video below, really began to think about what little Vivian and her mom must be going through.
One day he and co-worker Travis Barnes came up with an idea.  As Ginger reported to "Today" and "ABC News", she brought Vivian to the window to do their daily waving, and what they saw was a huge message spray-painted on one of the beams that read, "Get Well Soon".
They waved at Vivian and mom and kept pointing to be sure they saw the message. Ginger was so touched, that she took pictures, and sent them pastries in gratitude.
In the footage below you will hear Ginger talk about what this small act of kindness did for them, and Greg Combs talk about reflecting on his own kids, and tearing up with compassion and gratitude.
Once Vivian was out of isolation you will see these unlikely new friends meet, after touching each other's lives.
Please SHARE This Story With Family and Friends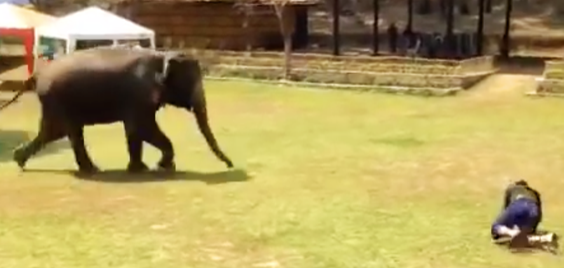 Elephants are amazing animals who are among the most intelligent creatures on Earth. They are highly complex and extremely social mammals who live in tight knit family groups both in the wild and captivity. We all know that an elephant never forgets, thanks in part to their incredible memories, but they're also capable of so much more beyond what you've ever even imagined!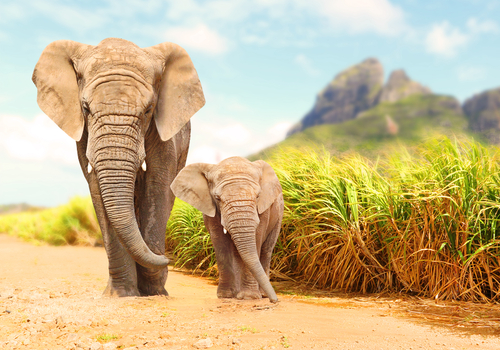 They play, laugh, cry, are self-aware, express grief and compassion, and experience all the emotions from joy to pain and tragedy in ways similar to humans.In fact, elephants often develop intensely strong bonds with their caretakers and other people who treat them right, just like how dogs become best friends and loyal to their owners.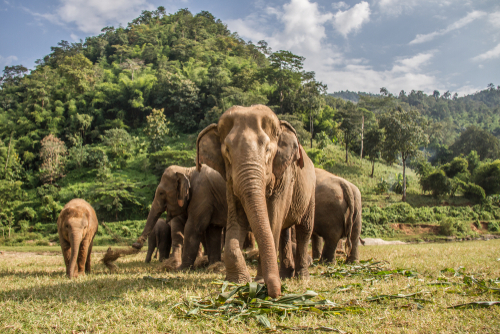 The unspoken bond that can form between elephant and man is on full display in this wonderful video clip. It features an elephant named Thongsri who lives with her caretaker over in Thailand. There's no question of whether or not she cares deeply for her handler because when she noticed that he was being 'attacked' by another man she immediately rushed right on over to defend him.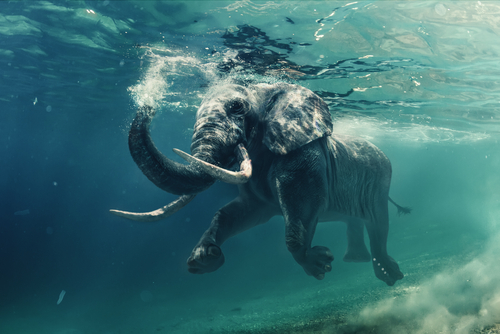 It doesn't matter whether or not her caretaker and the other man were play fighting, all that Thongsri saw was someone potentially hurting her friend. In that moment all she wanted to do was scare off the attacker, stand by her friend's side, and make sure that he was okay.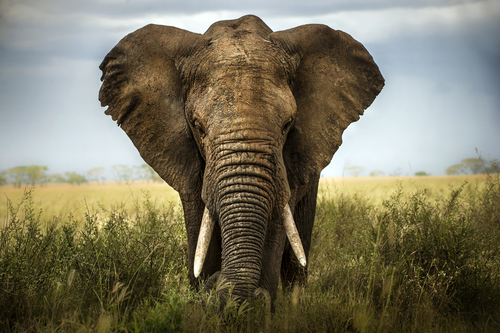 As soon as he saw Thongsri coming at him the other man ran off, who wouldn't have? Seeing a massive elephant flaring her ears aggressively and standing guard over her handler while he's crawling around on the ground is a wild sight to see!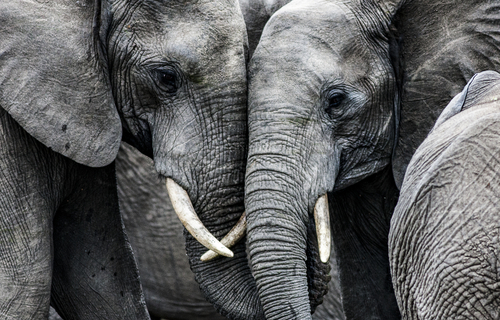 No one in their right mind would continue to try and harm him, they'd likely get trampled in half a second if they did! It all goes to show just how amazing, sensitive, and special elephants truly are.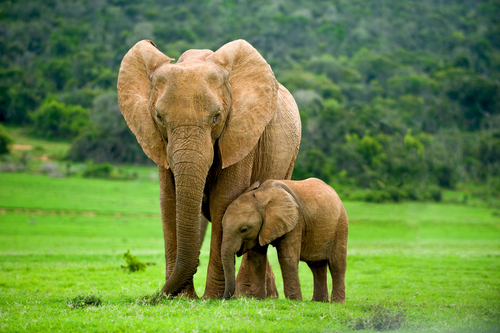 Please SHARE This Video With Family and Friends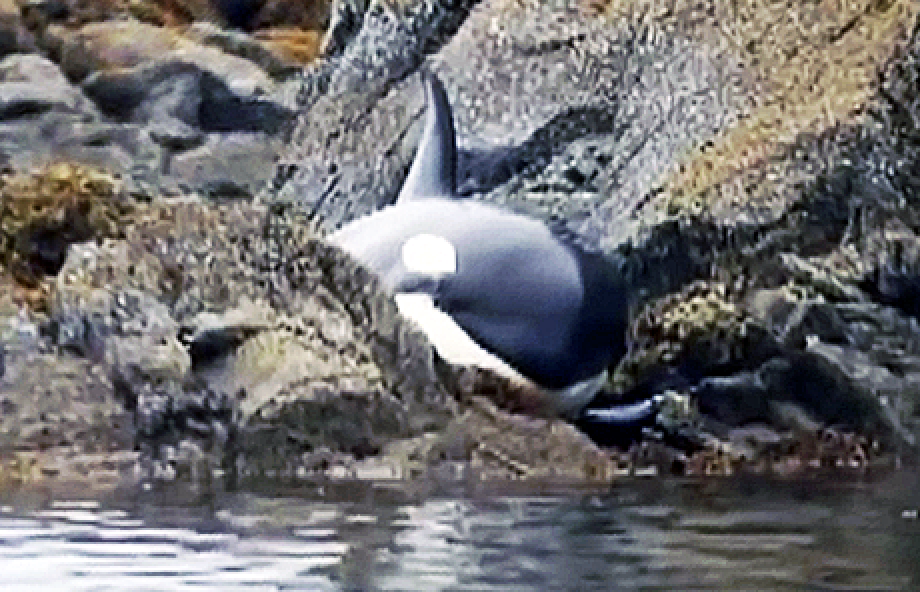 image via – youtube.com
Killer whales are among the most powerful and deadly predators in the world. Few animals come close to matching their accuracy or killer instinct when hunting for food. Even a great white shark is no match for a killer whale. However, the one thing that can and will stop them is dry land. Their immense strength is rendered useless when they become beached or stranded on rocks, like the poor young orca in this video.
The female whale was left high and dry off the coast of British Columbia when an attempt to catch some tasty fish suddenly took a turn for the worse. As the tide went out in Hartley Bay she ended up stuck in a shallow pool atop a rock outcropping. It wasn't very long before her entire body was completely out of the water and fully exposed to the elements. She couldn't have picked a worse time to become trapped weather-wise, it was late July and the summer sun was beating down on her black skin, drying it out and sapping her energy. Without human intervention the killer whale would likely die before the tide returned.
Thankfully a man spotted her and immediately called for help. Local volunteers from the animal rescue group Gitga'at Guardians of Hartley Bay converged on the scene along with others from Cetacea Lab and the For Whales Organization. They had to find a way to keep the young killer whale as wet and cool as possible until the tide returned.
The group covered her body with ocean soaked sheets and capped her dorsal fin with a pillow case. They rigged up a water pump and hosed her down continuously throughout the day. All the while they worked as smooth and silently as they could, in order to help keep the whale calm and relaxed.
Even though she was only nine years old and relatively small, weighing in at an estimated 7,000 pounds, it was no small task keeping her wet, calm and cool for a continuous eight hours. If she freaked out she could have easily over exerted herself and suffocated to death.
A whale's lungs are mainly supported by water and so when they're not in the water it becomes very difficult to breathe because their immense size places a lot of pressure on the lungs. Every breathe she took was difficult but at some point during the rescue her breathing steadied and she'd finally relaxed.
When the tide finally came in and submerged her the rescuers quietly left and headed for higher ground. They wanted her to decide on the right moment to leave, it was the safest way for everyone involved, especially the whale. The young orca seemed to know freedom was close as she grew more and more vocal and patiently waited for the right moment to make a break.
Finally the water level was high enough and she shot off the rocks into the open water. The whale was free at last as she went swimming off into the distance to find her family. All the rescuers looking on whooped and shouted cries of relief, their efforts and hard work had paid off. They all have one incredible whale of a tale to tell now and it's the best kind, one with a happy ending.
Please SHARE This With Family and Friends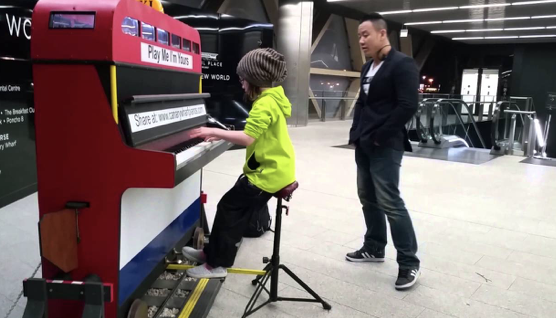 image via – youtube.com
There is a red piano sitting in the middle of a busy metro area that says, "PLAY ME I'M YOURS!"  It sits in London's Canary Wharf station, one-of-many "street pianos" set up by British artist Luke Jerram.  Luke's hope is that these pianos, decorated and hosted by artists all around the world, will engage people in a way that will bring enrichment to their urban environment. There is nothing better than the magic of music to bring people together and sometimes somebody's musical skills are so advanced it will make your jaw drop!
In the video you are about to watch below, a 9-year old little girl sits down at the piano, and begins to play. Her name is Asta Dora Finnsdottir, from Finland, and she is on vacation with her parents.  When she first sat down people probably thought she would play 'Hot Cross Buns' or 'Mary Had a Little Lamb'. But Oh how wrong these unsuspecting onlookers would be. As she begins to play a crowd begins to surround her and the piano in disbelief!
The situation must've been so surreal in person. She starts playing Mozart's "The Turkish March".  But she isn't only playing it, she is hitting every note with perfection, precision and perfect timing. This 9-year-old savant plays with such unexpected magnificence, it almost feel like Mozart himself has taken over her hands and his playing the concerto himself!
Her talent is so far beyond her years and I'm sure we will be hearing much more from her in the coming years. She inspires such passion and delight, as her fingers nimbly produce the music of a virtuoso!  BRAVO! ENCORE!
Watch the video below and enjoy:
Please SHARE This With Family and Friends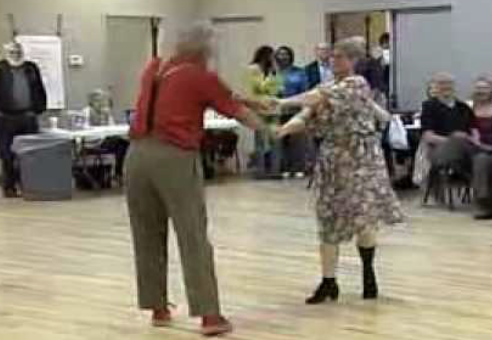 image via – youtube.com
Get ready for some unexpected fun!  Pete and Beulah Mae get out on the dance floor at an old age home, as some funky music starts to play.  Nobody in the place expected what was about to happen. This elderly couple started off slow performing for some senior citizens.
They've been dancing together for years and start off their routine like some clunky vaudeville act.  Goofy mistakes and slapstick contortions don't prepare you for what is about to come.  They are about to really startle their audience with their moves.
They are incredible swing dancers with a modern edge; watch Beulah Mae twerking!  I kept looking to see if they were actually younger people dressed up to look elderly.  They are not in costume, but have maintained a "young at heart" vitality that is a joy to watch.
Let us know what you think of this epic performance!
Please SHARE This With Your Family and Friends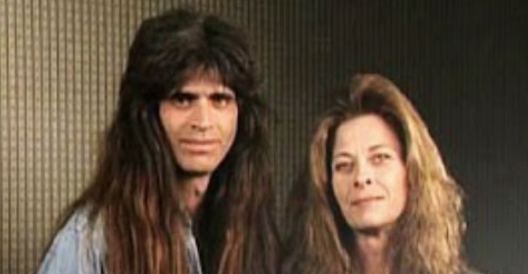 image via – facebook.com
How you style your hair can either age you or make you look much younger than you actually are. Badly styled hair can make a 30 year old look 50 and according to experts, people should change their hair style every two years or so to keep current.
It's no secret that the easiest way to makeover and revamp your overall look is with a haircut. By simply switching up your hair style, and cutting or dying it, you can shave years off of your appearance and feel young and new again.
With each passing year comes a new hair style and certain ones end up becoming iconic, representative of certain eras and past decades. A prime example of this is the long, bouncy, big, teased out to the max 80's-style rocker hair.
That type of hair was glamorous and an absolute must have for anyone active in, on, or around the rock and roll scene in the 1980's. However, any person who sports that style of hair today automatically looks like they're old, outdated, and basically stuck in the 80s.
Tim and Wendy White were such people. They rocked their 80's glam hair all through the 90s before friends stepped in and got them the professional help they knew they so badly needed.
Help came in the form of Oprah Whitney and her makeover team of specialists. They interviewed the couple before and after their makeovers and got their takes on how they felt about their appearance. Wendy revealed that she hadn't had a haircut since 1992 and thought that her hair made her look 6-11 years older.
Tim's last haircut was even longer ago, in 1985!! Even though he was 43 years old, he thought that his hair aged him 7-17 years and that he looked about 50-60 years old. The couple knew they needed to make a change and were ready for it.
They looked like totally different people when they finally walked out onto the stage for the big reveal. It's amazing to see how something as simple as a haircut can make such an enormous difference. Check out the video to see just how much of a transformation they underwent.
Even the audience gasped and was shocked by the new looks, while Tim couldn't believe his eyes when he first saw Wendy. It all makes for a truly awesome, feel good moment, and it may just inspire you to get a new haircut!
Let us know what you think of this amazing transformation!
Please Share This With Family and Friends 🙂