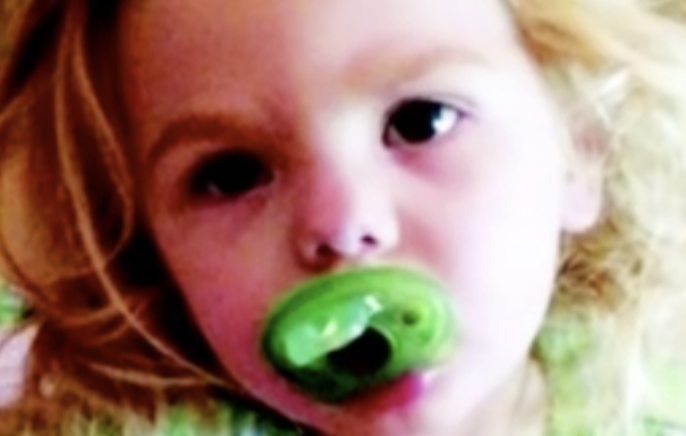 image via – youtube.com
The parents of little Vivian Keith, were in a children's hospital.  They had received the terrible news that is a parent's worse nightmare; Vivian had been diagnosed with acute lymphoblastic leukemia.  Each day Ginger Keith, Vivian's mom, would hold Vivian up to the window and they would both wave, like crazy, at the construction workers who were building across from the
hospital.
This group of ironworkers soon noticed Ginger and sweet little Vivian waving each day and they would wave back.  Greg Combs, one of the workers whom you will see interviewed in this video below, really began to think about what little Vivian and her mom must be going through.
One day he and co-worker Travis Barnes came up with an idea.  As Ginger reported to "Today" and "ABC News", she brought Vivian to the window to do their daily waving, and what they saw was a huge message spray-painted on one of the beams that read, "Get Well Soon".
They waved at Vivian and mom and kept pointing to be sure they saw the message. Ginger was so touched, that she took pictures, and sent them pastries in gratitude.
In the footage below you will hear Ginger talk about what this small act of kindness did for them, and Greg Combs talk about reflecting on his own kids, and tearing up with compassion and gratitude.
Once Vivian was out of isolation you will see these unlikely new friends meet, after touching each other's lives.
Please SHARE This Story With Family and Friends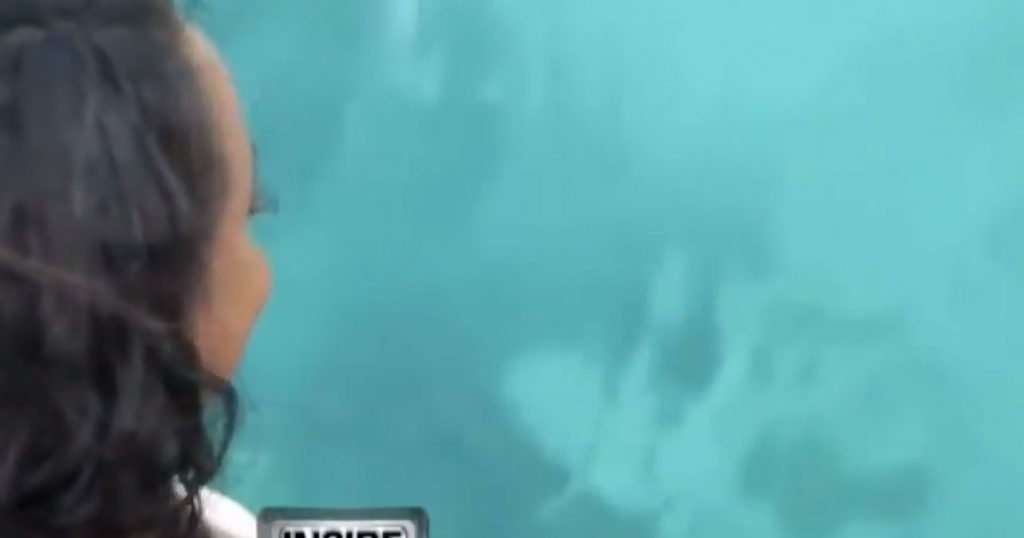 There is nothing worse than that 'sinking' feeling of watching your cell phone fall into a body of water.  On a modeling shoot in the Bahamas, pro model and dancer for the Miami Heat Teressa Cee, had just such a moment.  She was trying to be careful with her cellphone, while shooting footage on a floating platform in the Atlantic Ocean, by asking someone to hang onto her phone.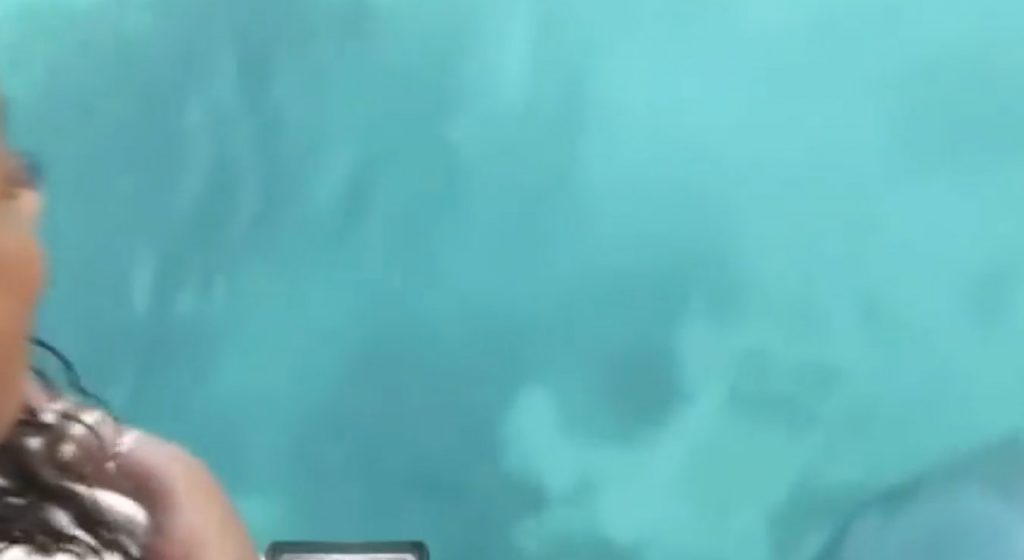 The best laid plans went awry, as the guy accidentally dropped it in the Blue Island Lagoon in the Caribbean.  The Lagoon offers the tourist attraction of a multitude of dolphins.  Although Teressa's phone had sunk to the bottom, something really surprising happened next.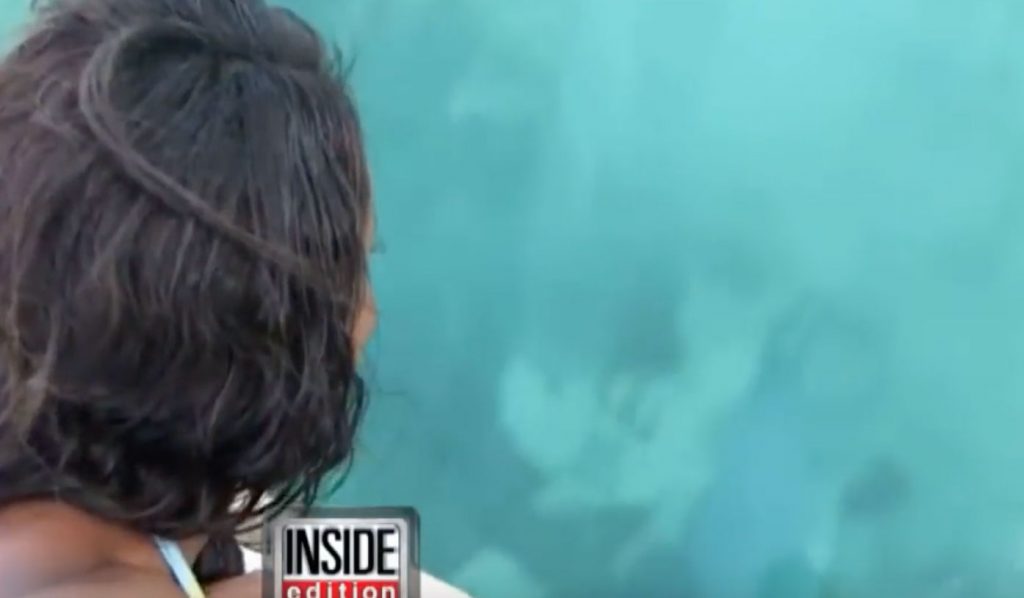 Watch this adorable footage as Cacique, a well-known playful and talkative dolphin, pops up out of the water to return the phone, defying all odds.  Whether or not the phone will be restored to working order, this priceless moment will be one Teressa will never forget.  Her delight and surprise can be enjoyed as you watch the video below.  It put a big smile on my face.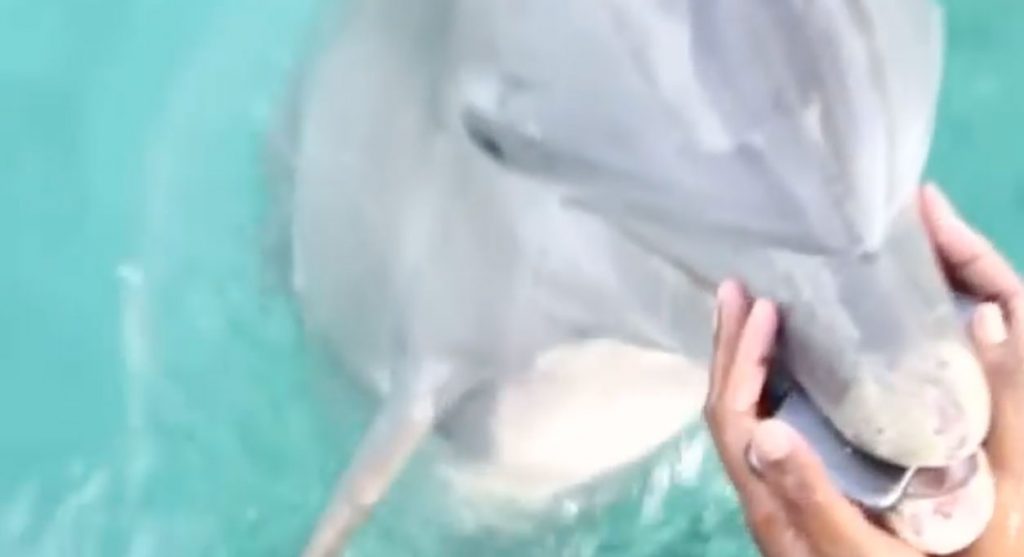 Please SHARE this delightful and surprising moment with your friends and family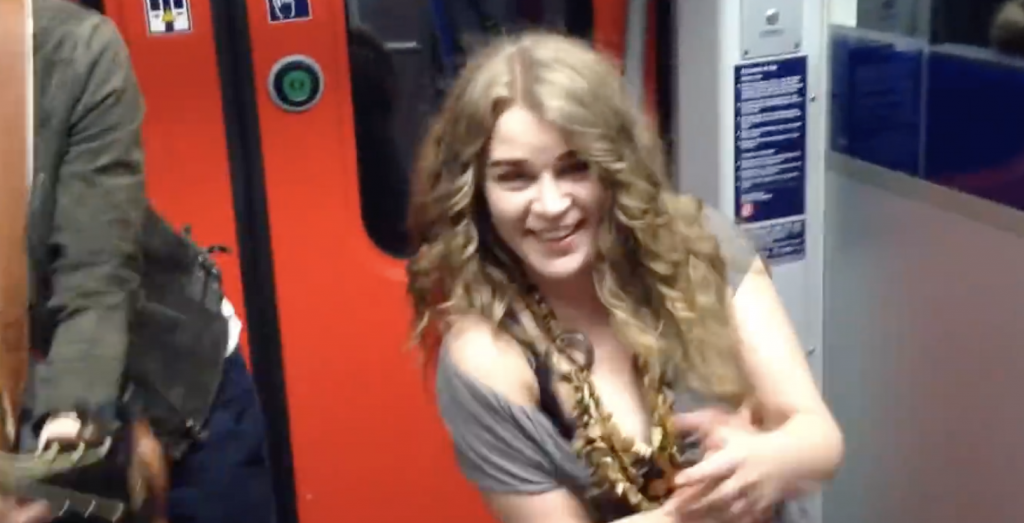 The news of the death of the brilliant artist Prince, at only 57, shook the world on April 21,2016.  His musical contribution stands with the greats, and will live on to continue to give his most appreciative fans consolation and musical delight!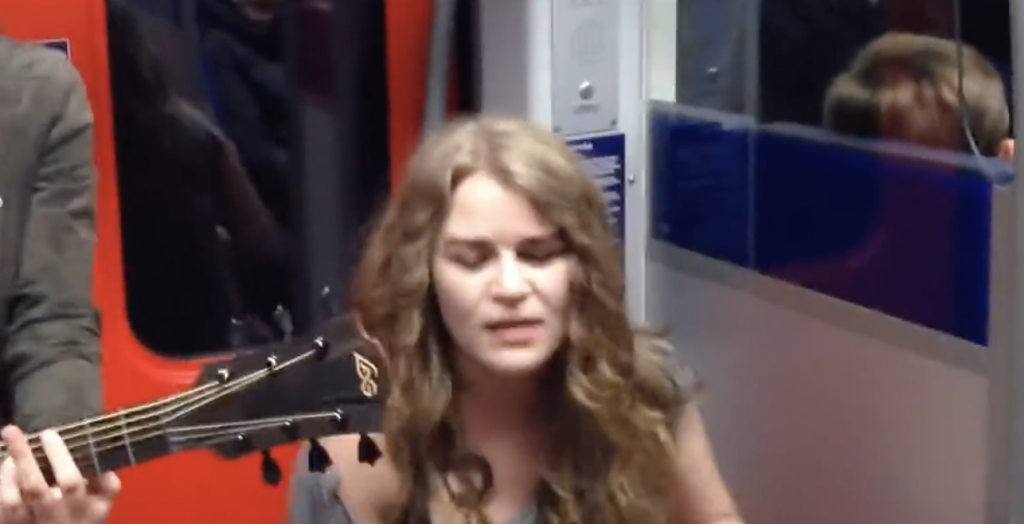 Coincidentally, two of his fans who were riding on a subway train in Frankfurt, Germany, spontaneously burst into Prince's song "Kiss", only two days before his tragic demise.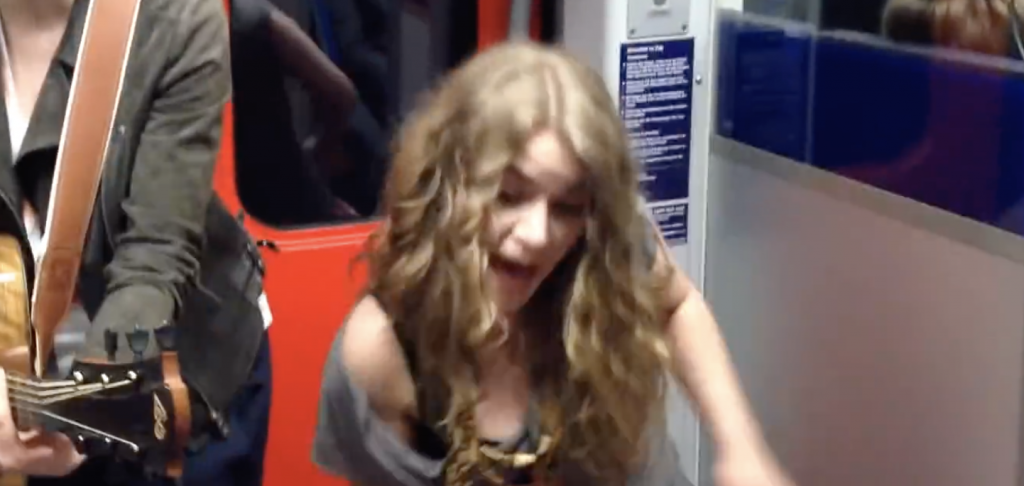 The Danish news channel TV 2, reported that these girls, Anna Gunder and Heidi Joubert started to jam, exhibiting enthusiastic talent that electrified the other passengers.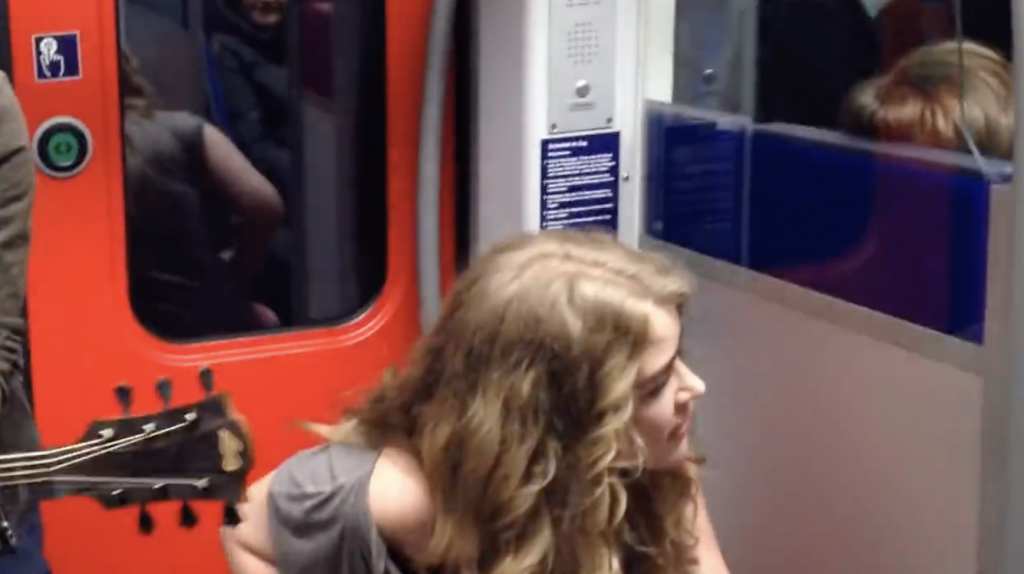 Amazingly, a passenger sitting across from them a few rows away, suddenly joined in, providing harmony and yet another great voice.  The three jammed, as if they had been singing together for years, creating a performance that had the whole train wildly cheering!  As you watch this amazing footage in the video below, you will understand why it has had millions of views on  Facebook and YouTube.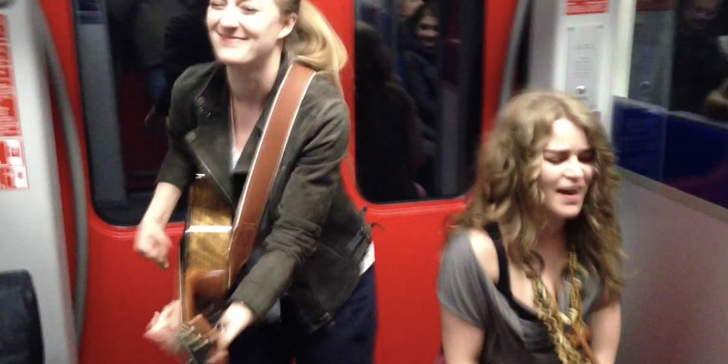 Please SHARE This With Family and Friends 🙂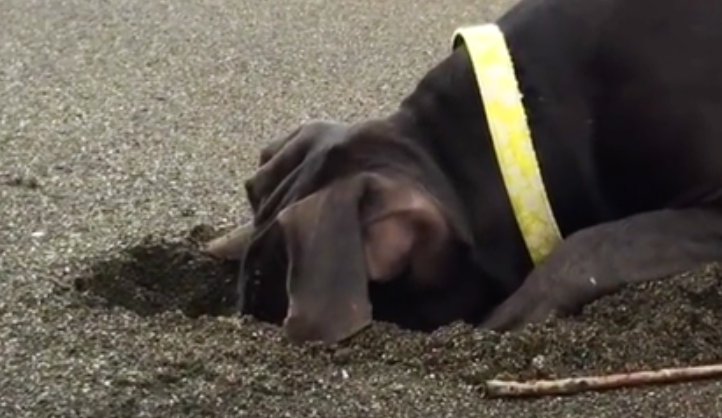 image via – youtube.com
A day at the beach is best enjoyed by laying in the sun, jumping in the ocean to cool off and swim in the waves, and digging in the sand! Of course, it's always better when you have a few friends with you to play with, but even if you don't you can always meet some new ones at the shore.
At least that's one dog's easy going approach to beach life and she sure makes the most of it! While there are lots of smart puppies out there in the world, this one is named Sheila. She's gentle, sweet, energetic, and loves to make new friends on the fly.
One day she was out enjoying a walk down on Guanico Beach in Panama when she decided to suddenly rustle up a new play partner. It was quite easy for her and all she had to do was bury her nose in the sand, dig a hole, and out popped a little crab!
As you can see from the clip, Sheila was absolutely delighted to see her new friend, but the angry little crustacean was not so pleased about being disturbed. The crab darted around aggressively while throwing up its pincers for protection.
Despite all of his posturing, the cute little crab had nothing to worry about because Sheila was extra gentle while interacting with him. She took care to not step on him and while she snapped at it, she never truly went in for a bite, it was all done in fun.
After chasing and bouncing around on the beach with her new friend, the crab finally had enough and put an end to it. All he had to do was stay very still and soon enough Sheila's attention shifted elsewhere and she lost interest.
All's well that ends well and no crabs were harmed during the making of this video.
Please Share This With Family and Friends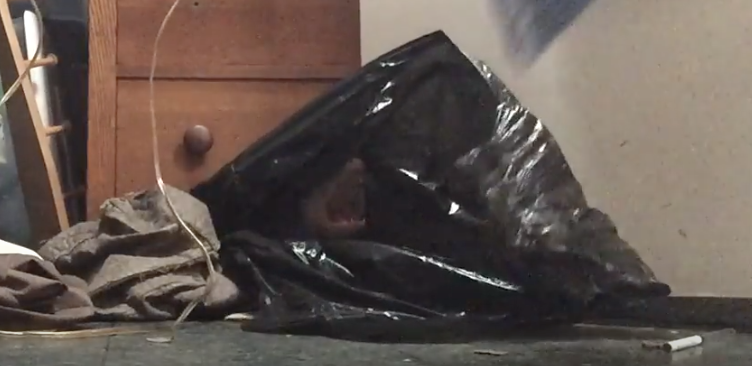 One woman was in for a huge surprise when she went to clean out her closet in an indoor/outdoor room at her Los Angeles area home.  After opening the door and starting to clean she heard hissing and angry noises coming from a black plastic garbage bag.  Inside the bag laid a large possum, which stuck its sharp fanged mouth out and looked ready to attack at any moment.  The normally nocturnal, shy, solitary, and nomadic creature was not behaving at all like a normal possum would have.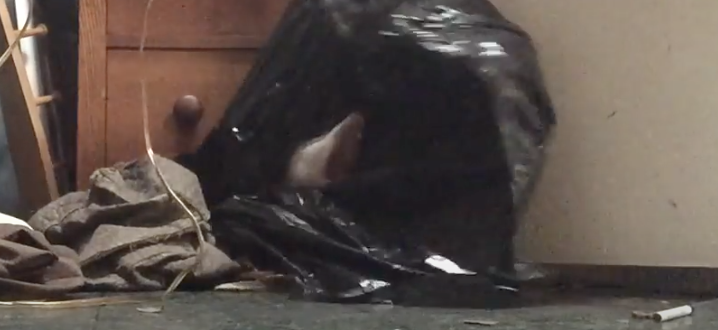 The aggressive behavior the possum was exhibiting soon had an explanation.  The woman, Tara McVicar, discovered that the garbage bag held a number of tiny babies who were hiding behind their mother.  The possum was only trying to defend her babies and felt threatened when Tara went to clean the closet.  They had probably been born in the tiny room, maybe even in the bag, and likely had not ventured far in the daytime world.
After this realization, Tara let the group calm down and slowly started to remove a few of the babies.  She placed them right outside her back door, safe inside a hutch, in order to lure the mother out when she went to go find them.  The mother gathered the babies she still had around her onto her back and cautiously began to move towards the door.

Slowly and surely she sniffed her way to her babies outside, and a short time later the family was reunited and all back together.  With the rest of her babies firmly latched onto her backside the mama headed off into the woods.  Tara reclaimed her closet and the possum family got back to nature, where they belong and will learn life lessons from mom!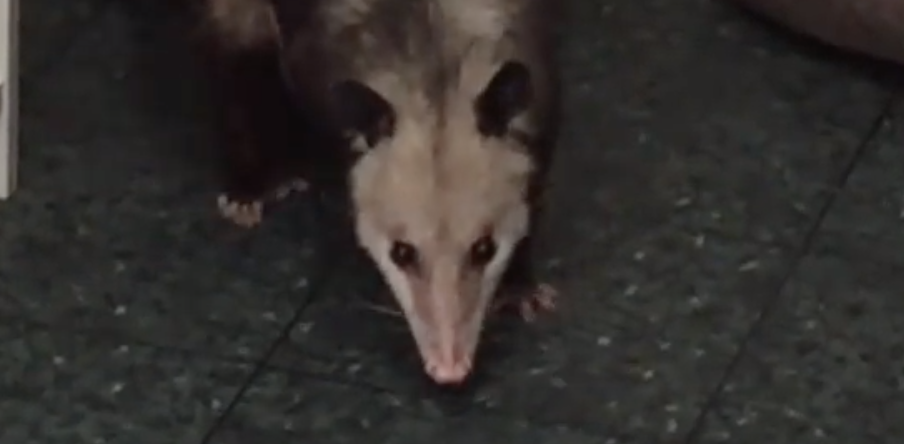 Please SHARE With Family and Friends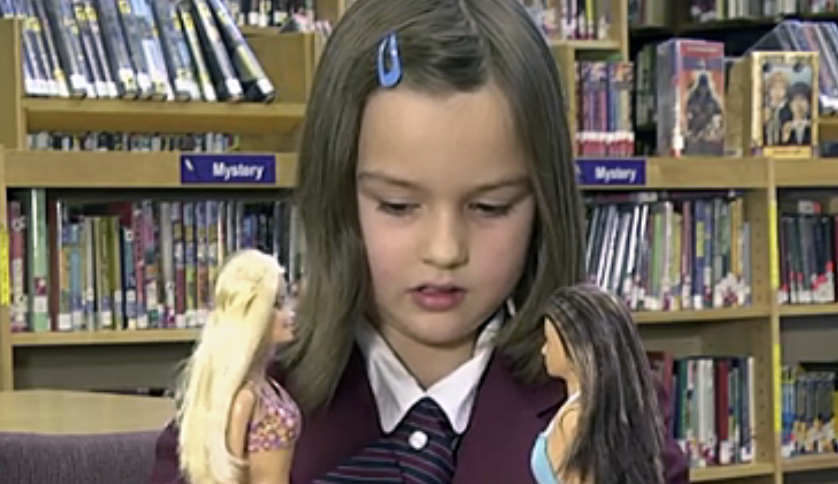 image via – youtube.com
Well, it's about time, isn't it!? We've all known for a long time that Barbie and Ken dolls are an unrealistic representation of woman and man, yet they have continued to be produced and distributed to children world wide.
It can not be denied that the plastic people have contributed to the skewed understanding of beauty that plagues the generations from a very young age. So, finally we meet Lammily. While the doll is still far from realistic, it is a grand improvement when compared to its counterpart.
Second graders in Pittsburgh, Pennsylvania were introduced to Lammily to see what they thought. Their reactions were consistent in welcoming the new doll with open arms and observing the differences between her and the doll they were used to seeing.
It was very evident to the children that Lammily was not only more lifelike, but that because of her features she would be more capable of playing when Barbie would have been inhibited. For example, Lammily has wider hips so is more suited for riding a horse than Barbie. Also, Lammily has normal feet and toes, where Barbie looks like she had her feet bound in four inch heels.
The students in this video responded very positively to the more authentic figurine. They commented that she reminded them of someone they know, and that they liked her soft hair, and natural features. When asked what the two model women would do for work in the real world the children's answers were candid.
Barbie was seen to be a supermodel, fashion star, make up artist, or a surfer whereas Lammily was viewed to be a teacher, pilot, swimmer, work with a computer or have really any job. The children unanimously stated that between the two dolls they identified more with Lammily and adored her.
Please Share With Friends On Facebook