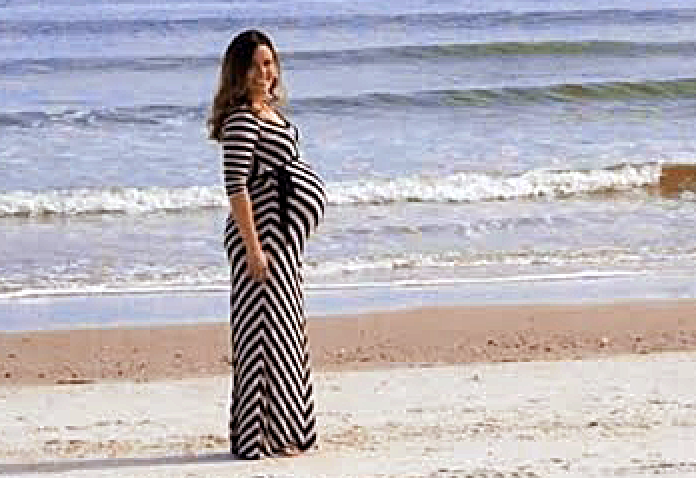 image via – youtube.com
Pregnancy is one of the most amazing moments in any woman's life. That amazing glow your skin gives off as it begins to shimmer. Once that initial morning sickness wears off and you are lucky enough to have a smooth pregnancy it can be an absolutely amazing experience. Feeling that first kick in your belly, when your baby in the womb lets you know that they are there!
When you get towards the last month or two of being pregnant it is pretty common to take pregnancy photos, so you have the memories forever before your sweet young child comes into this world. Some women prefer a lavender meadow, while others prefer a scenic vista, while some choose a mountain top, while some prefer a beautiful sandy beach with relaxing ocean waves gently lapping in the background.
This brings us to today's story featuring Angeline Moser, a beautiful pregnant mother of 9 months and her handsome husband Dan. The couple decided that the best place for this new mama to take her pregnancy pics would be at their favorite beach spot. She put on her most stunning maternity dresses and got herself ready for the first pictures she would ever take with her baby. As with most maternity photoshoots the mother to be will pose with her belly to the side so that the photos can capture the pregnancy in all it's essence. Her husband Dan is pretty handy with a camera, so they decided not to get a professional photographer.
Angeline got in her best baby poses, turned towards Dan and the camera as she smiled and glowed through all the perfect shots that were coming out. At first everything seemed completely normal, nothing out of ordinary, just a nice warm ocean breeze, the sand at her feet, and her soon to be baby lightly pitter pattering away inside her belly knowing that this would be it's first photoshoot!
Out of no where, Dan noticed from the corner of his eye, a finned creature which kept leaping out of water in the distance multiple times. He didn't say anything to his wife at that time, but zoomed in just a bit to see exactly what it was, and it to his surprise it was none other than a majestic dolphin! As the maternity photoshoot continued, the dolphin kept leaping out of the water as if it wanted to be a part of this families amazing new life with their newborn just around the corner!
What was already a perfect and magical setting, got even more spectacular as Dan snapped these amazing shots, as his beautiful wife and new baby posed. This was almost like something out of the Little Mermaid. It would surely be something this young couple would never ever forget, especially since they now had photos which would forever capture this moment in time for the rest of their lives!
Watch the video below for the full story:
Please SHARE This With Family and Friends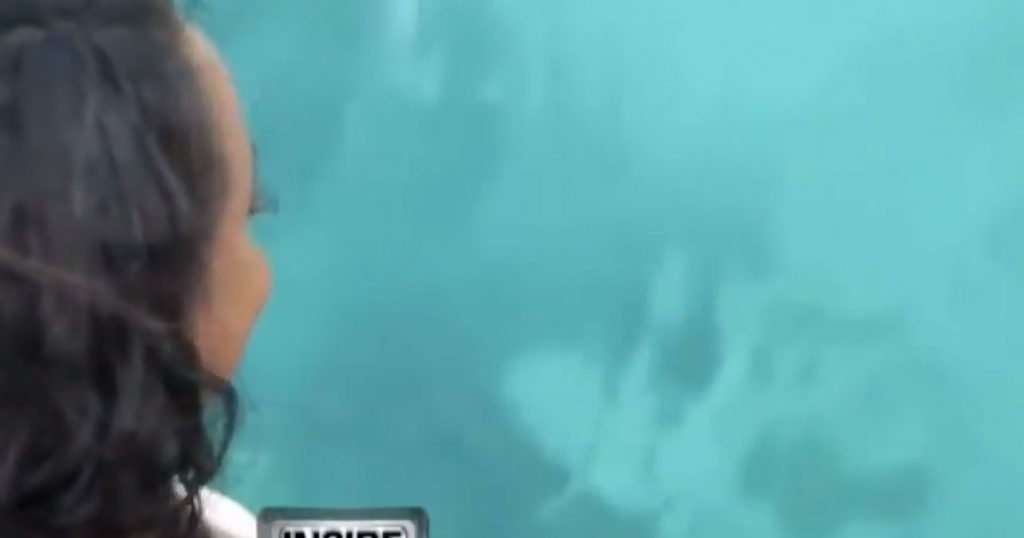 There is nothing worse than that 'sinking' feeling of watching your cell phone fall into a body of water.  On a modeling shoot in the Bahamas, pro model and dancer for the Miami Heat Teressa Cee, had just such a moment.  She was trying to be careful with her cellphone, while shooting footage on a floating platform in the Atlantic Ocean, by asking someone to hang onto her phone.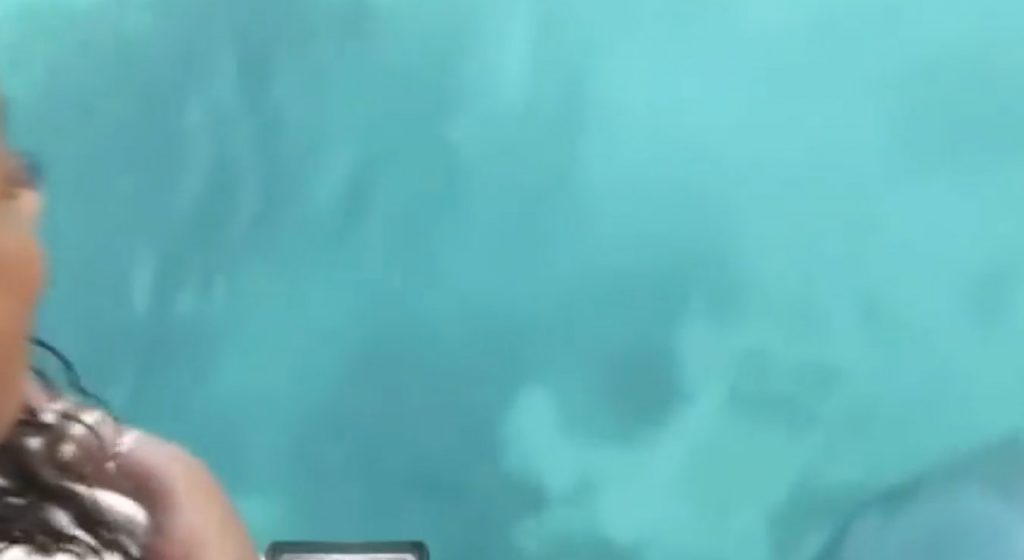 The best laid plans went awry, as the guy accidentally dropped it in the Blue Island Lagoon in the Caribbean.  The Lagoon offers the tourist attraction of a multitude of dolphins.  Although Teressa's phone had sunk to the bottom, something really surprising happened next.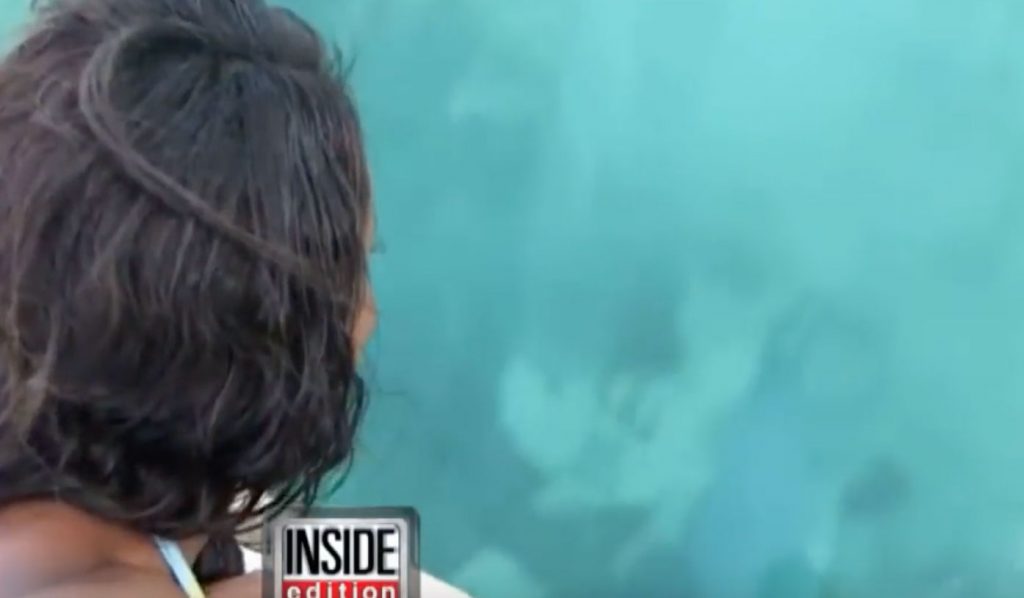 Watch this adorable footage as Cacique, a well-known playful and talkative dolphin, pops up out of the water to return the phone, defying all odds.  Whether or not the phone will be restored to working order, this priceless moment will be one Teressa will never forget.  Her delight and surprise can be enjoyed as you watch the video below.  It put a big smile on my face.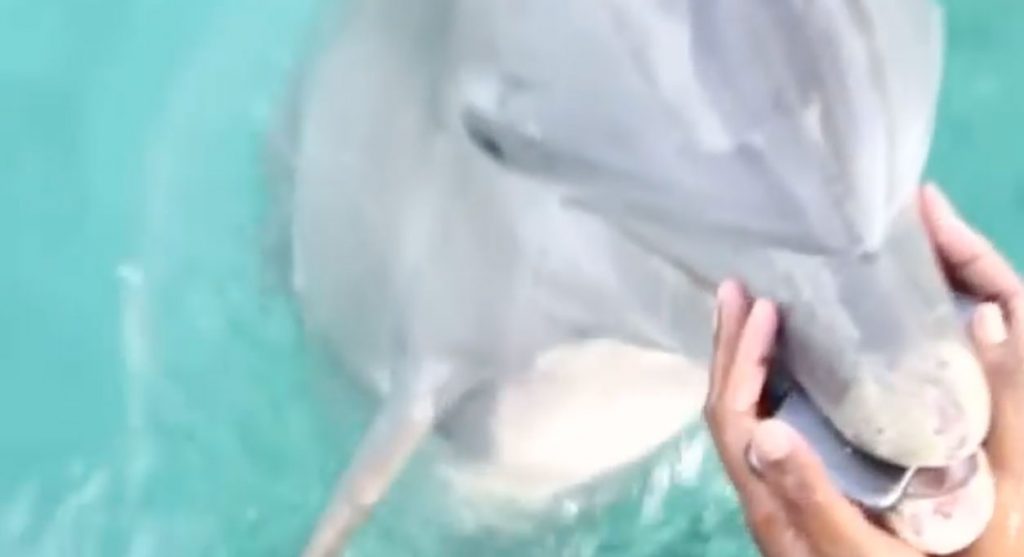 Please SHARE this delightful and surprising moment with your friends and family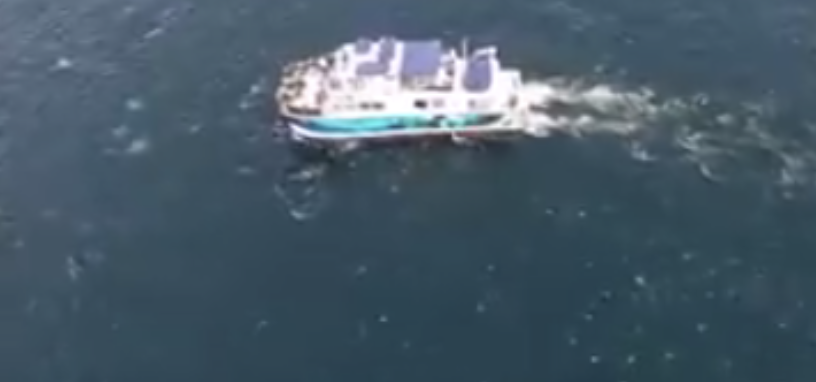 image via – youtube.com
Meet Captain Dave, a ship captain who runs a whale watching safari year round.  For the first time ever, the rare, majestic and endangered blue whales ended up in Dana Point, California.  Luckily Captain Dave had his drone camera ready and captured the first drone footage of blue whales in this area. One of the blue whales he filmed, is believed to be over 80 feet long.
He also capture incredible video of a gray whale mama and her babies playing and eating kelp off the shore of Orange County.  Captain Dave explains how rare it is to capture to gray whale calves.  He explains that 35 percent of blue whale babies are eaten by Orca whales.  So their mothers intentionally keep them close at all times.
There is not much for these babies to eat during their migrations, so they mainly feed on their mother's milk and grow at about 50 pounds per day. The final thing he captured was a giant megapod of thousands of dolphins swimming side by side.  This is truly a site to behold.
They swam right beside the boat and gave these whale watchers a truly unforgettable experience. This footage is absolutely breathtaking. Mother Nature never ceases to amaze. What a wonderful planet we all live on! Enjoy!
Please Share With Family and Friends