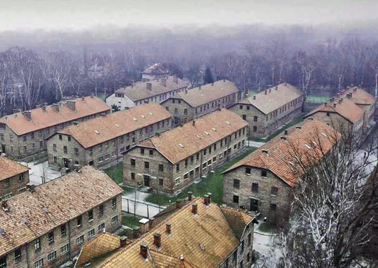 image via – youtube.com
What you are about to watch in the footage below is haunting.  I have always been hesitant to make a trip to visit any of the concentration camps, where millions of people were exterminated during World War II, as I feared being overwhelmed by fear and sadness..
While watching this video in which a drone flew over Auschwitz, the largest Nazi death camp, it brought up much of what I imagined. People do, in fact, visit this former prison which is now a World Heritage Site.  More than 1 million people, the majority of whom were Jews, died at this "most deadly place on earth" in only 5 years, from 1940-1945.
The drone travels from the train tracks which carried the unsuspecting victims into the camp from all over the Nazi occupied places in Europe.  You will see the entry sign, which reads "Arbeit Macht Frei"; it translates into "Work Sets You Free" which was the ultimate lie, as the sole purpose of the camp was to exterminate all the people.
Although Auschwitz was the place of nightmares for the more than 1 million people who were gassed, and for the very few who survived, it stands as a reminder run by the Polish Culture Ministry.  It's importance lies, in it's stark and frightening reality of what can happen, when the very worst forms of demagoguery, nationalism, fear and hatred come to rule.
Watch the footage below to see what only the very few survived during some of the darkest days known to mankind.
Please SHARE This With Your Family and Friends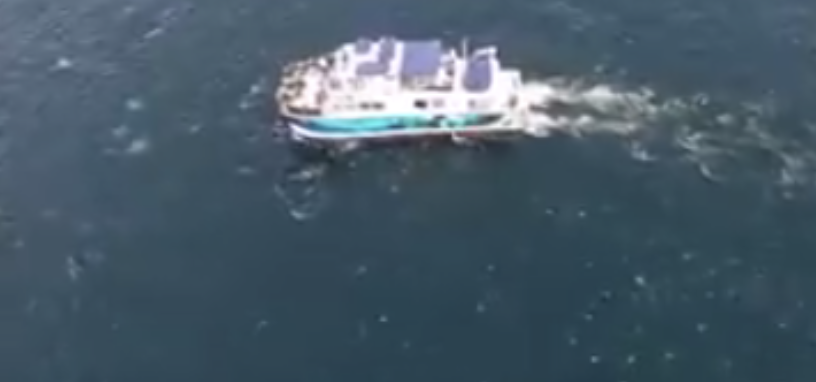 image via – youtube.com
Meet Captain Dave, a ship captain who runs a whale watching safari year round.  For the first time ever, the rare, majestic and endangered blue whales ended up in Dana Point, California.  Luckily Captain Dave had his drone camera ready and captured the first drone footage of blue whales in this area. One of the blue whales he filmed, is believed to be over 80 feet long.
He also capture incredible video of a gray whale mama and her babies playing and eating kelp off the shore of Orange County.  Captain Dave explains how rare it is to capture to gray whale calves.  He explains that 35 percent of blue whale babies are eaten by Orca whales.  So their mothers intentionally keep them close at all times.
There is not much for these babies to eat during their migrations, so they mainly feed on their mother's milk and grow at about 50 pounds per day. The final thing he captured was a giant megapod of thousands of dolphins swimming side by side.  This is truly a site to behold.
They swam right beside the boat and gave these whale watchers a truly unforgettable experience. This footage is absolutely breathtaking. Mother Nature never ceases to amaze. What a wonderful planet we all live on! Enjoy!
Please Share With Family and Friends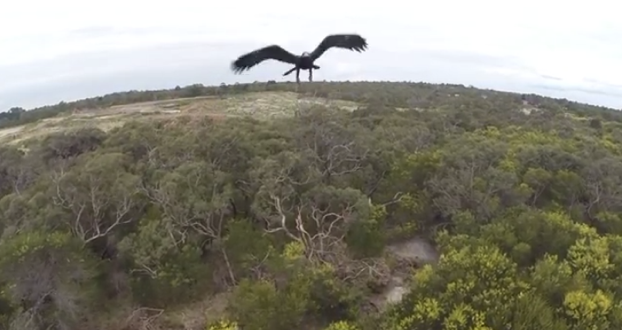 The flying of drones, as an everyday "fun" activity around the countryside, can cause unexpected peril to wildlife and other flying objects. Adam Lancaster, an Australian man, was flying his drone quadcopter, when it met up with a large female wedge-tailed eagle, one of Australia's largest bird's of prey.
Whether the bird went after the drone or whether it was an unexpected collision is up to the viewer to decide, as the incident was captured by the drone's camera. According to Lancaster, the eagle was unharmed and flew away; a fact that isn't clearly shown on the video.
Whether the eagle survived unharmed or not, this incident shows the potential peril for birds of prey and other birds as drones in the skies become more commonplace.
There are numerous other videos of eagles, hawks, falcons and other birds of prey attacking drones in the sky. As they probably perceive them as a threat to their existence, they are likely to attack them. Whether they survive the attack of this metal object can be a threat to their existence.
Lancaster came out of this incident strongly advising all drone pilots to land if a bird of prey is sighted, so that the safety of both birds and drones can be insured.
However, after watching this video, the question of the safety of drones to wildlife is raised in an alarming way. Please watch and share this video which raises important questions about the use of drones in our skies.
Please Share With Family and Friends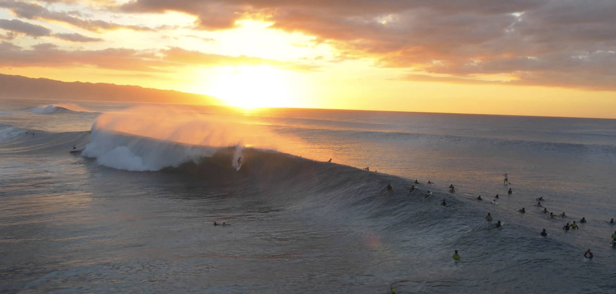 The Hawaiian Islands are known for being one of the most beautiful and natural places in the world. The paradise has within it all of the tropical wonders that mother nature has to offer. There are white sandy beaches, coral reefs, rocky volcano peaks, lush green forests, clear freshwater pools, cascading waterfalls, fields of tall grasses, and countless types and varieties of flora and fauna.
The list goes on and on, there is so much to see and explore throughout the islands. One of the main attractions is the North Shore of the Island of O'ahu. The third biggest island draws in surfers who are looking to experience the excellent surfing conditions that exist there.
During the northern hemisphere's winter months the North Pacific Ocean is often stormy and this weather activity causes swells to roll onto the North Shore's beaches. These massive waves attract the best surfers from around the globe to the top surfing spots that include Waimea Bay and Sunset Beach.
After viewing this stunning clip it's easy to see why so many people name Hawaii as a top destination they want to visit before they die. Film maker and drone pilot extraordinaire Eric Sterman took to the sky to capture some of the most beautiful and gorgeous footage of O'ahu to date.
Check it out to see some of the best sights, hidden gems, and other vistas that can only be found on ore near the North Shore.
Have you ever been to this part of Hawaii? Did you enjoy the footage? Let us know!
Please Share With Family and Friends On Facebook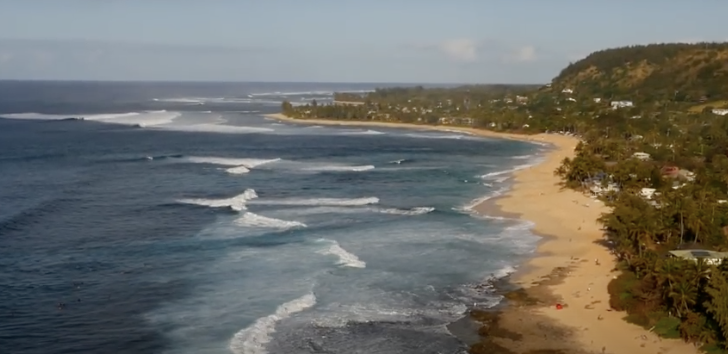 There is nothing more beautiful in the world than a tropical paradise. Add some incredible drone footage some amazing music and you basically have heaven on earth. Strap on your seat belts, sit back relax grab some popcorn a beverage kick your feet up and enjoy the most epic thing you will see in a long time. If you are stuck at your office or in your house and need to take a mental vacation you came to the right place!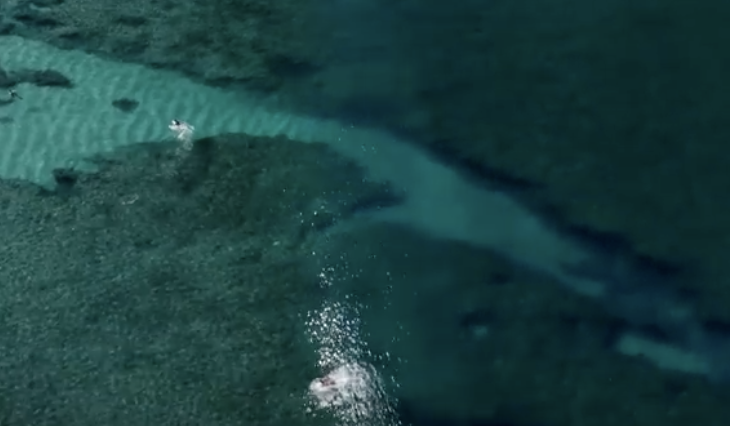 The largest settlement is Haleʻiwa. This area is best known for its massive waves, attracting surfers from all around the globe.  Oahu's North Shore is one of the most beautiful places on the planet.  A talented film maker named Eric Sterman released a drone, and caught some of the most epic footage we have ever seen.  The North Shore looks like a gorgeous paradise that I must put on my bucket list.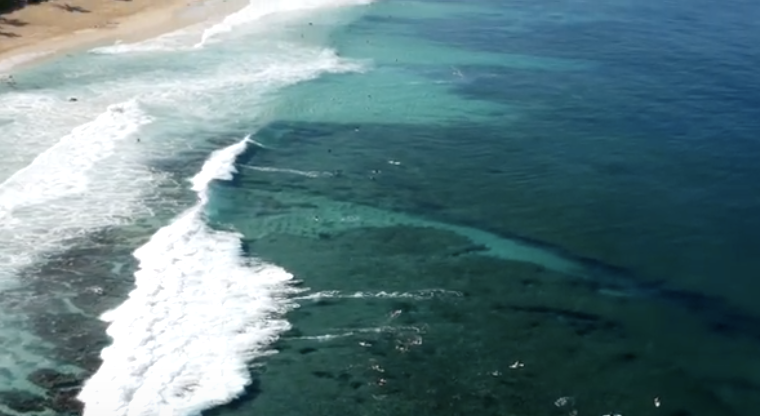 With all this new drone footage technology beginning to surface, we are really starting to get a look at nature in a whole new light.  The future of nature film and photography seems to be evolving quickly and I am loving every minute of it. Have you ever been to this part of Hawaii?  Did you enjoy the footage? let us know.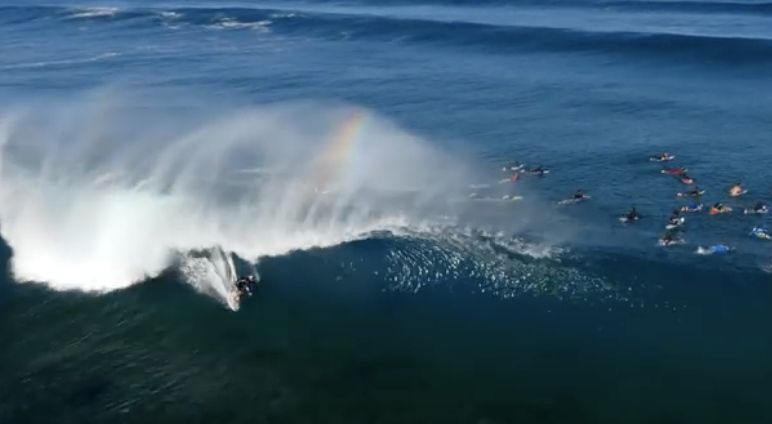 Please SHARE With Family and Friends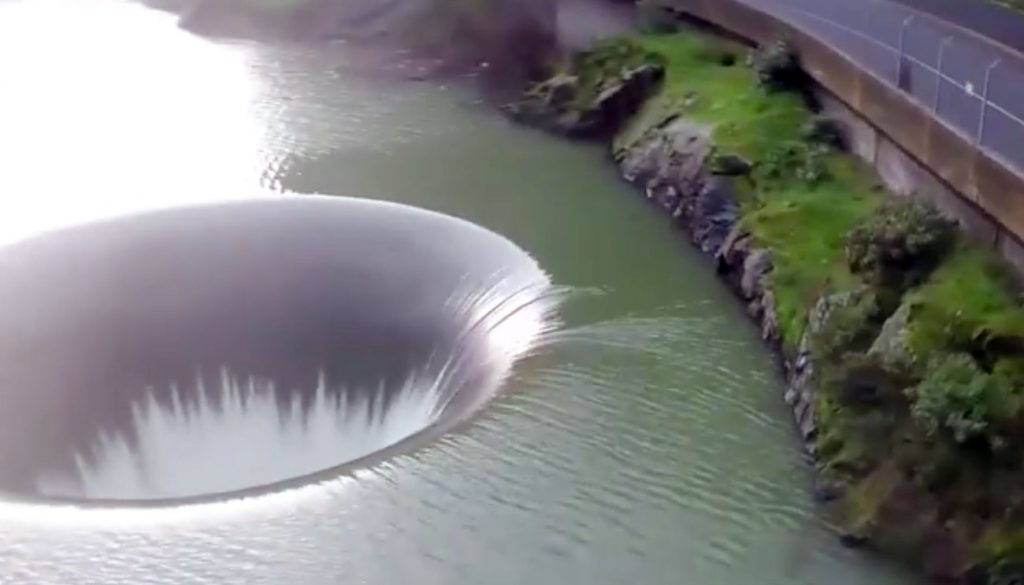 California's Napa County is well known for its wine industry and beautiful scenery. Between its lush green rolling hills and wildflower covered valleys, it easily ranks among one of the most naturally picturesque places in America. There is so much to see and explore throughout the area and when the timing is right, one of the main attractions can be found at Lake Berryessa. The seventh largest man-made lake in California is held back by the 304 foot tall Monticello Dam and is home to the famous "Glory Hole" spillway. Sitting just yards away from the concrete lip of the dam, the spillway is funnel shaped just like how a morning glory flower is, hence the name.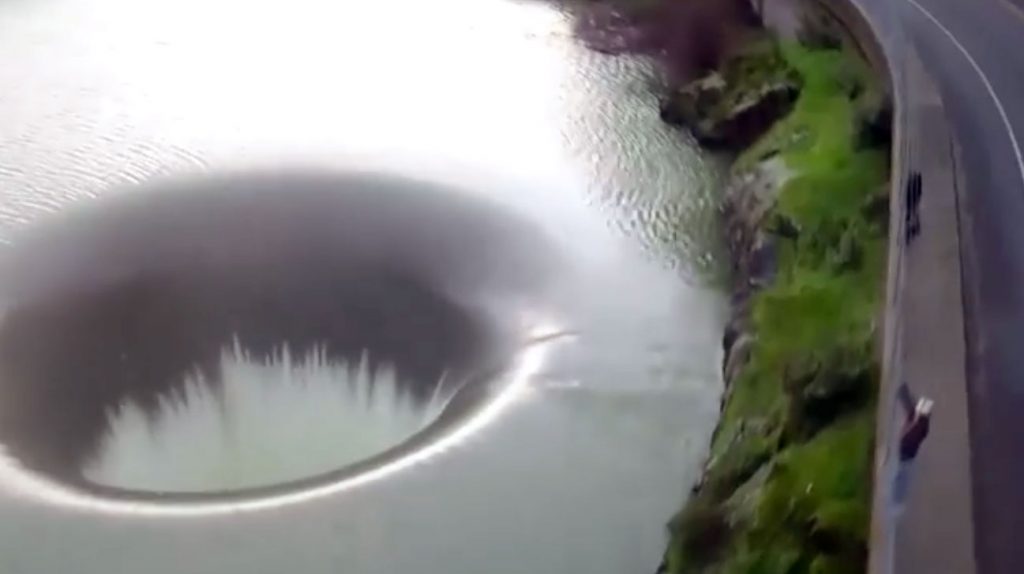 At the opening and widest point, it measures 72 feet across before narrowing down to approximately 28 feet as it drops straight down two-hundred vertical feet! Once it reaches the bottom it bends ninety degrees and then straightens out before eventually draining out on the other side of the dam into Putah Creek.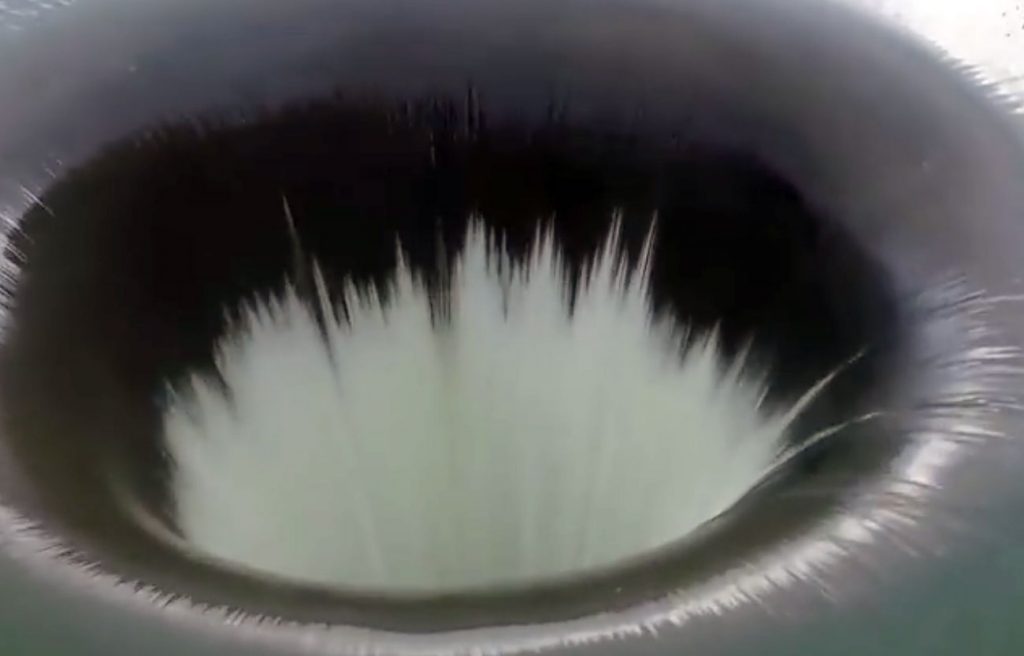 The last time the spillway was in action was well over a decade ago and with the ongoing drought conditions that California has been experiencing it was expected to be awhile before it ever saw any use again. All of that changed recently when January and February brought record amounts of rain to the region and raised the lake's water capacity to near maximum levels!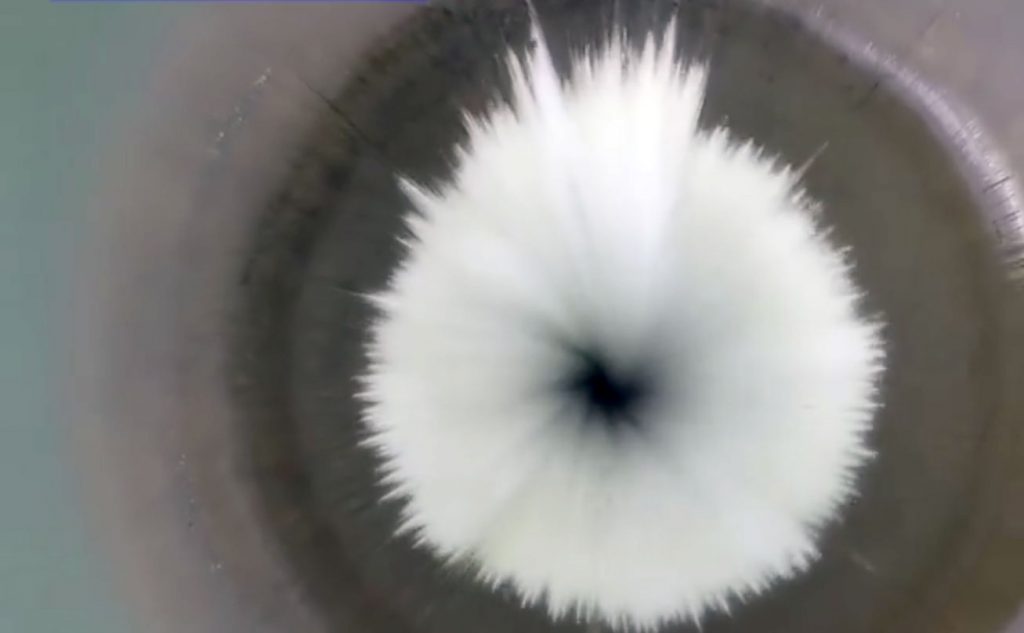 The sudden influx of so much water in such a short span of time meant that the glory hole was finally back in action and on February 16, 2017 the edge of it was officially runneth over! You have to check out this awesome drone footage to see what it looks like when thousands of cubic feet of water per second rush down the hole.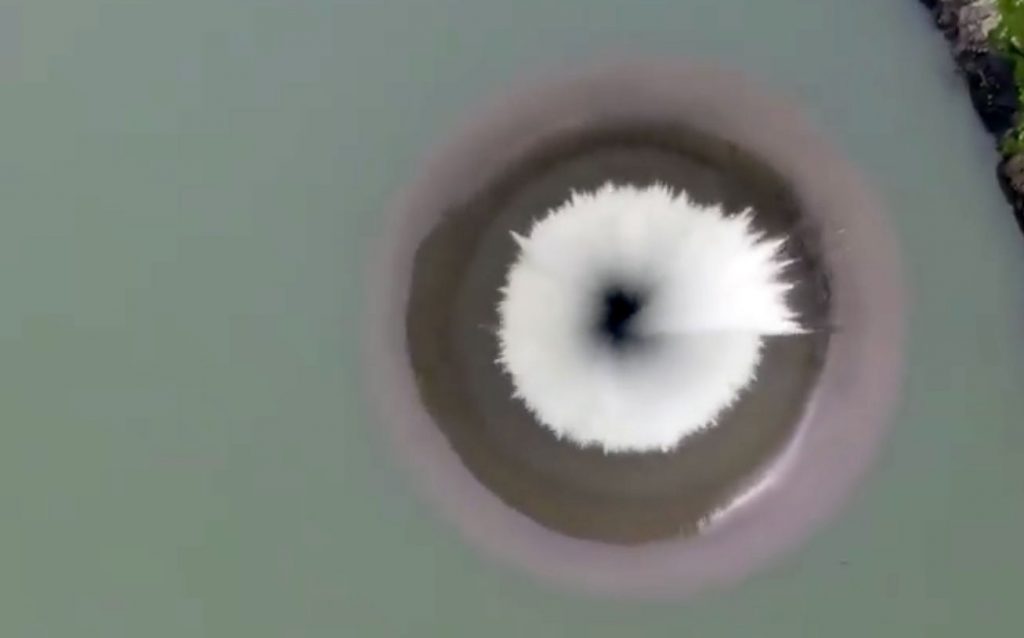 It's unbelievably mesmerizing and hypnotic and the power of the spillway is truly a wonder to behold. At one point in the footage the drone operator let it get a little too close to the hole and it almost ended up being sucked down into the dark depths. Check it out because this is something you don't get to see all that often and it's super neat! Note: If Trouble Viewing Video on Mobile Device or iPad turn device horizontal.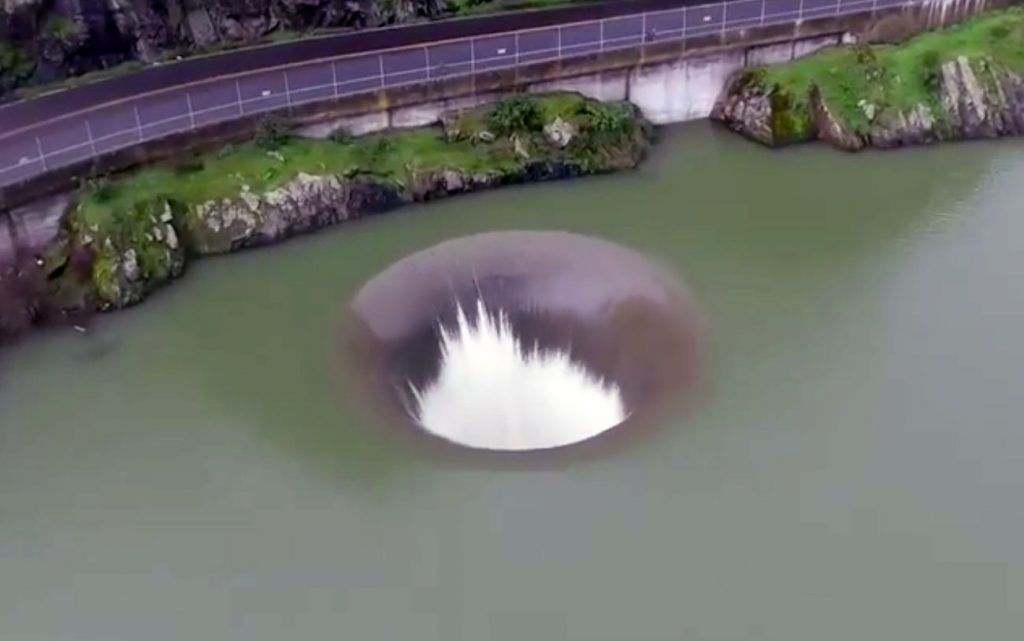 Please Share This Incredible Footage With Family and Friends 🙂