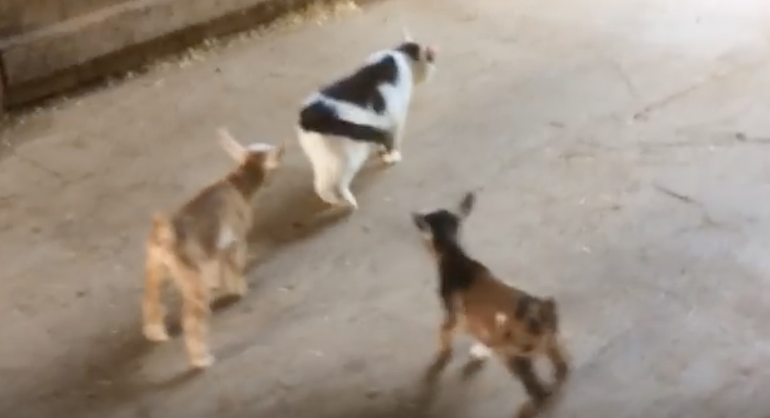 image via – youtube.com
On the Sunflower Farm Creamery in Cumberland, Maine there lives a bunch of animals and a very special cat named Moo. Moo is a barn cat who takes her role on the farm seriously. Throughout the day she keeps a close eye on everything going on around her and she takes frequent walks along the perimeter of the fence, patrolling for mice and runaways. Moo is not only the overseer, she is also a caring and loving protector of her animal friends. She instinctively knows when one is about to go into labor and sits with them in the stall when they are close to giving birth.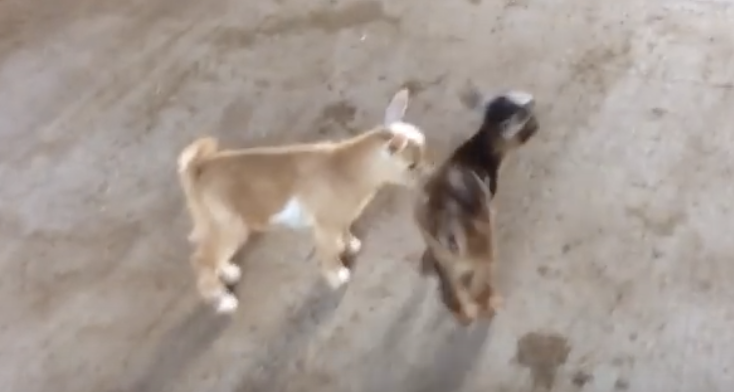 Recently a goat on the farm did just that and brought some adorable baby goats into the world. The kid goats are the last two that were expected to be born this season and are now about a week or two old and have since been named Lady Bug and Princess Leia.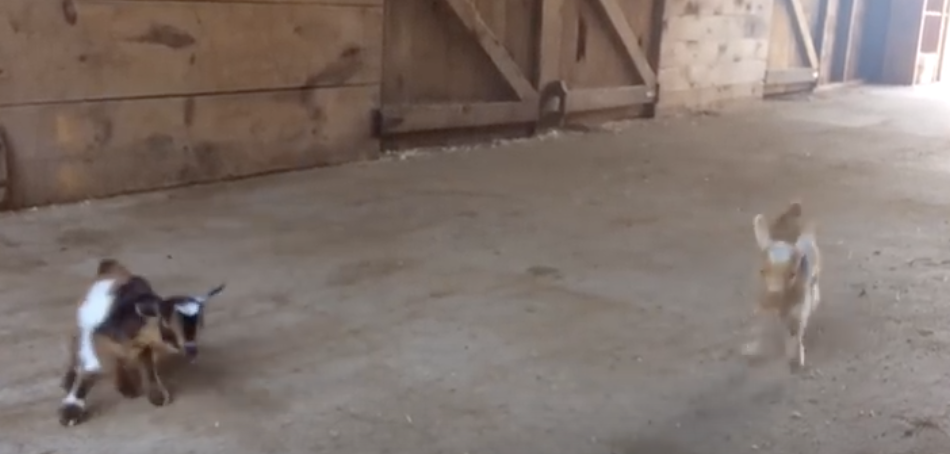 The curious and energetic youngsters were immediately drawn to Moo and seem captivated by her whenever she comes by. They bounce all around and run up to her, trying to make friends and get a feel for what her and the feline species is all about. And Moo, being a cat, appears to not be all that interested in the two newbies.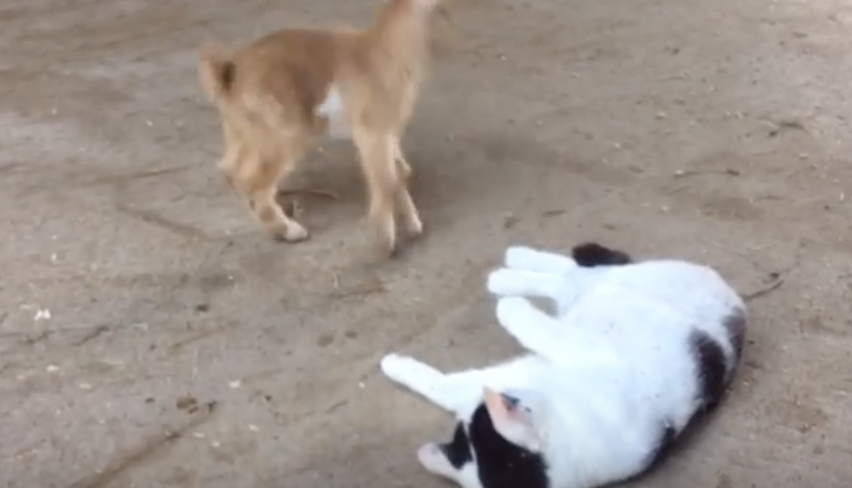 Usually when Moo passes by her goat friends she will lovingly greet them by rubbing her tail under their chins. Once Lady Bug and Princess Leia have grown up a little more, and become more acquainted with Boo, she will likely greet them the same way.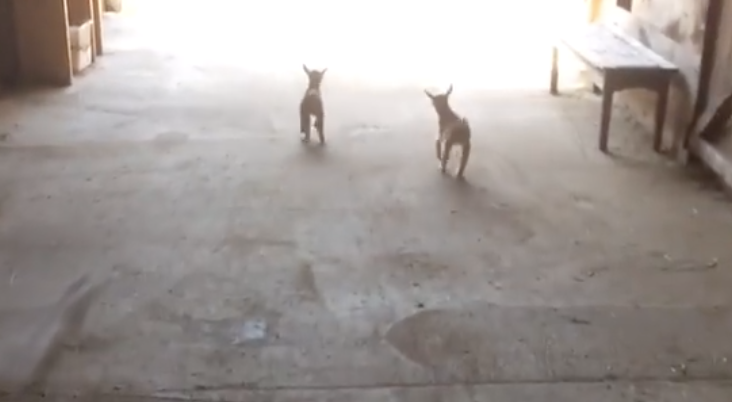 For now they are just too boisterous and new to the farm for her to feel one hundred percent comfortable around them. Even so, she plops right down on her side and lets them check her out without any qualms about it. She's probably done this many times before and soon they'll all be close friends..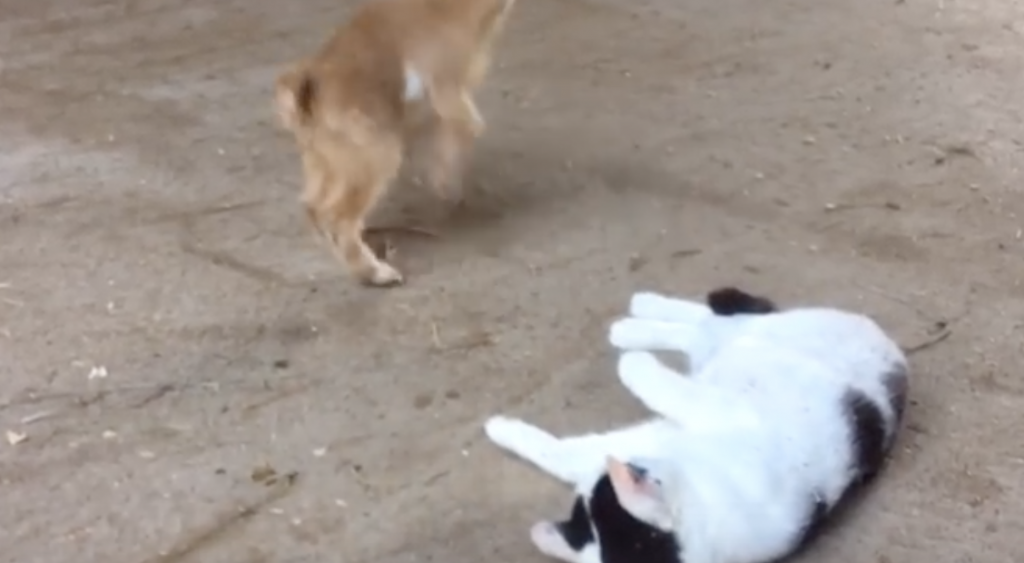 Please Share This Adorable Video With Friends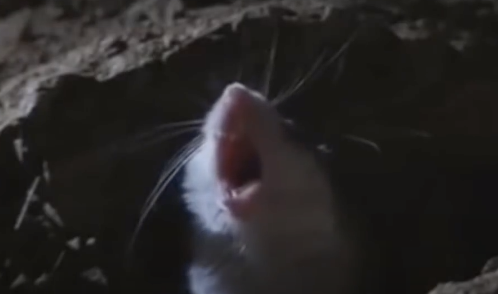 image via – facebook.com
Grasshopper wolf mice are not the typical, low key, breadcrumb-eating type of mice you imagine when thinking about the furry little rodents. If anything they are quite the opposite; loud, aggressive, and carnivorous. The video clip from National Geographic shows one of the mice howling at the moon as if it were a wolf. At the 24 second mark the mouse raises up on his rear paws, perfectly set against the moon in the background.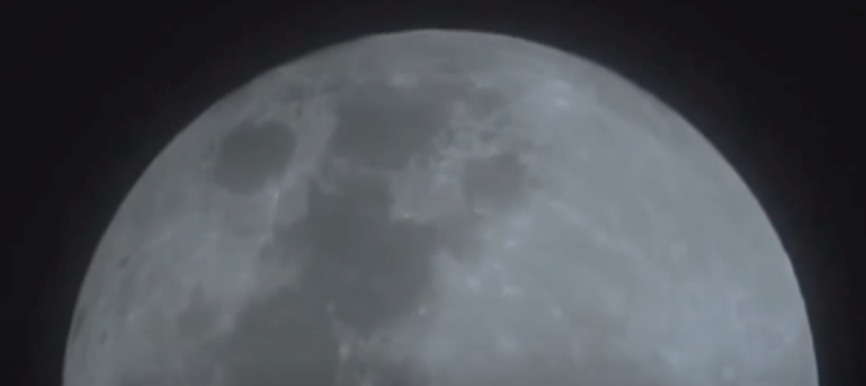 He throws back his head, raises his nose in the air, then lets out an eerie, high pitched noise called a "howl." The sound is his way of protecting and staking his territory and it also typically occurs once they have killed something. That is the reason why the noise is called a "howl" and why the rodents are also known as howling wolf mice.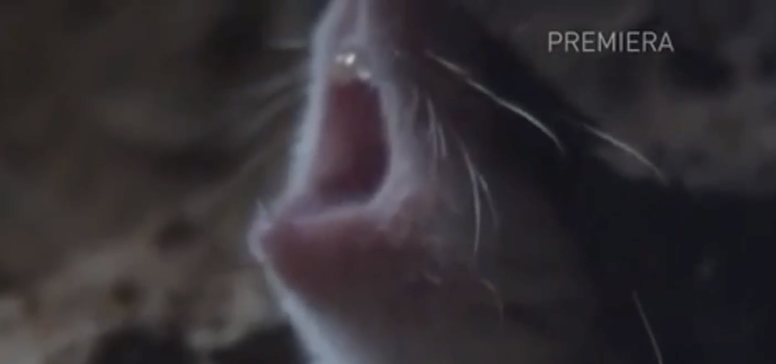 The peculiar species of mice calls the southern desert areas of the United States, as well as northern Mexico, home. They are extremely territorial and work hard to protect large tracts of land, averaging 28 acres, from other rival Grasshopper mice.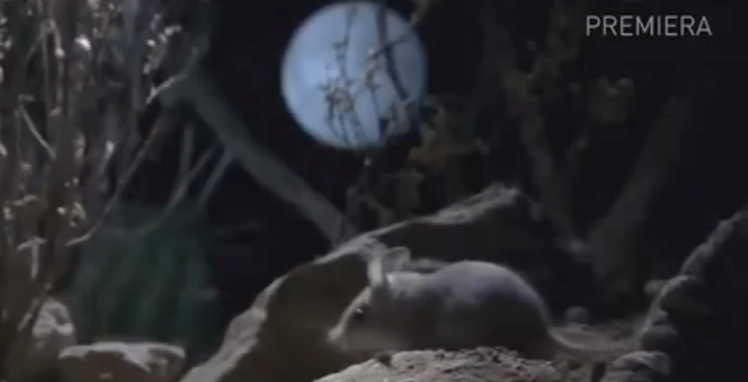 They can be found stalking their prey with a technique that is best described as cat-like, since they hunt by quietly sneaking up on their victims and quickly pounce when they go in for the kill (source: Wikipedia). These types of hunting skills are necessary for their survival since their diet is mainly carnivorous and they prey upon poisonous snakes, scorpions, and tarantulas whose poisonous stings or bites they are immune to.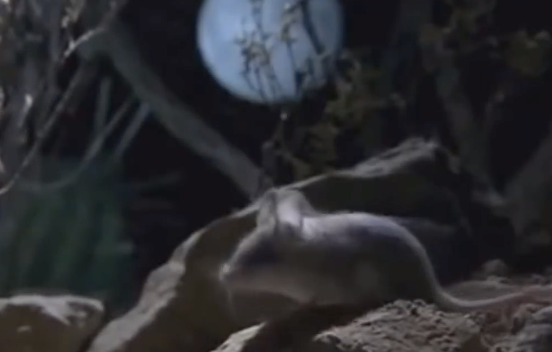 To supplement those meals they eat various types of insects, worms, grasshoppers, beetles, and even other mice. Not only are they immune to the otherwise lethal venom of scorpions, they also use the venom of certain types as a painkiller.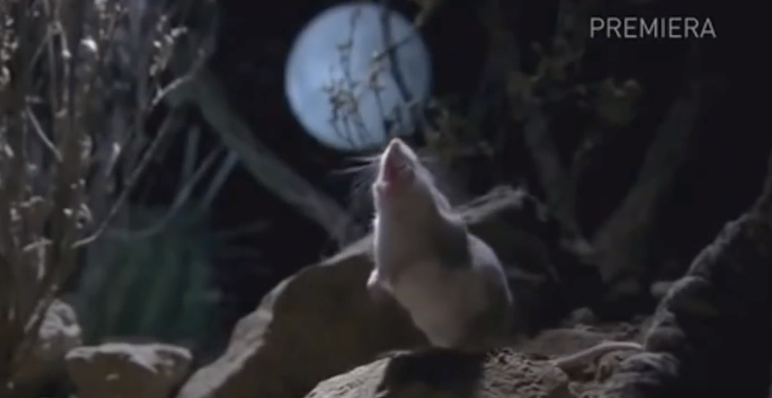 Their brains get tricked by the venom and in turn will switch off pain receptors in their bodies, which gives them a huge survival advantage.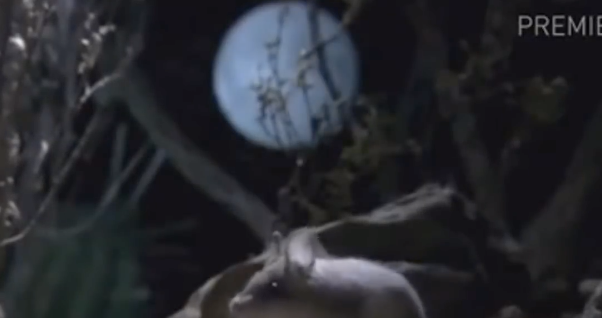 All in all, the humble little Grasshopper mouse is not something you'd want to mess with. They are tough as nails and more than well adapted to their environment, which is one of the least hospitable on Earth.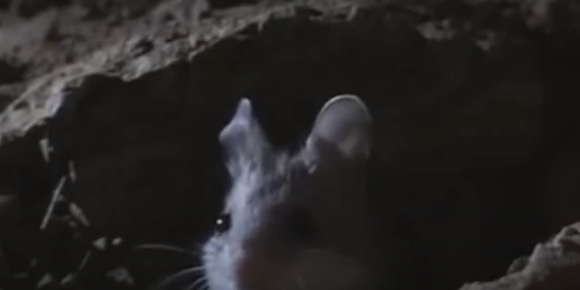 Please Share This With Family and Friends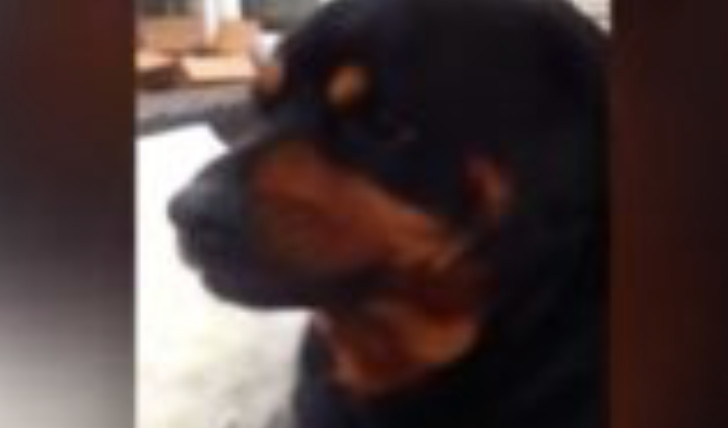 Every dog has talent and each one is gifted in their own special way. Some of them know all the major tricks in the book and can do things like sit, roll over, shake hands, play dead, bark, and more on command. Others are less inclined towards formal types of behaviors and instructions, their talents lie in other areas like playing, running, jumping, cuddling, or even breaking out of their kennels or the house and being amazing escape artists.
The big handsome Rottweiler named Reese in this video happens to be a professional at pulling faces and play acting. He's mastered the art of turning the charm on and off and can go from all innocent and sweet looking to mean and intimidating in the blink of an eye. It's unclear whether or not his owner spent any time actually teaching him this awesome skill, but either way he has it down solid and can bust it out on command in just a split-second!
As you can see, Reese starts off looking like a total sweetheart. He's just lounging on a comfortable cushion while enjoying a nice day outside with his owner. While he looks naturally strong and powerful, as most Rottweilers do, nothing about him appears vicious. Rather, it seems like there's not a mean bone to be found in his whole body!
All of that changes when his dad tells him to "show me your mean face." In an instant, Reese goes from calm and serene to seriously mean and fearsome looking. He curls back his upper lip and bares his razor sharp teeth to the gums.
Then he starts to growl in a low, rumbling tone that sounds as menacing as he looks. To top it all off, he even does that strange sort of licking thing that many dogs seem to do when they are super angry and about to attack. It really looks as if he has suddenly become possessed, and yet it's all just him acting big and tough because he's really a nice, even natured dog.
If you're anything like me, you probably had to watch the video several times to convince yourself that Reese wasn't actually angry or being provoked. He's not and his acting skills are simply that good because towards the end of the clip he drops the whole mean face act, puts his head down, and is back to being all cute and adorable once again after his dad says "good boy."
In the end, two things are for certain. Reese has what it takes to be a protective family dog and an effective guard dog. He has the attitude, obedience, and control that makes him loyal and loving, and yet fierce and intimidating looking if need be, all at once.
Not many dogs are capable of appearing so instantly angry and mean looking on cue, but Reese has it down pat. Be sure to check out his mean face and pass it on with any fellow dog lovers that you know, they can surely appreciate this!
Please Share This With Your Family and Friends 🙂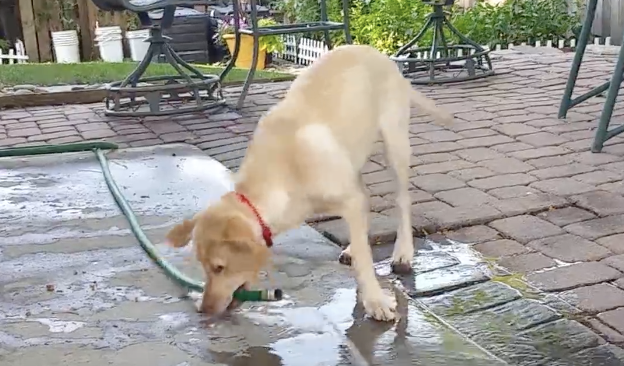 image via – youtube.com
Maddie may be the smartest puppy alive, but that does not make her immune to the summer heat. Unlike her furry friends who do not share her Einsteinesque IQ, she uses her wits to cool herself down in a much more practical way than the classic hyperventilate-with-my-tongue-out routine that is so popular amongst her peers. Instead, she uses secret espionage techniques to learn the inner workings of the fabled garden hose, practicing under the veil of darkness until her technique is flawless. Once mastered, it is time to implement her unprecedented abilities for their intended purpose: to keep cool during the dog days of summer. Using her keen eye, she spots an opportune moment and goes for it.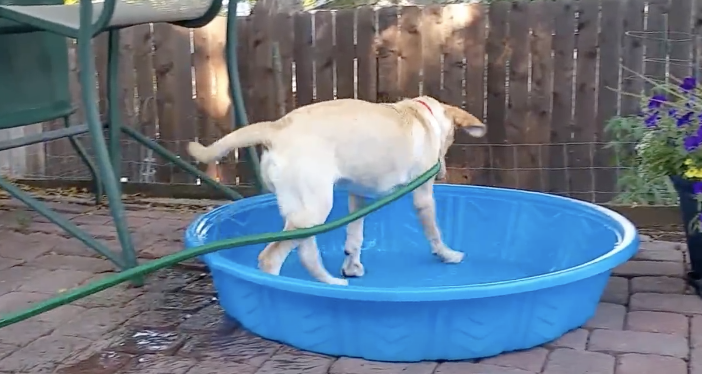 Grasping the hose with her opposable teeth, she simultaneously turns it on with her formidable powers of telekinesis. Sauntering to the empty pool with efficient grace, she carefully places the running hose inside.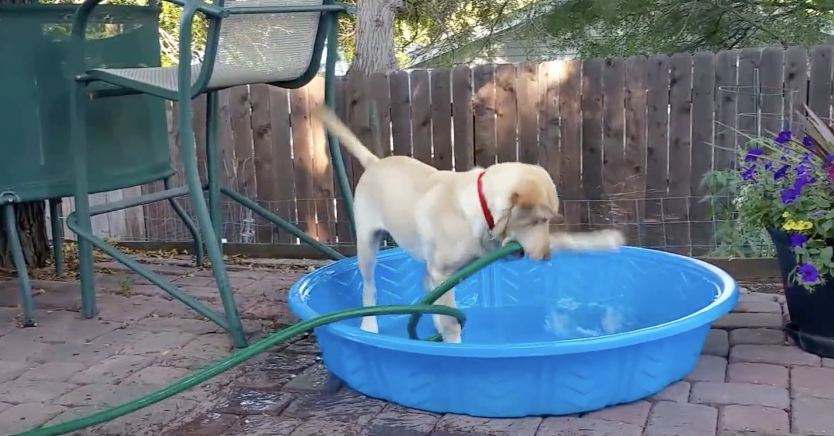 There is just one problem: it is not quite in the right spot. You see, her incredible brain power is not enough to conquer forty thousand years of dog evolution. Apparently, the same part of a dog's mind that forces them to walk in seventy four circles before lying down, also causes a bit of an issue for our dear Maddie.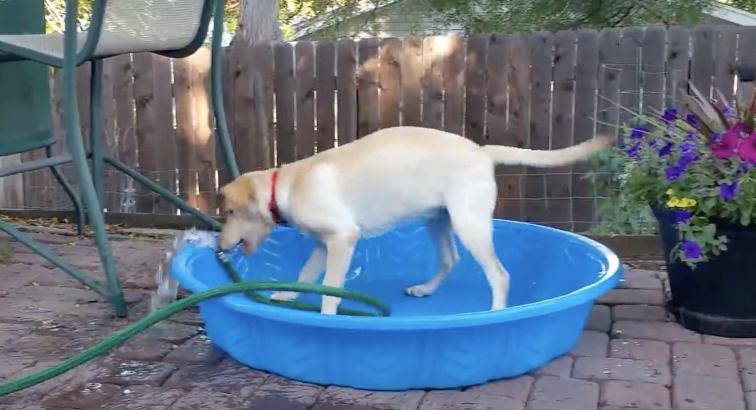 She moves the hose countless times, trying to find the perfect spot. Even after all that practice, she just can't quite find it, but she does forget she was hot in the process, thereby inadvertently succeeding in her original goal.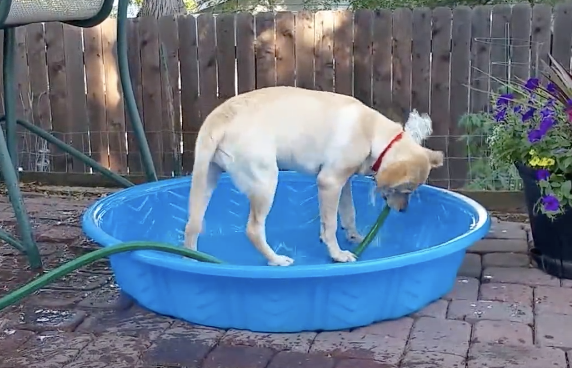 Please Share This Brilliant Pup With Family and Friends 🙂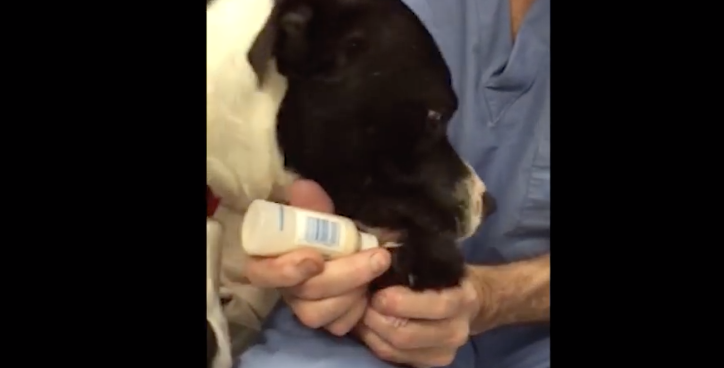 This is by far the most heart warming story of the week.  A Stray Pit Bull was discovered on the side of a street taking care of a helpless 2 day old kitten.  The two were found on March 17 and were quickly brought to Mercy Animal Clinic in Garland, Texas!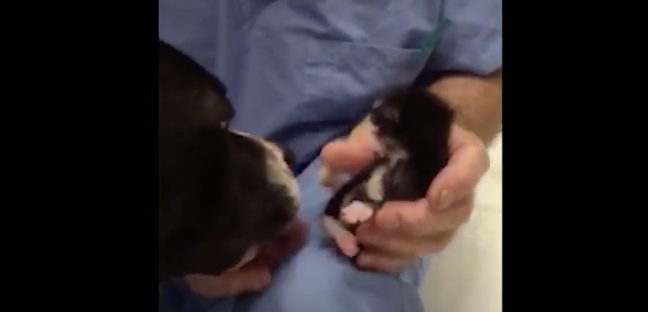 The two were examined by Vet Dr. Rick Hamlin and figured out that the kitten was nursing from the Pit Bull.  The two were named Pittie and Kitty and share a strong bond between each other.  Nature is just incredible.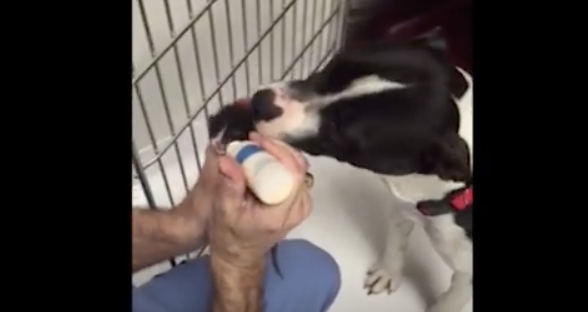 Upon examination Kitty's eyes were still closed so they could pin point how old the cute feline was.  Pittie had a hanging mammary gland and they could tell she was giving milk to the little kitty.  Both animals are well taken care of and in perfect health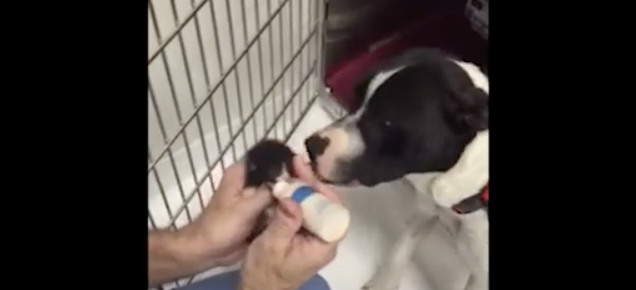 These two are now looking for a forever home to be adopted.  The clinic will only adopt them to a family that will take them together.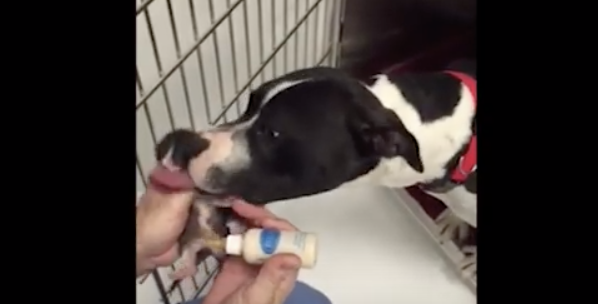 Please Share With Family and Friends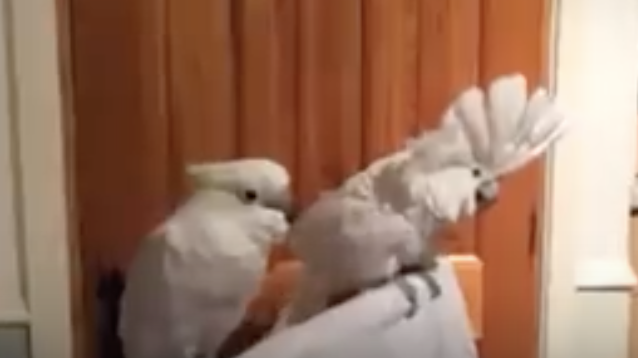 Elvis the cockatoo is happily rocking out to his namesake's 1956 hit song "Don't be cruel" in this entertaining video uploaded by Mark Muldoon to YouTube.  The boogieing bird bobs and dances to his owner's version of the catchy tune alongside his feathered friend.  At several points Elvis raises his stunning head crest and fans it out to show it off completely in all it's glory.  He seems to be having a fun time and appears to get really into the music.  His bird dance will make anyone smile and brighten the day.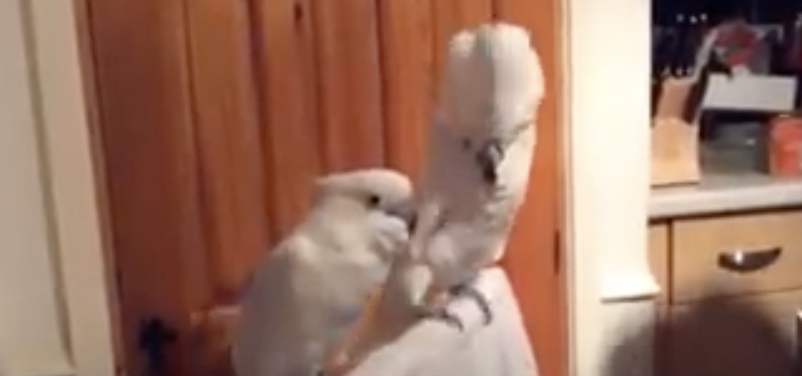 Interestingly, cockatoos and Elvis go together like peanut butter and jelly.  The beautiful birds bear a striking resemblance to the king of rock and roll with their prominent headcrests.  They look like  the popular 1950's mens hairstyle, that Elvis rocked, called the pompadour.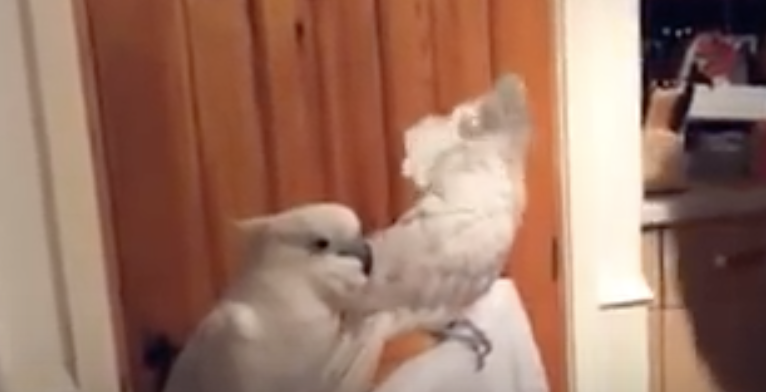 All 21 species of cockatoos, who are parrots, have the moveable headcrest which is raised when the birds come into land or when they are aroused.  Going off that information, it is likely that Elvis the cockatoo was excited by the music and he just had to rock out to it.  He even manages to keep pace with the tune and overall puts on a great show!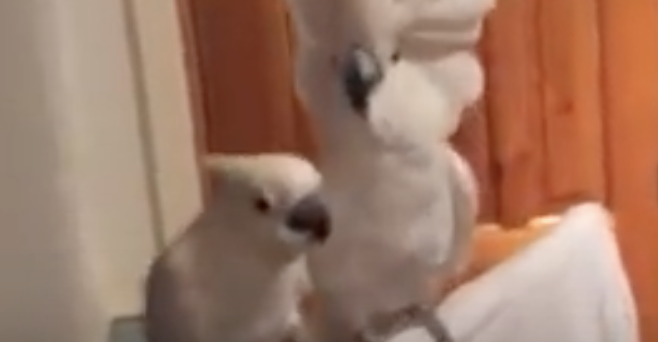 Please SHARE With Family and Friends