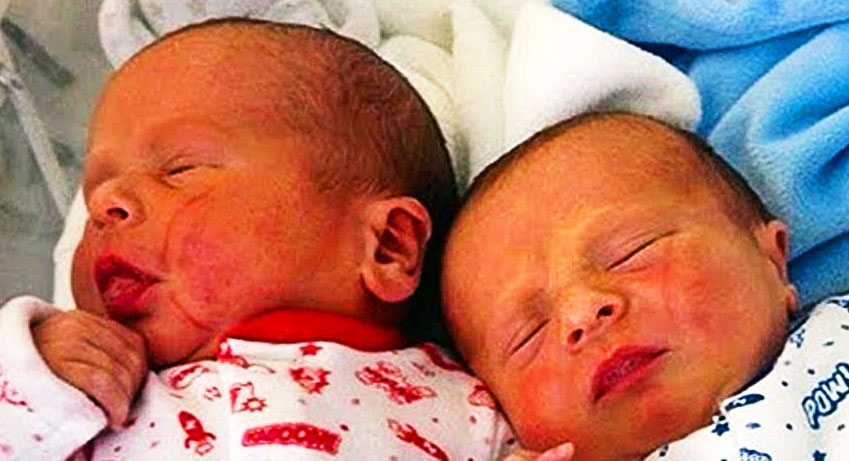 image via – youtube.com
Any parent knows how emotional, stressful, and joyous the birth of their children can be.  For Nicola and Todd Bailey of Sheffield, England, who were expecting twin girls, they were over moon excited about welcoming two new additions to their family.  The couple already had a son, Lucas, and couldn't wait to give him two little sisters. However, the twins came sooner than Nicola expected and at just thirty three weeks she was rushed to the hospital in labor.  She ended up giving birth to the girls who she named Harper and Quinn, and immediately after doctors told the couple that the babies had been born healthy.  Relieved, they set their focus on recovery and making plans for bringing them home.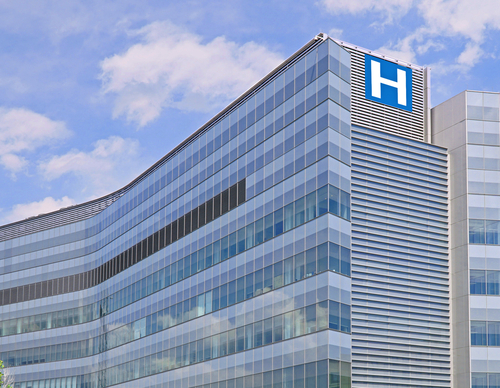 When doctors suddenly returned to their room about a half an hour later, they looked serious and what they told the new parents didn't immediately make sense.  The doctor said to them "I'm so sorry" and went on to explain that the baby born first, Harper, had Down Syndrome.  

Down Syndrome is a genetic condition caused by a chromosomal disorder which results in developmental issues, intellectual disability, and physical changes in appearance.  It's generally viewed in a negative light by both doctors and the public, which has led to people who have it being stigmatized and looked at differently. While it has become more accepted in the past few years as people are educated and learn more about it, it's nonetheless still viewed as abnormal…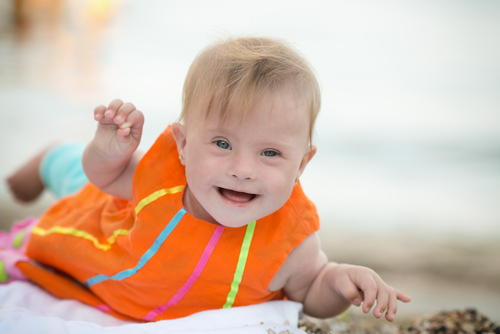 Regardless of the diagnosis, the Bailey's were simply in love and grateful for their two newborn daughters.  They also had more serious health issues to deal with. In addition to Down Syndrome, Harper was also born with two small holes in her heart.  One thankfully closed all on its own, but the second one required surgery.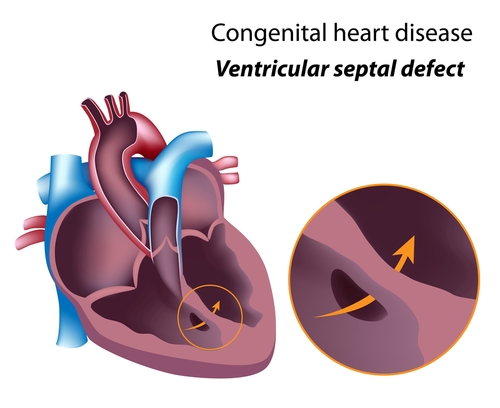 Once they were out of the woods and finally able to bring their twins home, Nicola and Todd thought back about how the doctors had broken the news to them in such a negative, apologetic way.  It made them realize how people automatically felt bad about Harper's condition, which they thought should not be the case.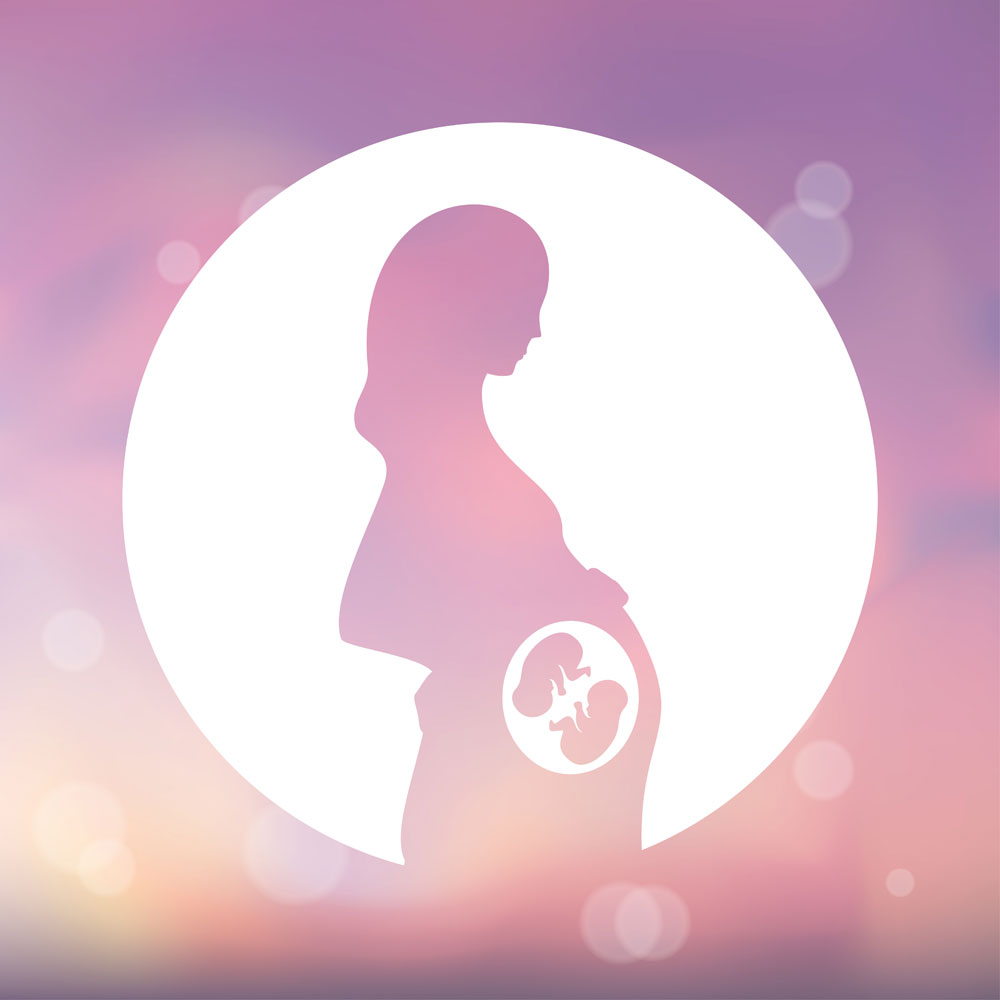 Oftentimes, when people first met Harper they seemed to always say "I'm sorry" about her having Down Syndrome, but Nicola and Todd thought she was no different than their other two children and shouldn't be defined by having it.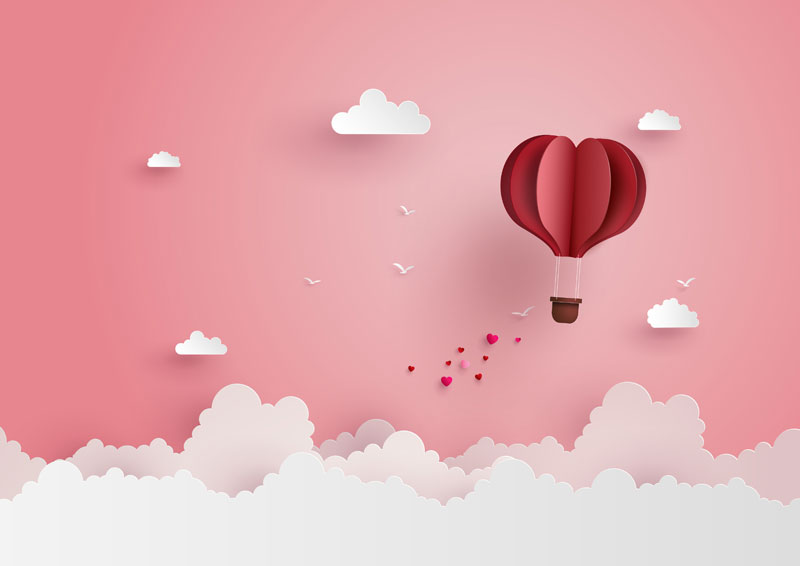 Wanting to change the perception of families with Down Syndrome children, Nicola decided to publicly share her life raising her babies.  That way she could fight back against the misconceptions and false information people had towards it.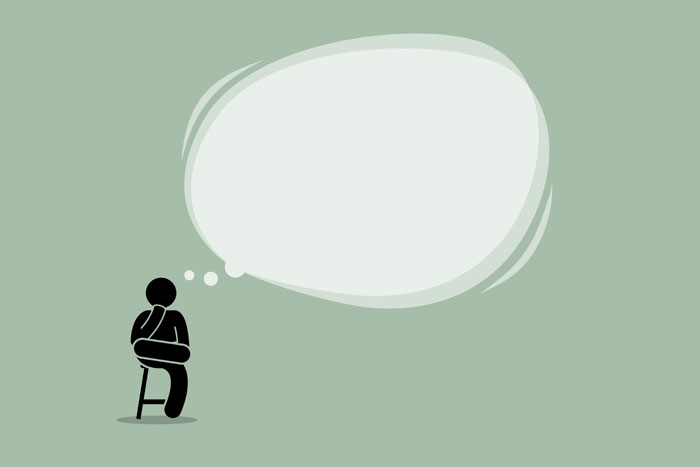 She set up a blog and social media accounts to help get her message out that having a Down Syndrome child is nothing to be ashamed of or viewed negatively.  Instead, people should accept that others are sometimes born different and that's okay. Harper is just as happy, loving, and unique as any other child and a Down Syndrome diagnosis is nothing anyone, especially doctors, should be apologizing about.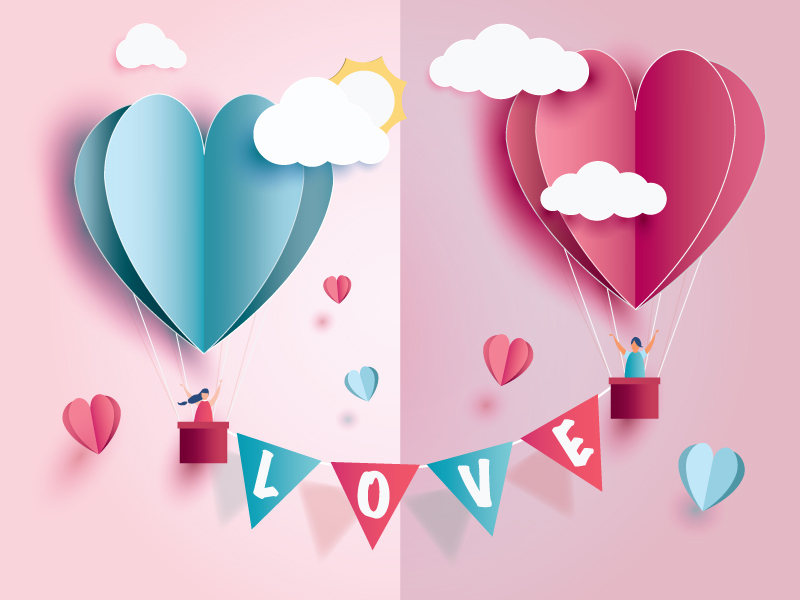 Please SHARE This Story With Family and Friends
———————————————————————————————————————-Hope you enjoyed our first featured story of the day. Keep scrolling four our next handpicked story of the day.
———————————————————————————————————————-
Every Time This Spoiled Bunny's Human Stops Petting He Throws The Funniest Hissy Fit: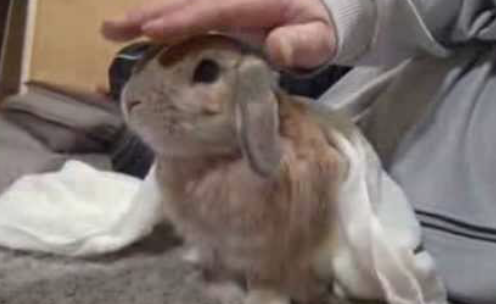 image via – facebook.com
Some animals know exactly what they want and oftentimes they enjoy receiving a nice, gentle, relaxing hand massage from their human companions. It's no secret that many of our furry pets love to be pet, which may be why we call them "pets" in the first place. Or maybe it's the other way around, and we call it petting because they are our pets. Whatever the case may be, lots of animals simply love being stroked and scratched. They usually have a sweet spot where they especially like being rubbed. For cats it seems to be around the cheeks, dogs like their ears and back scratched, and then there are some whose sweet spot is everywhere and anywhere.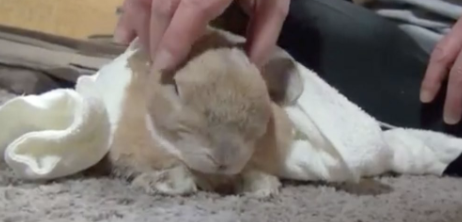 The little bunny in this video seems to fall in the latter category. From the looks of it he likes being pet all over, especially down his backside. The man in the video gently strokes his ears, nose, cheekbones, temples, head, and back, while the bunny twitches his nose and sits with a content expression on his face, his body completely relaxed and at ease.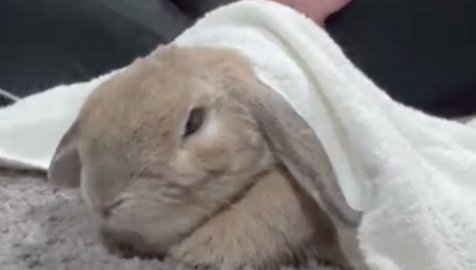 When the man stops petting him the bunny is clearly not happy about it. He stamps his furry little paws and lets out adorable growling sounds in protest. It might just be the cutest behavior I've ever seen a rabbit do! At one point the furry little guy searches for more pet-pets by crawling under the man's hand, urging him to resume the mini-massage that he so rudely ended. This bunny knows what he wants and he's basically telling the man through his grunts, growls, and foot thumping that he is not pleased the cuddle session ended!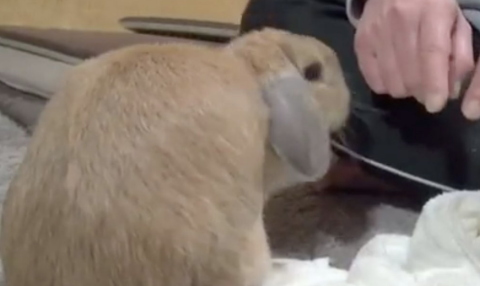 Contrary to popular belief, lots of rabbits love being pet and shown affection. The areas they most enjoy being pet is on their head and down their backside. Many often like their dewlap, the roll of skin underneath their chin, scratched and rubbed, but some don't like this at all. The bunny will let you know whether or not it's enjoying the attention. When they purr, chatter their teeth, flop over, and close their eyes it means they like it and if you stop and they poke your hand with their head it means "don't stop, keep petting!"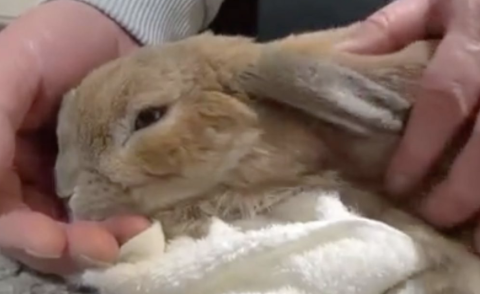 Rabbits are very expressive, you just have to know how to read them, and over time you become familiar and accustomed to an individual one's behavior. Like every other pet, they have their own distinct personalities!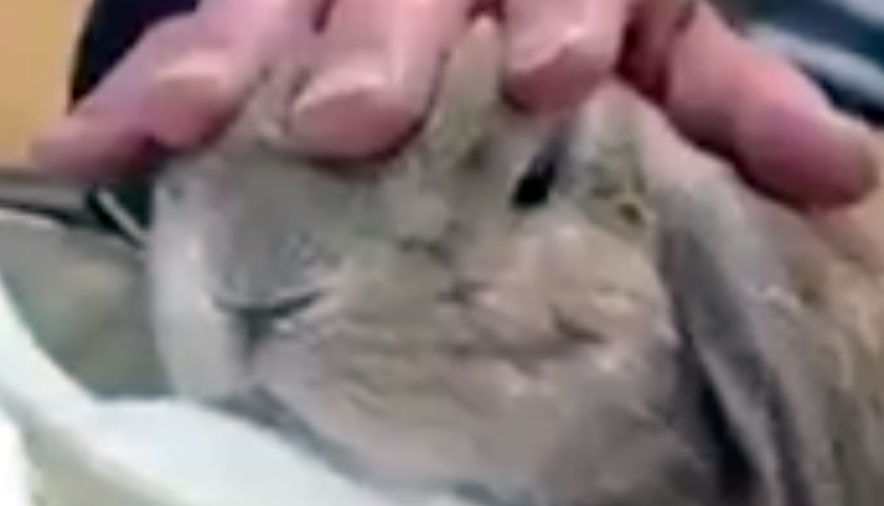 The adorable bunny in this video has certainly bonded with his human friend as he feels comfortable telling the man what to do. The little cutie looks so happy being pet and snuggled in his blanket, and if that can't put a smile on your face then I don't know what will. Enjoy this hysterical video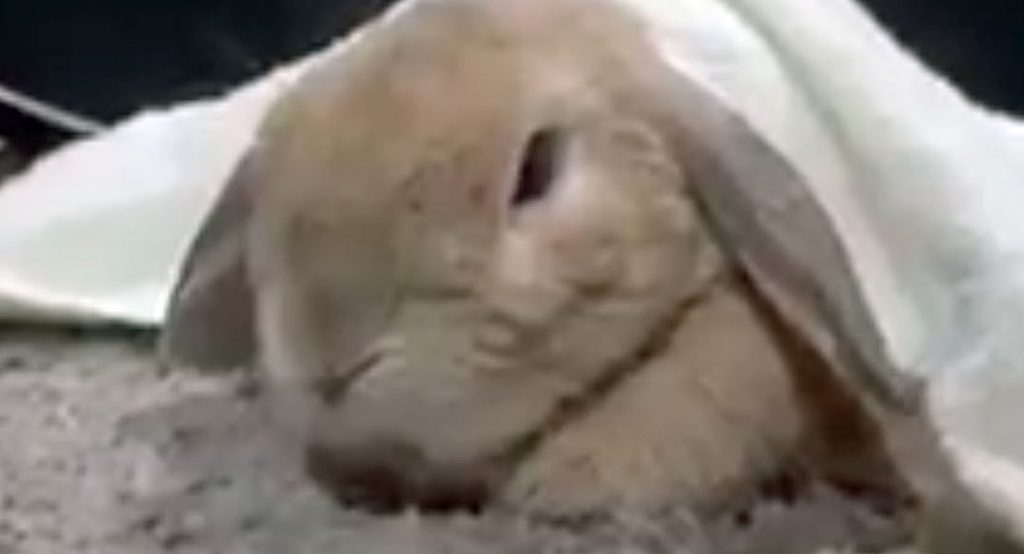 Pass This On To Your Friends and Fam 🙂
———————————————————————————————————————-
In our next featured video of the day watch this wonderful moment as a boy named James with Down Syndrome get a Promposal in the school gymnasium by a wonderful and beautiful girl named Maisey as the whole school cheers him on: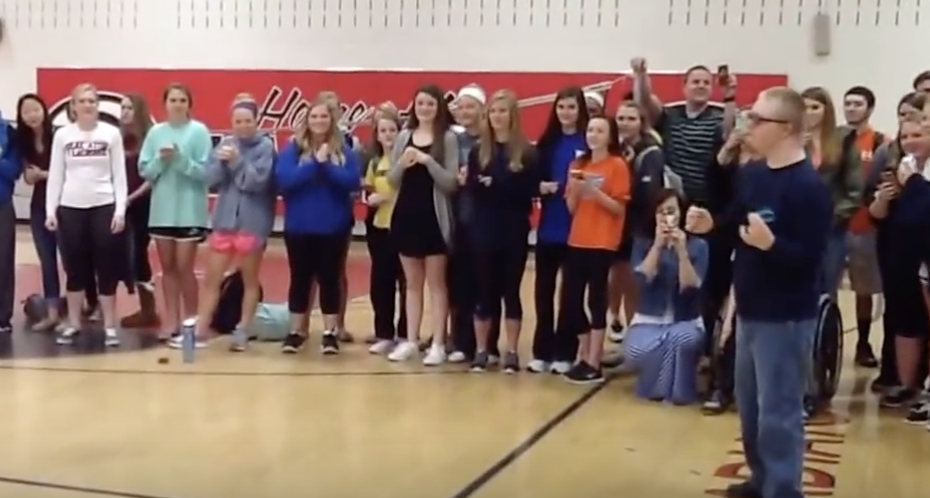 image via – youtube.com
On a recent afternoon students at Glenelg High School, in Maryland, gathered for an unforgettable moment. They had assembled at the school's gymnasium and stood eagerly waiting for one particular classmate's arrival. The student, James, has down syndrome and was about to get the surprise of a lifetime. The video starts off with James eagerly making his way towards the gym.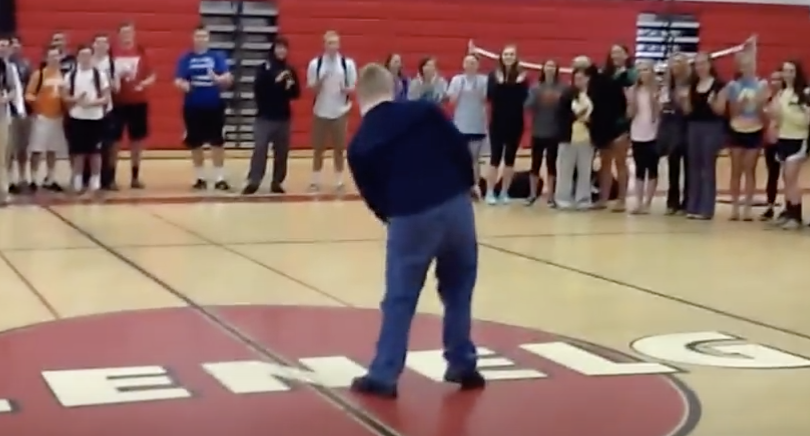 He is unaware of what is about to happen and as he gets closer the sounds of kids cheering can be heard. When James walks into the gym he is greeted by the sight of his classmates circling the basketball court. As he makes his way into the circle his peers break out into a chant, clapping and cheering him on. At first he looks a bit unsure as to what is happening.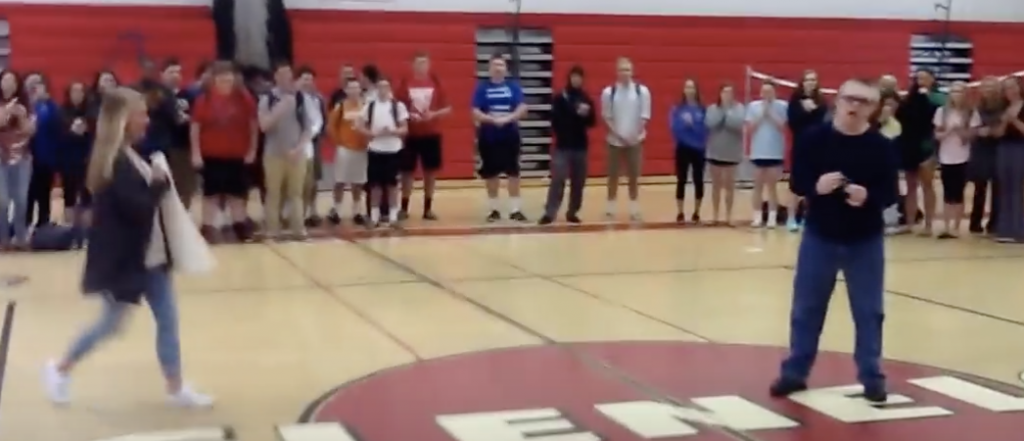 However, he quickly overcomes any uncertainty and is reassured by his friends warm smiles and shouts of encouragement. James goes to the center of them all and shows off some of his sweet dancing skills, moving and shaking to their chants. While he is boogieing down a girl with long blonde hair makes her way towards him holding a sign. It reads "James, Prom?" He stops and the girl, Maisy, asks him if he will go to prom with her. When James says yes the students erupt, cheering loudly, and the pair share a sweet hug.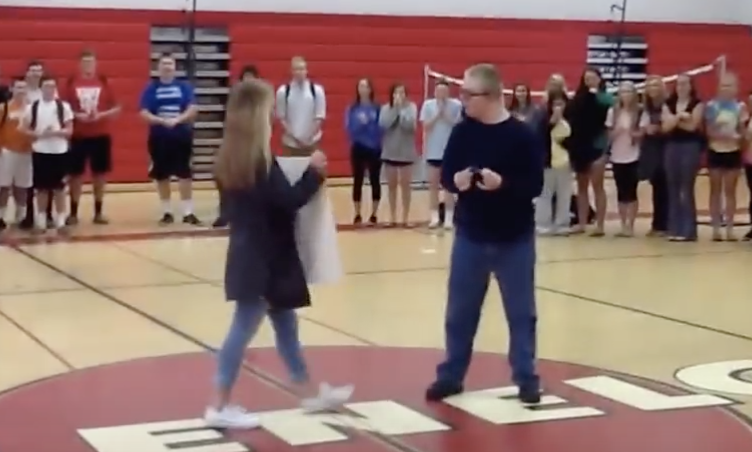 For everyone gathered in the gymnasium that day, this is a promposal that they will never forget. It is truly a wonderful and sweet moment they all experienced and now you too can see it!
Please Pass This Wonderful Story Onto Your Family and Friends
In our next featured story there's an emotional and heartbreaking moment when a father has to defend his son with Down syndrome: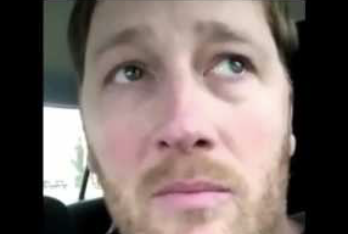 image via – youtube.com
What you are about to view in the video, is a father, Rob Scott, who needs to share his truth, after overhearing a moment between another father and his son.  The child asks what Downs Syndrome is, and the dad answers, "It's a disease of not knowing anything".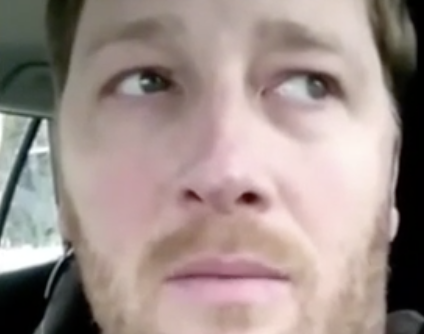 This response deeply bothered Rob, whose son was born with Down's Syndrome.  What he experienced at that moment of hearing this other father try to probably simplify the condition for his child, was heartbreak.  He desperately wanted to correct what this father was telling his son, but didn't have the courage to speak up.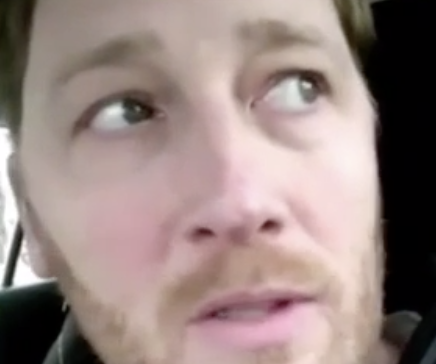 What you are about to hear him say was recorded a few minutes after this occurrence.  Rob was upset with himself for not speaking up, and felt the strong need to record what was in his heart, as a way of standing up for his son who has been the greatest gift of his life.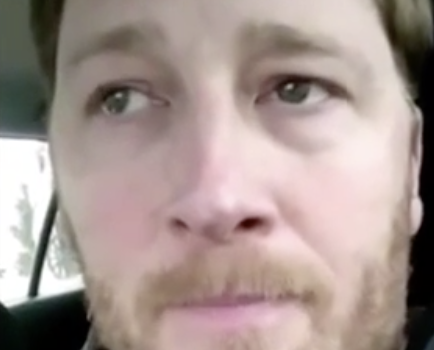 His intention in recording this footage, was in no way motivated by a desire to shame the father who responded to his son's innocent question in that way; he just needed "to karmically reset what just happened".  Rob's son, Turner, has been the greatest teacher about what the meaning of joy and love truly is.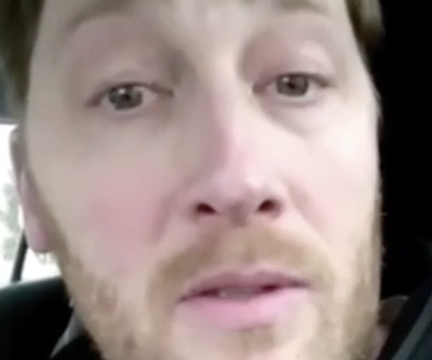 He so aptly notes that the word "disability" is a term that encapsulates perception rather than fact.  His words brought me to tears; what he has to say is about so much more than Downs Syndrome.  Let us know your thoughts about this father's moment of soul-searching honesty.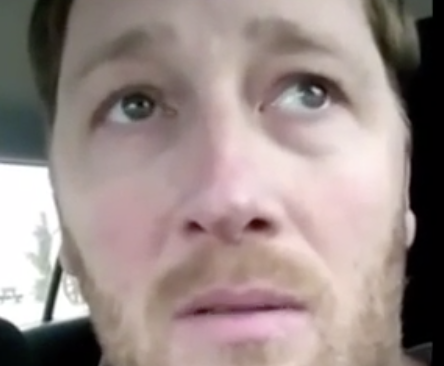 Do you agree with dad?
Please Pass This Emotional Moment Onto Your Family and Friends To Help Raise Awareness About Children With Down Syndrome
In our next featured story a very special moment went down when a school cop soothes and calms a young sweet girl with Down Syndrome who is frozen in fear in the school hallway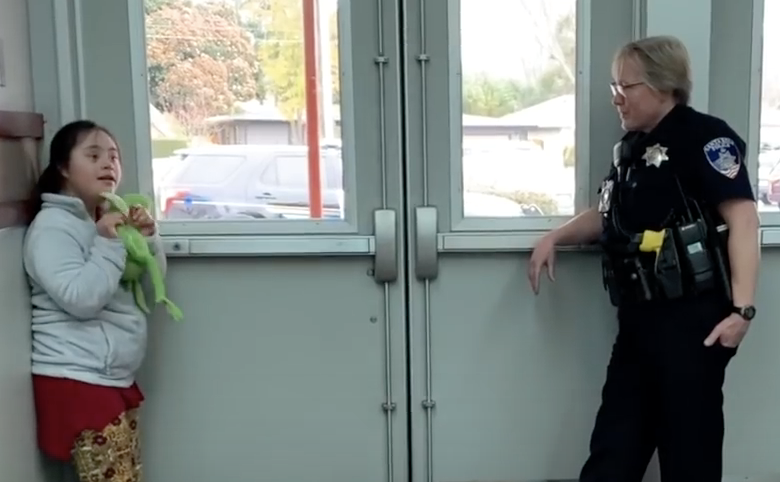 image via – youtube.com
Do you remember your favorite stuffed animal, toy, or maybe a blanket when you were a kid. No matter where you went you always had your friend with you by your side. There was no obstacle or problem that couldn't be taken care of as long as you and your favorite toy were together.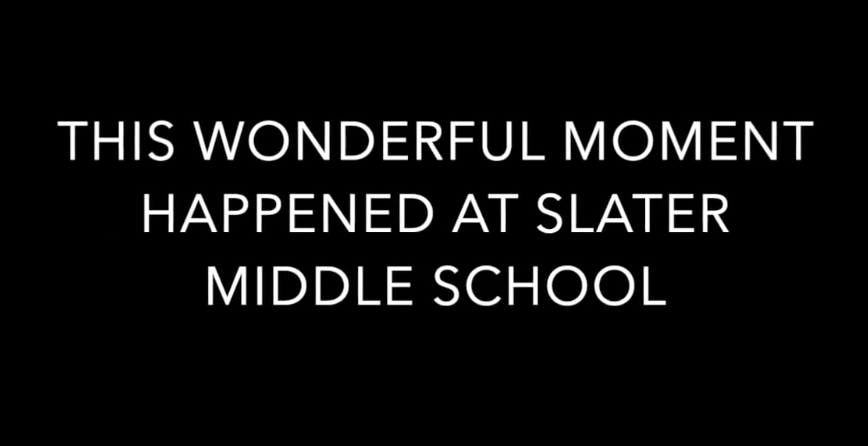 Scary things just weren't as scary and just having your small friend with you gave you the courage to do things you wouldn't otherwise do as a young child out of fear. One of the main reasons kids carry a 'special' stuffed animal, blanket or toy is because it lowers their anxieties and fears in almost any situation they face.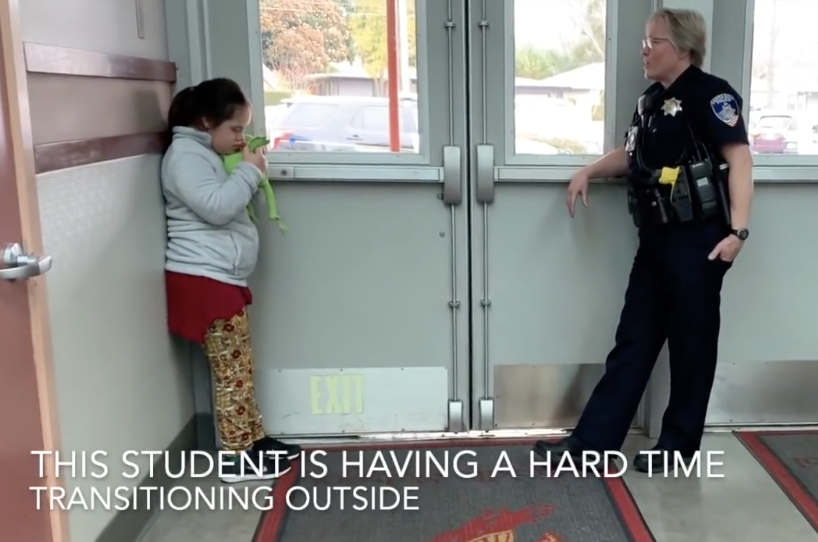 This brings us to today's story featuring a young 12-year old girl named Raquel Zuniga, she is currently in the 7th grade and goes to classes that are specifically designed for children with moderate to severe mental disabilities. Raquel carries a special friend with her everywhere she goes. This friend is none other than everyone's favorite frog Kermit! Raquel hangs out with Kermit the Frog all day everyday, whether she is home or at school Kermit is always right by her side.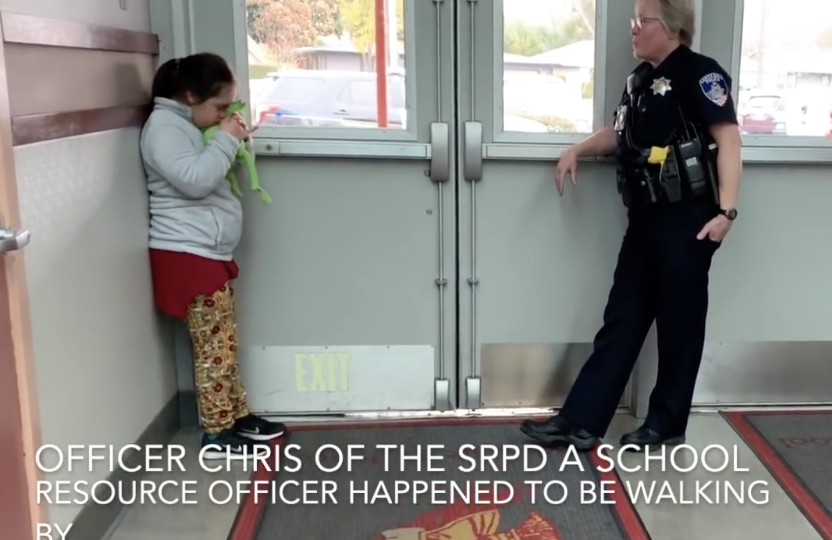 Due to Raquel's disability she has severe anxiety especially when she is transitioning from one place to another. This tends to flare up at school when the bell rings and it's time to go from one class to another. On this day, Raquel was having an extremely rough time transitioning from one class to another and she froze. She couldn't walk or get to her class and she wouldn't say anything. She just stood in the hallways frozen clutching Kermit silently.
Multiple teachers came up to Raquel and tried to get her to unfreeze and comfort and make her feel safe in her current state and situation. None could help, Raquel stood their frozen for just about a full hour clutching on to her stuffed frog.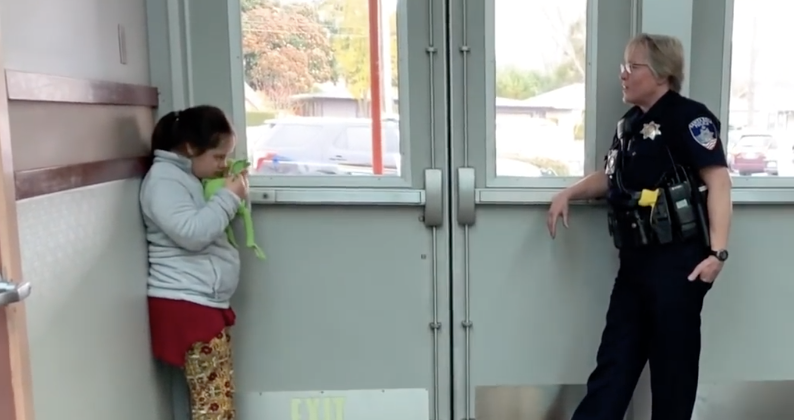 That's when a special soul enters the story, school security officer Kris Morrison who spent the last 20 years as a school officer for special needs children. However, before that she was an officer Kris was a teacher for children with disabilities and instinctually somehow knew exactly what to do to help poor Raquel.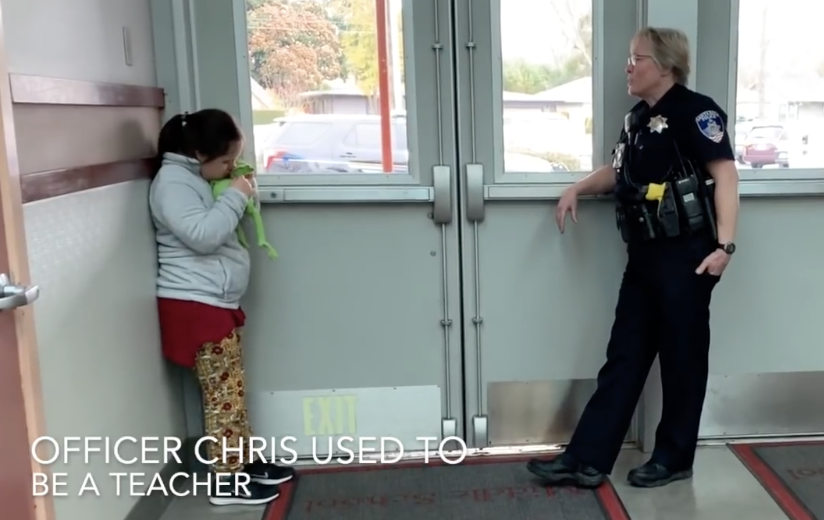 Kris spoke to Raquel in a soothing voice and then began to sing Rainbow Connection, the famous song that Kermit the Frog, 'Raquel's best friend' is most known for. As Kris sang Raquel's anxiety and fear just began melting away.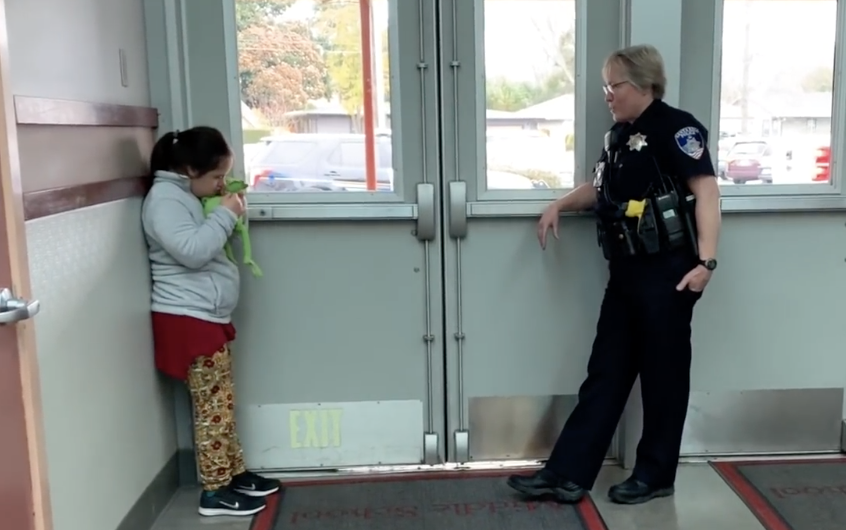 Soon after she began moving and it was as if a miracle just occurred and she unfroze! This was Raquels favorite song, so it immediately triggered her brain to relax and feel safe. Just like that, the magic of music, an amazing school security officer and Kermit the frog had saved the day!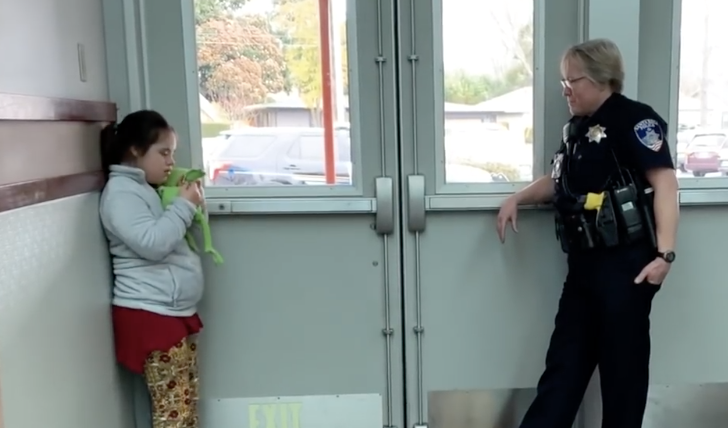 Did this just warm your heart up?
Please Pass This Wonderful Story Onto Your Family and Friends
In our final featured story of the day we have an awesome moment when a boy with Down Syndrome approaches a very serious Windsor Castle Queen's Ground. As he approached the guard, he stomped and the young man with Down Syndrome was startled and ran in fear…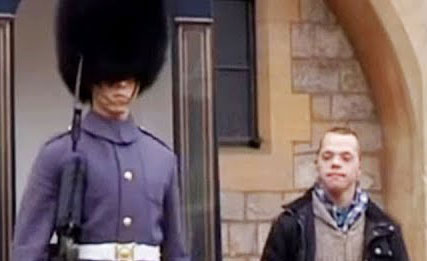 image via – youtube.com
Windsor Castle is one of the Queen of England's primary residences and every year thousands of visitors go to see it.  The picturesque fortress is protected by the Queen's Guard which consists of soldiers who have been charged with standing watch around the clock.  They are just as well known as the castles they safeguard and can easily be identified by their unique uniforms consisting of red tunics and black bearskin hats.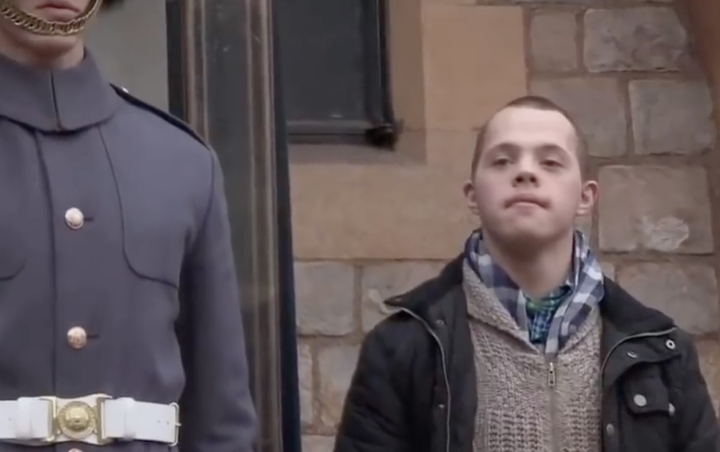 One young man named Sam had travelled to Windsor Castle as part of a web series he starred in along with his friends called "The Specials."  The show followed the lives of five young adults with Down Syndrome who lived in a shared house. It came out back in 2009 to rave reviews and went on to win a Webby Award for Best Reality Program.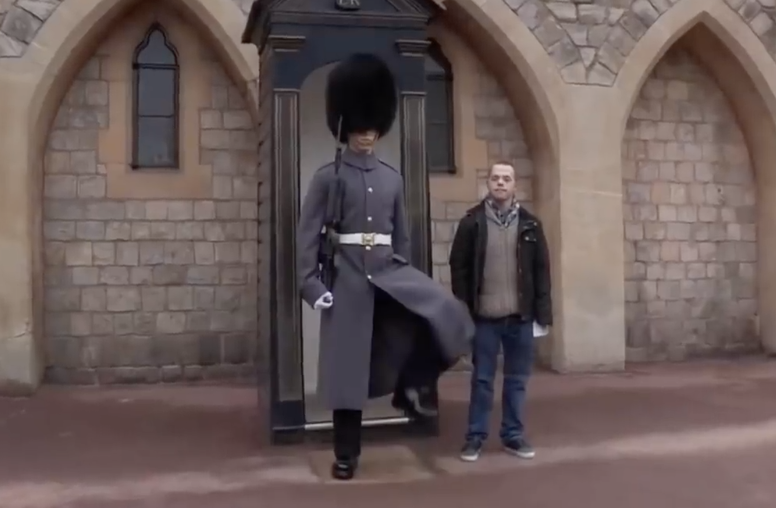 While filming the second season, Sam had taken a tour of Windsor Castle with two soldiers as his guide, Lt. Bragger and Sgt. Baggot-Moore. While walking the historic grounds they told him that they were headed to see the guard on duty and that he would not be able to interact with him, as it's their duty to remain silent while on patrol.
When they reached the guard, he stood stoically at his post wearing the iconic uniform and holding a rifle stung over his shoulder.  Sam went over and stood right next to him, just as many tourists do every day when they visit and wish to get a picture with the soldier.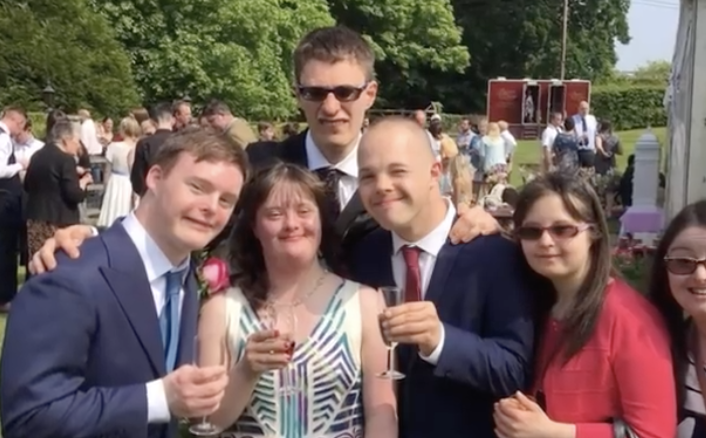 So long as you are respectful and don't get too close, you are permitted to take photos with the guard on duty, but if you bother them or get too close they will warn you by shouting they may take further action to put an end to it.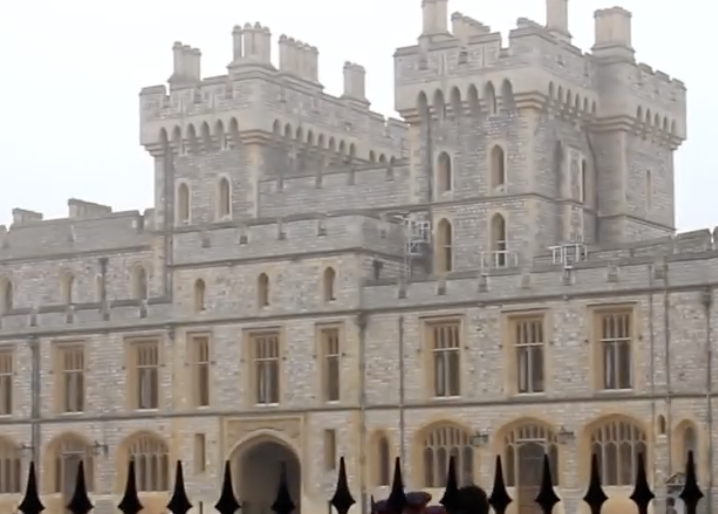 While Sam was standing near the guard, he was suddenly startled by the soldier stamping his foot loudly on the ground.  It did the job, and Sam scurried off back towards the two soldiers who were his tour guides and had a laugh with them. Had Sam gotten too close for comfort or did he stay next to the guard for too long to cause him to stamp his foot?  As it turned out, Sam didn't do anything wrong at all, the guard on duty was his younger brother Jack!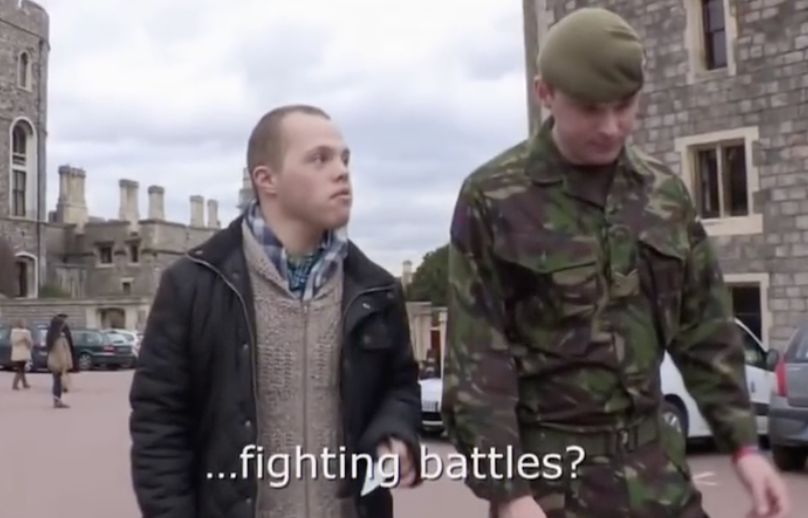 The year before Jack had joined the army and hadn't seen Sam since.  That was part of the reason why Sam went to Windsor Castle, so he could visit him and check out where he worked.  When Jack stamped his foot, it was likely his way of saying hello to his brother, since he is not allowed to talk to anyone while on patrol.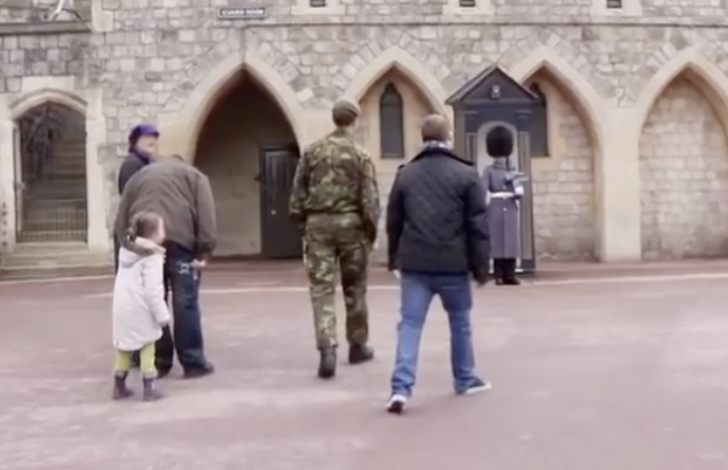 Later on the two brothers had a proper reunion in the barracks and chatted about Sam's love life.  Jack encouraged him to pursue a relationship and soon after Sam started dating one of his housemates, Meghan.  The pair ended up dating for six years before Sam proposed, and she said yes.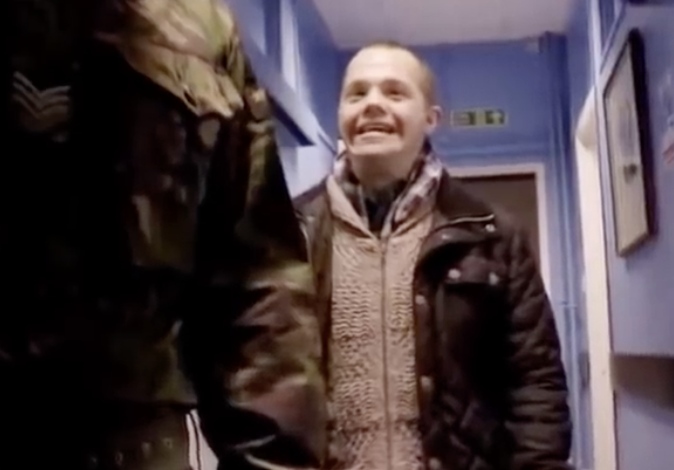 Did this story warm your heart?
Please Pass This Interesting Moment With Family and Friends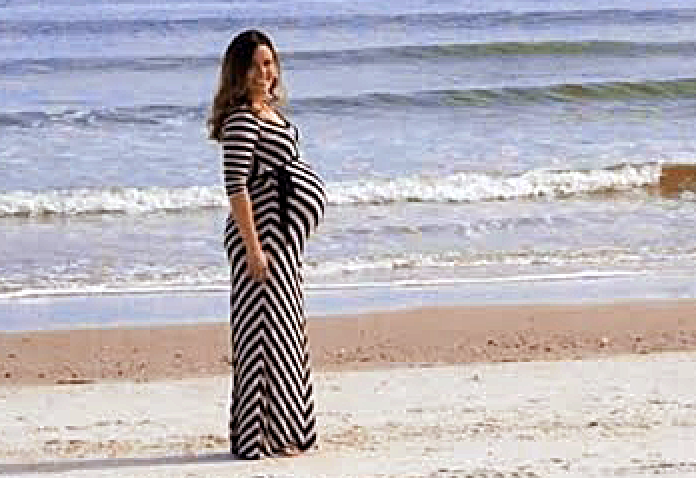 image via – youtube.com
Pregnancy is one of the most amazing moments in any woman's life. That amazing glow your skin gives off as it begins to shimmer. Once that initial morning sickness wears off and you are lucky enough to have a smooth pregnancy it can be an absolutely amazing experience. Feeling that first kick in your belly, when your baby in the womb lets you know that they are there!
When you get towards the last month or two of being pregnant it is pretty common to take pregnancy photos, so you have the memories forever before your sweet young child comes into this world. Some women prefer a lavender meadow, while others prefer a scenic vista, while some choose a mountain top, while some prefer a beautiful sandy beach with relaxing ocean waves gently lapping in the background.
This brings us to today's story featuring Angeline Moser, a beautiful pregnant mother of 9 months and her handsome husband Dan. The couple decided that the best place for this new mama to take her pregnancy pics would be at their favorite beach spot. She put on her most stunning maternity dresses and got herself ready for the first pictures she would ever take with her baby. As with most maternity photoshoots the mother to be will pose with her belly to the side so that the photos can capture the pregnancy in all it's essence. Her husband Dan is pretty handy with a camera, so they decided not to get a professional photographer.
Angeline got in her best baby poses, turned towards Dan and the camera as she smiled and glowed through all the perfect shots that were coming out. At first everything seemed completely normal, nothing out of ordinary, just a nice warm ocean breeze, the sand at her feet, and her soon to be baby lightly pitter pattering away inside her belly knowing that this would be it's first photoshoot!
Out of no where, Dan noticed from the corner of his eye, a finned creature which kept leaping out of water in the distance multiple times. He didn't say anything to his wife at that time, but zoomed in just a bit to see exactly what it was, and it to his surprise it was none other than a majestic dolphin! As the maternity photoshoot continued, the dolphin kept leaping out of the water as if it wanted to be a part of this families amazing new life with their newborn just around the corner!
What was already a perfect and magical setting, got even more spectacular as Dan snapped these amazing shots, as his beautiful wife and new baby posed. This was almost like something out of the Little Mermaid. It would surely be something this young couple would never ever forget, especially since they now had photos which would forever capture this moment in time for the rest of their lives!
Watch the video below for the full story:
Please SHARE This With Family and Friends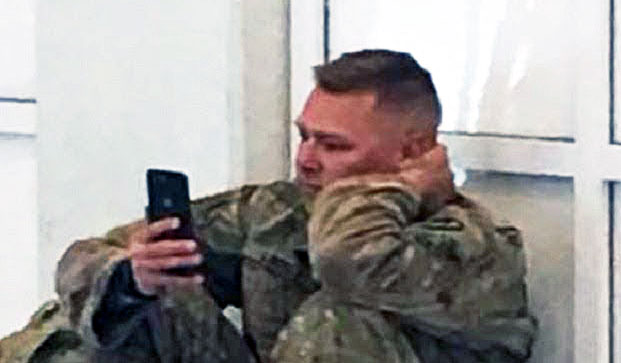 image via – youtube.com
Most of us can't really understand or appreciate the complete magnitude of what the soldiers in our country sacrifice day in and day out for us. These great men and women truly deserve to be celebrated for what they do. Not only do they all leave their family and friends when they are on active duty, but they miss out on the important events in life, such as their child's first steps, their wedding anniversary, their jobs or even the little things like a Sunday afternoon BBQ.
They are out there in the trenches sacrificing their bodies and m,any of these men and women never make it back home alive. Many are permanently wounded physically and mentally and suffer from all sorts of mental illness such as anxiety and PTSD.
Today we focus in on a great story featuring an active duty soldier named Brooks Lindsay. At the time he was deployed, his wife was pregnant and the date was set for their baby girl's birth. Brooks set up his schedule that he could fly back home from deployment 14 days before her actual due date just to make sure he didn't miss the big moment when his daughter would be born!
Like most stuff in life, things tend to not go exactly how you plan them. As the due date drew closer, his wife began to realize something didn't feel right. She went to her doctor who did an exam and realized she and her soon to be daughter were suffering from preeclampsia under a heavy load of stress! This set off a domino effect of changes, which would ultimately lead her to an induced labor 14 days before the planned date.
Remember, Brooks was thinking ahead and wanted to make sure he didn't miss this moment and also be there to hold his wife's hand, breathe and just support her during the whole birthing process. So as the doctors were inducing his wife's labor, Brooks was trapped at the airport! When he got the news that she was in labor now and the birth was going to happen within the next hour or two he was completely devastated. Luckily his mother jumped into action and was their the whole time giving his wife support during the entire birth.
Not only that, his lovely mother, who happens to be quite tech savvy got him on FaceTime video chat on her phone so Brooks could be their at least in digital form. As the birth proceeded, it began to look like there was a snowball effect of complications compiling on each other. Brooks watched helplessly from the airport wishing he could just jump through his phone and be with his wife and soon to be daughter in the flesh.
Then over the loudspeaker the announcement called for his flight to begin boarding. Feeling even more down now that he would miss the finale of the birth and he wouldn't even be sure if his wife or baby would be fine until he landed. He grabbed his carry on and began walking towards the line to get into the terminal. Then suddenly a voice pierced through the entire airport, "Don't let that man board this flight!"
Upon hearing this obviously the TSA and Airport security and staff immediately went into high alert. But they quickly realized where the strange voice was coming from. It was emanating out of the man's smart phone through FaceTime! It was his wife's doctor who was in charge of her pregnancy and birth. The doctor knew it would only take 2-3 more pushes and the baby would be born, but if Brooks got on that plane he would miss the moment he waited so long to see and experience.
When the Airport Staff realized what was happening and that there was no threat, just an incredible miracle about to unfold. The amazing staff and TSA at the airport did something that is pretty much unheard of in the airline industry…. They delayed the flight to let this soldier watch his baby daughter be born. Word quickly traveled through the airport and soon pretty much everyone who was boarding everyone on the surround flights and pretty much all humans in between were watching Brooks as he stood seated glued to his FaceTime on his phone!
A fellow passenger on the flight named Tracy Dover quickly pulled out her phone and began to record the soldier watching his baby be born. Just as the doctor promised within the next 3 pushes and only a few minutes later the soldier's daughter was born and he boarded the flight.
As soon as the plane landed, he ran to the terminal, grabbed his bags, flagged a taxi and head directly to the hospital! When he got there he was so filled with joy and happiness seeing his wife and new princess healthy, safe and sound.
Around the same time, Tracy Dover the girl who filmed the soldier watching his wife give birth on his FaceTime uploaded it to social media. Within just a few days, the video spread like wildfire and becoming an instantly viral!
Watch the video below for the full story:
Please SHARE This With Your Family and Friends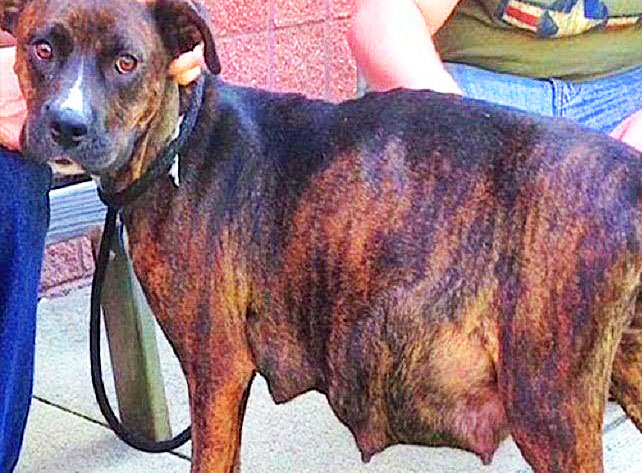 image via – youtube.com
Rescuing and fostering animals isn't easy, but for one couple it's truly a labor of love.  Over the years Chris and Mariesa have opened their hearts and home to many dogs in need. They believe that their shared passion has only made them grow closer together and since there's always animals who need rescuing, they take in new dogs whenever they can.  
The couple had seen that a pregnant pit bull named Storie was up for adoption at a local animal shelter and they immediately knew that they had to rescue her.  Shelters are incredibly stressful environments for animals with all the strange smells, noises, people and other animals around. For a pregnant dog the stress is amplified and that can mean bad news for both mom and her puppies.  Chris and Mariesa knew they had to take Storie in and they headed straight to the shelter to pick her up.
When they got their they talked to shelter employees who told them that Storie should have given birth already and that perhaps she hadn't because she was stressed.  The couple brought the heavily pregnant dog straight to the vet to have her checked and that's when they discovered something shocking. An ultrasound revealed that Storie was carrying 12 puppies!  
They were amazed and then the realization set in that they'd have to care for all the newborns and mother, so they got right down to business.  They set up a cozy place for Storie to give birth out of a kiddie pool filled with blankets in a kennel outside their house and the heavily pregnant dog settled right in.  
Thinking that they still had a couple of days to go before their new dog went into labor, the couple were shocked when just 12 hours after she went home with them, she gave birth to her first puppy.  Storie had gone into labor because she finally felt safe and comfortable enough! Incredibly, all 12 puppies were born healthy soon afterwards and within 18 hours of being in their new home.  
Chris and Mariesa were overjoyed that they'd been able to help Storie but now they had 13 new dogs to care for on top of the other ones they already had.  It wasn't before long that the puppies became a handful, they loved to play, run around the house, and fight with each other. Each one had its own personality and quirks which made it easy to tell them apart and name them.  Even though they loved all they puppies, they knew that everyone would be better off in new homes.
Thankfully, Pibbles and More Animal Rescue helped them find forever homes for all twelve puppies.  People had heard about Storie and her babies and interest was high, the rescue group received numerous adoption applications.  Even Storie ended up getting a new forever home with Chris and Mariesa's friend who offered to take her in.
It ended up working out for the best because the couple still get to visit and see her all the time, while being able to help other dogs since the space is freed up.  It's amazing what a little love and understanding can do, and for one pit bull and her 12 puppies, it made all the difference in the world.
Watch the video below for the full story:
Please SHARE This With Family and Friends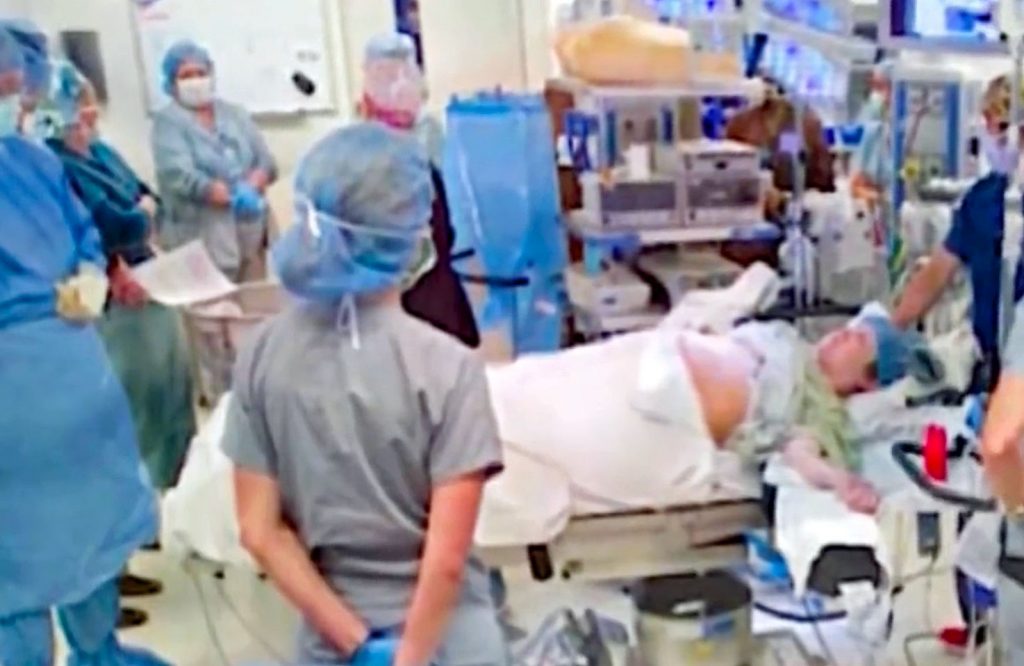 image via – youtube.com
Childbirth is terrifying. It's long, painful, and never guaranteed to end well. Even giving birth to one child is very risky. Add more than one and the chances of something going wrong increase dramatically. One couple was willing to take the risk.
Lauren and David wanted a baby more than anything. They had tried and tried to get pregnant to no avail. Finally, the couple decided that they needed to try a different tactic: artificial insemination. They began the process and soon enough, Lauren got positive on a pregnancy test.
It was soon time for the first checkup. After taking some tests, the doctor informed Lauren that her HCG levels were very high. This meant it was possible that Lauren was carrying a second child. Lauren and David couldn't believe their luck.
Soon after, they came back in for the ultrasound. They couldn't wait to see if Lauren had twins. The doctor set up the ultrasound and gasped when he looked at the screen. He claimed there were 5 babies. A minute later to the stunned everyone, he found a 6th child. The doctor told them that they could terminate some of the fetuses to give the rest a better chance at survival. Lauren and David wouldn't hear it. They had always wanted a big family and they finally had a chance to make that happen.
The day Lauren was due finally came. In total, there were 35 people in the delivery room all doing their part to aid in the pregnancy. There were also 6 nurses waiting to take each individual child. Luckily, all the precautions took paid off. Lauren safely delivered all 6 babies within only 4 minutes! Lauren and David couldn't believe they had gotten so lucky. They rejoiced and went home to start their family.
Watch the video below for the full story:
Please SHARE This With Family and Friends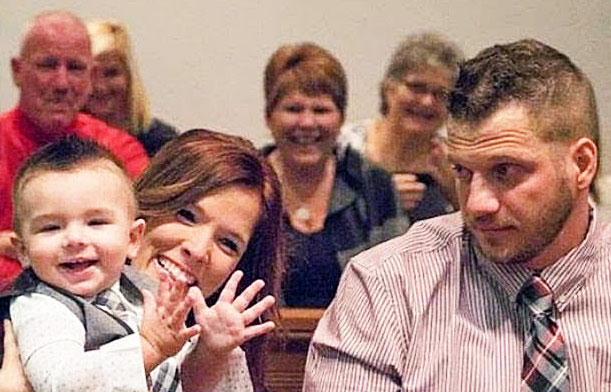 image via – youtube.com
Children who don't have parents usually end up in the "system" where they are passed around from adoption agency to foster parents until one day hopefuly they get their forever home. Unfortunately, millions of children all around the world stay stuck in the "system" until they are adults and never get to truly experience childhood in a caring, loving and stable environment. Mentally this can take a great toll on these poor kids as they carry this pain with them into adulthood and sometimes even for their entire lives.
The sad fact of the matter is most of these parentless kids never ever find that loving caring home and are forced to live a life nobody would ever want. For some very lucky few, there are good parents out there looking to adopt and raise children in a happy and stable home.
Sometimes these parents already have children of their own, so these adopted kids also get to experience life with brothers and sisters which can really help them get the proper socialization they need to become self-sufficient functioning adults in society.
In today's story we will feature the Palmer couple Mandy and Tyler who spent close to a year and half proving that they were worthy, loving and good enough parents to adopt a very special child.  The husband Tyler was had enlisted in 101st Airborne Division of the U.S. Army. After basic training, Tyler was immediately shipped off to Afghanistan to serve his country.
Tyler finished up his first tour and came back home to reintegrate into society as a civilian. Although, physically he was okay, being at war messed his head up and he needed time to recover mentally and emotionally. As he struggled through PTSD and his traumas he met a beautiful woman named Mandy. The two immediately hit it off and they could just tell almost immediately that they were soulmates.
Just like Tyler, Mandy had also been struggling with her own health issues and was suffering from Chrohn's Disease, so being together as a support system made things easier for both of them.
But just as quick as they hit it off, Tyler was shipped back off to do his second tour of duty for the Army for 9 months. They wrote each other letters, video chatted called each other during the full 9 months and 4 weeks after his second tour ended he got down on one knee and asked Mandy to marry him. She said yes and within a month they were a married couple!
After they got married Tyler decided it was time for him to retire from the army, begin a new life with his wife and start a beautiful family. For many years they tried to have a child, but Mandy's health problems stood in the way and they were unable to conceive. They tried and tried but nothing seemed to work at all. The sad truth finally settled in that Mandy would never be able to get pregnant because of her Chron's Disease so they would have to try a different path to begin their family.
The looked at fertility treatments, surrogacy and few other options but finally decided that adoption would be the best path for them to take. You would think because there are so many children in desperate need of adoption that it would be a pretty simple and straight forward process however, due to Tyler's PTSD struggles and Mandy's health issues getting the go-ahead and approval as worthy parents would take months and months.
First they would have to get licensed as foster parents, where they could be tested to see if they were even capable of caring for a child. After tons of paperwork, training and tests they were finally approved after close to a year.
After they received their license to become foster parents they got a call that a week old baby named Hunter needed a foster home and they immediately said yes to taking him and caring for the infant first as fast parents and if all went well they could become his permanent adopted parents.
After they agreed to take in baby Hunter, they ran to all the baby stores bought everything they needed for his nursery and to child-proof the house and make it the best possible environment a child could ever have.
They knew in the back of their minds that at this point they were just his foster parents and another couple could end up becoming his permanent adopted parents but they didn't care, they were determined to give this infant the best life possible!
Then their worst fear happened, another couple was scheduled to be Hunter's permanent adoptive parents and they were absolutely devastated! With that being said, the couple wasn't going to give up and would fight for custody of baby Hunter as hard as they possibly could. For months the battle raged on through the courts and nobody truly knew what the final outcome would be.
After 17 months, Hunter had gone from a few day old infant to a happy little toddler who loved Tyler and Mandy so much. They were of course the only parents he ever had and knew. Over that 17 month period they had to go from court to court to fight to truly become his permanent legal guardians.
Finally, 17 months in they were about to go to their final court date where the judge would make his final ruling on the future of the boy. Their whole family and all their friends went to court with them that day. The judge finally made it official and read out his legal and official new name Hunter Palmer!
Before anybody could even react to the amazing news, Hunter would scream something to his dad that would leave the entire court in tears…
Watch the video below for the full story:
Please SHARE This With Family and Friends