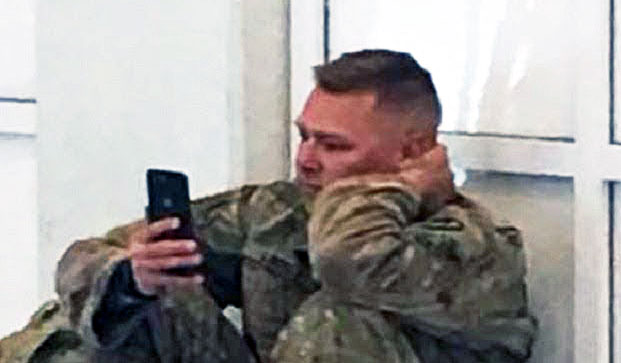 image via – youtube.com
Most of us can't really understand or appreciate the complete magnitude of what the soldiers in our country sacrifice day in and day out for us. These great men and women truly deserve to be celebrated for what they do. Not only do they all leave their family and friends when they are on active duty, but they miss out on the important events in life, such as their child's first steps, their wedding anniversary, their jobs or even the little things like a Sunday afternoon BBQ.
They are out there in the trenches sacrificing their bodies and m,any of these men and women never make it back home alive. Many are permanently wounded physically and mentally and suffer from all sorts of mental illness such as anxiety and PTSD.
Today we focus in on a great story featuring an active duty soldier named Brooks Lindsay. At the time he was deployed, his wife was pregnant and the date was set for their baby girl's birth. Brooks set up his schedule that he could fly back home from deployment 14 days before her actual due date just to make sure he didn't miss the big moment when his daughter would be born!
Like most stuff in life, things tend to not go exactly how you plan them. As the due date drew closer, his wife began to realize something didn't feel right. She went to her doctor who did an exam and realized she and her soon to be daughter were suffering from preeclampsia under a heavy load of stress! This set off a domino effect of changes, which would ultimately lead her to an induced labor 14 days before the planned date.
Remember, Brooks was thinking ahead and wanted to make sure he didn't miss this moment and also be there to hold his wife's hand, breathe and just support her during the whole birthing process. So as the doctors were inducing his wife's labor, Brooks was trapped at the airport! When he got the news that she was in labor now and the birth was going to happen within the next hour or two he was completely devastated. Luckily his mother jumped into action and was their the whole time giving his wife support during the entire birth.
Not only that, his lovely mother, who happens to be quite tech savvy got him on FaceTime video chat on her phone so Brooks could be their at least in digital form. As the birth proceeded, it began to look like there was a snowball effect of complications compiling on each other. Brooks watched helplessly from the airport wishing he could just jump through his phone and be with his wife and soon to be daughter in the flesh.
Then over the loudspeaker the announcement called for his flight to begin boarding. Feeling even more down now that he would miss the finale of the birth and he wouldn't even be sure if his wife or baby would be fine until he landed. He grabbed his carry on and began walking towards the line to get into the terminal. Then suddenly a voice pierced through the entire airport, "Don't let that man board this flight!"
Upon hearing this obviously the TSA and Airport security and staff immediately went into high alert. But they quickly realized where the strange voice was coming from. It was emanating out of the man's smart phone through FaceTime! It was his wife's doctor who was in charge of her pregnancy and birth. The doctor knew it would only take 2-3 more pushes and the baby would be born, but if Brooks got on that plane he would miss the moment he waited so long to see and experience.
When the Airport Staff realized what was happening and that there was no threat, just an incredible miracle about to unfold. The amazing staff and TSA at the airport did something that is pretty much unheard of in the airline industry…. They delayed the flight to let this soldier watch his baby daughter be born. Word quickly traveled through the airport and soon pretty much everyone who was boarding everyone on the surround flights and pretty much all humans in between were watching Brooks as he stood seated glued to his FaceTime on his phone!
A fellow passenger on the flight named Tracy Dover quickly pulled out her phone and began to record the soldier watching his baby be born. Just as the doctor promised within the next 3 pushes and only a few minutes later the soldier's daughter was born and he boarded the flight.
As soon as the plane landed, he ran to the terminal, grabbed his bags, flagged a taxi and head directly to the hospital! When he got there he was so filled with joy and happiness seeing his wife and new princess healthy, safe and sound.
Around the same time, Tracy Dover the girl who filmed the soldier watching his wife give birth on his FaceTime uploaded it to social media. Within just a few days, the video spread like wildfire and becoming an instantly viral!
Watch the video below for the full story:
Please SHARE This With Your Family and Friends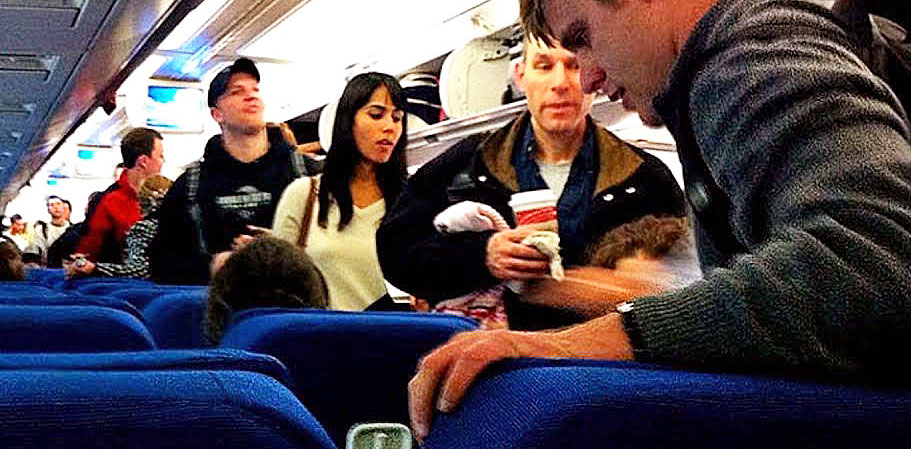 image via – youtube.com
Serving in the military is a sacrifice few make in order to protect the many. These brave men and women risk their lives so that the people back home can have their freedom. Many in the military don't make it back home to say goodbye to their loved ones as they make the ultimate sacrifice losing their life in combat. We sometimes forget just how much these selfless individuals put on the line each in everyday they are out on the battlefield risking it all for the rest of us.
We should all just take a few seconds right now to just really let it sink in how courageous and brave these people are. So many don't get to see their children grow up, or say goodbye to their spouse and parents. Let's all just give them a big thank you for their service out of respect before we get into today's story…
In our story today we feature Jessica a military member serving her country. Everyday as a military officer she put her life on the line to make sure her fellow soldiers and civilians back at home were safe. After this long tour of duty she had just finished up and was heading home for Christmas and the holidays. She missed her family and friends so much and was truly so excited to see all their smiling faces and catch up with everybody.
Although her heart yearned for her loved ones, she knew that serving her country right now was the most important thing for her to do. But now she was more than ready to hop on her flight and get home to all the people in her life that meant so much to her.
Jessica had literally just finished her tour and she booked her flight so that she could head up the same day it ended. She was in such a hurry that she decided not to change out of her army uniform, packed up her belongings, got a ride to the airport, checked her bags, went through security and then waited at her gate for boarding her flight. Finally over the loudspeaker they announced that her row was being seated, she grabbed her carry on, her passport and her plane ticket and headed for the terminal.
She could already tell by the line and sheer amount of people waiting at her gate, that the flight was completely booked and there wouldn't be an empty seat available. She was totally prepared to be squished in coach with no leg room, no comfort and no amenities. This was all fine because compared to her day to day duties in the military this would be a piece of cake. She boarded the plane and just as she predicted the flight was filled to capacity. There were basically people hanging from the rafters.
As she slowly made her way to her seat, she could just sense that something was off in her gut. She couldn't quite put a finger on it, but something just didn't seem right. She kept her eyes wide open and kept moving towards her seat. Little did she know someone was talking to a stewardess about her quietly and that was probably the weird energy she was picking up.
Finally she got to row 31 put her carry on up top and sat down in seat 31b. The flight was cramped, uncomfortable and loud but she truly didn't mind because she knew she was about to be in her cozy home with all her loved ones very soon. As she waited in her seat she reflected on her service she had just finished up and before she knew it the plane wasn't taking off. First five minutes then 10 then 20 then 30 and she began to get a bit nervous that the plane was going to be super delayed or even worse canceled and she wouldn't get home in time for the holidays!
That initial feeling she had about something being off about this flight was now manifesting fully as nervousness and a bit of fear. It was a beautiful day outside so she knew that the delay wasn't weather related. She looked over and saw all the flight crew whispering and huddled in a corner and then she really thought something could be wrong.
It seemed like they were discussing somebody on the plane and they were whispering pointing slightly and then it dawned on her that they were talking about her. She tried to ignore it, but then a man dressed in civilian clothes walked towards her and it looked like he had some kind of agenda on his mind.
She wasn't on duty, but at any moment she knew if necessary her training could kick in gear and she could handle any situation thrown at her. As the man got closer and closer the fight or flight inside her gut started kicking up full throttle. Finally he got to her row and said to her this seat is taken and you can't sit here.
She was super confused because she was holding her ticket that said 31b so this guy was either totally crazy or misinformed. Even after she showed the guy politely this was in fact her seat with her ticket he wouldn't stop. She wondered if this was going to get into some kind of physical altercation so she stood up and double checked she was in the right row and seat and again told him you are wrong this is my seat.
Then he said no, I am in your seat. She really didn't understand what he meant and confusion levels rose. She looked towards the flight attendants for some kind of help or support but they wouldn't come in help. This is when things really took a turn….
Watch the video below for the full story:
Please SHARE THIS With Family and Friends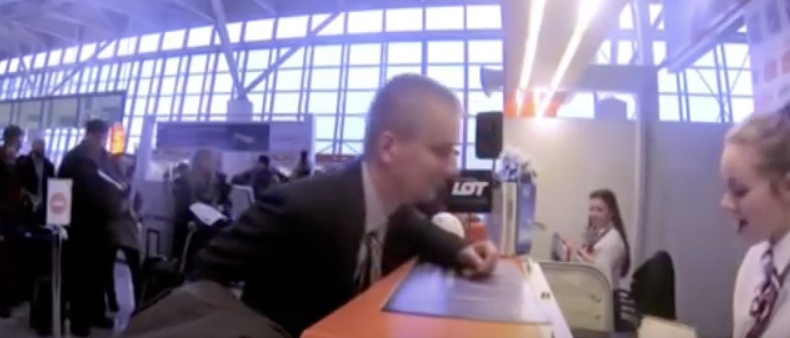 It was just a regular day at the Warsaw Chopin Airport. Passengers were checking their bags, getting their plane tickets and waiting to climb aboard their flights. Then this guy came up to the counter to check in for his flight when he got the surprise of a lifetime. He had no idea, that he was the half-millionth person to fly on the Polish Airlines Boeing 787 Dreamliner. The airline had something extra special planned for this lucky passenger.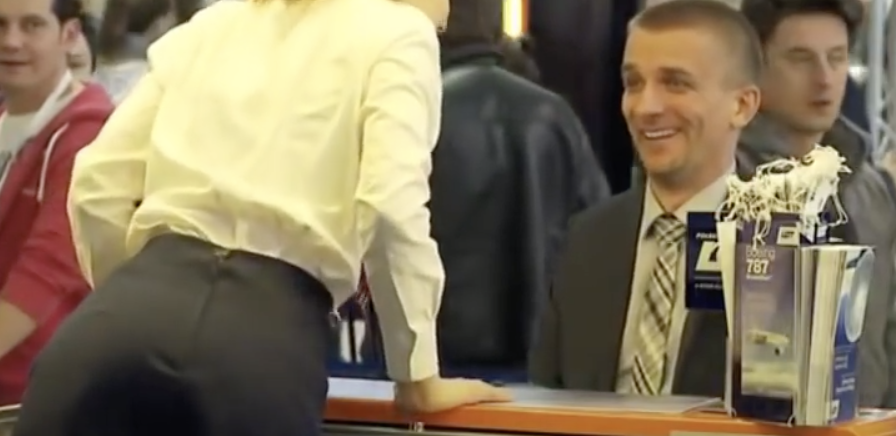 To celebrate this moment, the airline got performers from the ROMA Musical Theater, to perform an unforgettable version of 'Mamma Mia' in Polish. People jumped out of no where and surrounded him. They directed their performance at this lucky guy who was completely shocked by what was happening around him. Was this a dream or was this actually real life the man thought to himself.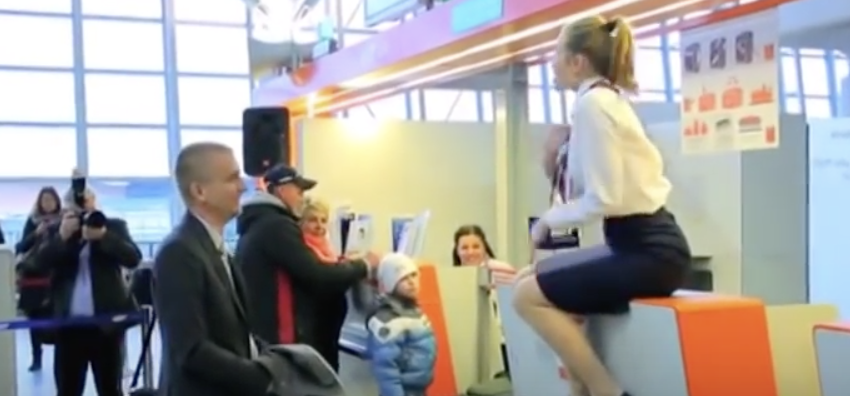 Onlookers who were also completely surprised seemed to enjoy the performance as they pulled out their phones and recorded the festivities to show their family and friends. What an awesome and unforgettable moment for everyone. Well played Polish Airlines. Enjoy the video below! How would you react in this situation?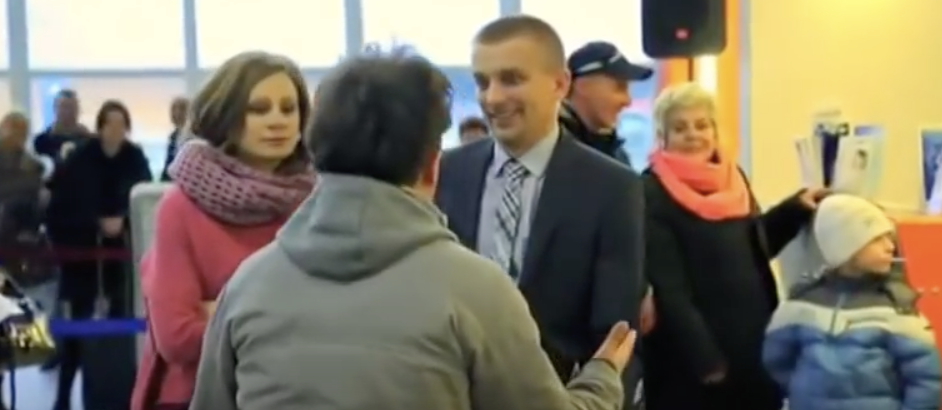 Please Share This With Family and Friends