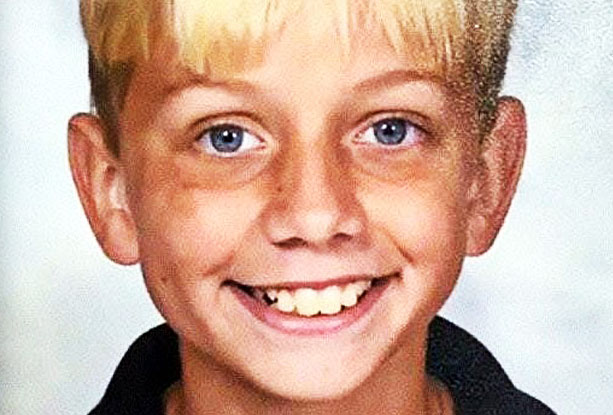 image via – youtube.com
Mothers are fiercely protective of their children and only want the best for their little ones.  They share a deep bond with their kids and many have described it as intrinsic, in that they are connected on another level and can feel what their babies are going through and experiencing.  It's hard to describe but the mother-child connection is inseparable and natural, if they must, they won't hesitate to fight tooth and nail for their kids.
One such mother is Melissa Davis from Baton Rouge, Louisiana.  She has two sons and one of them, 12 year old Camden, has special needs.  He had been attending the Greater Baton Rouge Hope Academy for a few months when she noticed a change in his attitude.  He seemed off in that he was more anxious and aggressive than usual.
He had even started wetting the bed again, which was something he stopped doing at 3 years old.  When she asked him about what was wrong he wouldn't tell her, but she could sense something was off and so she decided to do some investigating of her own.
She first tried going to the school and asking questions, simple ones like where Camden's assigned seat was located, but she couldn't get any straight answers.  School officials, including the principal and her son's teachers, were less than accommodating and their odd reaction to her basic inquiry left her confused.
Seeing no other real options, Melissa decided to place a recording device in her son's backpack in the hopes of gaining insight as to what was going on at the school.  When he returned home she retrieved the tape and played it back.
It started off normal but quickly took a drastic turn for the worse. She could hear Camden's teacher yelling at him because he hadn't completed a writing assignment and when he attempted to talk the teacher mocked him.  
As a child with special needs, Camden reacts differently to this sort of discipline. Angry yelling and mocking are simply not acceptable behaviors on the part of a teacher. Melissa was incensed but the tapes just got worse.
At one point the teacher and her assistant were heard making derogatory remarks about her son.  They were using foul language and cursing, and while Camden did not seem to be in the room at the time, it nevertheless crossed the line.
Horrified at what she had heard  on the tapes and armed with proof she went to speak with school officials once again.  Just as they had before they dismissed her concerns so she did the only real thing she could and pulled her son out of the school immediately.  However, she was not about to give up that easily.
Concerned for the other students with special needs at the school, she decided to share the audio recordings publicly on Facebook to draw awareness to the problem.  They ended up going viral and finally the school was forced to take action.
The principal released a statement saying that the teacher involved had been fired and the other one would be dismissed at the end of the semester as well.  The principal then invited Melissa to speak with her and other school officials about the matter, but this was too little too late.
Melissa had hired an attorney and threatened to file a lawsuit against the Department of Education.  In response, the school immediately fired the other teacher involved and with that Melissa felt justice had been done.  Moreover, Camden is finally getting the education he deserves. He ended up going to a new school where the teachers are better trained and equipped to deal with special needs students.
Please SHARE This With Family and Friends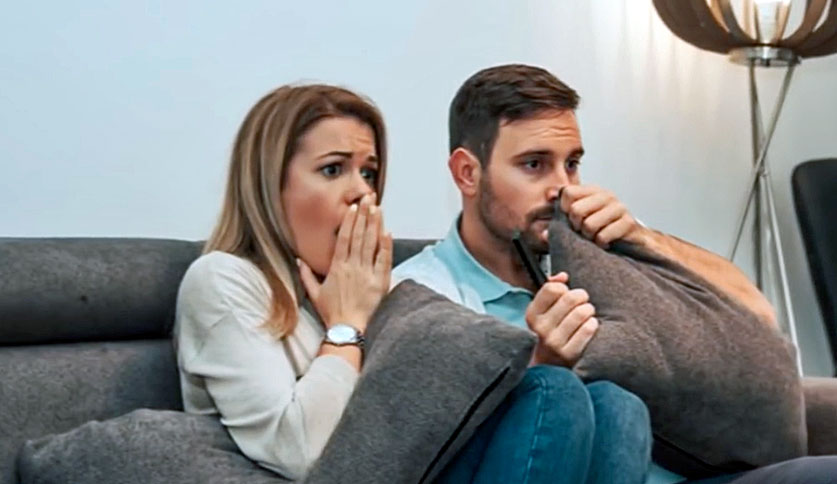 image via – youtube.com
Almost every creature on planet earth has to sleep in order to rest, rejuvenate and wake up fresh everyday so that they have enough energy to do what they need to do to survive. Many of us don't realize it, but a human who lives a life-span of 75 years will spend 25 of those years sleeping! That is 9,125 days spent in deep slumber over the course of an average persons lifetime.
Although sleep can be amazing, many people suffer from insomnia or inability to fall asleep, sleep apnea which is the inability to breathe while sleeping and others sleep talk and sleep walk. Many of us don't even realize we do these things because we are asleep when they are happening!
This brings us to today's story which features a girl who would wake up in the morning with strange and mysterious bruising on different parts of her body. Initially this nighttime bruising would only occur sporadically, so her parents didn't really think too much of it. Then as days turned into months and months into years, the bruising she would wake up to was getting worse and worse.
Not only were the bruises bigger and more visible, but it was occurring much more often than before. Her parents started to become concerned, but still weren't totally panicking and sent her off to a sleep away camp. While she was at camp the bruising continued and because it was summer, she was wearing short sleeves and shorts so this bruising was becoming visible to campers and staff alike. The staff reported it to the proper authorities and her parents were really beginning to freak out.
They spoke to a few of their friends and thought maybe she just had an iron deficiency that was causing these strange and mysterious bruises. They made her an appointment to see a doctor to examine the bruises, give her a full check up and try to get to the bottom of this mystery!
Unfortunately, before her doctors appointment, child services showed up to their house because of the report that the staff at the summer camp gave. People started thinking maybe the parents had something to do with this! However her mom and dad knew for certain they obviously had nothing to do with it, but things were beginning to look grim for them.
The social services representative interviewed the girl and she said her parents definitely had nothing to do with this. She just kept waking up each morning with this odd bruising. The social worker was made aware that she an upcoming doctors appointment to try to determine the source of the bruising and how to treat it. With this, the social worker decided to hold off on the case until they came back with doctors findings.
The doctor ran all the appropriate tests, examined the bruises and did a full body work up. All the testing came back negative, meaning she had no underlying health issues and was otherwise a very healthy young girl. Her parents were relieved that she was healthy, however the bruising continued and the social workers we're now putting more pressure on them.
The parents finally realized the only way they would know for sure what was going on was to buy a video camera and set it up in her room to see what the heck was really going on here! That night her dad placed the camera in a spot that would give them full view of their sleeping child, turned on the record button and they went to sleep until the morning.
The next day they woke up, and again there was no bruising on the girl. They immediately go the video camera and began reviewing every minute of the night to try to finally unravel this mystery! What they saw frightened them to the core of their soul. Their daughter, while sleeping would crawl, however this wasn't a normal crawl. She was somehow managing to crawl upside-down and backwards!
It honestly looked exactly like the classic horror movie the Exorcist! Was she possessed? Did she need a priest to do an exorcism? Most likely not! They showed their findings to social services who watched the footage and closed their case against the parents. They then referred her to a sleep specialist who hopefully would figure out a way to stop this strange sleep behavior from happening! Thankfully the sleep specialist had many techniques and slowly the girls strange sleep behavior and bruising began to diminish.
Check out the video for the full story:
Please SHARE This With Family and Friends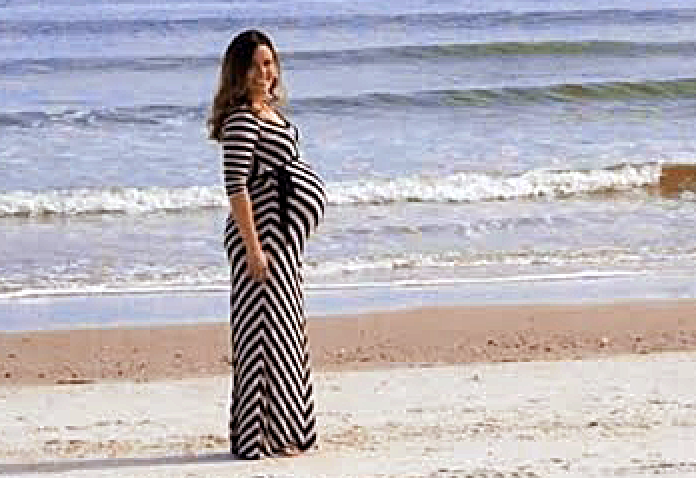 image via – youtube.com
Pregnancy is one of the most amazing moments in any woman's life. That amazing glow your skin gives off as it begins to shimmer. Once that initial morning sickness wears off and you are lucky enough to have a smooth pregnancy it can be an absolutely amazing experience. Feeling that first kick in your belly, when your baby in the womb lets you know that they are there!
When you get towards the last month or two of being pregnant it is pretty common to take pregnancy photos, so you have the memories forever before your sweet young child comes into this world. Some women prefer a lavender meadow, while others prefer a scenic vista, while some choose a mountain top, while some prefer a beautiful sandy beach with relaxing ocean waves gently lapping in the background.
This brings us to today's story featuring Angeline Moser, a beautiful pregnant mother of 9 months and her handsome husband Dan. The couple decided that the best place for this new mama to take her pregnancy pics would be at their favorite beach spot. She put on her most stunning maternity dresses and got herself ready for the first pictures she would ever take with her baby. As with most maternity photoshoots the mother to be will pose with her belly to the side so that the photos can capture the pregnancy in all it's essence. Her husband Dan is pretty handy with a camera, so they decided not to get a professional photographer.
Angeline got in her best baby poses, turned towards Dan and the camera as she smiled and glowed through all the perfect shots that were coming out. At first everything seemed completely normal, nothing out of ordinary, just a nice warm ocean breeze, the sand at her feet, and her soon to be baby lightly pitter pattering away inside her belly knowing that this would be it's first photoshoot!
Out of no where, Dan noticed from the corner of his eye, a finned creature which kept leaping out of water in the distance multiple times. He didn't say anything to his wife at that time, but zoomed in just a bit to see exactly what it was, and it to his surprise it was none other than a majestic dolphin! As the maternity photoshoot continued, the dolphin kept leaping out of the water as if it wanted to be a part of this families amazing new life with their newborn just around the corner!
What was already a perfect and magical setting, got even more spectacular as Dan snapped these amazing shots, as his beautiful wife and new baby posed. This was almost like something out of the Little Mermaid. It would surely be something this young couple would never ever forget, especially since they now had photos which would forever capture this moment in time for the rest of their lives!
Watch the video below for the full story:
Please SHARE This With Family and Friends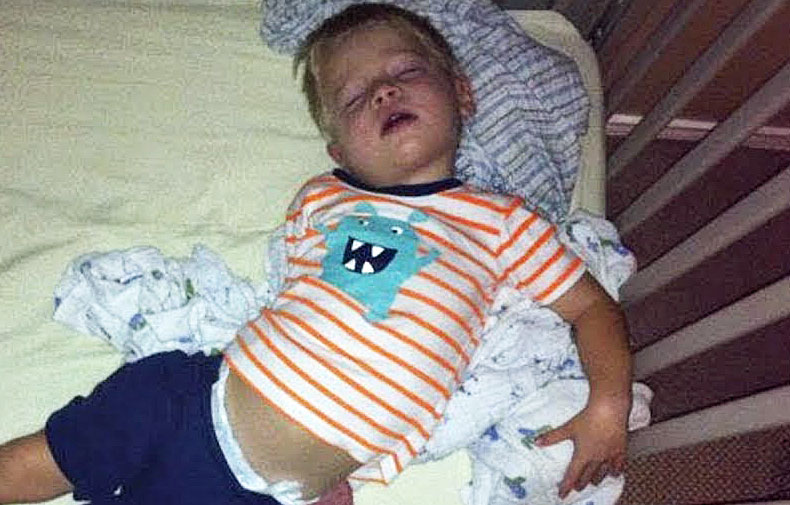 image via – youtube.com
Remember when you were a kid and your one and only safe haven that you could pretty much all your own was your bedroom? Even though your parents owned the house or apartment you lived in, 'your room' was the closest thing you had that actually belonged to you and was a place where you could go and feel safe. Every few months you would move stuff around, get some new posters, stuffed animals maybe even a new tv once you were old enough. One thing was for sure though, your room was a direct reflection of your soul and personality.
Today's story features an amazing dad and his son named Jack who was just about to grow out of his crib and get his very own big kid bed! Like many young kids, Jack was obsessed with trains, he loved every type from the vintage old steam trains to the new technologically advanced trains in Japan. He would have his dad read him books about trains and he would look through train magazines and memorize all the different types out there!
One day Jack told him about a dream he had where he was sleeping in a bed, but the bed was in the shape of a box car from a train. As he told his dad about the dream, his papa could see how excited he was getting and he wanted to do something really special for his son. He went downstairs grabbed some tools and a hammer. Put them all together, then headed out to the hardware store to get some plywood, and other materials as Jack's dad was now determined to make young Jack's dream a reality.
Jack's dad worked and worked and finally after many weeks of blood, sweat and tears Jack's dream train bed was ready to take on its main passenger who would be sleeping in this incredible bed for many years to come! That's when dad realized it was missing one vital piece that would make the bed complete and absolutely perfectly. He went to the garage, got some stencils and red paint, and created an awesome looking sign that would hang above the bed that read, 'Jack's Steam Express'!
Watch the video below for the full story plus another awesome bed make over:
Please SHARE This story with your family and friends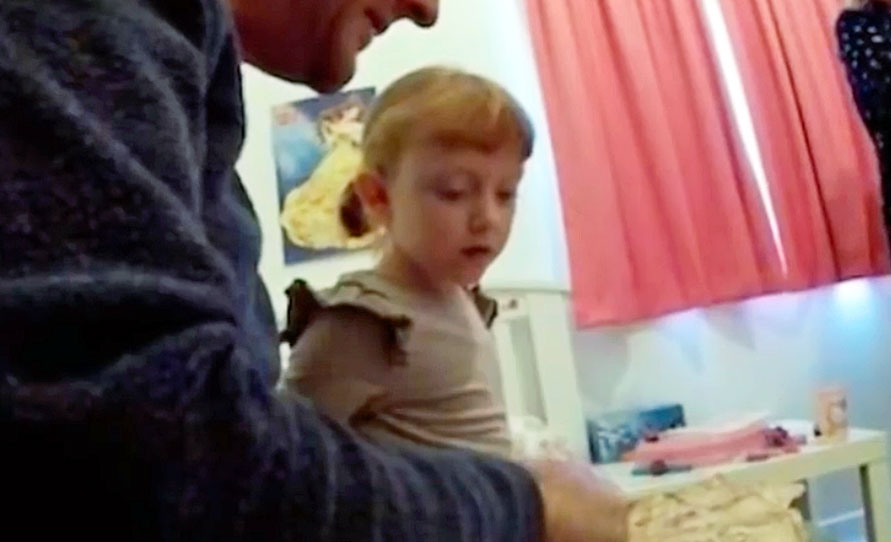 image via – youtube.com
When parents are getting ready for a new baby in their family they go through all sorts of preparations you wouldn't even know existed until you experience it. Whether it's painting the room perfectly pink for a girl, or a beautiful blue for a boy nursery, every little detail matters. The house has to be completely baby proofed so no accidents happen! Pretty much your entire living space has to evolve into a cozy nest for your new babe on the way.
This brings us to today's very interesting and very unique story.  A husband and wife who just got the news that they were expecting a new baby. Like many other couples they jumped through the usual preparation hoops, but the father of this soon-to-be baby girl came up with an intricate plan that would take years to execute to completion. To be more precise dad's plan would take exactly 6 years from the day his daughter was born to the moment his creative plan would come to fruition.
While his wife was pregnant he came up with a plan which involved him hiding an object in the house. This unknown object would remain hidden in their house for the first 6 years of his daughter's life.
The day his little princess turned 6, he began by telling her she needed to clean out some dusty old trash from an old trunk. As his little girl began cleaning out the trunk, her father secretly began filming and her mother and grandma, having previous knowledge of his master plan were watching her every move.
Finally she got to the bottom of the trunk, after she got through all the useless crap, and she found a surprise in there she never could've seen coming. It was an aged brownish paper, which looked like an old treasure map taken straight from a pirate's ship. When it first hit her that she was now in the middle of a treasure hunt and she was the sole owner of the map, she became super excited and ready for her big adventure.
At first she tried to orient herself, what was this map depicting? Where did it lead to? Would she have to leave her house to find the hidden treasure which awaited her? All these thoughts and more ran through her little imagination. Finally she realized the map was actually an ancient blueprint of her very own home.
As she looked at the map, followed the different paths which it led, she soon noticed that the hidden treasure was actually right inside her room! Was it possible that for her entire life she was sleeping in a room with a hidden treasure she didn't know existed? She would soon find out.
The map brought her into her room as her dad, mom and grandma followed behind her. She looked around and from the looks of it, the map was directing her to a certain wall in her room, that according to the map concealed a hidden doorway into a magical secret room!
She walked up to the wall where the map said her treasure would be located, but from what she could see there was no hidden door, no way to get inside and no way she would be able to find what she was looking for. This is where dad decided to help her out just a drop, as he began to lightly tap and knock on the wall, which echoed back with a strange hollow sound.
Dad then took everything up to the next level, when he grabbed an electric saw and began cutting into this wall. He sawed a perfect sized square in the wall, which was the perfect size for his daughter to crawl inside and see what surprise awaited her on the other side. As excited as the little girl was, her dad might have even been even more ecstatic being that this was a 6 year project finally culminating right now!
The little girl went through the little square and was amazed to see a magical hidden room, which was only a few feet away from where she slept every night! She couldn't believe what she was seeing or what was happening. She began looking around the hidden room when she spotted something, which looked like a little treasure chest.
She quickly ran to the box, opened it and inside were all sorts of old vintage coins, magical talismans and what looked like ancient jewels and jewelry. She was over the moon with excitement. So was her father but as he saw how much she was loving every second of this, he just couldn't tell her he was the man who set this up all those years ago!
For the next few days, his daughter couldn't stop showing off all her magical treasures to her mom, dad and grandma. She spent hours every day playing with each special object. Her dad decided that he wouldn't tell her the truth about how he planted this box years ago so that his daughter would one day have this amazing moment straight out of an old fairy tale!
Watch the video below for the full story:
Please SHARE This With Family and Friends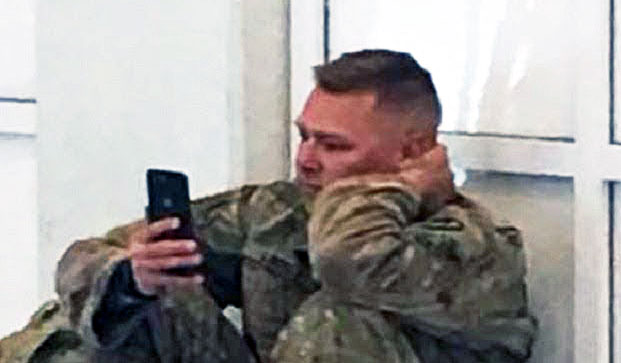 image via – youtube.com
Most of us can't really understand or appreciate the complete magnitude of what the soldiers in our country sacrifice day in and day out for us. These great men and women truly deserve to be celebrated for what they do. Not only do they all leave their family and friends when they are on active duty, but they miss out on the important events in life, such as their child's first steps, their wedding anniversary, their jobs or even the little things like a Sunday afternoon BBQ.
They are out there in the trenches sacrificing their bodies and m,any of these men and women never make it back home alive. Many are permanently wounded physically and mentally and suffer from all sorts of mental illness such as anxiety and PTSD.
Today we focus in on a great story featuring an active duty soldier named Brooks Lindsay. At the time he was deployed, his wife was pregnant and the date was set for their baby girl's birth. Brooks set up his schedule that he could fly back home from deployment 14 days before her actual due date just to make sure he didn't miss the big moment when his daughter would be born!
Like most stuff in life, things tend to not go exactly how you plan them. As the due date drew closer, his wife began to realize something didn't feel right. She went to her doctor who did an exam and realized she and her soon to be daughter were suffering from preeclampsia under a heavy load of stress! This set off a domino effect of changes, which would ultimately lead her to an induced labor 14 days before the planned date.
Remember, Brooks was thinking ahead and wanted to make sure he didn't miss this moment and also be there to hold his wife's hand, breathe and just support her during the whole birthing process. So as the doctors were inducing his wife's labor, Brooks was trapped at the airport! When he got the news that she was in labor now and the birth was going to happen within the next hour or two he was completely devastated. Luckily his mother jumped into action and was their the whole time giving his wife support during the entire birth.
Not only that, his lovely mother, who happens to be quite tech savvy got him on FaceTime video chat on her phone so Brooks could be their at least in digital form. As the birth proceeded, it began to look like there was a snowball effect of complications compiling on each other. Brooks watched helplessly from the airport wishing he could just jump through his phone and be with his wife and soon to be daughter in the flesh.
Then over the loudspeaker the announcement called for his flight to begin boarding. Feeling even more down now that he would miss the finale of the birth and he wouldn't even be sure if his wife or baby would be fine until he landed. He grabbed his carry on and began walking towards the line to get into the terminal. Then suddenly a voice pierced through the entire airport, "Don't let that man board this flight!"
Upon hearing this obviously the TSA and Airport security and staff immediately went into high alert. But they quickly realized where the strange voice was coming from. It was emanating out of the man's smart phone through FaceTime! It was his wife's doctor who was in charge of her pregnancy and birth. The doctor knew it would only take 2-3 more pushes and the baby would be born, but if Brooks got on that plane he would miss the moment he waited so long to see and experience.
When the Airport Staff realized what was happening and that there was no threat, just an incredible miracle about to unfold. The amazing staff and TSA at the airport did something that is pretty much unheard of in the airline industry…. They delayed the flight to let this soldier watch his baby daughter be born. Word quickly traveled through the airport and soon pretty much everyone who was boarding everyone on the surround flights and pretty much all humans in between were watching Brooks as he stood seated glued to his FaceTime on his phone!
A fellow passenger on the flight named Tracy Dover quickly pulled out her phone and began to record the soldier watching his baby be born. Just as the doctor promised within the next 3 pushes and only a few minutes later the soldier's daughter was born and he boarded the flight.
As soon as the plane landed, he ran to the terminal, grabbed his bags, flagged a taxi and head directly to the hospital! When he got there he was so filled with joy and happiness seeing his wife and new princess healthy, safe and sound.
Around the same time, Tracy Dover the girl who filmed the soldier watching his wife give birth on his FaceTime uploaded it to social media. Within just a few days, the video spread like wildfire and becoming an instantly viral!
Watch the video below for the full story:
Please SHARE This With Your Family and Friends