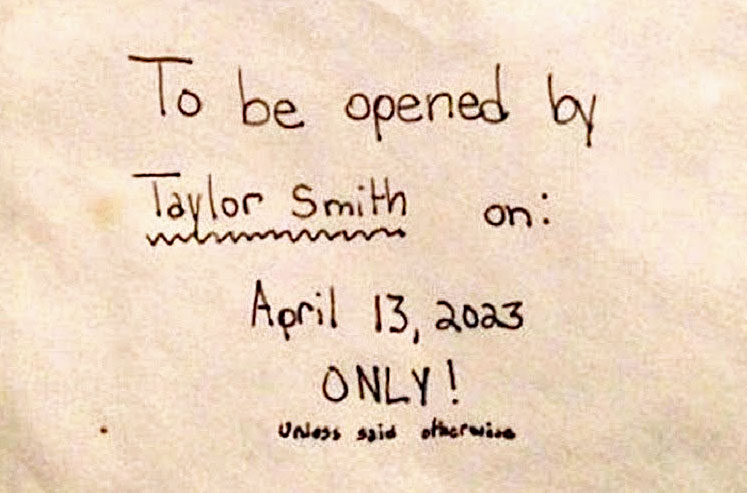 image via – youtube.com
Many kids and teens across the world will write letters to their future selves about what they want to do as they get older. Some talk about when they want to get married, how many kids they want, who their husband/wife should be. While others write about what job they want to work, how far they want to take their education and what their dream career path should look like. After they are done writing the letter, they seal it up, write the date the letter should be opened and put it in a safe place where they will remember to look years down the line.
In today's story this is exactly what Taylor Smith Johnson a teenager from Tennessee did. One day she woke up and decided to write who future self a letter that she would open on April 13, 2023. Taylor decided age 22 would be the perfect time for her future self to read this letter as a reminder of what trajectory she wanted her life to head. She had big dreams, great ambition, wanted to travel all around the world, go to college and possibly graduate school while having God always in her heart.
Then without warning a few months after she wrote this letter, Taylor died from Pneumonia and would never be able to open the letter she had written months earlier. Her parents were completely crushed by the loss of their daughter, as losing a child is probably the worst thing that could ever happen to a parent.
As Taylor's parents tried to cope with the loss of their daughter even going into her room was too difficult. The memories would flood back into their minds and they would immediately break down not being able to cope with the terrible loss.
Then months later, her mother finally had the strength to enter Taylor's room and she stumbled upon the letter Taylor wrote to her future self. Her mom with tears in her eyes, opened the envelope and began reading the letter. She was stunned by all the things Taylor aspired to and wished her sweet little girl could just come back and do everything she dreamed of.
Although, her daughter was gone, it felt as if she sent this letter from heaven and it gave her mom some peace and closure that she desperately needed. Taylor could no longer be with her family in the physical form but she just knew her little angel would always be with them in spirit.
Her mother wanted Taylor's memory to live on, so she posted the beautiful message on social media hoping that it would help all her family and friends cope with the untimely loss of her daughter…
Watch the video below for the full story and to read the beautiful letter:
Please SHARE This With Your Family and Friends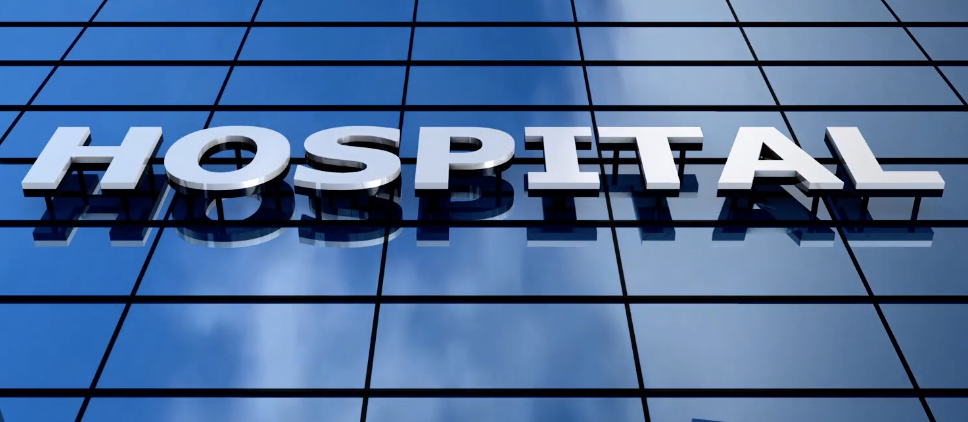 image via – youtube.com
Anybody who has a child know they are like little parrots. Whatever they see mom or dad doing they attempt to mimic their behavior. There is nothing better than a little kid proving to themselves that they can do anything their parents can do. Not only do they shadow your every move, their little brains and eyes are locked on you at all times, soaking in every last drop of information their minds can handle.
Many daughters want to be just like their mommy! They will was watch their mama get ready, buy putting on beautiful dresses, doing their hair and finally doing their makeup. It is always fun to play dress up and become a little princess. Most of the time nothing goes wrong and everything is just fine..
However, there are exceptions to this which we will cover in the following article and video. Parent's Kylie and Tony Cravens got their baby girl toy makeup to wear which was supposedly completely harmless. When they got home from the store, their daughter obviously wanted to immediately try her new toy makeup. Mama helped her apply it and all was well, everyone was smiling, laughing and having a good time.
Then out of no where the toddler began to feel ill and broke out in rashes all over her face. At first she just felt a little burning, then the pain became more and more excruciating. Blisters we're beginning to form in all the areas they applied the make up to. At this point her parents rushed her to the hospital because they obviously could sense something was very wrong with their baby.
The doctor told them this was clearly some type of anaphylactic allergic reaction to the toy makeup she had applied. It got so bad that those blisters led to swelling of her whole head and she was in a lot of pain.
Mom wanted to spread the word about her daughters situation so she posted it on social media and it quickly went viral!
Watch the video below for the full story:
Please SHARE This With Family and Friends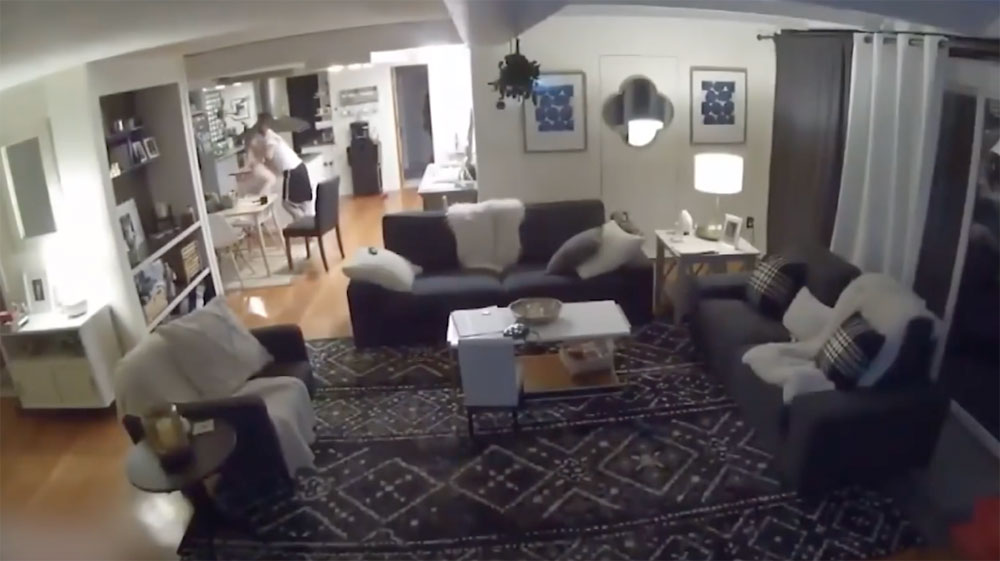 image via – youtube.com
If you have ever been in and experienced an earthquake firsthand then you know it's something you will never forget.  The feeling of the Earth moving beneath your feet is scary and completely unsettling. At first it takes a moment to register what is actually happening and then you have to act quickly in order to get to safety.  
That's not always easy. Depending on the strength of the earthquake, it can easily throw off your balance and make walking incredibly difficult. The raw absolute power of a quake is simply indescribable and terrifying.  Even babies, who have no idea what's going on when they happen, know that they are something to cry about.
Last year at 8:30 in the morning a major earthquake struck Anchorage, Alaska.  It measured a 7.1 on the Richter scale, making it the strongest quake in recent memory for the area.  One family caught up in the chaos managed to capture the moment it struck on their home video surveillance and its incredibly eye opening as to the power of mother nature.
According to Tony, the man seen in the clip and father of three young children, he was in the kitchen feeding his infant son when he first heard the low, faint rumbling that comes right before an earthquake.  
Sensing the imminent danger, the baby started to cry and that's when he jumped up, grabbed the child, and headed straight for the front door. Outside they would be safe from things like falling furniture, shattered glass, or even the house collapsing.  Not seeing his other children outside, Tony ran back in and found them trying to get out, so he helped them escape along with his wife.
Inside the house furniture and the family's belongings were rattling and shaking furiously, drawers were opening and closing, pictures fell off the wall, and lamps toppled over.  As the quake grew in intensity the lights even began to flicker on and off.
Outside in the front yard the young family huddled together in the dark, it was freezing and had been snowing.  In their haste to get out no one had bothered to put on any shoes or warm clothes, so they did their best to keep each other warm. In the background you can see a car alarm going off, it's lights flashing, set off by the furious shaking.
In the end the house was ok and damages were mainly limited to broken glasses and minor stuff like that.  No one was physically hurt either, but mentally and emotionally the earthquake took its toll. The children don't like to be left alone in their rooms and any loud noise sets them off; they think it's another earthquake.  
As time passes their fears are slowly starting to fade and for now all Tony and his wife can do is teach them what to do when an earthquake strikes. That way they can stay as safe as possible.
Please SHARE This With Family and Friends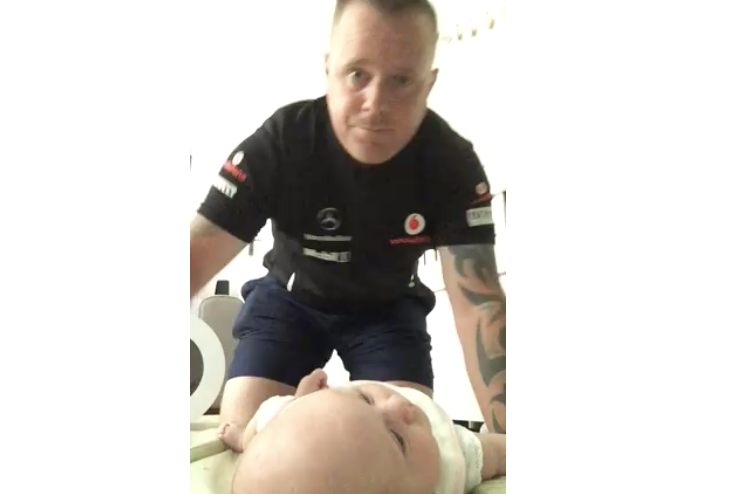 If you are a parent then you have changed a diaper or two, or several thousand, in your life. It's crucial to keep newborn babies clean, dry, and smelling fresh as can be. When you go to change a diaper you never know what you're going to get.
Sometimes the changing process flies by smoothly and there are no hiccups. Other times it can be pure torture and everything, from the smell to the mess, takes forever to muscle through and clean up. When a poo explosion occurs, many a parent grins and bears it, but sometimes the sights and odors are just too overwhelming.
Which was the case when one unlucky father happened to be on diaper changing duty. He filmed the special moment of him taking care of the precious little bundle of joy and caught more on tape than what he bargained for. It appears that he had no idea about the shockingly unpleasant surprise he was about to uncover when he went to do the big change, and from his reaction it's clear that it was beyond gross.
The cute baby ended up making quite a stink, and daddy did not have the stomach for it. He gags, coughs, and dry vomits his way through the diaper change and looks traumatized from it all. What makes the clip all the more entertaining is that the smelly babies father is one tough looking man.
He has big muscles, sports several tattoos, slicks back his hair, and yet has no stomach for poo-poo smells. His commentary is endearing as he chats with his child, alternating between gently cooing and suppressing his urge to vomit. The end of it all, and fresh air, cannot come soon enough!
While this wasn't dad's first diaper change experience of the stinky sort, when the smell is that overwhelming and rank, it's impossible for a person to ever get used to. Besides being entertaining, one of the best things about this short clip is that it shows the little moments that babies and parents share which make them so special and endearing to each other.
All the ups and downs, lessons learned, and the awesome memories shared and created, make families closer and happier in the end.
Please Share This Hilarious Video With Family and Friends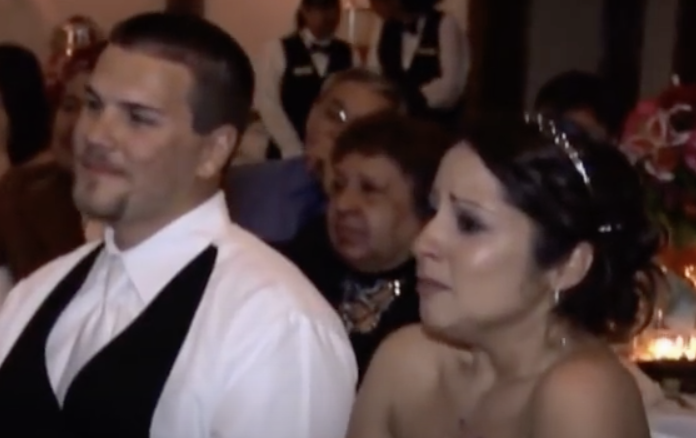 This video is deeply touching to anyone who understands the precious relationship of a father and daughter. A man is given a baby girl and his whole life is changed for the better. What he provides for that little girl as she grows is invaluable. Daddy's princess matures into a beautiful woman and the day comes when he has to let her go. On her big day, it is customary for fathers to walk their daughters down the aisle and literally hand her off to her new man.
Dad and daughter also typically enjoy a dance together at the wedding reception, and he might even prepare a few words to speak to the treasured couple. In the case of Nicole Cortez, her father was not interested in speeches. T
he man wanted to do something special that would say more than he could say with his own prose. Since Nicole was a sign language interpreter, her father had a grand idea that would mean the world to her.
He spent the entire year of her engagement learning how to sign the perfect message to his daughter, which was a meaningful country song called I Loved Her First. After the ceremony, Nicole's pop confidently and sincerely presents his tribute to the beautiful bride and groom.
They are completely shocked and both brought to tears over the man's impeccable performance, as dad signs the entire song with purposeful passion. The newlyweds will certainly remember their cherished day forever.
Please Share This Heartwarming Video With Family and Friends