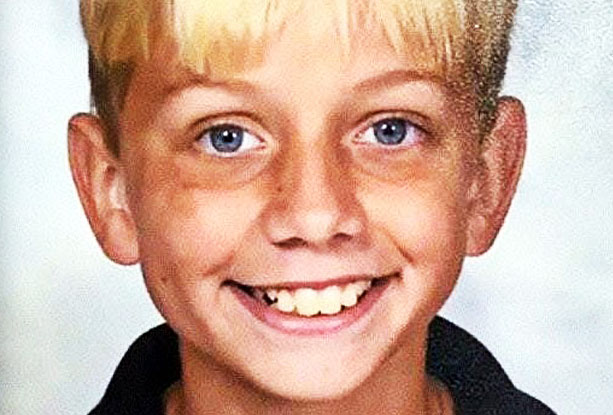 image via – youtube.com
Mothers are fiercely protective of their children and only want the best for their little ones.  They share a deep bond with their kids and many have described it as intrinsic, in that they are connected on another level and can feel what their babies are going through and experiencing.  It's hard to describe but the mother-child connection is inseparable and natural, if they must, they won't hesitate to fight tooth and nail for their kids.
One such mother is Melissa Davis from Baton Rouge, Louisiana.  She has two sons and one of them, 12 year old Camden, has special needs.  He had been attending the Greater Baton Rouge Hope Academy for a few months when she noticed a change in his attitude.  He seemed off in that he was more anxious and aggressive than usual.
He had even started wetting the bed again, which was something he stopped doing at 3 years old.  When she asked him about what was wrong he wouldn't tell her, but she could sense something was off and so she decided to do some investigating of her own.
She first tried going to the school and asking questions, simple ones like where Camden's assigned seat was located, but she couldn't get any straight answers.  School officials, including the principal and her son's teachers, were less than accommodating and their odd reaction to her basic inquiry left her confused.
Seeing no other real options, Melissa decided to place a recording device in her son's backpack in the hopes of gaining insight as to what was going on at the school.  When he returned home she retrieved the tape and played it back.
It started off normal but quickly took a drastic turn for the worse. She could hear Camden's teacher yelling at him because he hadn't completed a writing assignment and when he attempted to talk the teacher mocked him.  
As a child with special needs, Camden reacts differently to this sort of discipline. Angry yelling and mocking are simply not acceptable behaviors on the part of a teacher. Melissa was incensed but the tapes just got worse.
At one point the teacher and her assistant were heard making derogatory remarks about her son.  They were using foul language and cursing, and while Camden did not seem to be in the room at the time, it nevertheless crossed the line.
Horrified at what she had heard  on the tapes and armed with proof she went to speak with school officials once again.  Just as they had before they dismissed her concerns so she did the only real thing she could and pulled her son out of the school immediately.  However, she was not about to give up that easily.
Concerned for the other students with special needs at the school, she decided to share the audio recordings publicly on Facebook to draw awareness to the problem.  They ended up going viral and finally the school was forced to take action.
The principal released a statement saying that the teacher involved had been fired and the other one would be dismissed at the end of the semester as well.  The principal then invited Melissa to speak with her and other school officials about the matter, but this was too little too late.
Melissa had hired an attorney and threatened to file a lawsuit against the Department of Education.  In response, the school immediately fired the other teacher involved and with that Melissa felt justice had been done.  Moreover, Camden is finally getting the education he deserves. He ended up going to a new school where the teachers are better trained and equipped to deal with special needs students.
Please SHARE This With Family and Friends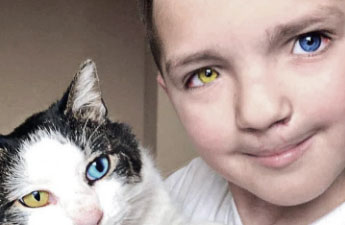 image via – facebook.com
Most of the population is aware of the genetic disorder and defect called Cleft Palate and Cleft Lip. This disorder happens when the baby is still a fetus in the mother's womb and the dan and cellular structures don't form exactly how they are supposed to.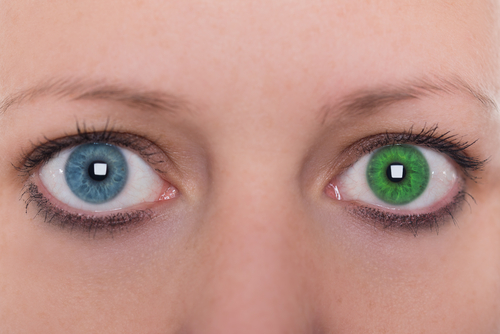 image via – shutterstock.com
In a perfect world everyone would be more accepting of people with disabilities, however kids and sometimes even adults can be mean and make of fun people who look or act different and are born with birth defects.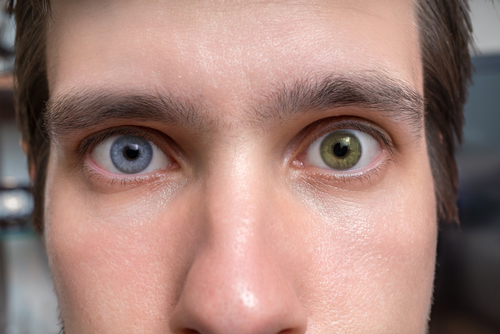 image via – shutterstock.com
This brings us to today's story featuring a young boy named Madden Humphreys and his mother Christina. Madden has 2 rare genetic disorders the first is called Heterochromia Iridium and he also has a Cleft Lip. Having both of these together is quite rare. Heterochromia Iridum causes a person's eyes to be two completely different colors! This disorder is super rare but surprisingly also shows up in cats and dogs.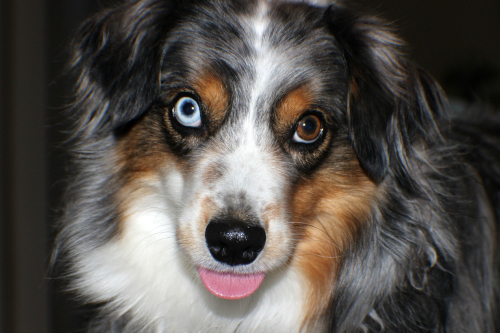 image via – shutterstock.com
Only one percent of the human population has Heterochromia Iridium so you will rarely ever come across somebody who has it. For the most part although the eyes can long a little strange being such different colors, there usually aren't any other health problems that are associated with it.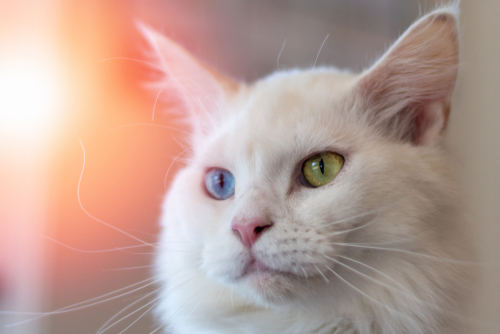 image via – shutterstock.com
One day, his mom was just browsing the internet when she randomly came across a very special cat! Not only did this cat have Heterochromia Iridium but he also had a Cleft Lip; the exact same two defects her son has!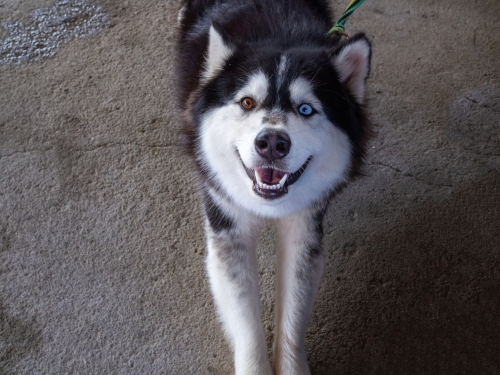 image via – shutterstock.com
It seemed as if a miracle was unfolding before her eyes and destiny was bringing these two souls together. But, there was one huge problem that was holding destiny back! The Humphreys lived in Oklahoma, while the special cat was all the way up north in Minnesota. Money was also very tight for the Humphreys and they couldn't afford a flight to Minnesota and a hotel and everything that comes with traveling.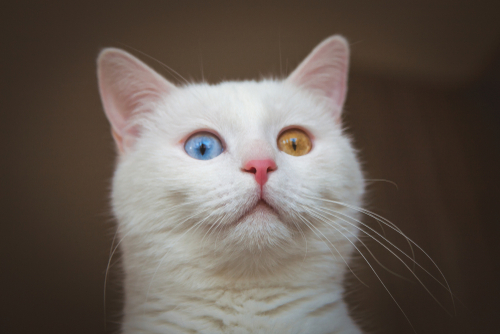 image via – shutterstock.com
Luckily, Christina has amazing best friends that she told about her situation. The friends all immediately chipped in to fund Christina for a fun road trip to pick up her son's new best friend. They quickly hit the road, traveled across many states and finally arrived at the rescue shelter to find this very special and magical kitty.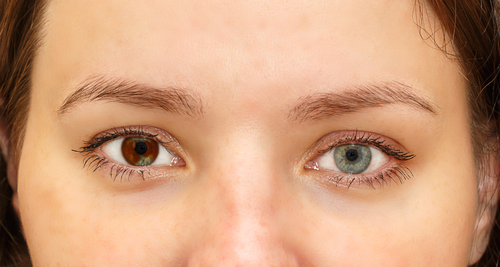 image via – shutterstock.com
Madden named his new friend Moon as soon as they arrived. His mother had never seen him this excited or happy before in his entire life. Madden didn't have many friends and always felt secluded and alone; but now had a new best friend that would never leave his side.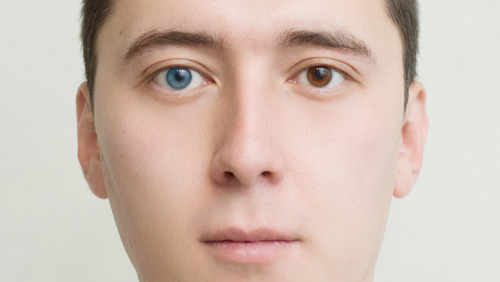 image via – shutterstock.com
Madden soon realized that being different was so bad after all as his confidence, health, happiness and overall mental well being all rose to new levels! In a world filled with people who aren't always so nice, it is good to know that wonderful and amazing people still out there doing good things and selfless acts everyday!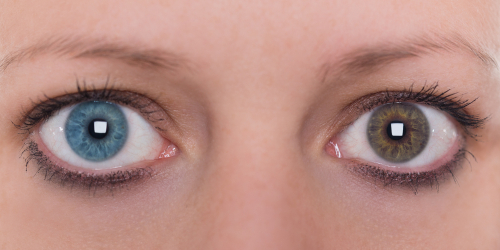 image via – shutterstock.com
Remember always be nice to people because you never know what they are going through!
Please SHARE This With Your Family and Friends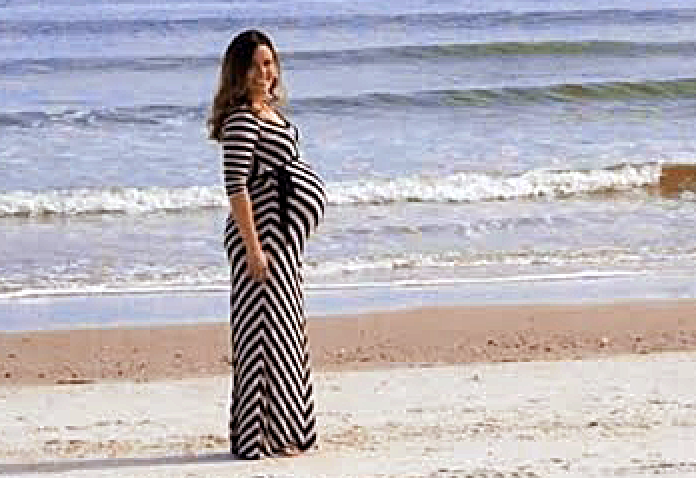 image via – youtube.com
Pregnancy is one of the most amazing moments in any woman's life. That amazing glow your skin gives off as it begins to shimmer. Once that initial morning sickness wears off and you are lucky enough to have a smooth pregnancy it can be an absolutely amazing experience. Feeling that first kick in your belly, when your baby in the womb lets you know that they are there!
When you get towards the last month or two of being pregnant it is pretty common to take pregnancy photos, so you have the memories forever before your sweet young child comes into this world. Some women prefer a lavender meadow, while others prefer a scenic vista, while some choose a mountain top, while some prefer a beautiful sandy beach with relaxing ocean waves gently lapping in the background.
This brings us to today's story featuring Angeline Moser, a beautiful pregnant mother of 9 months and her handsome husband Dan. The couple decided that the best place for this new mama to take her pregnancy pics would be at their favorite beach spot. She put on her most stunning maternity dresses and got herself ready for the first pictures she would ever take with her baby. As with most maternity photoshoots the mother to be will pose with her belly to the side so that the photos can capture the pregnancy in all it's essence. Her husband Dan is pretty handy with a camera, so they decided not to get a professional photographer.
Angeline got in her best baby poses, turned towards Dan and the camera as she smiled and glowed through all the perfect shots that were coming out. At first everything seemed completely normal, nothing out of ordinary, just a nice warm ocean breeze, the sand at her feet, and her soon to be baby lightly pitter pattering away inside her belly knowing that this would be it's first photoshoot!
Out of no where, Dan noticed from the corner of his eye, a finned creature which kept leaping out of water in the distance multiple times. He didn't say anything to his wife at that time, but zoomed in just a bit to see exactly what it was, and it to his surprise it was none other than a majestic dolphin! As the maternity photoshoot continued, the dolphin kept leaping out of the water as if it wanted to be a part of this families amazing new life with their newborn just around the corner!
What was already a perfect and magical setting, got even more spectacular as Dan snapped these amazing shots, as his beautiful wife and new baby posed. This was almost like something out of the Little Mermaid. It would surely be something this young couple would never ever forget, especially since they now had photos which would forever capture this moment in time for the rest of their lives!
Watch the video below for the full story:
Please SHARE This With Family and Friends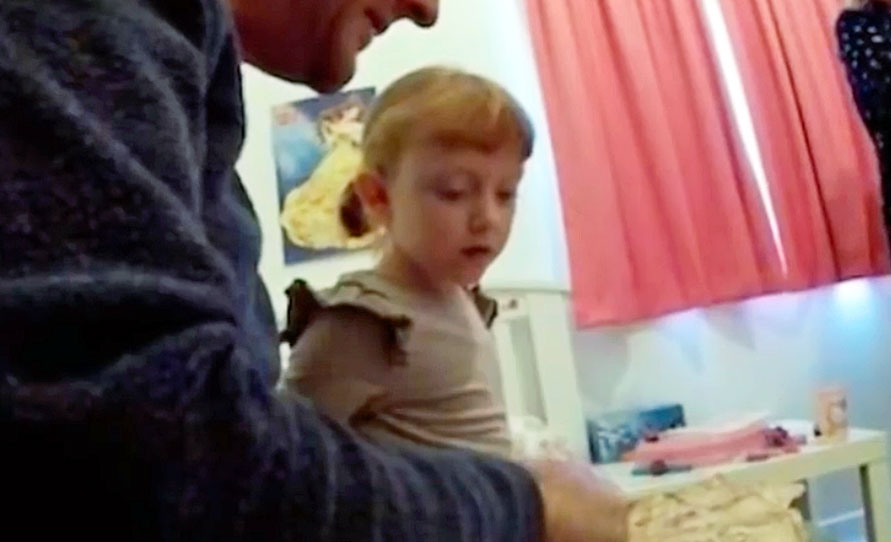 image via – youtube.com
When parents are getting ready for a new baby in their family they go through all sorts of preparations you wouldn't even know existed until you experience it. Whether it's painting the room perfectly pink for a girl, or a beautiful blue for a boy nursery, every little detail matters. The house has to be completely baby proofed so no accidents happen! Pretty much your entire living space has to evolve into a cozy nest for your new babe on the way.
This brings us to today's very interesting and very unique story.  A husband and wife who just got the news that they were expecting a new baby. Like many other couples they jumped through the usual preparation hoops, but the father of this soon-to-be baby girl came up with an intricate plan that would take years to execute to completion. To be more precise dad's plan would take exactly 6 years from the day his daughter was born to the moment his creative plan would come to fruition.
While his wife was pregnant he came up with a plan which involved him hiding an object in the house. This unknown object would remain hidden in their house for the first 6 years of his daughter's life.
The day his little princess turned 6, he began by telling her she needed to clean out some dusty old trash from an old trunk. As his little girl began cleaning out the trunk, her father secretly began filming and her mother and grandma, having previous knowledge of his master plan were watching her every move.
Finally she got to the bottom of the trunk, after she got through all the useless crap, and she found a surprise in there she never could've seen coming. It was an aged brownish paper, which looked like an old treasure map taken straight from a pirate's ship. When it first hit her that she was now in the middle of a treasure hunt and she was the sole owner of the map, she became super excited and ready for her big adventure.
At first she tried to orient herself, what was this map depicting? Where did it lead to? Would she have to leave her house to find the hidden treasure which awaited her? All these thoughts and more ran through her little imagination. Finally she realized the map was actually an ancient blueprint of her very own home.
As she looked at the map, followed the different paths which it led, she soon noticed that the hidden treasure was actually right inside her room! Was it possible that for her entire life she was sleeping in a room with a hidden treasure she didn't know existed? She would soon find out.
The map brought her into her room as her dad, mom and grandma followed behind her. She looked around and from the looks of it, the map was directing her to a certain wall in her room, that according to the map concealed a hidden doorway into a magical secret room!
She walked up to the wall where the map said her treasure would be located, but from what she could see there was no hidden door, no way to get inside and no way she would be able to find what she was looking for. This is where dad decided to help her out just a drop, as he began to lightly tap and knock on the wall, which echoed back with a strange hollow sound.
Dad then took everything up to the next level, when he grabbed an electric saw and began cutting into this wall. He sawed a perfect sized square in the wall, which was the perfect size for his daughter to crawl inside and see what surprise awaited her on the other side. As excited as the little girl was, her dad might have even been even more ecstatic being that this was a 6 year project finally culminating right now!
The little girl went through the little square and was amazed to see a magical hidden room, which was only a few feet away from where she slept every night! She couldn't believe what she was seeing or what was happening. She began looking around the hidden room when she spotted something, which looked like a little treasure chest.
She quickly ran to the box, opened it and inside were all sorts of old vintage coins, magical talismans and what looked like ancient jewels and jewelry. She was over the moon with excitement. So was her father but as he saw how much she was loving every second of this, he just couldn't tell her he was the man who set this up all those years ago!
For the next few days, his daughter couldn't stop showing off all her magical treasures to her mom, dad and grandma. She spent hours every day playing with each special object. Her dad decided that he wouldn't tell her the truth about how he planted this box years ago so that his daughter would one day have this amazing moment straight out of an old fairy tale!
Watch the video below for the full story:
Please SHARE This With Family and Friends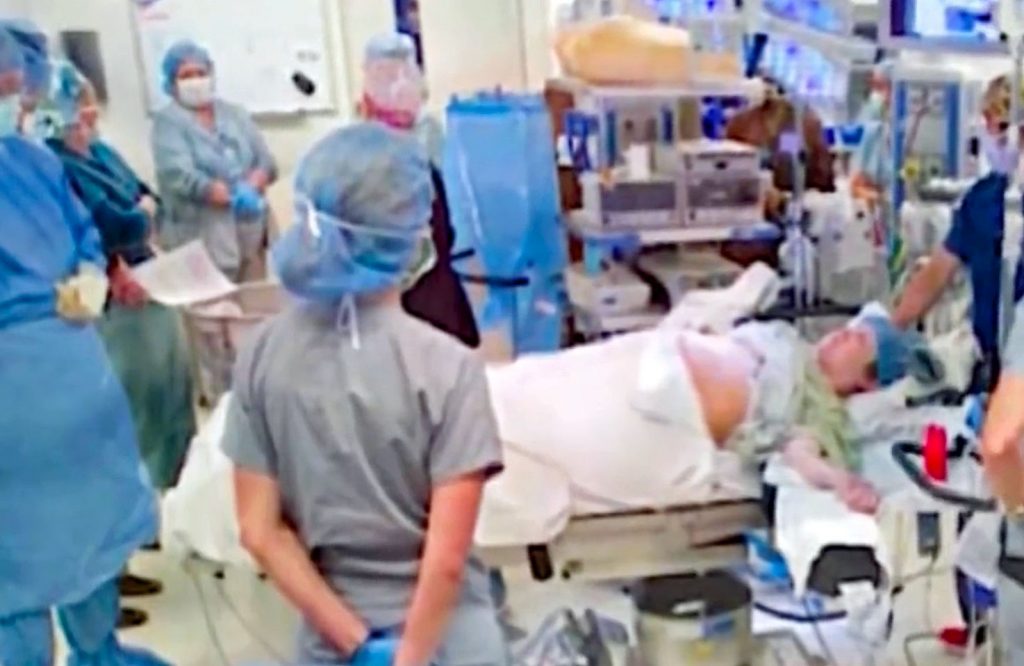 image via – youtube.com
Childbirth is terrifying. It's long, painful, and never guaranteed to end well. Even giving birth to one child is very risky. Add more than one and the chances of something going wrong increase dramatically. One couple was willing to take the risk.
Lauren and David wanted a baby more than anything. They had tried and tried to get pregnant to no avail. Finally, the couple decided that they needed to try a different tactic: artificial insemination. They began the process and soon enough, Lauren got positive on a pregnancy test.
It was soon time for the first checkup. After taking some tests, the doctor informed Lauren that her HCG levels were very high. This meant it was possible that Lauren was carrying a second child. Lauren and David couldn't believe their luck.
Soon after, they came back in for the ultrasound. They couldn't wait to see if Lauren had twins. The doctor set up the ultrasound and gasped when he looked at the screen. He claimed there were 5 babies. A minute later to the stunned everyone, he found a 6th child. The doctor told them that they could terminate some of the fetuses to give the rest a better chance at survival. Lauren and David wouldn't hear it. They had always wanted a big family and they finally had a chance to make that happen.
The day Lauren was due finally came. In total, there were 35 people in the delivery room all doing their part to aid in the pregnancy. There were also 6 nurses waiting to take each individual child. Luckily, all the precautions took paid off. Lauren safely delivered all 6 babies within only 4 minutes! Lauren and David couldn't believe they had gotten so lucky. They rejoiced and went home to start their family.
Watch the video below for the full story:
Please SHARE This With Family and Friends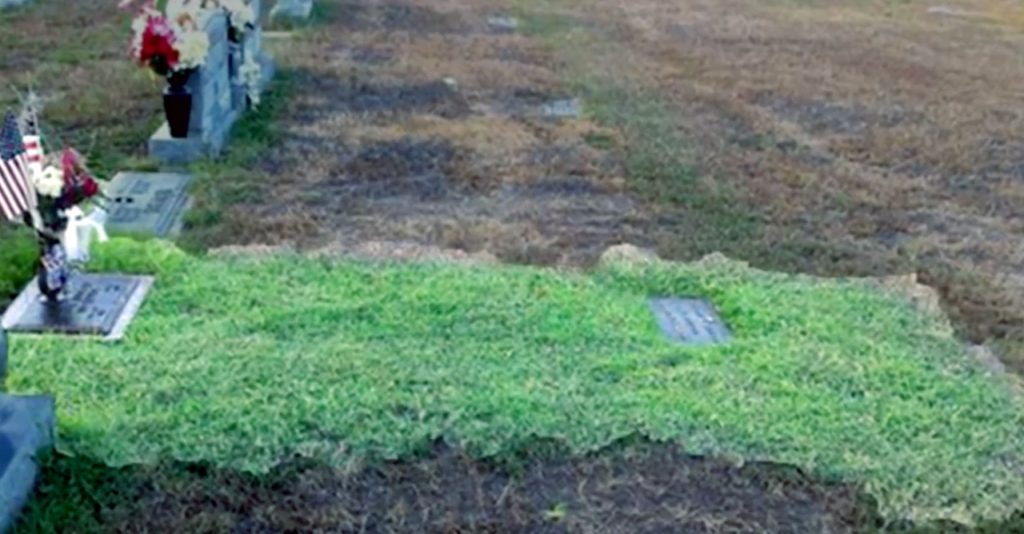 image via – youtube.com
For some people, compassion comes naturally.  They don't think twice about helping others in need or doing things that wouldn't cross many people's minds.  They're just extra thoughtful and their selfless kindness comes from the goodness of their heart. Jake Reissig is that type of person.  The senior citizen from Texas wasn't looking for attention or anything in return when he did something so simple, yet it ended up touching the lives of a family he barely even knew. 
For Mr. Reissig, every day has a set routine that starts off with him going to church.  Then he meets one of his nine children for coffee before returning home to his garden where he clips off just one rose from the flowers he grows.  He then heads to the cemetery where his wife of 65 years, Elizabeth, is buried and leaves the single rose at her grave. Even when she was alive, he would gift her a daily rose, and while his routine may have changed a bit, he still loves talking to her.  During his visits he also takes care of the little plot and waters the grass so that it doesn't turn all dry and brown in the Texas heat.  
Once he's done talking and watering, he heads home, but one day while visiting his wife he passed by a young woman crying beside a nearby gravestone.  Instinctively wanting to comfort her, he headed over and ended up talking to her about her brother. She told him that her brother, Joseph Villasenor, had been a staff sergeant in the U.S. Air Force when he passed away in 2010.  The two had been best friends and she missed him so much. He knew how much heartache the woman was going through and consoled her the best he could.
After the woman had left Mr. Reissig decided that he would do a little something extra in his daily routine, he'd water the soldier's grave as well.  From then on out, every day he tended to the grass around both plots, making sure they were well watered and green.  
When the Villasenor family soon came to visit Joseph's grave they walked up and were greeted by the vibrant green grass.  They couldn't believe it! Looking around, his parents noticed the ground everywhere else in the cemetery was brown and dry, but not on their son's.  
Nearby was Mr. Reissig, hose in hand.  They hugged and thanked him for all that he had done, then he turned to Joseph's mother and asker "Do you want to water it?"  She gratefully accepted his offer with tears in her eyes, amazed that a stranger would do such a beautiful thing for her son. Yet for anyone who knows Mr. Reissig, it comes as no surprise that he'd be behind such a selfless, kind act.  It's just in his nature.
Watch the video below for the full story:
Please SHARE This With Family and Friends