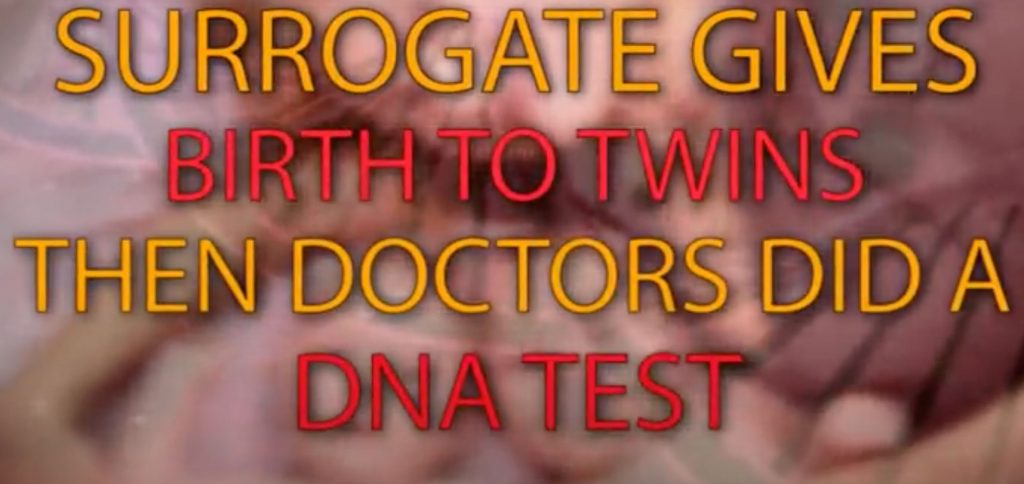 image via : youtube.com
For a number of reasons, some couples are unable to have a child. There may be a medical condition or even just fertility problems. When couples are in situations like this, they often turn to surrogates for aid. However, for one couple this was not an option. In China, hiring a surrogate is illegal. One Chinese couple kept running into difficulties having a child. They knew a surrogate could streamline the process so they moved to the U.S. and hired one. Jessica Allen was hired for an initial $30,000.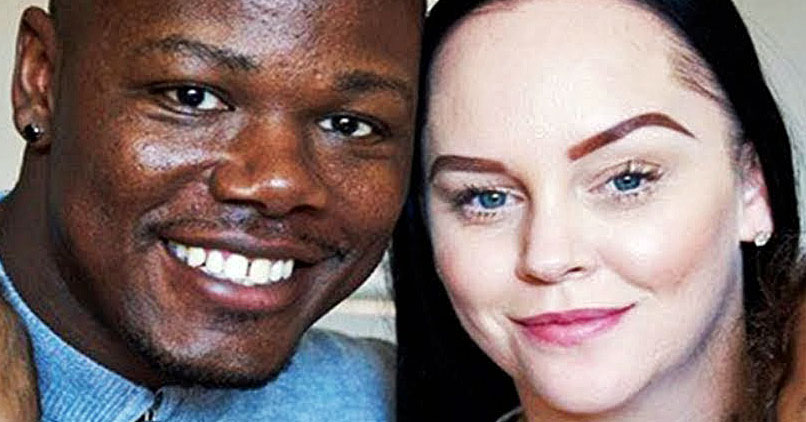 This was until Jessica went to her first ultrasound and discovered that she was actually carrying twins. The couple raised her pension adding an extra $5,000 to compensate for the newly discovered second baby. After 38 weeks, Allen delivered the babies on December 12, 2016. Perhaps to her dismay, the newly born were immediately whisked away before Allen could even get a glimpse of them. She went home to her husband and continued on with her life. Then, she received a text from the couple she had just delivered for.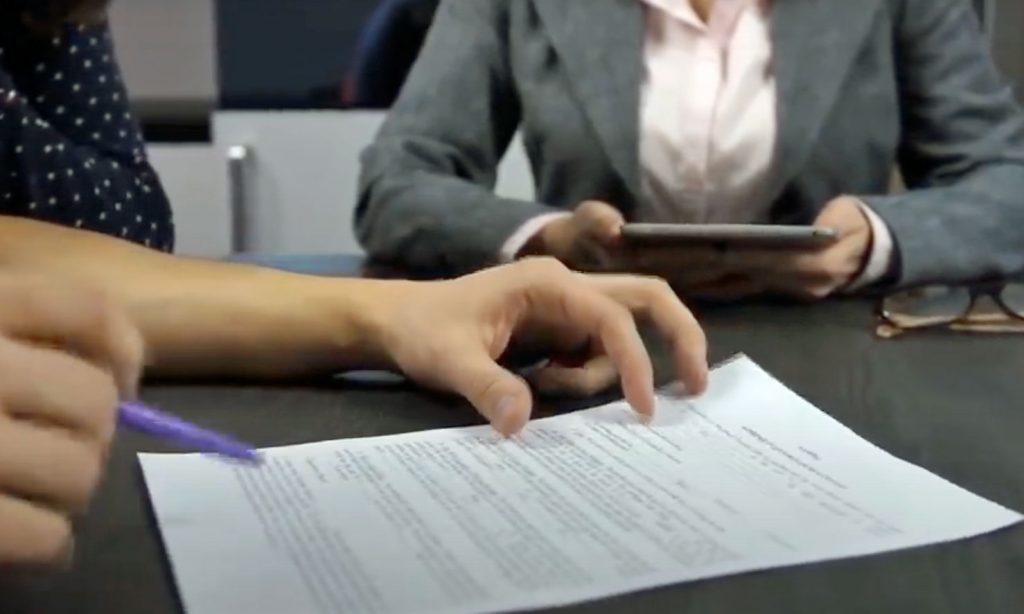 They said that one of the twins was clearly Chinese and the other was clearly not. It was clear that they were not identical twins. The couple had done a DNA test and discovered that only the Chinese child was theirs. The other child was Allen's and had somehow been conceived after the other couple's embryo egg had been implanted.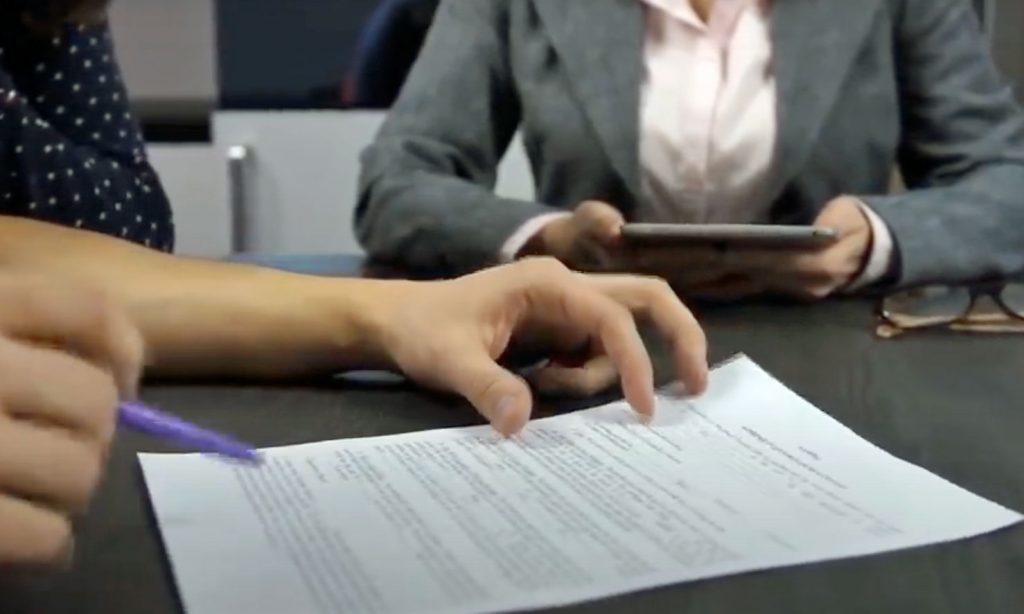 The couple wanted nothing to do with Allen's child. They planned to put him up for adoption and additionally demanded $22,000 dollars in compensation. They no longer were willing to pay for the child's development as it wasn't theirs. Jessica had just moved to a new house with her partner and had little savings at the moment. She was forced to take out a loan to get her child. Luckily, they made it back to each other. She named him Malachai but this is not where the story ends….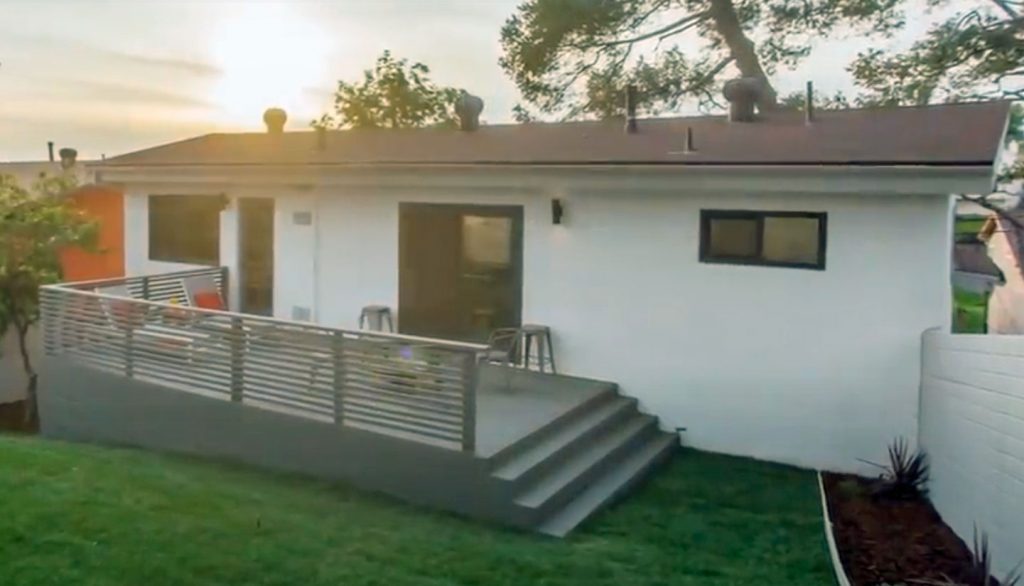 Please SHARE This With Family and Friends
In our next featured video of the day watch as a couple has twins but while they are still in the recovery room the doctor tells them they have Down syndrome: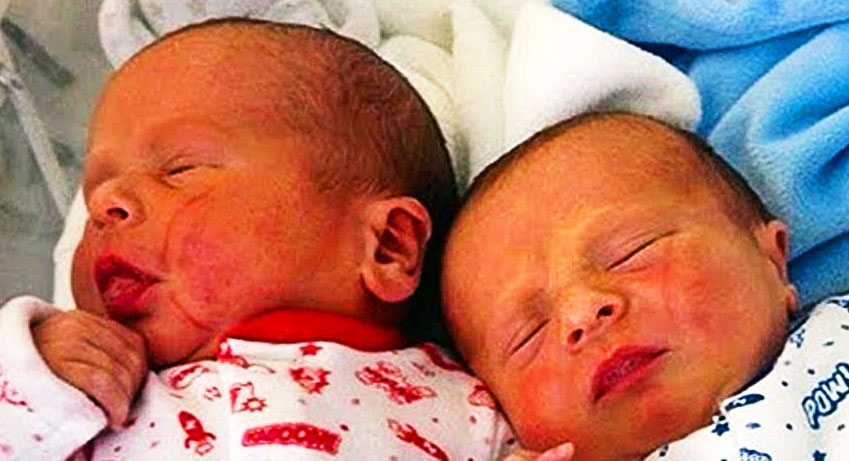 image via – youtube.com
Any parent knows how emotional, stressful, and joyous the birth of their children can be.  For Nicola and Todd Bailey of Sheffield, England, who were expecting twin girls, they were over moon excited about welcoming two new additions to their family.  The couple already had a son, Lucas, and couldn't wait to give him two little sisters. However, the twins came sooner than Nicola expected and at just thirty three weeks she was rushed to the hospital in labor.  She ended up giving birth to the girls who she named Harper and Quinn, and immediately after doctors told the couple that the babies had been born healthy.  Relieved, they set their focus on recovery and making plans for bringing them home.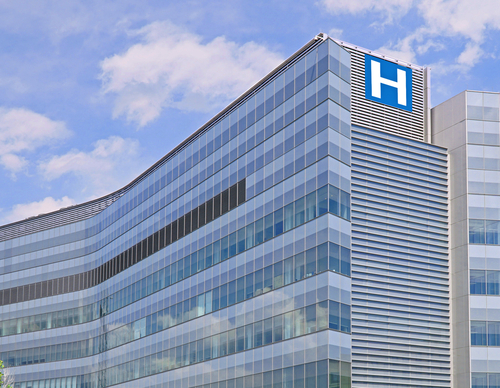 When doctors suddenly returned to their room about a half an hour later, they looked serious and what they told the new parents didn't immediately make sense.  The doctor said to them "I'm so sorry" and went on to explain that the baby born first, Harper, had Down Syndrome.  

Down Syndrome is a genetic condition caused by a chromosomal disorder which results in developmental issues, intellectual disability, and physical changes in appearance.  It's generally viewed in a negative light by both doctors and the public, which has led to people who have it being stigmatized and looked at differently. While it has become more accepted in the past few years as people are educated and learn more about it, it's nonetheless still viewed as abnormal.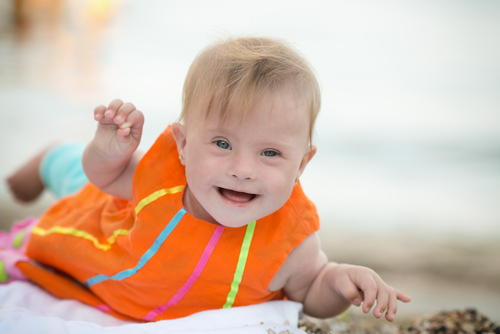 Regardless of the diagnosis, the Bailey's were simply in love and grateful for their two newborn daughters.  They also had more serious health issues to deal with. In addition to Down Syndrome, Harper was also born with two small holes in her heart.  One thankfully closed all on its own, but the second one required surgery.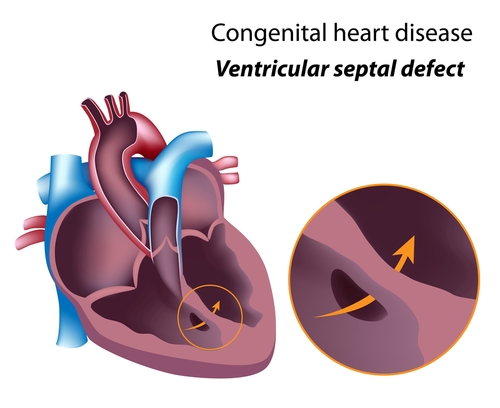 Once they were out of the woods and finally able to bring their twins home, Nicola and Todd thought back about how the doctors had broken the news to them in such a negative, apologetic way.  It made them realize how people automatically felt bad about Harper's condition, which they thought should not be the case.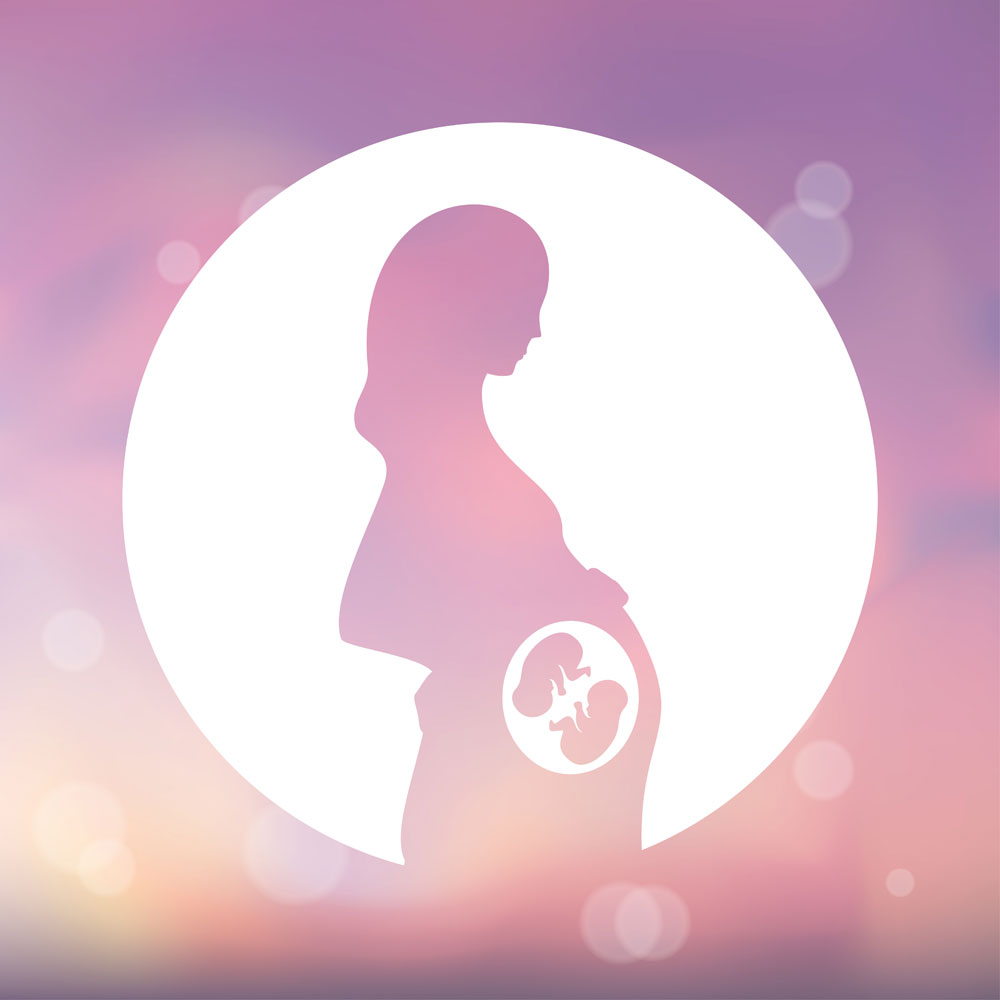 Oftentimes, when people first met Harper they seemed to always say "I'm sorry" about her having Down Syndrome, but Nicola and Todd thought she was no different than their other two children and shouldn't be defined by having it.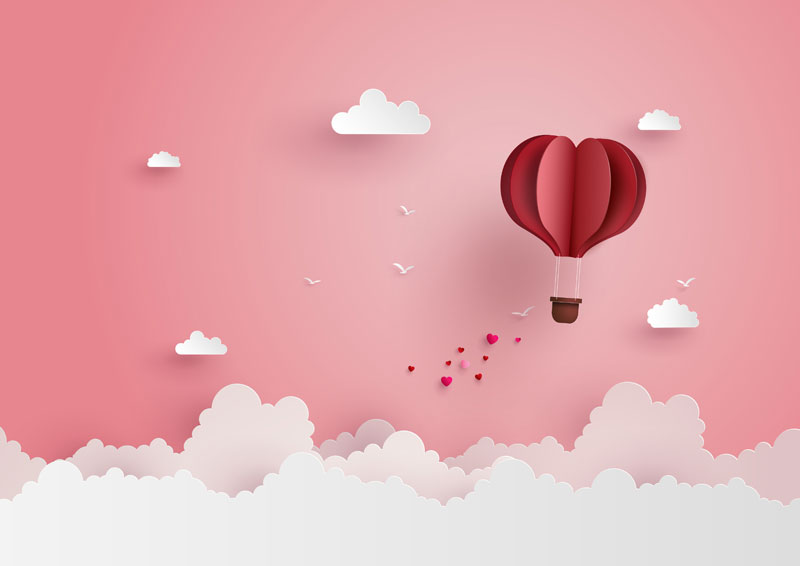 Wanting to change the perception of families with Down Syndrome children, Nicola decided to publicly share her life raising her babies.  That way she could fight back against the misconceptions and false information people had towards it.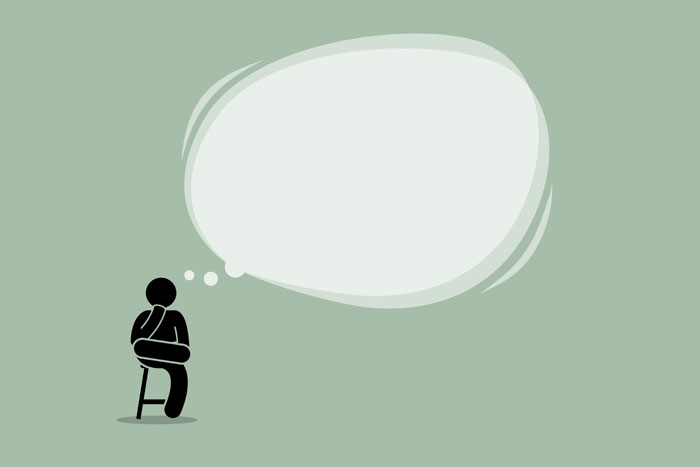 She set up a blog and social media accounts to help get her message out that having a Down Syndrome child is nothing to be ashamed of or viewed negatively.  Instead, people should accept that others are sometimes born different and that's okay. Harper is just as happy, loving, and unique as any other child and a Down Syndrome diagnosis is nothing anyone, especially doctors, should be apologizing about.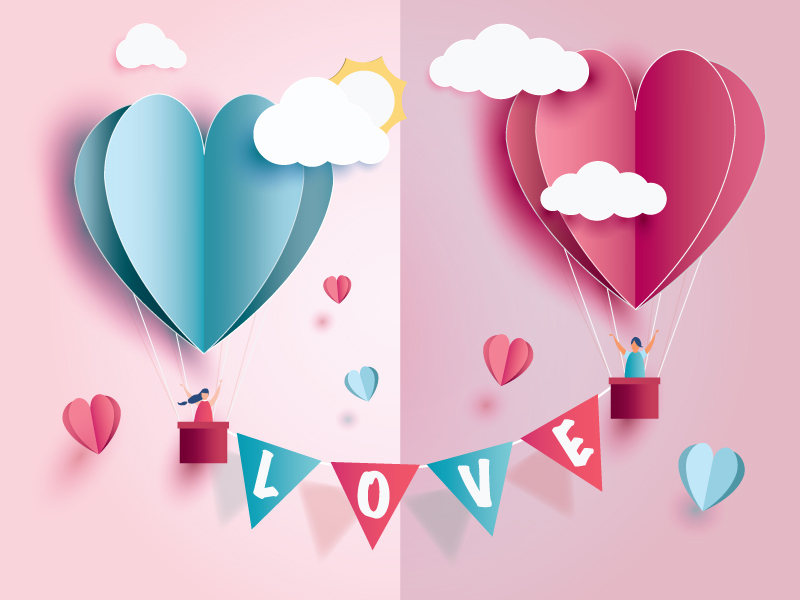 Please Pass this Story onto Family and Friends
In our next featured video of the day watch this wonderful moment as a boy named James with Down Syndrome get a Promposal in the school gymnasium by a wonderful and beautiful girl named Maisey as the whole school cheers him on: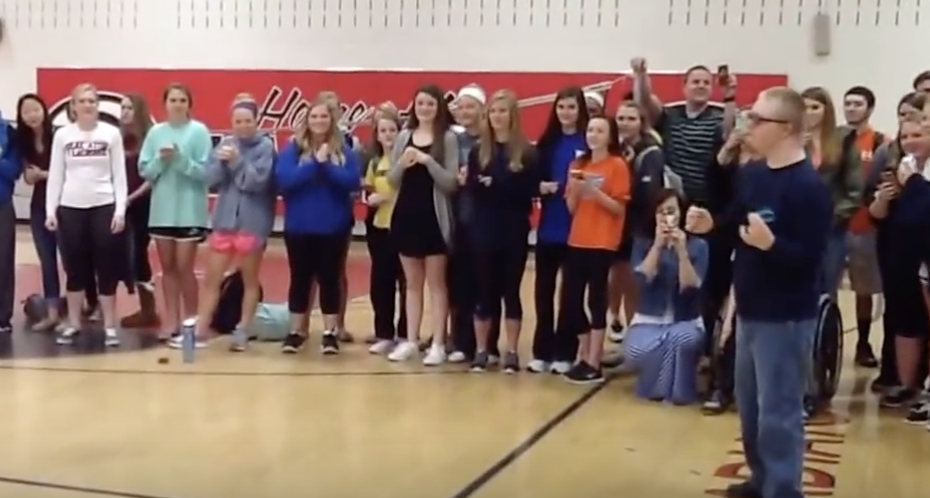 image via – youtube.com
On a recent afternoon students at Glenelg High School, in Maryland, gathered for an unforgettable moment. They had assembled at the school's gymnasium and stood eagerly waiting for one particular classmate's arrival. The student, James, has down syndrome and was about to get the surprise of a lifetime. The video starts off with James eagerly making his way towards the gym.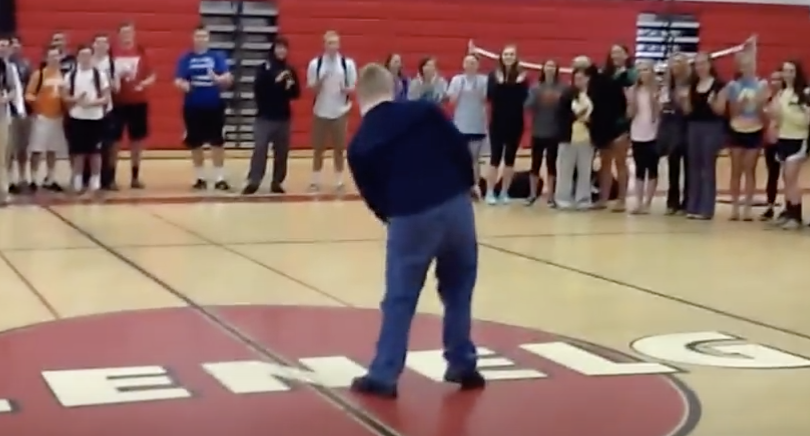 He is unaware of what is about to happen and as he gets closer the sounds of kids cheering can be heard. When James walks into the gym he is greeted by the sight of his classmates circling the basketball court. As he makes his way into the circle his peers break out into a chant, clapping and cheering him on. At first he looks a bit unsure as to what is happening.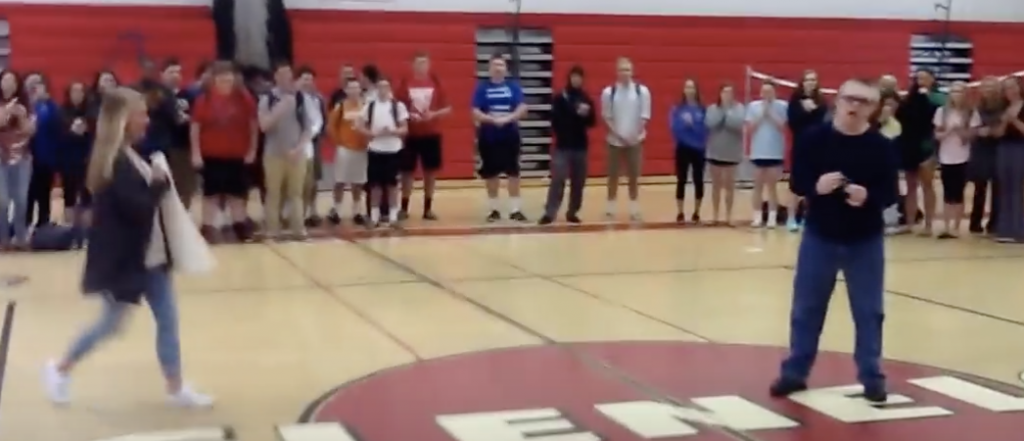 However, he quickly overcomes any uncertainty and is reassured by his friends warm smiles and shouts of encouragement. James goes to the center of them all and shows off some of his sweet dancing skills, moving and shaking to their chants. While he is boogieing down a girl with long blonde hair makes her way towards him holding a sign. It reads "James, Prom?" He stops and the girl, Maisy, asks him if he will go to prom with her. When James says yes the students erupt, cheering loudly, and the pair share a sweet hug.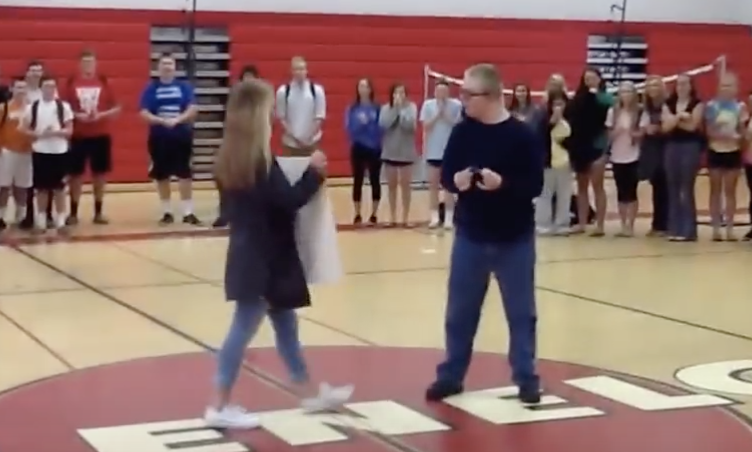 For everyone gathered in the gymnasium that day, this is a promposal that they will never forget. It is truly a wonderful and sweet moment they all experienced and now you too can see it!
Please Pass This Wonderful Story Onto Your Family and Friends
In our next featured story there's an emotional and heartbreaking moment when a father has to defend his son with Down syndrome: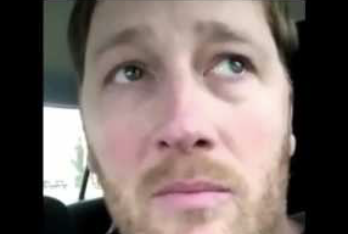 image via – youtube.com
What you are about to view in the video, is a father, Rob Scott, who needs to share his truth, after overhearing a moment between another father and his son.  The child asks what Downs Syndrome is, and the dad answers, "It's a disease of not knowing anything".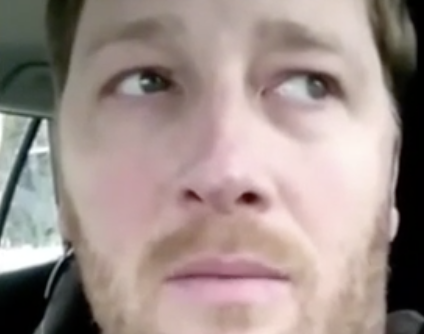 This response deeply bothered Rob, whose son was born with Down's Syndrome.  What he experienced at that moment of hearing this other father try to probably simplify the condition for his child, was heartbreak.  He desperately wanted to correct what this father was telling his son, but didn't have the courage to speak up.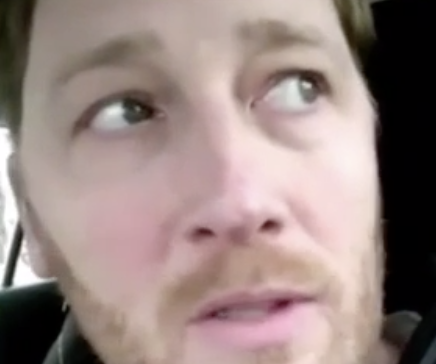 What you are about to hear him say was recorded a few minutes after this occurrence.  Rob was upset with himself for not speaking up, and felt the strong need to record what was in his heart, as a way of standing up for his son who has been the greatest gift of his life.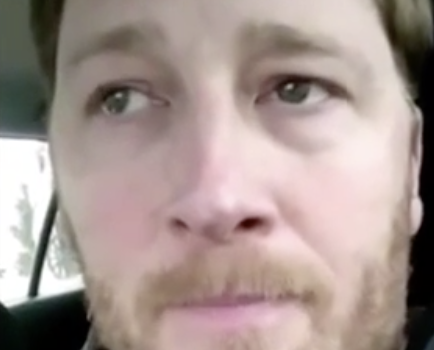 His intention in recording this footage, was in no way motivated by a desire to shame the father who responded to his son's innocent question in that way; he just needed "to karmically reset what just happened".  Rob's son, Turner, has been the greatest teacher about what the meaning of joy and love truly is.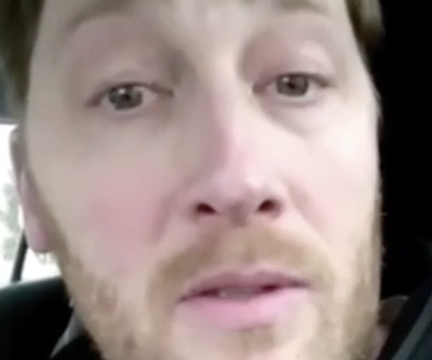 He so aptly notes that the word "disability" is a term that encapsulates perception rather than fact.  His words brought me to tears; what he has to say is about so much more than Downs Syndrome.  Let us know your thoughts about this father's moment of soul-searching honesty.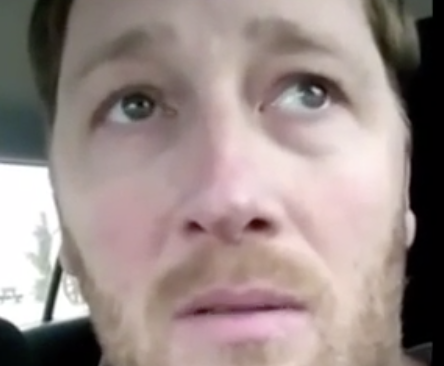 Do you agree with dad?
Please Pass This Emotional Moment Onto Your Family and Friends To Help Raise Awareness About Children With Down Syndrome
In our next featured story a very special moment went down when a school cop soothes and calms a young sweet girl with Down Syndrome who is frozen in fear in the school hallway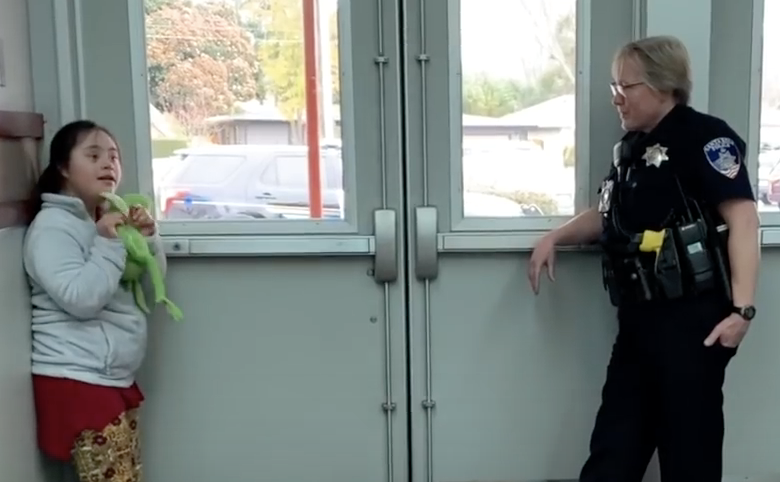 image via – youtube.com
Do you remember your favorite stuffed animal, toy, or maybe a blanket when you were a kid. No matter where you went you always had your friend with you by your side. There was no obstacle or problem that couldn't be taken care of as long as you and your favorite toy were together.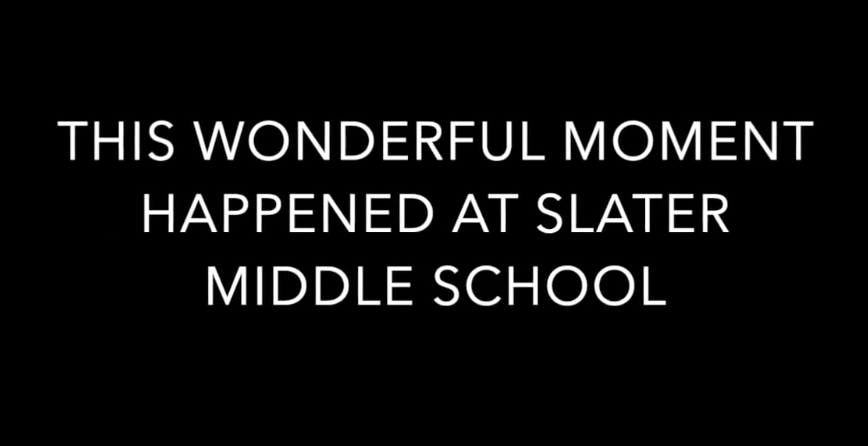 Scary things just weren't as scary and just having your small friend with you gave you the courage to do things you wouldn't otherwise do as a young child out of fear. One of the main reasons kids carry a 'special' stuffed animal, blanket or toy is because it lowers their anxieties and fears in almost any situation they face.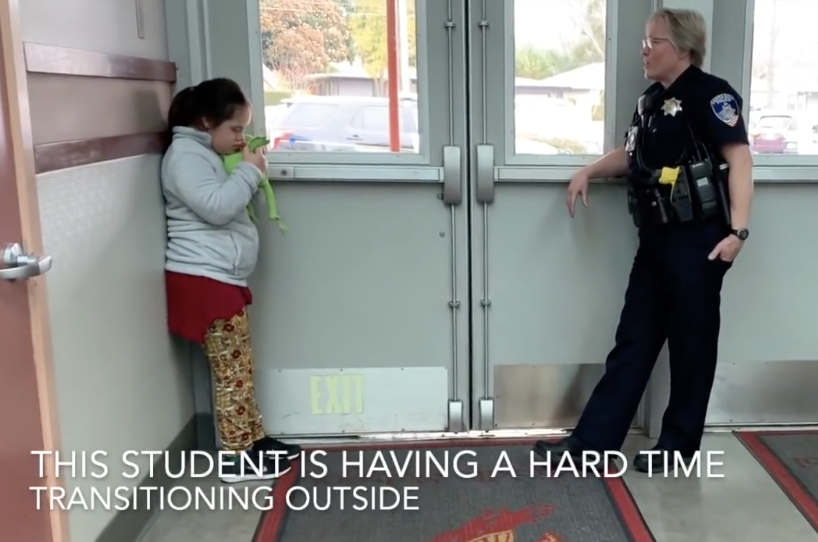 This brings us to today's story featuring a young 12-year old girl named Raquel Zuniga, she is currently in the 7th grade and goes to classes that are specifically designed for children with moderate to severe mental disabilities. Raquel carries a special friend with her everywhere she goes. This friend is none other than everyone's favorite frog Kermit! Raquel hangs out with Kermit the Frog all day everyday, whether she is home or at school Kermit is always right by her side.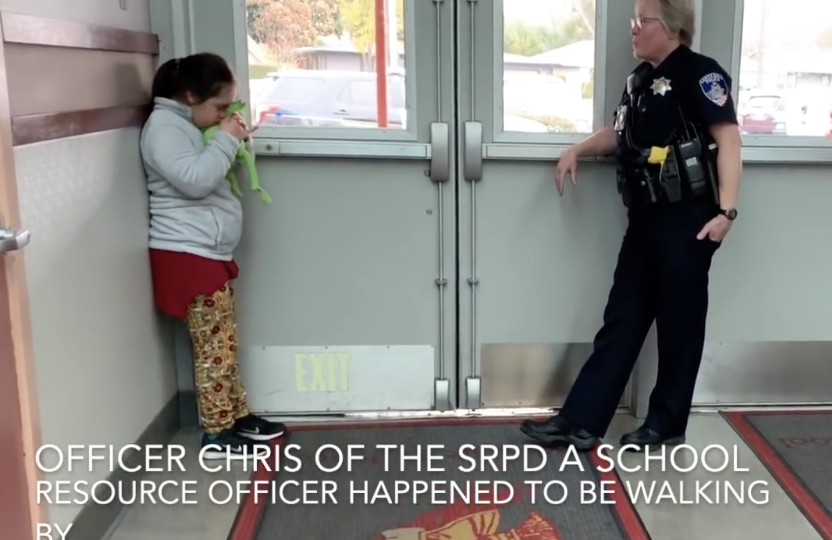 Due to Raquel's disability she has severe anxiety especially when she is transitioning from one place to another. This tends to flare up at school when the bell rings and it's time to go from one class to another. On this day, Raquel was having an extremely rough time transitioning from one class to another and she froze. She couldn't walk or get to her class and she wouldn't say anything. She just stood in the hallways frozen clutching Kermit silently.
Multiple teachers came up to Raquel and tried to get her to unfreeze and comfort and make her feel safe in her current state and situation. None could help, Raquel stood their frozen for just about a full hour clutching on to her stuffed frog.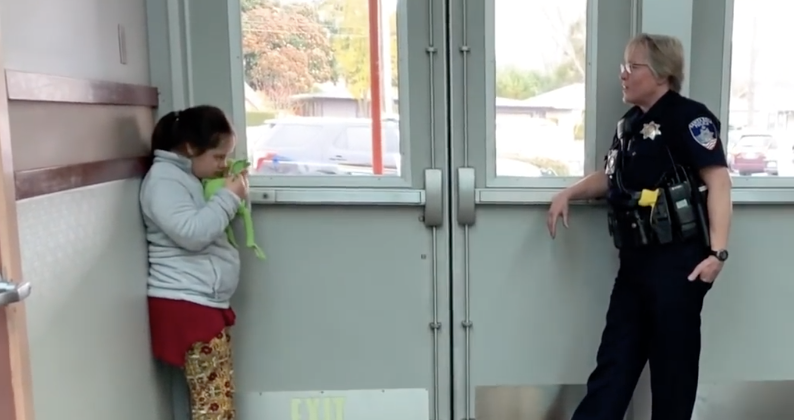 That's when a special soul enters the story, school security officer Kris Morrison who spent the last 20 years as a school officer for special needs children. However, before that she was an officer Kris was a teacher for children with disabilities and instinctually somehow knew exactly what to do to help poor Raquel.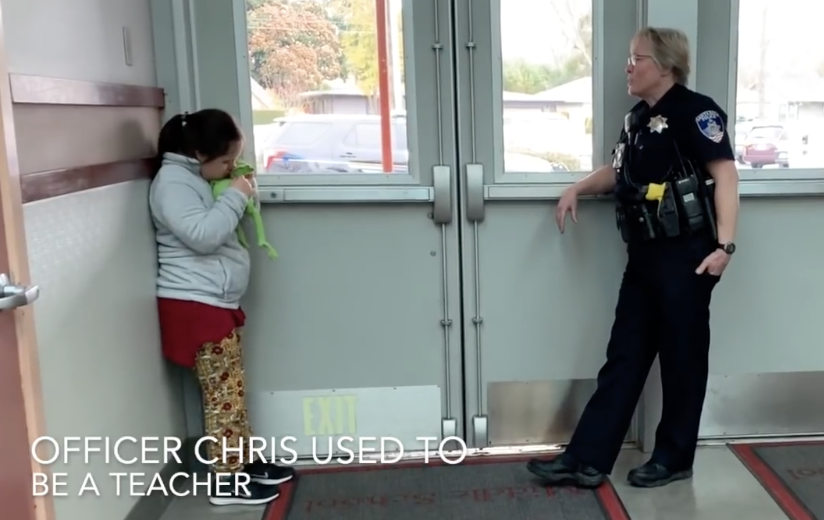 Kris spoke to Raquel in a soothing voice and then began to sing Rainbow Connection, the famous song that Kermit the Frog, 'Raquel's best friend' is most known for. As Kris sang Raquel's anxiety and fear just began melting away.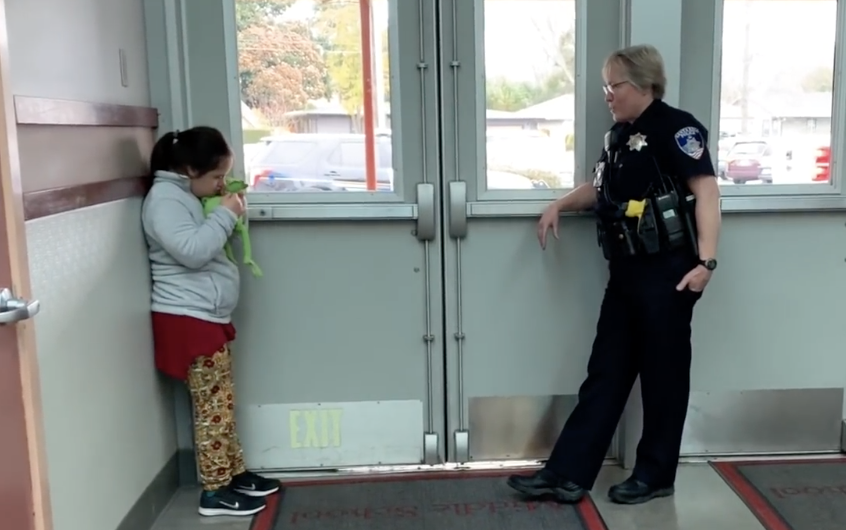 Soon after she began moving and it was as if a miracle just occurred and she unfroze! This was Raquels favorite song, so it immediately triggered her brain to relax and feel safe. Just like that, the magic of music, an amazing school security officer and Kermit the frog had saved the day!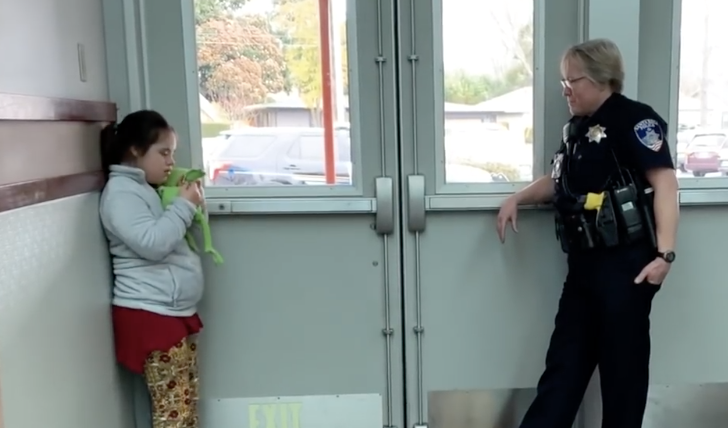 Did this just warm your heart up?
Please Pass This Wonderful Story Onto Your Family and Friends
In our final featured story of the day we have an awesome moment when a boy with Down Syndrome approaches a very serious Windsor Castle Queen's Ground. As he approached the guard, he stomped and the young man with Down Syndrome was startled and ran in fear…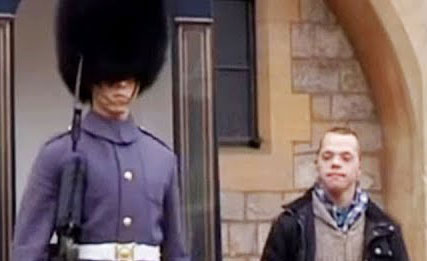 image via – youtube.com
Windsor Castle is one of the Queen of England's primary residences and every year thousands of visitors go to see it.  The picturesque fortress is protected by the Queen's Guard which consists of soldiers who have been charged with standing watch around the clock.  They are just as well known as the castles they safeguard and can easily be identified by their unique uniforms consisting of red tunics and black bearskin hats.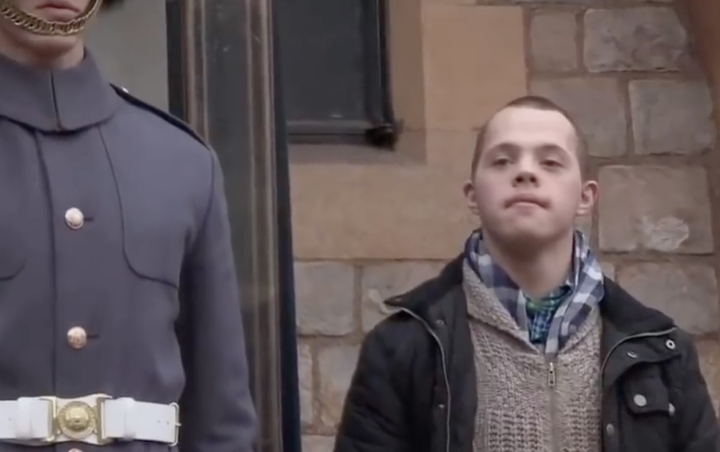 One young man named Sam had travelled to Windsor Castle as part of a web series he starred in along with his friends called "The Specials."  The show followed the lives of five young adults with Down Syndrome who lived in a shared house. It came out back in 2009 to rave reviews and went on to win a Webby Award for Best Reality Program.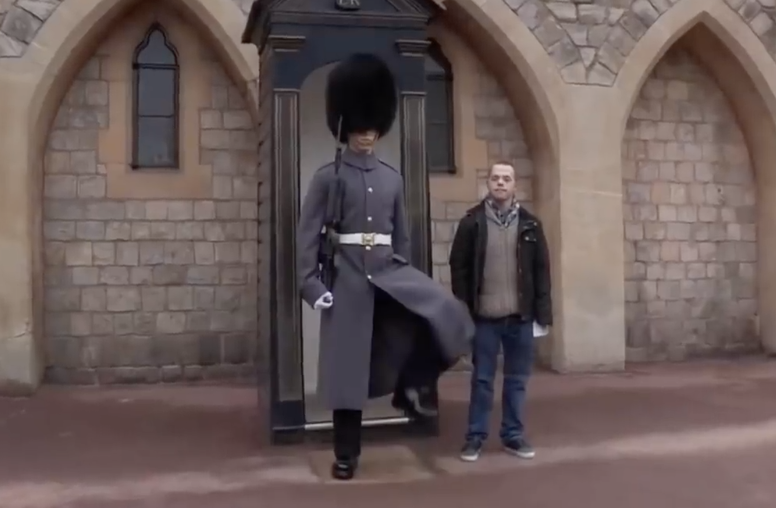 While filming the second season, Sam had taken a tour of Windsor Castle with two soldiers as his guide, Lt. Bragger and Sgt. Baggot-Moore. While walking the historic grounds they told him that they were headed to see the guard on duty and that he would not be able to interact with him, as it's their duty to remain silent while on patrol.
When they reached the guard, he stood stoically at his post wearing the iconic uniform and holding a rifle stung over his shoulder.  Sam went over and stood right next to him, just as many tourists do every day when they visit and wish to get a picture with the soldier.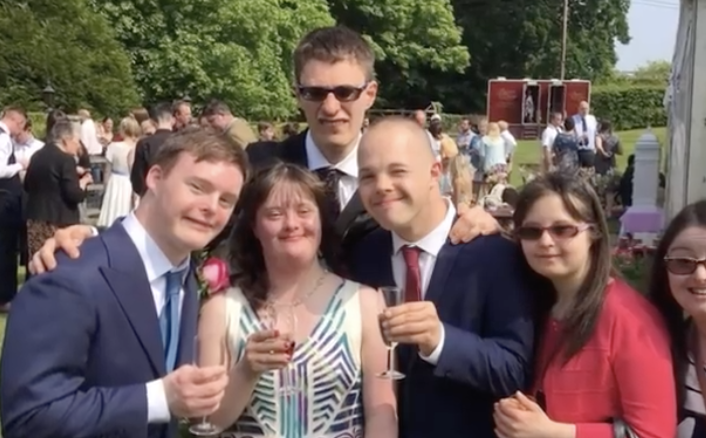 So long as you are respectful and don't get too close, you are permitted to take photos with the guard on duty, but if you bother them or get too close they will warn you by shouting they may take further action to put an end to it.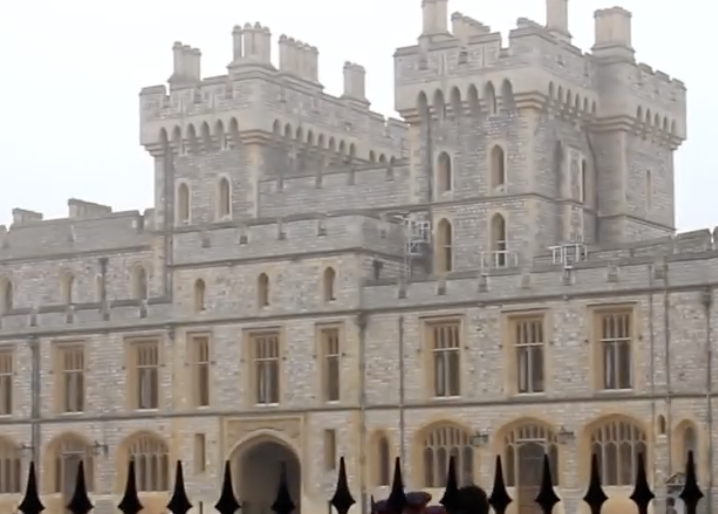 While Sam was standing near the guard, he was suddenly startled by the soldier stamping his foot loudly on the ground.  It did the job, and Sam scurried off back towards the two soldiers who were his tour guides and had a laugh with them. Had Sam gotten too close for comfort or did he stay next to the guard for too long to cause him to stamp his foot?  As it turned out, Sam didn't do anything wrong at all, the guard on duty was his younger brother Jack!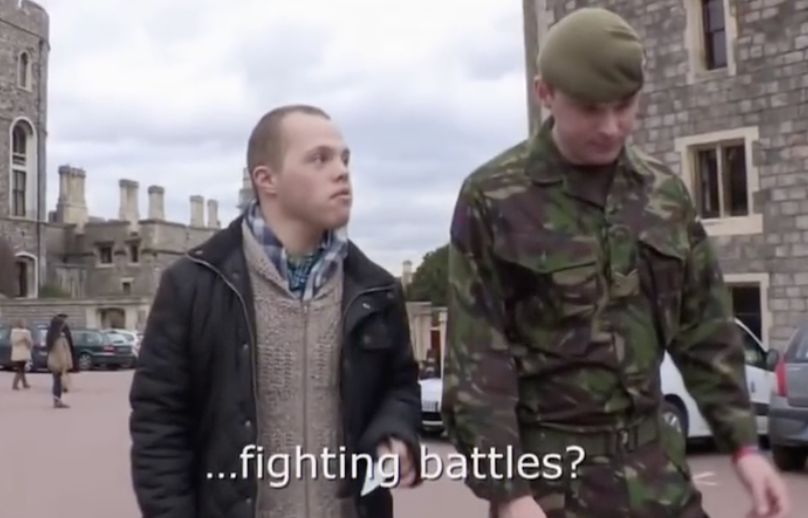 The year before Jack had joined the army and hadn't seen Sam since.  That was part of the reason why Sam went to Windsor Castle, so he could visit him and check out where he worked.  When Jack stamped his foot, it was likely his way of saying hello to his brother, since he is not allowed to talk to anyone while on patrol.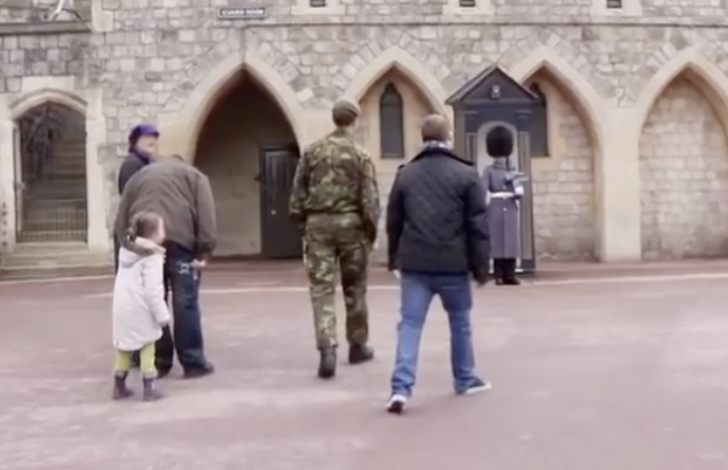 Later on the two brothers had a proper reunion in the barracks and chatted about Sam's love life.  Jack encouraged him to pursue a relationship and soon after Sam started dating one of his housemates, Meghan.  The pair ended up dating for six years before Sam proposed, and she said yes.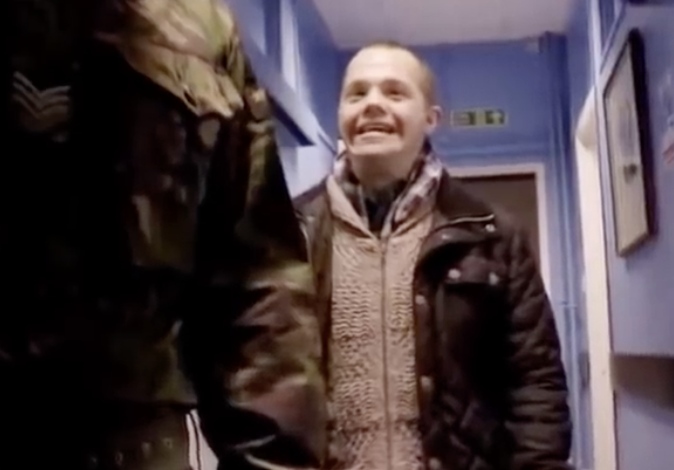 Did this story warm your heart?
Please Pass This Interesting Moment With Family and Friends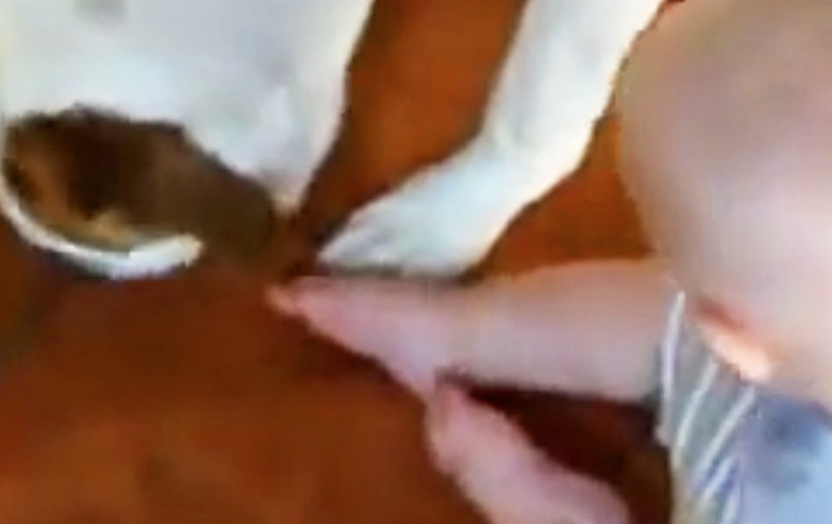 image via – rumble.com
Baby-proofing our homes is a must in keeping our little ones safe.  Those annoying plastic devices placed inside cabinets ensure that kids don't get into potentially harmful substances…but watch what happens when a bag of cookies gets placed under the kitchen sink!
The 18-month-old little guy in the VIDEO you are about to watch below, not only knows where the hiding place is, but has some pretty clever ideas about how his tiny hands can bypass the obstacles.  Not only will you be in awe of this little one's determination, but get ready for an "OH NO!" giggle at his expense.
Not one, but 3 dogs provide the hilarity in this baby's pursuit of the desired cookie!  This little fella definitely has a promising future…his 'never give up' attitude will take him far in this world.  In life sometimes you just can't always get what you want.
It's a lessons we all must learn the hard way. Unfortunately for this little guy's time to learn is now. He can barely talk, but his brain is hard at work to get what he wants…ENJOY!!
Please SHARE this ADORABLE VIDEO with your friends and family 🙂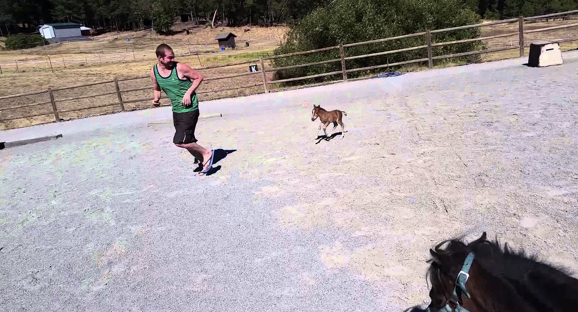 image via – youtube.com
If you love horses or any baby animals, get ready for the sweetest video. This tiny, 3-day-old horse named Sammy is in the corral with her mother, Grace, and one of the owners of the farm, Sterling Bartow. His darling game of tag with this miniature horse is quite extraordinary, given that Sammy is only 3 days old.
Their fun game is videoed by a woman who exclaims at how extraordinary the scene is. This clip of farm life has gone viral, as the special bond between the man and the mini horse is so heartwarming. Grace, the mother horse, looks on as the two play, with some maternal protectiveness.
Finally she goes over to the playmates to sniff out the safety of the situation. It is normal for miniature horses to form bonds with humans, but Sammy is exceptionally young for such play. Such an early bond bodes well for his future life on the farm with Spencer and his family.
Hopefully more videos will be posted so we can all enjoy this adorable creature as he grows up.
Please Share With Family and Friends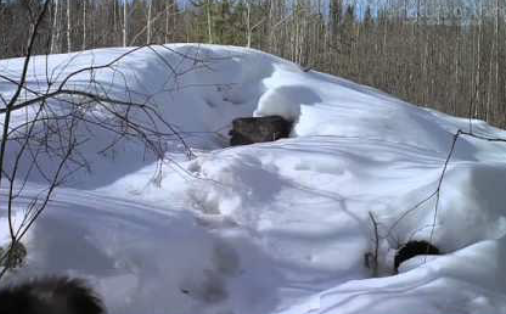 image via – facebook.com
What looks like some type of cross between a bear, a dog, a skunk, a raccoon, and a weasel? Here's one hint, it's an animal that only a few lucky souls have ever managed to see out in the wild. Here is another hint, it's also the name of a fictional character in the X-Men comic series. Give up yet? The answer is a wolverine!
Wolverines are one of the hardest to find and photograph animals on Earth. They live in some of the most inhospitable places, and in the most remote regions, all across the northernmost portions of our planet. The scrappy animals look more like bears than their fellow weasel family members thanks to their short stocky build, heavy fur coat, and huge paws with razor sharp claws.
Wolverines are hard to track down and locate in part because they're extremely solitary animals who like to roam. Since they occupy territories that can be anywhere from 50 to over 350 square miles, that's a huge area of territory to hide and search through.
In addition, they're also nocturnal and are most active at night when they go out hunting and it's super cold and dark outside. Adding to their rarity is the fact that they are built for their habitat and can move with precision speed across snowy, mountainous terrain.
Anyone even attempting to keep up with one wouldn't stand a chance, no matter how much specialized gear or in shape they may be. Wolverines have earned their reputation for being ghost-like and ultra evasive. They're virtually impossible to observe unless one is trapped, which is what makes this footage so rare and unique.
It was captured by Andrew Manske, a wildlife filmmaker who has spent his life's work recording amazing footage of some of the world's hardest to find animals. It took him five long years to finally catch a wild wolverine and her kits on film, a moment which he describes as "the highlight of my career as a wildlife filmmaker." Check out the clip here and see how a wild wolverine acts and moves through the snow.
Manske filmed the female and her babies when he was working on a documentary for Canada's CBC called Wolverine: Ghost of the Northern Forest. He even managed to capture the family active in broad daylight, which is highly unusual.
He attributed that fact to the likely possibility that a nearby predator was lurking somewhere in the area, and so the mother moved dens to keep her babies safe and sound to the best of her abilities.
Whatever her reasons may have been, it's certainly a beautiful sight to see a devoted mother taking care of her young babies in the wild, where they belong as mother nature intended.
Please Share This Story With Family and Friends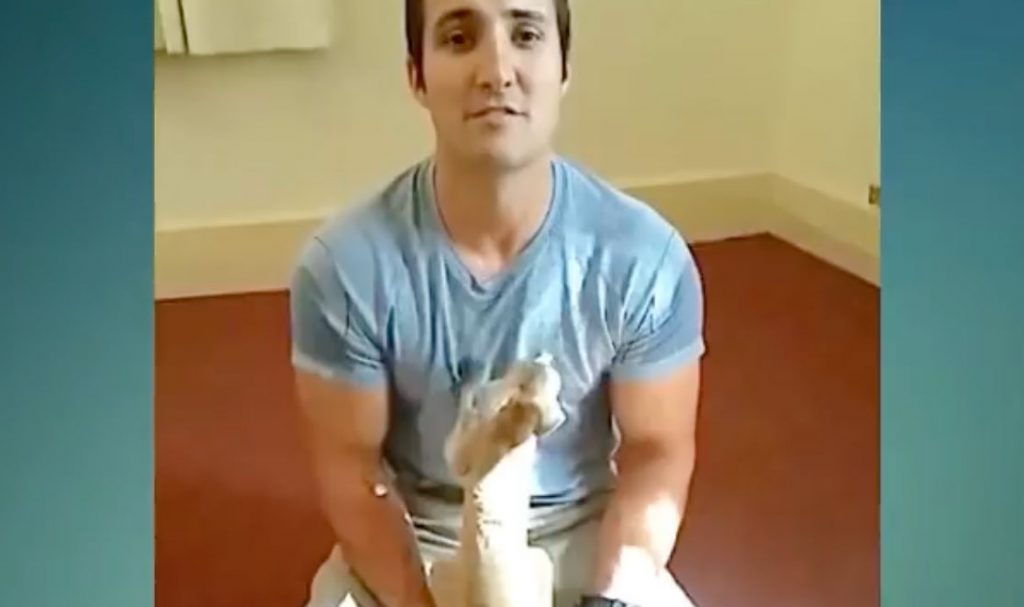 image via – youtube.com
Australia is known for their incredibly unique and diverse wildlife, flora and fauna. There are so many species of animal that only exist in Australia which makes conservation of these diverse species one of Australia's number 1 priorities.  These are some of the animal species that are native only to Australia, the Dingo, Koala. Tasmanian Devil, Thorny Dragon, Sugar Glider, Wallaby, Wombat, Platypus and of course the most iconic Australian animal the Kangaroo.
Australia has very strict rules when it comes to protecting their wildlife and for good reason. There are also many laws which restrict bringing in outside species into Australia that could potentially wreak havoc and destroy the natural ecosystems which are currently living in perfect balance and harmony with nature.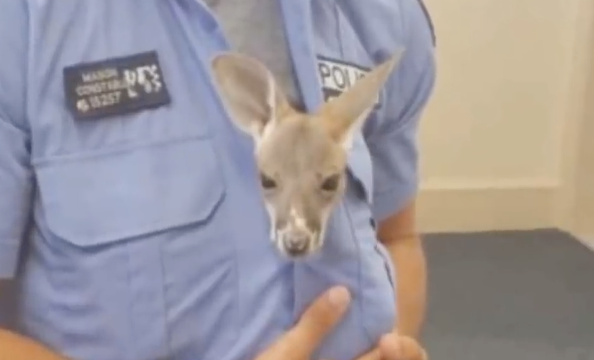 In today's story we will be featuring a baby kangaroo named Joey whose mother was killed tragically when she was hit by a car. This poor little guy was left alone and abandoned without anyway to survive in the wild. Luckily for Joey a kind person had come across the baby animal and brought it to the local police station. At the police station the kangaroo orphan case was taken over by Constable Scott Mason. Scott had only been working at the police station for 3 weeks and now he found himself in a little bit of strange situation with a baby kangaroo that he instantly fell in love with!
When the baby kangaroo was brought in he was in pretty bad shape. The little fur baby was terribly dehydrated, starving and completely malnourished. When Constable Mason and Joey made eye contact their instant connection was undeniable. The good constable decided he would take over full care of Joey the baby Kangaroo which was no small task and would take plenty of time, love and energy to make sure this kangaroo would survive. Scott would start hand feeding the baby every 3 hours and make sure he was safe, comfortable and cozy at all times.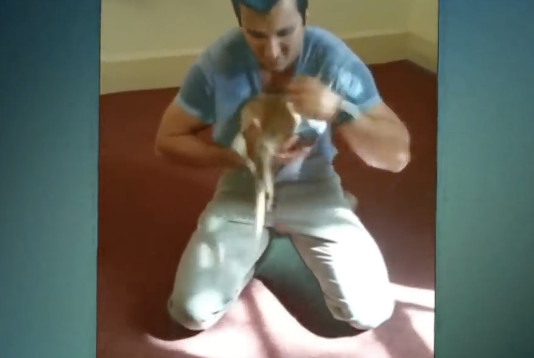 As time passed Scott and Joey's bond grew stronger and the baby kangaroo even began using Constable Scott Mason's uniform as a pouch! Scott had literally become his mama and the baby kangaroo would follow Scott everywhere trailing only a foot or two behind him at all times when he wasn't in Scott's pouch….
Watch the video below for the full story:
Please SHARE This With Family and Friends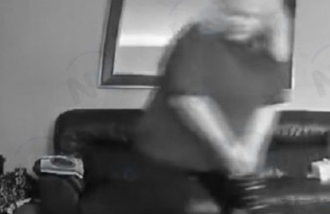 image via – youtube.com
When becoming a parent for the first time there is just no way to know what you are getting yourself into until you do it. Yes it's true no baby is exactly the same and you always have to be ready for the most unexpected. It doesn't matter how many parenting books you have read, classes you've gone to, or even words of wisdom from friends and family who have already had children. This is just one of the many things in life that you must do even if you have no clue what you are doing..
This brings us to today's story featuring the Mateny family Whitney and Chris, their new baby Railee, and the baby's nanny Medina. They were living in Arkansas where Whitney was attending law school and fulfill her lifelong dream of becoming a lawyer. This made things pretty tough considering they just had their first baby, law school is all time consuming and Chris has a full time job to support his family. So like many other new parents who have to work on top of being a parent, a little back help from a reliable baby sister or a nanny is always ideal.
Whitney put out a post on her social media explaining how they were looking for a nanny who could take care of their 1 year old baby while they were at work. She got a pretty quick response from an old acquaintance Medina from high school. She was a bit happy that the nanny would be somebody she knew but at the same time her maternal instincts just could come to terms with leaving their baby alone with a stranger.
They decided before they hired her, they would do their due diligence and do all the necessary background checks to make sure their beautiful baby would be in good hands. She passed all the background checks and had a great reference so they hired her. At first everything between baby Railee and Medina was happy, loving and they just seemed to hit it off immediately. However, soon after mom noticed that the baby began to act really weird.
Every time the baby would see Medina she would cry and throw a fit. This concerned mom, so she brought Railee to the doctor who after careful examination said her strange behavior was most likely due to child separation anxiety so it seemed like the problem may have been targeted and now they could figure out how to ease this "separation anxiety" so that Railee would become so hysterical. After the doctors appointment mom then noticed Railee was sleeping for way too many hours during the day even for a 1 year old.
She always used to take 2 hour naps but now each nap bordered on anywhere between 4-6 hours. The Mateny family now was getting pretty concerned, so they decided to put a hidden baby cam in Railee's room to see if Medina was doing anything weird to make their adorable baby act weird.
The day they picked up the video camera, they set it up in place so that the whole room would be visible. After work she quickly ran home to see if the footage picked up anything strange, weird or out of the ordinary. When she went into the baby's room she immediately saw the camera had been turned around so it was facing the wall. She quickly grabbed and reviewed any footage it captured and oh boy did it catch some footage. What the video revealed was so much worse then the Mateny family could ever exist..
Watch the video below for the full story:
Please SHARE This With Family and Friends