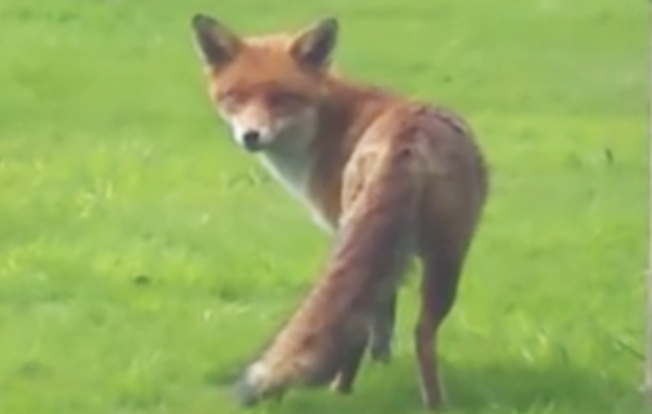 image via – youtube.com
It is always amazing to watch the behavior of wildlife when humans need to intercede in an emergency.  For the mother of a tiny baby fox cub, who has fallen down a drainpipe in Bexhill, England, it was waiting and watching from a distance, as if she "knew" that the rescuers were there to help find her baby.
As all mother's of young children know, you really have to keep your eyes on them constantly, because all it takes is a few seconds for them to be lost or in trouble. This mother fox, was definitely concerned about her little one, as she watched the "East Sussex Wildlife Rescue & Ambulance Service" looking down the drainpipe to catch site of the baby whom they could hear, but not see.
The cub had gone so far down the drainpipe, that the rescuers had to lower a cell phone camera, in order to find the frightened little animal.  They discovered that the cub was too deeply down the pipe for them to reach him.  They waited patiently, watching the cub attempt to climb out by himself, and get close enough for them to grab and rescue.  It took three attempts, before Trevor Weeks could get a hold of the cub's tail, and gently lift him out of the drain.
Wait until you see this tiny baby at the moment of rescue; the poor little thing is filthy and appears shocked, as he allows his human rescuer to comfort him. They clean him up and place him in an open carrier.  Mom, who has been watching from a distance, reappears and what happens next is both adorable and heartwarming.  Enjoy the footage below.
Please SHARE this amazing video with your family and friends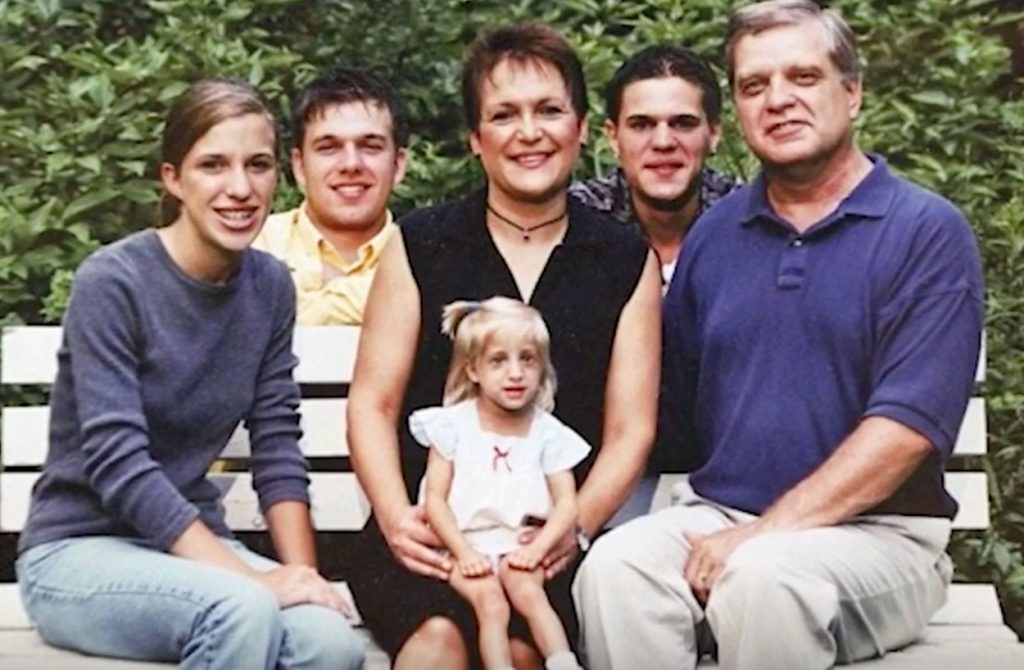 image via – youtube.com
Being a person on planet earth is a pretty tough job regardless of where you come from. The everyday struggles that everyone goes through can take a toll even on the strongest willed people. Even when you are lucky enough to be born into a good family, with a roof over your head and food on your table life will still throw you curveballs that you will never see coming until it's too late. However, consider yourself lucky if you are born without a congenital deformity, learning disabilty or any other hurdle that makes living that much more difficult. For those who are born with heriditary diseases or congenital deformities an already hard life becomes that much more difficult.
This brings us to today's story about a special girl named Hannah who was born with a rare congenital defect called primordial dwarfism. Primordial Dwarfism is so rare that currently there are only 100 people out of 7 billion who have this rare disease. These people have the odds stacked against them from the start, they grow much slower than people without the disease and their life expectency is cut short to a mere 30 years. When her biological mother was told by the doctors about her daughters condition, she knew she wouldn't be able to take care of her so she made the difficult decision to put up poor baby Hannah for adoption. Because of her condition pretty much nobody wanted to adopt her, knowing that the responsibilty of caring for a child with special needs is about 10x harder than one without.
After months and months of no one adopting her, a couple named Jackie and Larry finally came along, who took one look at Hannah and knew she was the one who would be their daughter and become part of their family! Young Hannah now had a full blown family with 1 big sister named Kelly and 2 big brothers Matt and Mark. The family was absolutely amazing and treated Hannah with extra love, care and affection. Her siblings loved her as well and treated her no different than they treated eachother.
When Hannah got a bit older she became aware that she was different than other kids her age and her parents wanted to be completely honest with her while at the same time letting her know that her condition didn't make her less of a person than anybody else. In fact, they told her she was 10 out seven billion with Primordial Dwarfism and this made her a miracle child. On top of growing much slower than other kids her age, she also had other health complications, such as heart problems, aneurysms, small teeth falling out and needing implants, scoliosis and worst of all polycystic kidney disease which inevitably could lead to her kidneys completely failing. However through all of this she persevered with grace and bravery.
After a few years, Hannah was school age and ready to begin her education at the same school her siblings went to. Even though she required special care due to her complex health issues, the whole family was determined to not make her feel like an outcast and give her a normal and ordinary childhood. However, school wasn't easy for her because kids can just straight up be cruel. She was made of fun of, laughed at and mocked. But over the years, this only made her stronger and stronger as she overcame adversity after adversity. Also, her older siblings were very protective of their little sister and if they ever caught wind of bullies being mean to her, they defended her and always had her back no matter what!
With all of this going on, her adoptive mother needed a kidney transplant and somehow Hannah was a match to be a donor for her mom. Hannah decided that because her mom had pretty much saved her life she would do the same and give up one of her kidneys to save her mom's life! Hannah is not only brave, beautiful and strong she is also a hero that we can all learn from!
Watch the video below for the full story and for pictures and videos of Hannah growing up:
Please SHARE Hannah's Story With Family and Friends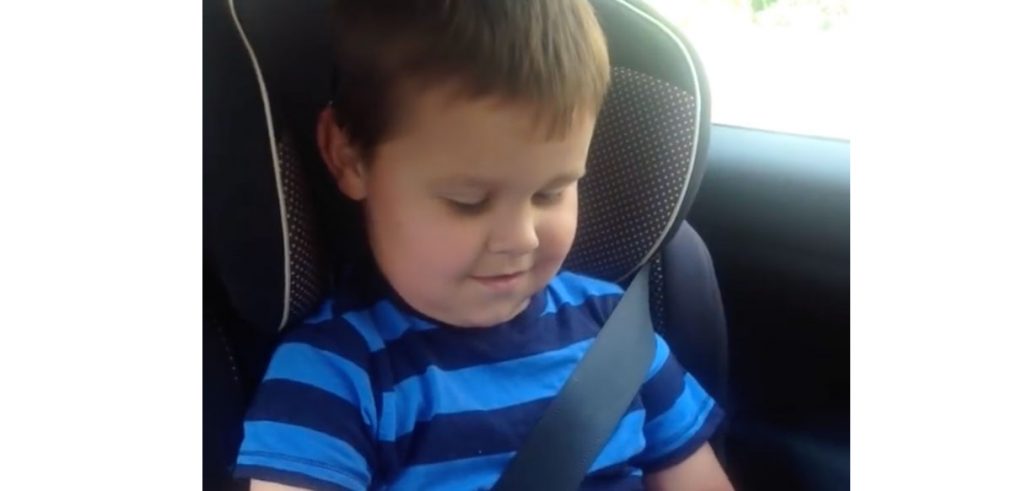 I know, I know…you've seen a million cute kid videos on the internet, but the one you are about to watch in the footage below is the most adorable one I have seen in ages! Five-year-old Ethan, has been begging his mom for a baby brother or sister for some time. His mom, Sarah Bromby, has put him in his car seat and before she starts the car, she hands Ethan an envelope.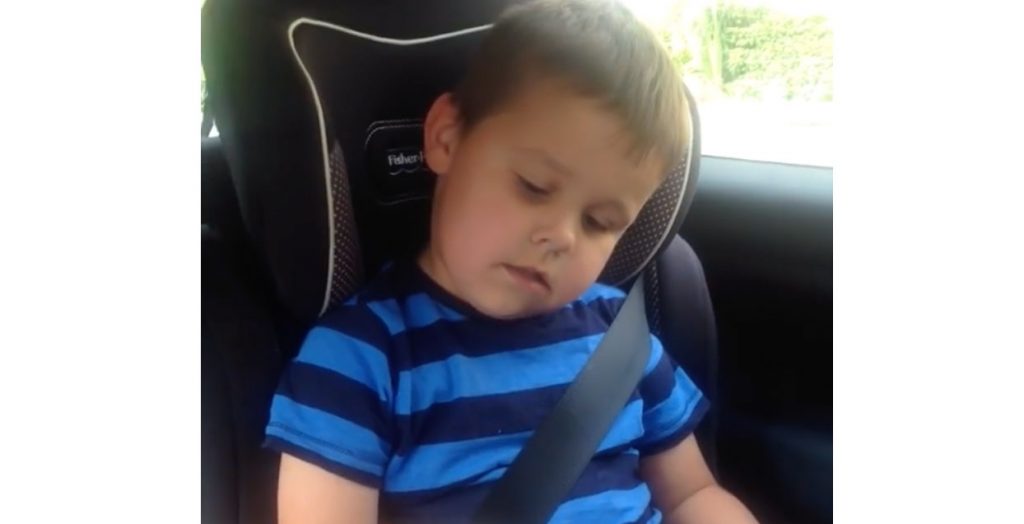 This mom, from the UK, tells Ethan to open it. He looks and sees some images, and she tells him to guess who is in the picture. The confused little guy begins to make some guesses, and then Mom breaks the news that he is going to be a big brother!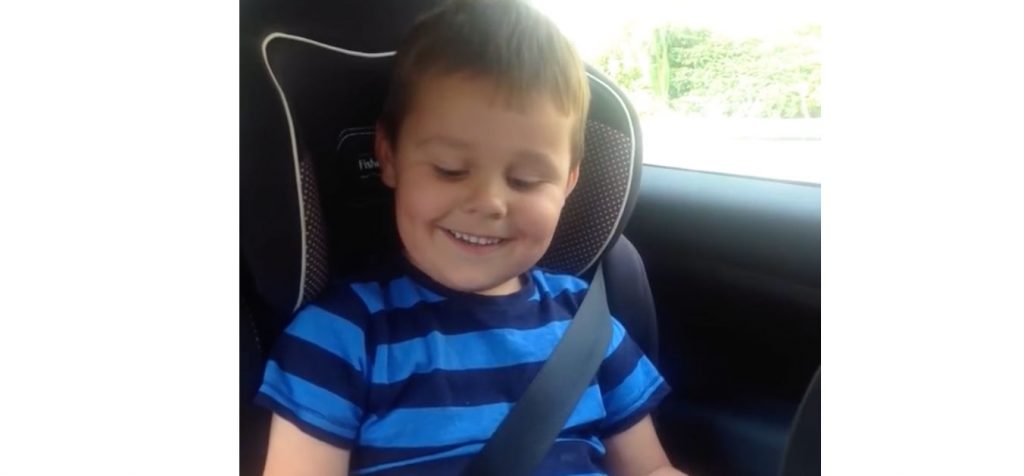 His reaction is priceless, when she explains that the ultrasound images, are pictures of the baby in her tummy. Thankfully she recorded his reaction, which captures his ecstasy and disbelief, that his wish is finally a reality.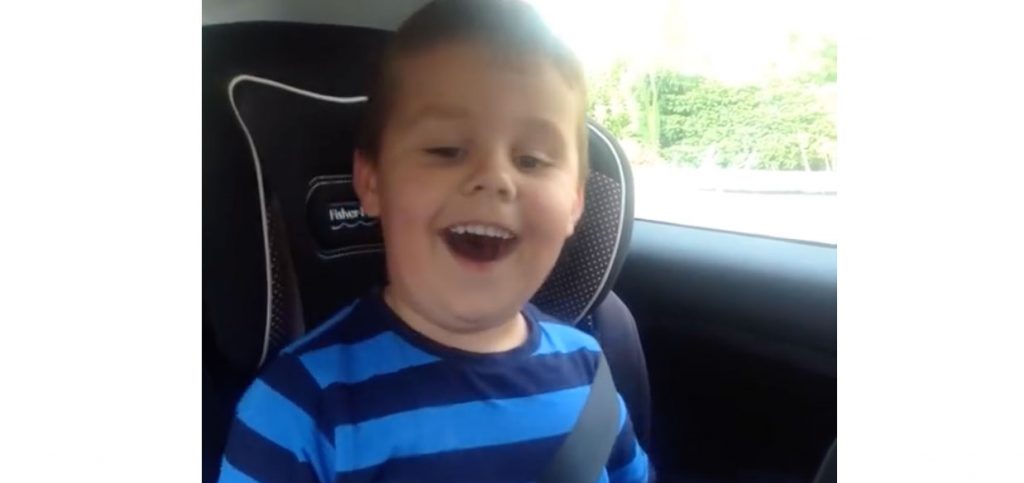 He alternated between complete joy and making sure his mom wasn't joking. Whether a brother or sister is on it's way, they are going to be so lucky to have a brother like Ethan. This footage, which encapsulates the saying, "out of the mouths of babes" is heartwarming, funny and joyous.. it will simply make your day!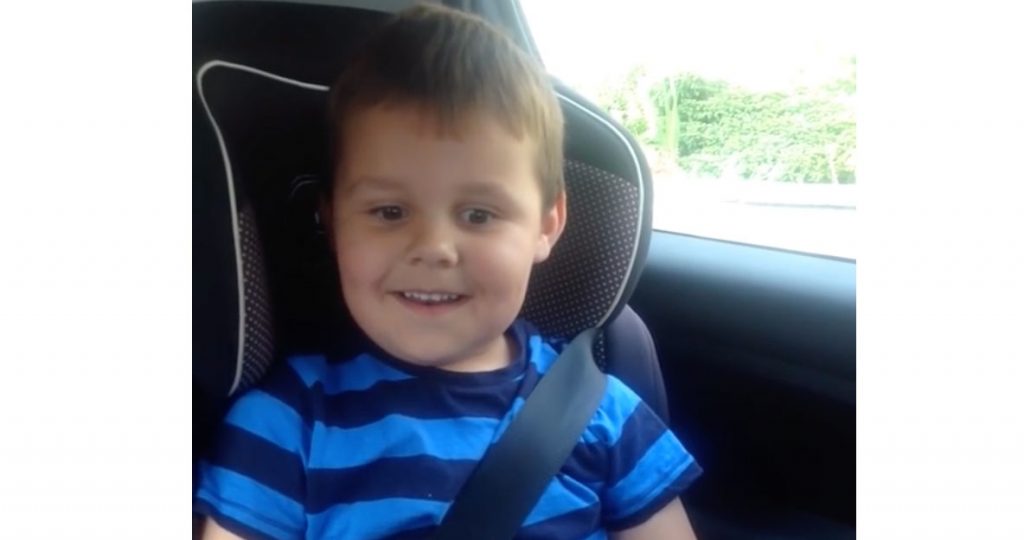 Please SHARE this video with your friends and family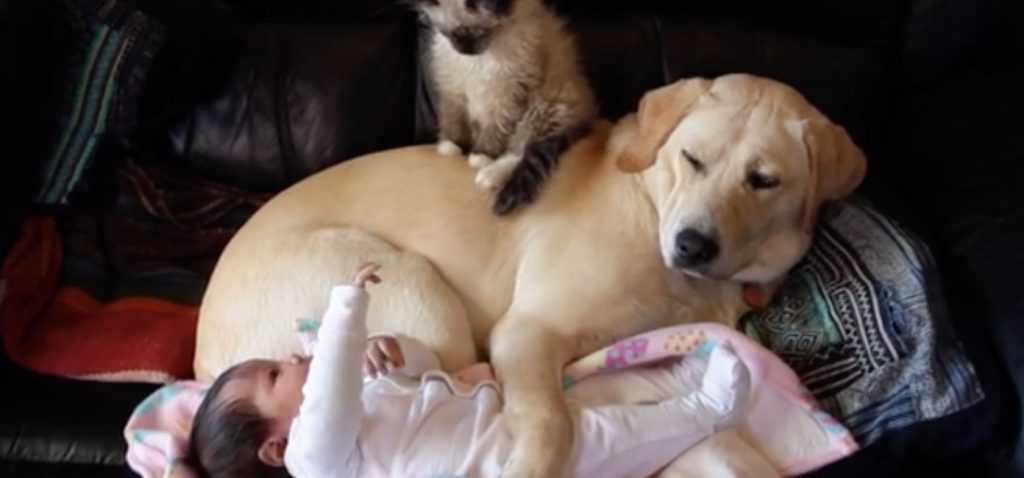 Parents in households with a newborn baby and fur babies know how important it is to ensure that their pets and children get along well together! It's crucial that animals who live and share a house with babies feel comfortable being around them. Over time animals eventually grow accustomed to the new child and to all the different sights, sounds, and smells they create. Just like how everything in the world is new to a baby, everything about a baby is new to your pet.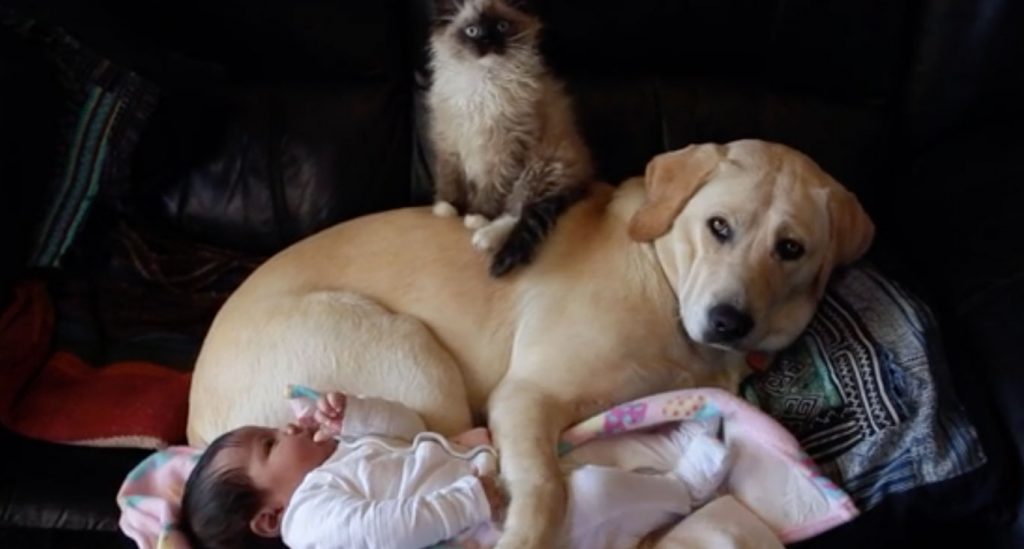 Sometimes those new things can be a little alarming… and stinky! One mother who had recently brought home her young child was filming a special moment between the youngster, named Elsarose, and the family cat and dog. The three look absolutely adorable in the clip with Nelda, a Labrador, snuggled up close with Elsarose as they take a nap. On top of Nelda is Pebbles, a beautiful Ragdoll cat, who looks like she's standing guard over the sleepy pair.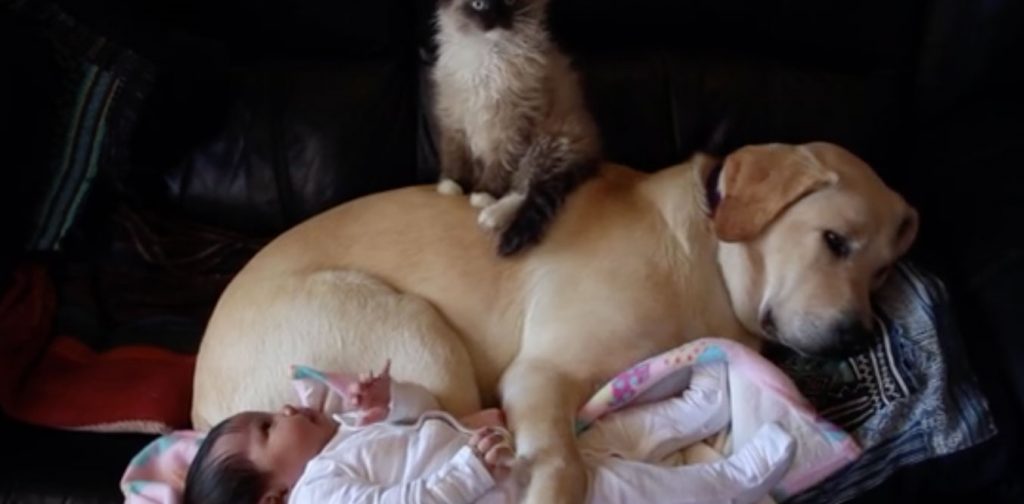 Even though the baby is fussing around slightly, Nelda is fast asleep and not at all bothered by the movement. It's clear to see that these three are very comfortable around each other, you can just feel the love!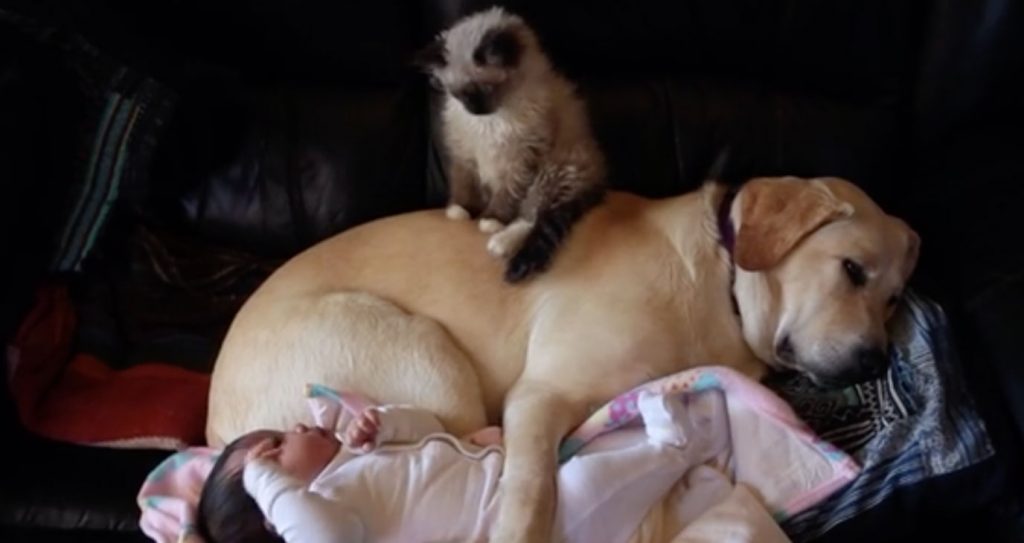 The picture perfect moment seems almost magical until it's suddenly interrupted by a completely unexpected surprise. Out of nowhere Elsarose answers the call of nature and lets out a loud stinky poop!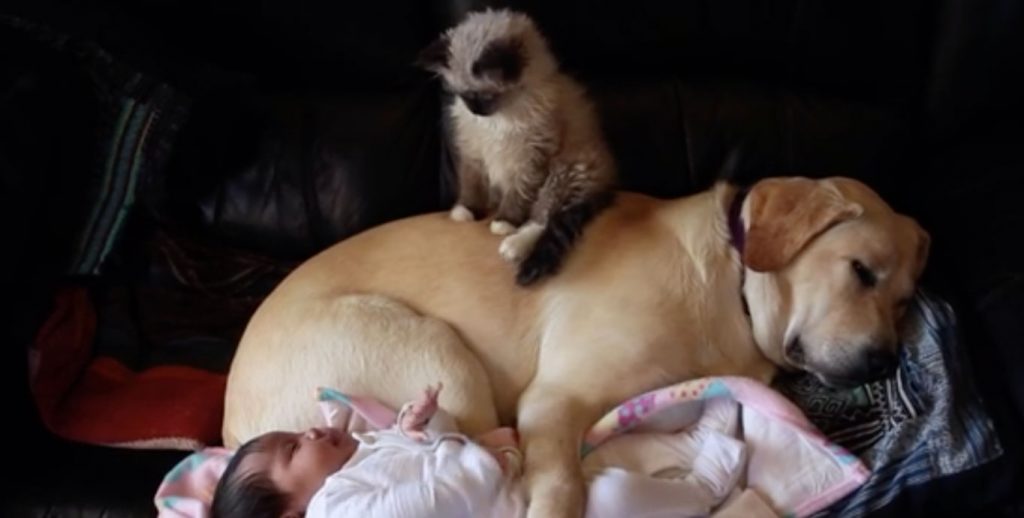 Pebbles makes her escape and quickly jumps off the dog, who's still sleeping through the smell and noise. However, the movement from the cat causes Nelda to wake up and turn her nose towards the baby. That proves to be a bad move, as she's greeted with the offensive poo poo smells.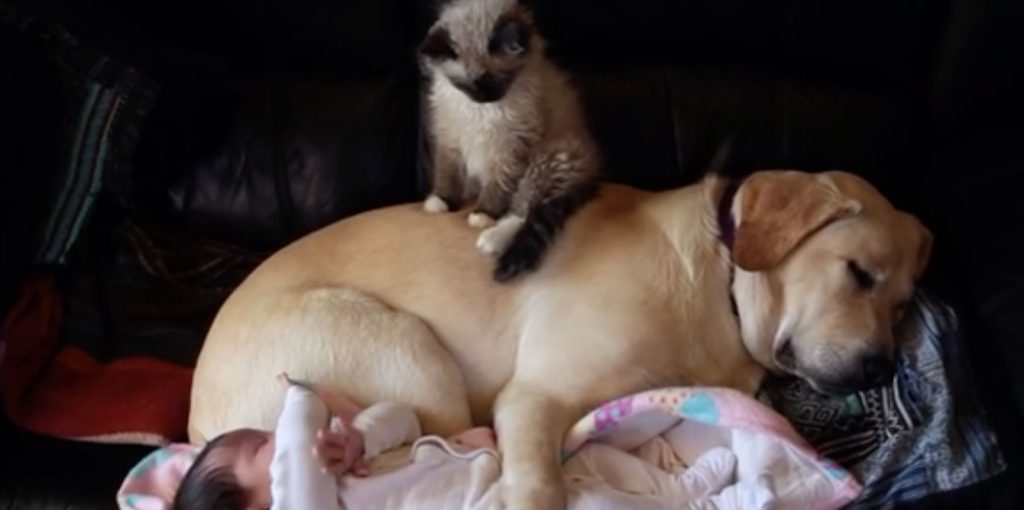 Her reaction is priceless and will make you smile and love dogs all the more. Check out the video to see it and if you want to brighten someone's day, share this adorable clip with them.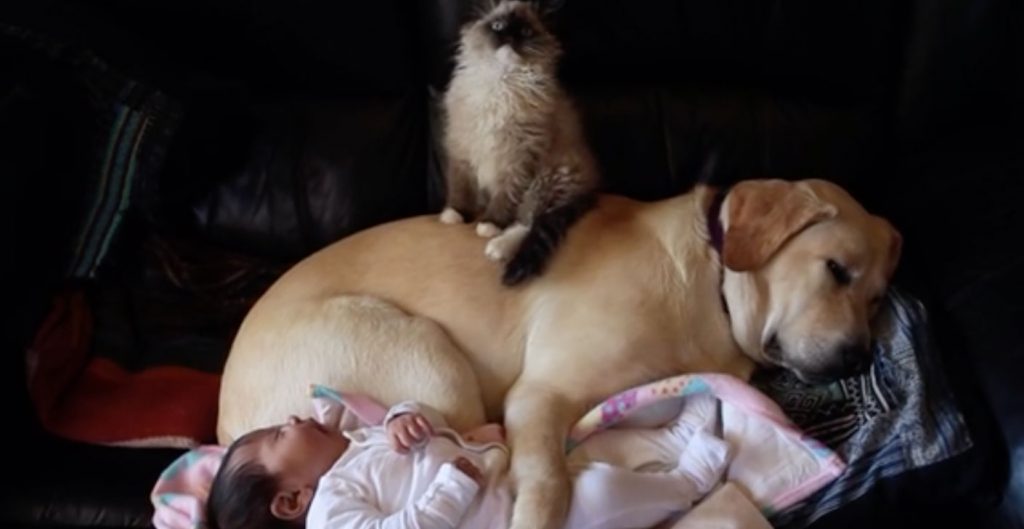 Please Share This Hilarious Video With Family and Friends 🙂
Jimmy Kimmel is most popularly known for hosting his own late night show on ABC, and a lot of his success can be attributed to the hilarious pranks and pieces that he often does. Many of the featured bits have gone viral and some of the funniest ones involve his own family members. Perhaps one of the best pranks he has ever pulled off is the one involving a fake sonogram and his Aunt Chippy. This clip is priceless and full of over the top details that add up to make it an instant classic!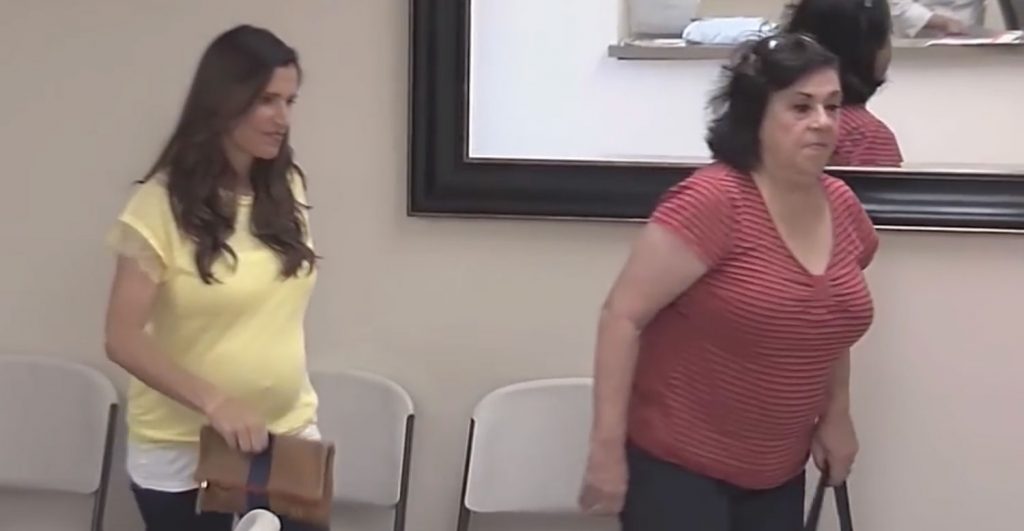 The whole idea came about when Micki, Kimmel's cousin who also works at the show, was pregnant and due for a visit to her doctors office for a sonogram. Micki invited her mother along, Kimmel's Aunt Chippy, who had never before seen a sonogram. With this in mind, the staff at the show created a fake sonogram and used a fake sonogram technician to help fool his aunt and capture her reaction on film.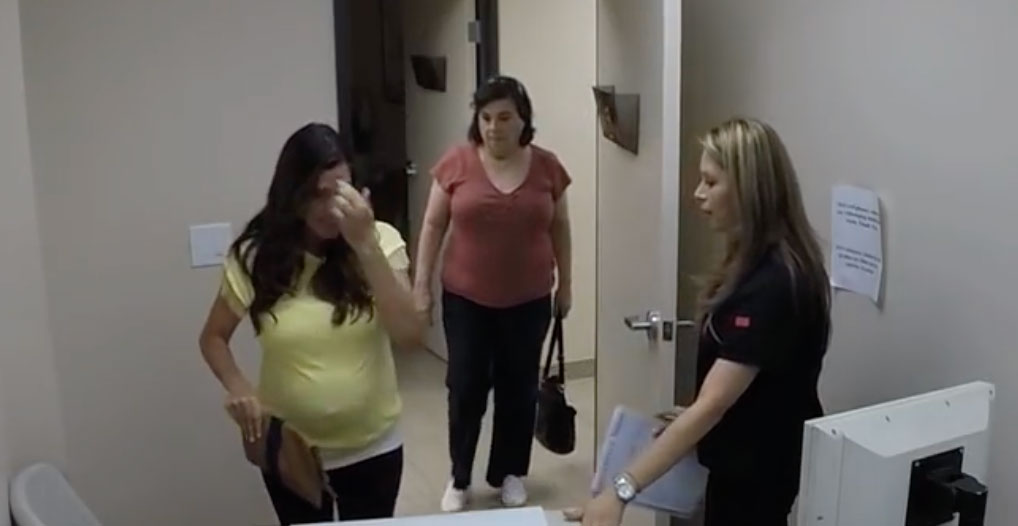 The women were shown to the room and chatted about baby clothes while they waited to be seen. Dr. Lang, the fake tech, entered and got straight to work prepping Micki's belly and starting up the machine. Up to this point, it all seemed normal and in line with what's expected at this type of doctor appointment.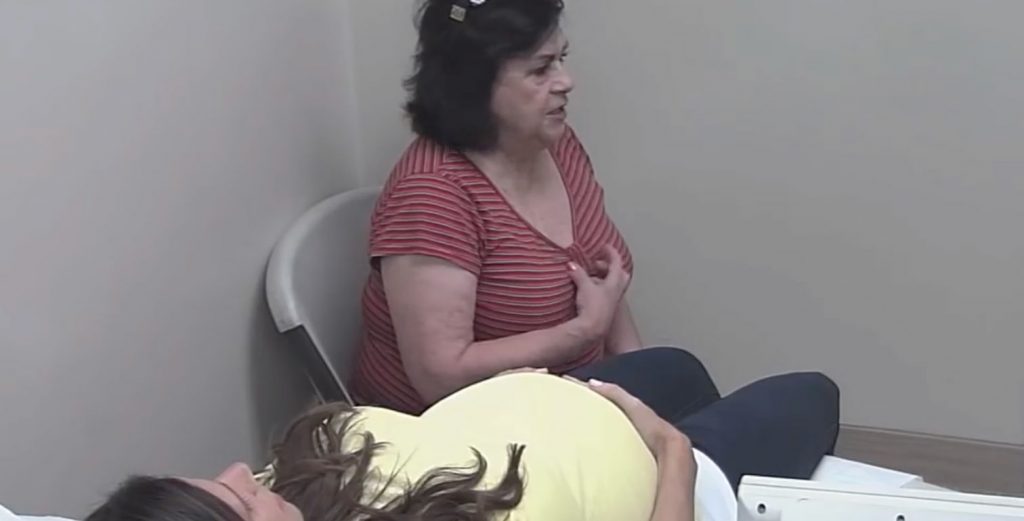 However, when the doctor begins the sonogram things start to get a little odd. With Jimmy and the baby's dad, Cousin Sal, behind the scenes prompting her, Dr. Lang casually throws in a coupe of weird words and terms. She describes the baby as encased in carbonite and notes its flux capacitor is beating at a normal rate.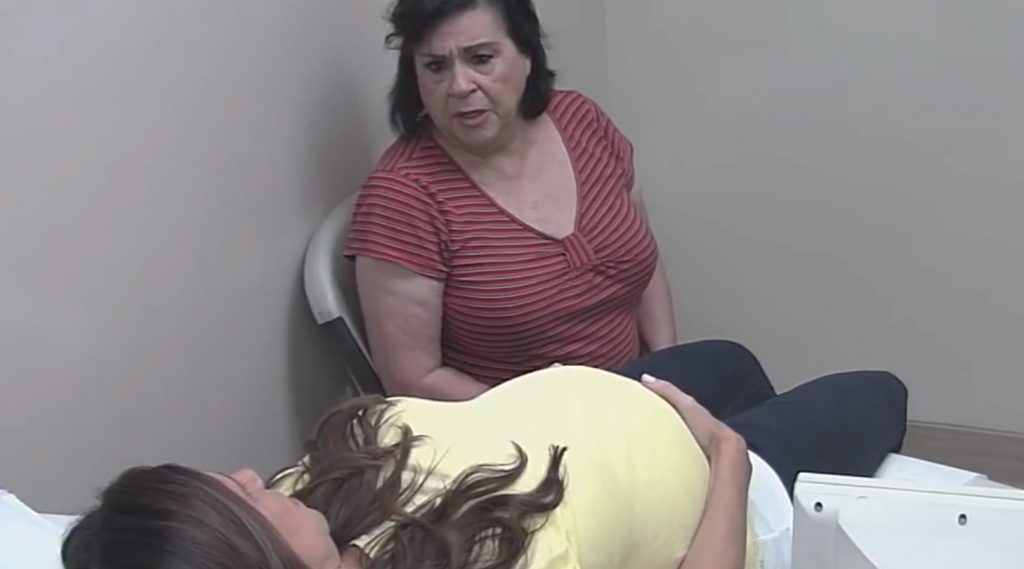 Then the view changes and Aunt Chippy is shown a full body shot of the baby. That's when the baby starts doing some crazy stuff, at first it just claps, and then it picks its nose and eats it. From there the antics are upped and much to Aunt Chippy's disbelief the baby flips them off. But the best part came after, when the baby stands up and starts doing jumping jacks!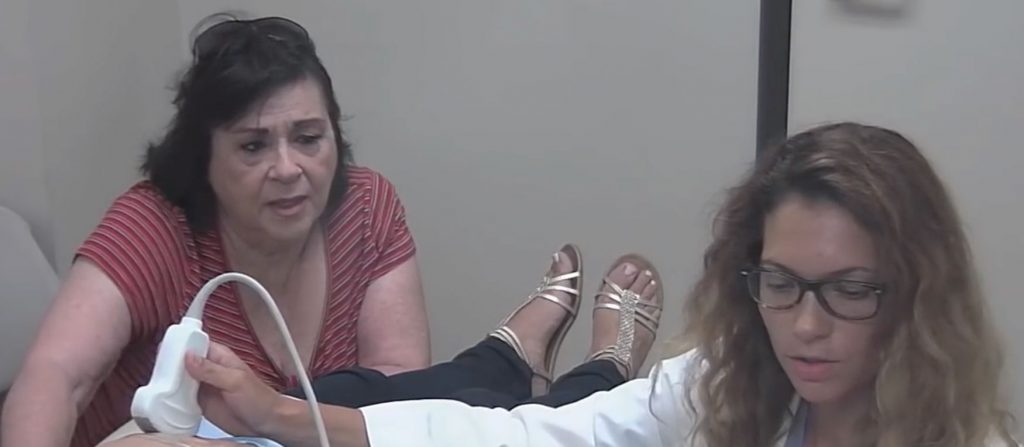 Micki plays along perfectly and claims she can feel it, while Aunt Chippy looks on in amazement. Before she can process or make sense of the strange sight, another baby floats into view. Micki is having twins and the women can even hear the babies crying!! Aunt Chippy can only stare open mouthed in absolute shock at this point, then she notices that the twins look like Jimmy and Sal.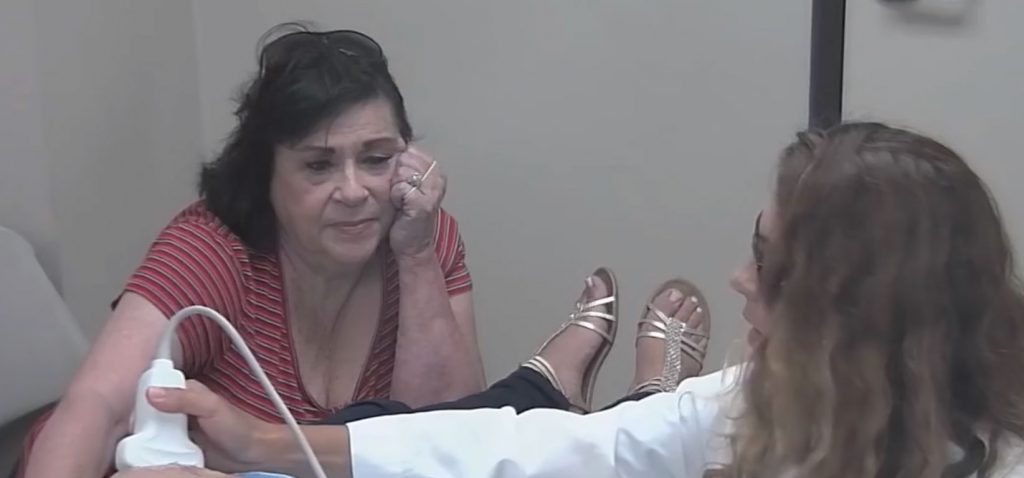 That was the cue for Jimmy and Cousin Sal to head in and reveal that the joke is on her. Aunt Chippy is both relieved and annoyed as she slaps the two pranksters, and remarks that she should have known. All of her reactions and comments were hilarious and spot on. If you want to laugh your butt off and see a really awesome, well done prank, check it out!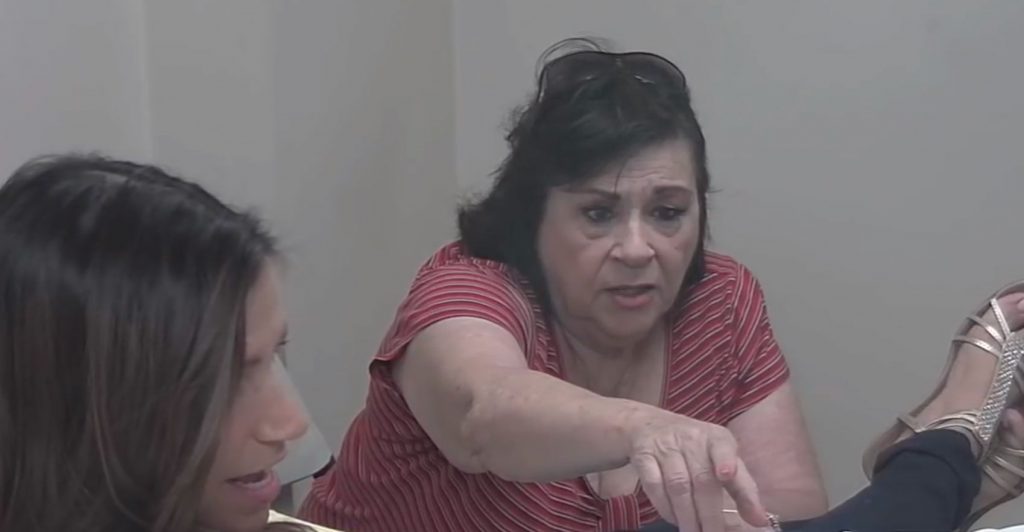 Please Share This Video With Family and Friends 🙂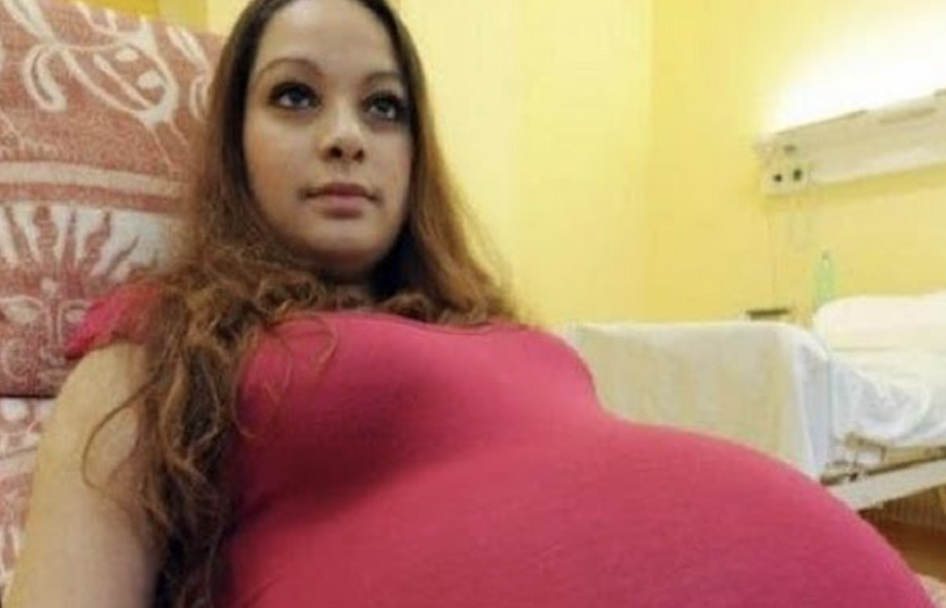 image via – youtube.com
When a couple realizes they are going to have a baby, life rapidly begins to change in an instant. You all of a sudden realize that you are going to be responsible for another human life and it can actually be a little scary and anxiety provoking. Even though, it's an amazing celebrations new moms and dads are always a bit nervous not knowing what it will actually be like in the trenches of parenthood.
This brings us to today's unique story which features a 23-year old pregnant woman named Alexandra and her partner Antonin from the Czech Republic. One day, Alexandra just felt like something was happening to her body so she took a pregnancy test which came back positive. Just to be sure, she was definitely pregnant she went to the doctor who confirmed, yes she was indeed pregnant.
This wasn't Alexandra's first rodeo, she already had one beautiful baby and knew what pregnancy was like, giving birth and taking care and raising a child was all about. She was way less nervous than the first go round and she believed this second pregnancy and child would be easy and simple. Little did she know this pregnancy would be anything but ordinary.
She went back to the doctor, they took an ultrasound and told her and Antonin that she was going to be having twins! At first they couldn't believe the news, but when it settled in they were super excited and ready to handle the extra responsibility.
For a few months, the couple had prepped for 2 new babies on the way. She went back to the doctor for her regular check-up and the doctor noticed something a little weird so the doc took another ultrasound. This is where things start getting pretty wild…..
The doctor examined the ultrasound carefully and thoroughly. Then the doc told the couple that they would not be giving birth to twins. At first they were a little heartbroken thinking one of the babies didn't make it, but the doctor hadn't finished yet…
The doctor calmly told them she was currently carrying 4 babies and would be giving birth to quadruplets! Twins kind of seemed like a lot but 4 babies?! This was completely unexpected and they were totally stunned. When they left the office they immediately started buying stuff for the 2 extra babies so they would be prepared!
Another month or two went by and her due date was coming closer. When women give birth to multiple babies at once it isn't uncommon to get another ultrasound towards the end of the pregnancy just to make sure everything will be fine without complications.
She went in got another ultrasound not expecting anything out of the ordinary considering she already had the bomb dropped on her last visit that she was having quadruplets. After the doctors took a look at this next ultrasound they were astonished. There was a fifth baby in there they hadn't seen! So now they went from 1 baby to twins to quadruplets and quintuplets!
The due date quickly came before they could even wrap their heads around quintuplets! The day of delivery 40 doctors on staff were in the delivery room to help and make sure this record breaking birth went smoothly without any complications. Luckily she gave birth like a champion and according to the main doctor in charge of her case, everything went perfectly!
One of the 40 doctors who helped with the delivery that day, began doing research to see if anyone ever gave birth to quintuplets in the Czech Republic. As it turns out, in all of the Czech's recorded birth history, Alexandra was the first mom to ever give birth to 5 babies at once!
Watch the video below for the full story:
Please SHARE This With Family and Friends