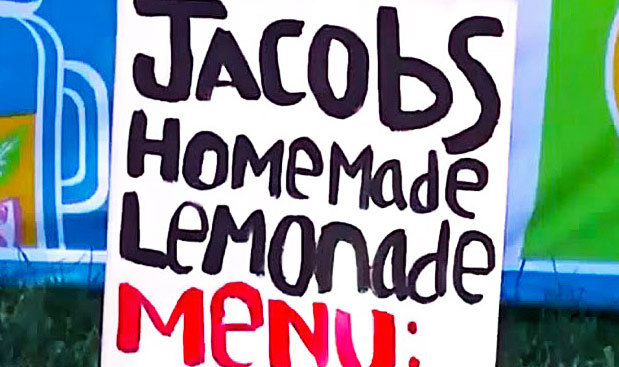 image via – youtube.com
Setting up a lemonade stand and selling the delicious ice cold drink to people who pass by during the summer is a childhood tradition that many of us have partaken in.  It's a fun way for young kids to interact with the neighbors and learn about business all while making a little bit of money.  This was especially true for one 8 year old boy in Missouri named Jacob. 
All he had wanted for his birthday was a lemonade stand so that he could raise money to help buy his mother an air conditioner for her car. While she loved the idea, she urged him to use any money he earned for a more meaningful idea that was closer to his heart, and so he chose to donate it to a local church missionary group instead.
According to Gina Martin, Jacob's mother, as soon as his lemonade stand was finally set up, he busied himself selling 50 cent cups of freshly squeezed lemonade.  From the start his business was going well and everyone was happy. That all changed one Friday afternoon when an angry looking man approached Jacob's stand. The man aggressively demanded to know whether or not they had a food handler's permit.  
Sensing the man's hostility, Gina sent her son inside while she talked to the man.  She asked him if he worked for the city, to which he replied that he did not, but that as a customer he wanted to know who he should go to in case he got sick from drinking the lemonade. 
As she dealt with the irate man, Gina was told that in Clay County Missouri, where she resided, a temporary food permit is needed for anyone who is preparing, serving, or selling food. The cost for a permit lasting 1-3 days is $50, but that's only if you apply more than 2 weeks in advance.  
Even though the customer wasn't a city employee, he nonetheless insisted that Jacob needed a permit to sell lemonade from his stand.  If he failed to get one, the man warned Gina that he'd call the police and have them it shut down. Meanwhile, another person had joined the man and they both started to get angry and more confrontational over the issue. 
Not sure what she should do or whether the man was even telling the truth, Gina turned to Facebook and posted about the issue to see if anyone could help her out. People saw her post and shared it with their friends and family, and before long the community had mobilized behind Jacob and his mother.  
The next day Jacob woke up to a bunch of people in the street outside of his house.  At first, he thought there was an emergency but then he realized that all the people were actually customers who had come to buy lemonade from him! 
Not only had the entire fire department come with their ladder engines, so had the county sheriff, local police, metro security, EMTs, and ambulances.  All the emergency responders in the area had come out in full force to support him!
Before they left, they even gave Jacob a seal of approval and temporary permit.  It was really just a piece of paper with the word "permit" written on it next to pictures of police and fire department badges, but it meant the world to Jacob and his mother. 
By the end of the summer, he raised an impressive $343 which he donated to missionaries at his church. Perhaps more importantly, he learned that he had a whole lot of support behind what he was doing and that no single angry busy body could shut him down for purely hypothetical and spiteful reasons.  
Watch the video below for the full story:
Please SHARE This With Family and Friends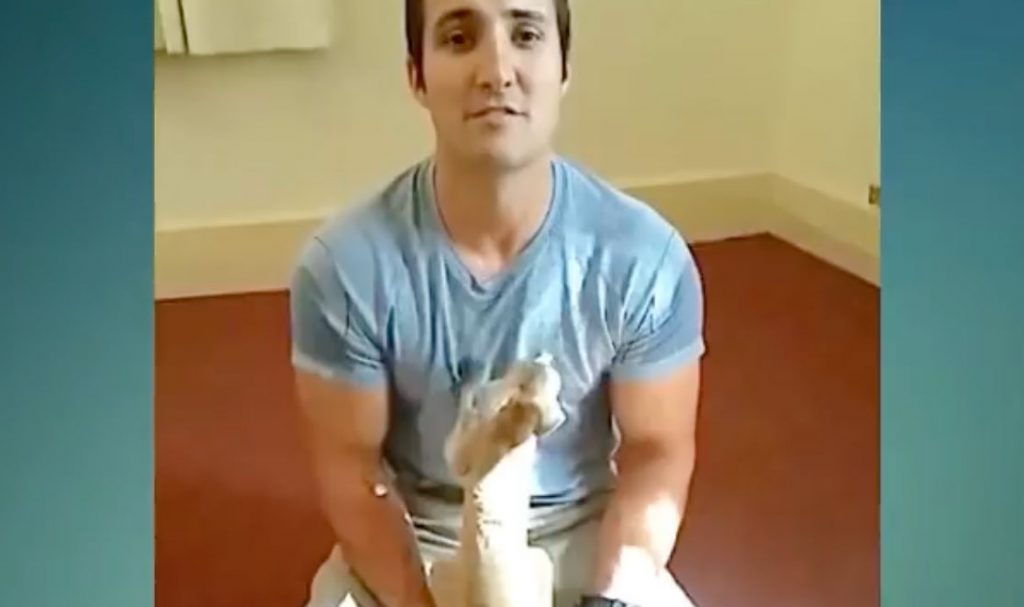 image via – youtube.com
Australia is known for their incredibly unique and diverse wildlife, flora and fauna. There are so many species of animal that only exist in Australia which makes conservation of these diverse species one of Australia's number 1 priorities.  These are some of the animal species that are native only to Australia, the Dingo, Koala. Tasmanian Devil, Thorny Dragon, Sugar Glider, Wallaby, Wombat, Platypus and of course the most iconic Australian animal the Kangaroo.
Australia has very strict rules when it comes to protecting their wildlife and for good reason. There are also many laws which restrict bringing in outside species into Australia that could potentially wreak havoc and destroy the natural ecosystems which are currently living in perfect balance and harmony with nature.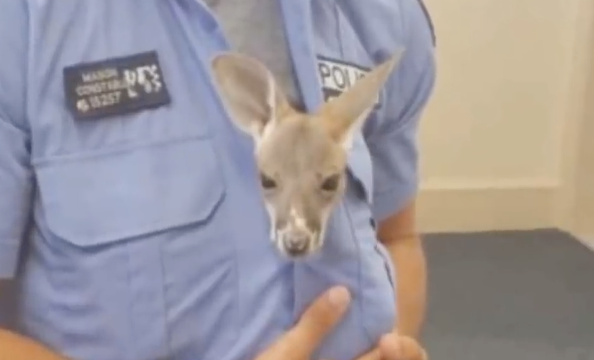 In today's story we will be featuring a baby kangaroo named Joey whose mother was killed tragically when she was hit by a car. This poor little guy was left alone and abandoned without anyway to survive in the wild. Luckily for Joey a kind person had come across the baby animal and brought it to the local police station. At the police station the kangaroo orphan case was taken over by Constable Scott Mason. Scott had only been working at the police station for 3 weeks and now he found himself in a little bit of strange situation with a baby kangaroo that he instantly fell in love with!
When the baby kangaroo was brought in he was in pretty bad shape. The little fur baby was terribly dehydrated, starving and completely malnourished. When Constable Mason and Joey made eye contact their instant connection was undeniable. The good constable decided he would take over full care of Joey the baby Kangaroo which was no small task and would take plenty of time, love and energy to make sure this kangaroo would survive. Scott would start hand feeding the baby every 3 hours and make sure he was safe, comfortable and cozy at all times.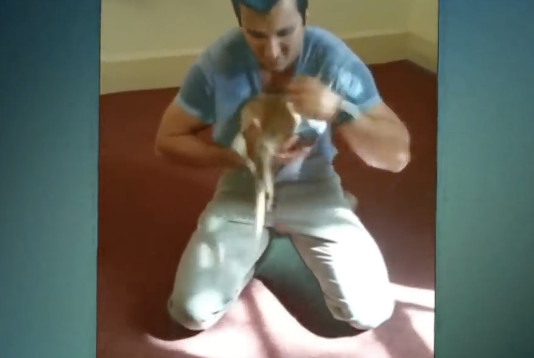 As time passed Scott and Joey's bond grew stronger and the baby kangaroo even began using Constable Scott Mason's uniform as a pouch! Scott had literally become his mama and the baby kangaroo would follow Scott everywhere trailing only a foot or two behind him at all times when he wasn't in Scott's pouch….
Watch the video below for the full story:
Please SHARE This With Family and Friends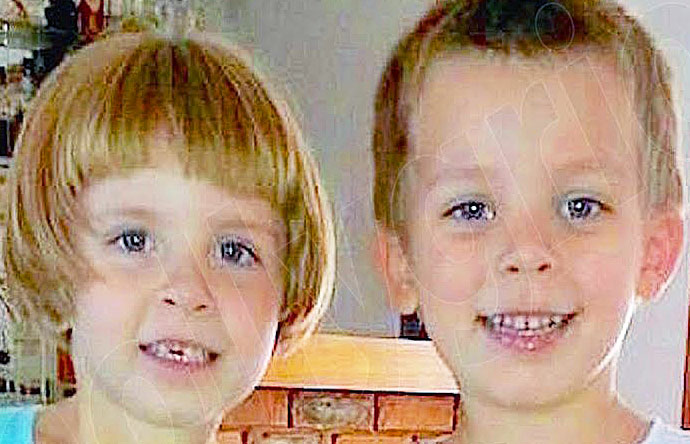 image via – youtube.com
As we all know, 50% of all marriages end in divorce. In the case of one of these couples, the situation escalated far beyond separation. Australian couple Harry and Jane divorced in October of 2014. Harry claimed the reason was because Jane lost interest in the marriage. Regardless, the couple had two children whose custody would need to be worked out. 
After various court hearings, it was decided that Harry would watch his kids during the week and Jane would take them on weekends. On Friday, December 5th, Jane came to collect the kids for their first weekend. For some reason, Thomas, Harry's 4-year-old son was particularly distraught over leaving. Harry reassured him he would see them soon and that it was only for the weekend. Little did he know that it would be much longer.
A few days later, Harry came to collect the kids from their school. He waited and waited but they never came out. After a little investigating, he found out that they hadn't been at school that day. Harry instantly knew that Jane had taken them.
Harry immediately began to search for his kids. He went to any place he thought Jane might take them. He traveled to Brazil to no avail. He then traveled to London as he knew Jane had a British passport. Again, he found nothing. He then went to New Zealand as he knew Jane had acquaintances in a town there. Still, nothing.
3 years later, Harry received shocking news. The police came to his house to inform him they had found his kids. As he had suspected, Jane had taken them. They were living only 100 miles away from where she had abducted them. Harry finally reunited with his kids and was able to begin raising them far from his tyrannical ex-wife.
Watch the video below for the full story:
Please SHARE This With Family and Friends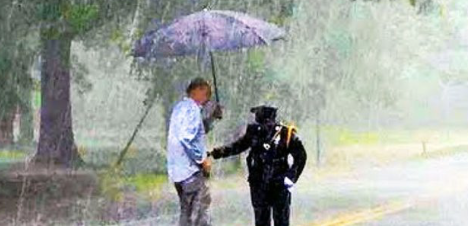 image via – youtube.com
Police officers work to serve and protect the public, it's the motto they swear by and everyday they answer calls all across the country of people seeking help.  While the majority of their time is spent dealing with traffic issues and disturbances involving people, sometimes they have to assist other animals in need. Simply put, cops never know what they are going to come across when on the job, and one Maryland police officer could have never guessed she'd be praised for what she did one dark and stormy day.
When Carolyn Hammett and her husband were driving near their home in Greenbelt, Maryland they witnessed the cops selfless act.  Rain was coming down in sheets, it was absolutely pouring outside, and yet up ahead in the middle of the road was a dark figure.  As they got closer the couple realized that it was a police officer and she was standing over something on the road. The officer was soaking wet and yet she was smiling down at her feet, looking as happy as a clam out in the storm.  
When they finally got close enough the Hammett's realized that the cop was standing guard over a snapping turtle!  Someone had luckily spotted the turtle trying to cross the road and told the officer who then stopped to assist it.  Since it was raining hard the little guy wasn't easy to see and she didn't want it to get hit by a car, so she pulled over and stood by it.  Being a snapping turtle, she couldn't just pick it up without risking getting bit, plus it's best to not handle any wild creatures. Either way, the officer wanted to keep it safe and had become the turtle's bodyguard for the duration of his crossing.
Carolyn and her husband were amazed at what the officer was doing.  They knew most people would just keep driving, and even fewer would actually stand in the rain in the middle of the road to protect a turtle.  Inspired by the selfless act, they too pulled over and Carolyn's husband jumped out of the car with an umbrella in hand. He ran over to the officer and shielded her from the rain while they chatted about the turtle's predicament.
The officer had called animal control to come move the turtle out of the road, but there was no telling when they'd arrive.  For now, all she could do was stand guard and wait. Having dealt with snappers before, the Hammett's knew just what to do. They ran home and got two shovels, then used them to pick the turtle up off the road and place him on the side where he'd be safe.  Now they could all rest easy and change into warn, dry clothes!
The cop who was guarding the turtle that day was Officer Sharnise Hawkins-Graham.  She ended up being awarded the 2017 Greenbelt Police Officer of the Year for her outstanding service and dedication, shown not only on that rainy day, but all throughout the year.  It's inspiring to see others act so unexpectedly compassionate towards even the smallest of creatures among us, and when the Hammett's saw Officer Hawkins-Graham, they were moved to help out as well.  
Watch the video below for the full story:
Please SHARE This With Family and Friends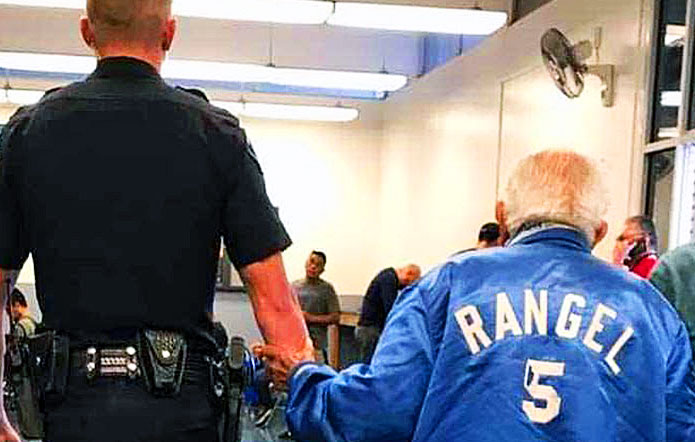 image via – youtube.com
When cops responded to a call about a man causing a disturbance at a local Bank of America branch, they didn't quite know what to expect.  They knew the man was very upset and had refused to leave the premises, but that was about it.  
When the first responding officer at the scene, Robert Joss, stepped inside the bank he was surprised to see a 92 year old man at the counter arguing with the teller.  He was angry and confused because he simply wanted to withdraw money from his account, but they wouldn't allow him to do that.
It turned out that his identification card had expired and, in accordance with bank policy, they were unable to allow him to make any transactions.  The man simply did not get that even though all his information on the ID was correct and the photo matched, he still couldn't use it since it had expired.
Officer Joss asked the elderly man to accompany him outside and headed towards his patrol car.  He opened the passenger side door and told the man to get in because they were going to the Department of Motor Vehicles to get him a new ID card.  The man happily obliged and once they got to the DMV Officer Joss told the manager the story and expiration issue. The elderly man was then allowed to renew his ID right away so that he could get back to the bank as soon as possible and before it closed.
With his new ID in hand, Officer Joss brought the man back to Bank of America where he was finally able to take out money from his account.  Afterwards, the two went their own way but all around town people had taken notice of the good deed. The Montebello Police Department soon caught wind of what their officer did and decided to share the story in a Facebook post on their page along with a picture of Officer Joss and the man at the DMV.  It's heartwarming and beautiful to see, so be sure to check out the video for the pic!
Watch the video below for the full story:
Please SHARE This With Family and Friends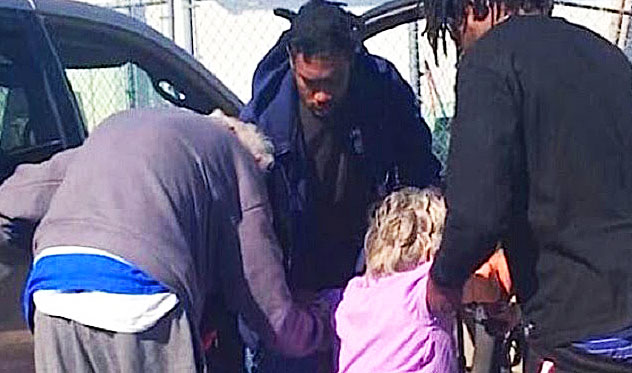 image via – youtube.com
Many elderly people want to remain as independent and self-sufficient as they possibly can, even when they know that they might need a little extra help.  They hate to admit that they can't do what they used to be able to, which is understandable because no one really does, no matter what age they may be.  
Rose and David Griest were adamant about not giving up any of their independence and they didn't want to rely on others.  Rose, who was 89 and David, who was 100 years old, shrugged off offers from their family and friends to help whenever they might need it.  One day Rose had to go to the doctor and she and David decided they could get themselves to her appointment. After visiting the doctor's office they headed home and on the way back they noticed that they needed to get gas.  Not only that, they both had to use the restroom, so they pulled over at a nearby gas station and parked at the pump.  
Rose and David headed for the restrooms and on the way back they ran into trouble.  Both of them were exhausted from the whole trip and were struggling to make it back to their vehicle.  Rose was using a walker and was visibly shaking, it seemed like she was about to fall over. A police officer on duty, Kanesha Carnegie, was across the street nearby when she noticed the pair clearly having problems walking across the gas station parking lot.  She decided to head over and help them out, but on the way, she noticed that three young men were following right behind the elderly couple.
The men were running towards Rose and David and so officer Carnegie whipped out her cell phone and started recording.  She knew nothing bad was happening, instead she believed that she was watching something amazing unfold. The three men surrounded the elderly couple, making sure that if either one fell, they could catch them right away.  They very slowly and gently assisted them back into their car, being completely careful and respectful.  
The men happened to be a trio of rappers from Orlando who were at the gas station that day picking up some snacks.  Joc Koe Stoe, Marty, and Freddy G were inside when they glanced outside and noticed the elderly couple struggling and immediately rushed over to help them.  In a Fox 5 interview, Marty later told the reporter that "I kept thinking, 'She could have been by grandmother.'"  
Without hesitating the young men had dropped what they were doing that day to help the elderly couple in need.  Officer Carnegie shared the heartwarming footage of their selfless act online and it quickly went viral with people happy to see what a difference a simple act of kindness can make. 
Watch the video below for the full story:
Please SHARE This With Family and Friends