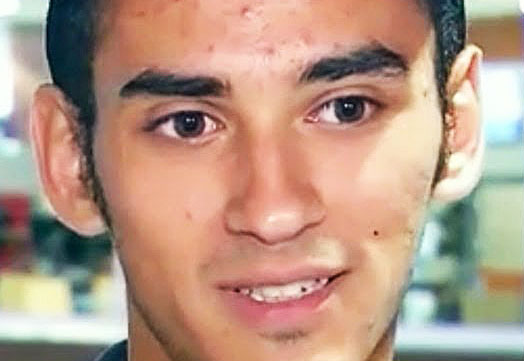 image via – youtube.com
Many people all over the world go to McDonalds every day. Whether they are just trying to squeeze in a quick lunch in between appointments at work or their kids are just dying to get a happy meal. Many people don't realize that working at a fast food joint as an employee is not an easy gig. Whether you are dealing with rude and angry customers, a line out the door, or getting burned by some scolding hot oil in the fryer! I have a lot of respect and tip my hat to all the hard working people at McDonalds and any other fast food restaurant. Working in any job with customer service is never a walk in the park!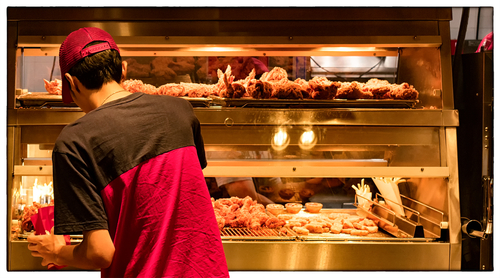 Now on the flip side, from the customers perspective, when you think about going to McDonalds it really never occurs to you that something seriously tragic or horrible could potentially happen. Maybe they run out of 20 piece nuggets?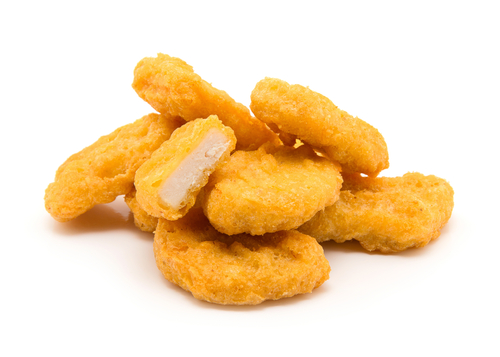 Maybe the fries aren't crispy enough? Or maybe, worst case scenario they put pickles on your burger when you asked for no pickles! LOL! All kidding aside, sometimes things you could never imagine happening in your wildest dreams actually do occur..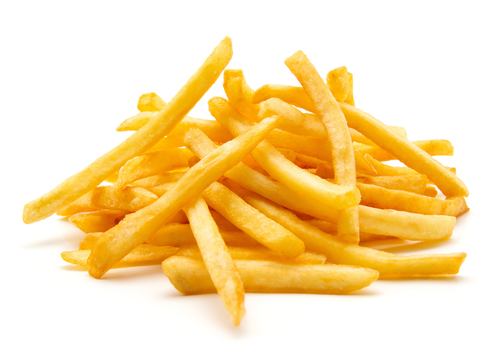 This brings us to today's story which features 22-year old Pedro Veloria, A hard working, driven and all around good guy from Miami, Florida. Pedro came from a low income family raised by his single mom who had to work 2-3 jobs just to makes ends meet.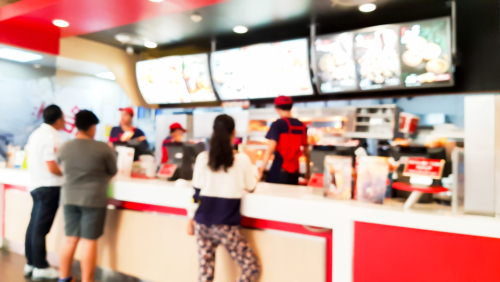 When he was growing up he always took odd jobs like mowing lawns, painting fences or baby sitting to help relieve his mom of some of the financial burden. Pedro always got good grades in school and hoped to one day go to college, but his mother couldn't afford to send him and he wasn't eligible for any scholarships.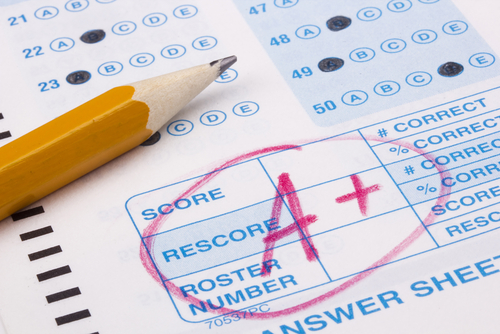 One night, Pedro and his family went out to go bowling which was their favorite family activity. On the way home they stopped at McDonalds and saw that they were hiring employees and the pay was above minimum wage. Pedro decided he would apply for the job and a couple days later he got it! This would be Pedro's first real job and he could really start help his hard-working mother out with the bills.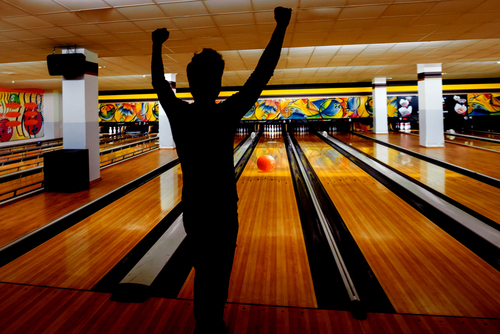 He went through intensive training, learned the ins and outs of every aspect of the job and quickly fell into a daily routine. He would start work at the crack of dawn at 5am, work all day then go home help out with the kids, pass out then wake up the next morning and do it all over again.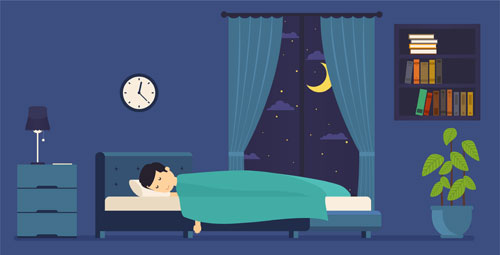 Although he was exhausted and working extremely hard, he always kept a positive attitude and would make sure no matter how small or insignificant his specific task was he did it with perfect precision!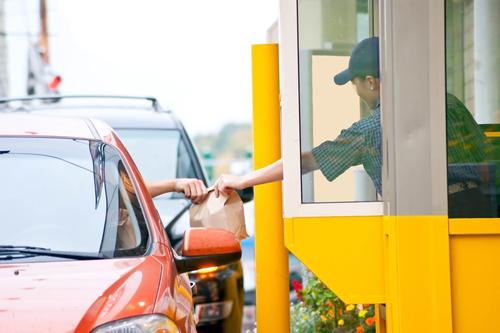 One day Pedro was working the drive-thru. Nothing seemed out of the ordinary and he was going about his shift like he always did. With a big smile, courteous, helpful and making sure everybody always got exactly what they ordered. That's when something unimaginable began to unfold in the drive-thru line.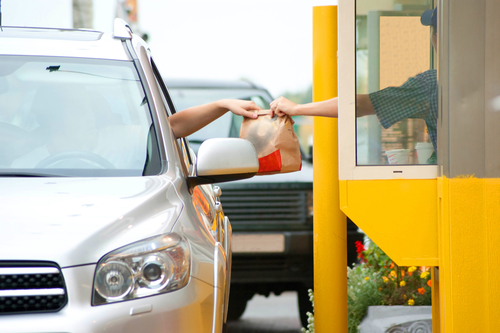 Pedro could hear kids crying in one of the cars. This wasn't particularly strange because children screaming and crying in the back of their parents car at the drive-thru is something that happens on a daily basis. However, there was something different about the distinct sound of these particular kid's screams!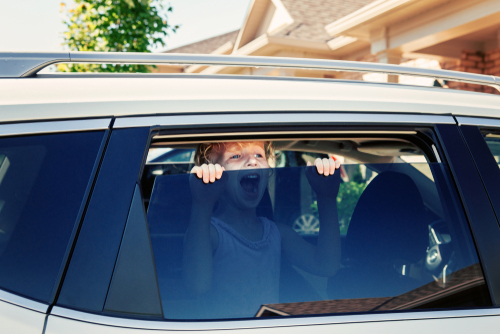 It wasn't the sound of some bratty kids whining, it sounded more like screams of pure terror and fear! The driver of the car was a woman and her head was down, she was hunched over the wheel and looked to be completely unconscious. Even worse the car was not stopped and was moving forward in the drive-thru line!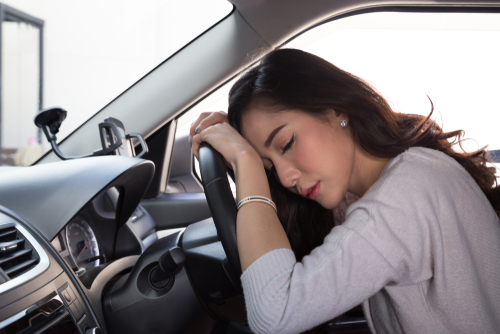 Pedro's instincts immediately kicked in and he jumped through the drive-thru window like an olympic pole vaulter. He sprinted as fast as his legs would move, got to the car with the unresponsive lady, her scared kids and somehow got the vehicle to stop moving!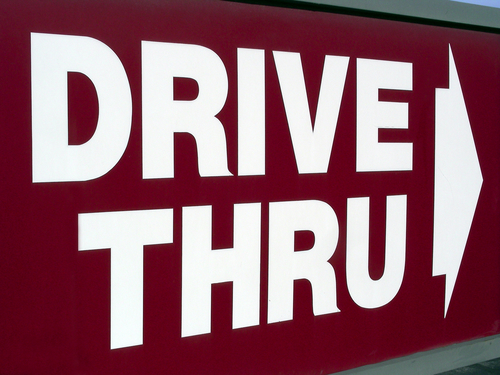 At this point the woman was still unconscious. Pedro quickly called for help and luckily there were two firefighters who were grabbing a bite at the McDonalds. They jumped from their table, ran to the car and began CPR to try and revive the unconscious mom.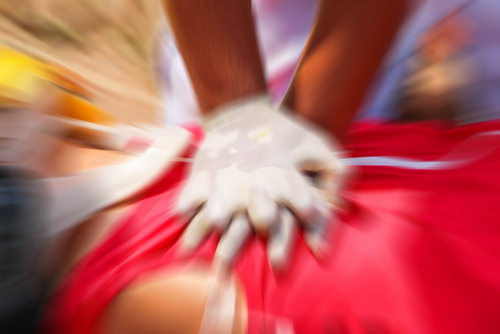 The paramedics came next and the woman was brought to the hospital. Luckily because of Pedro's quick thinking, rapid response time and just being an all around Good Samaritan and local hero nobody was hurt. The lady happened to be an off-duty cop and was still unconscious when she got to the hospital, but thankfully she made a full recovery!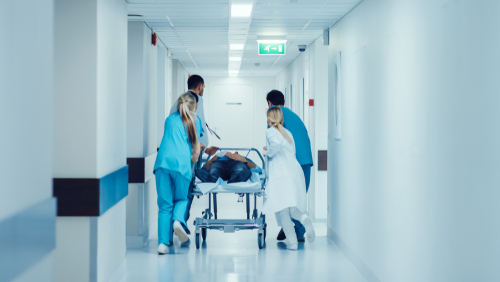 Pedro had saved a police officer and her children's life. He decided that it was time for his life to switch gears from McDonalds employee to becoming a paramedic so he could save people in need everyday of his life! What could've been a tragedy ended up being a wonderful happy ending thanks to Pedro!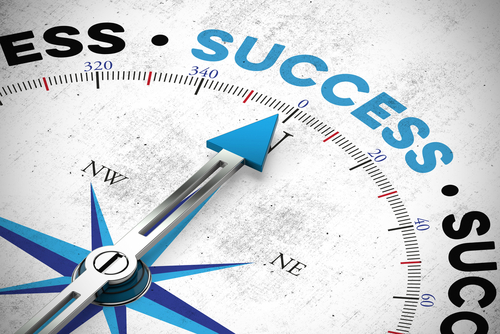 Watch the video below for the full story:
Please SHARE This With Family and Friends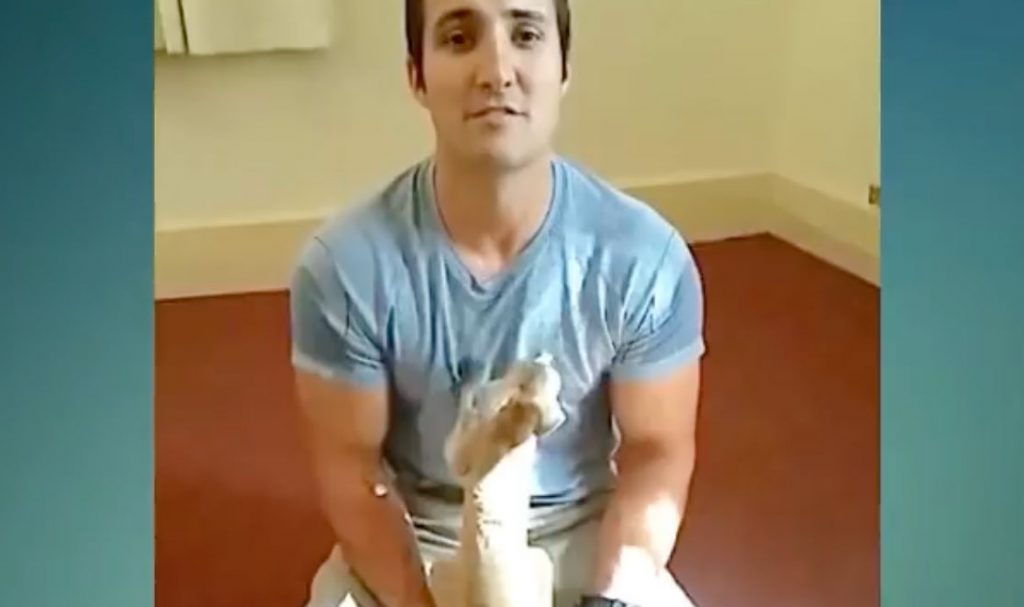 image via – youtube.com
Australia is known for their incredibly unique and diverse wildlife, flora and fauna. There are so many species of animal that only exist in Australia which makes conservation of these diverse species one of Australia's number 1 priorities.  These are some of the animal species that are native only to Australia, the Dingo, Koala. Tasmanian Devil, Thorny Dragon, Sugar Glider, Wallaby, Wombat, Platypus and of course the most iconic Australian animal the Kangaroo.
Australia has very strict rules when it comes to protecting their wildlife and for good reason. There are also many laws which restrict bringing in outside species into Australia that could potentially wreak havoc and destroy the natural ecosystems which are currently living in perfect balance and harmony with nature.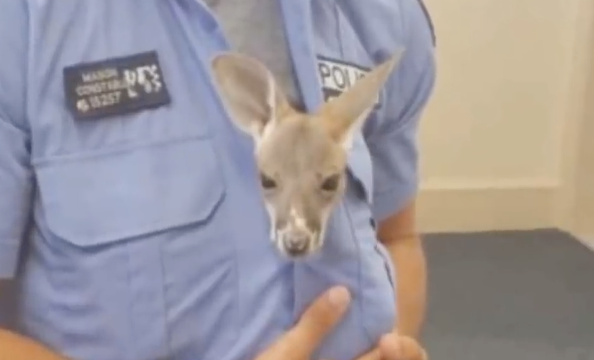 In today's story we will be featuring a baby kangaroo named Joey whose mother was killed tragically when she was hit by a car. This poor little guy was left alone and abandoned without anyway to survive in the wild. Luckily for Joey a kind person had come across the baby animal and brought it to the local police station. At the police station the kangaroo orphan case was taken over by Constable Scott Mason. Scott had only been working at the police station for 3 weeks and now he found himself in a little bit of strange situation with a baby kangaroo that he instantly fell in love with!
When the baby kangaroo was brought in he was in pretty bad shape. The little fur baby was terribly dehydrated, starving and completely malnourished. When Constable Mason and Joey made eye contact their instant connection was undeniable. The good constable decided he would take over full care of Joey the baby Kangaroo which was no small task and would take plenty of time, love and energy to make sure this kangaroo would survive. Scott would start hand feeding the baby every 3 hours and make sure he was safe, comfortable and cozy at all times.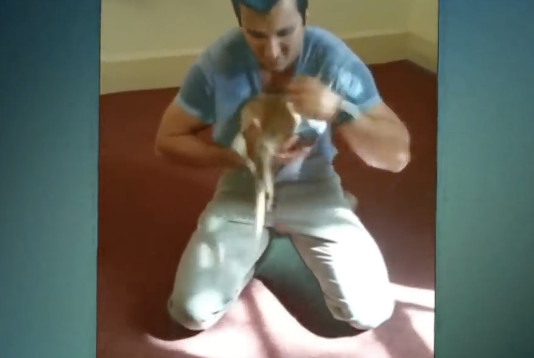 As time passed Scott and Joey's bond grew stronger and the baby kangaroo even began using Constable Scott Mason's uniform as a pouch! Scott had literally become his mama and the baby kangaroo would follow Scott everywhere trailing only a foot or two behind him at all times when he wasn't in Scott's pouch….
Watch the video below for the full story:
Please SHARE This With Family and Friends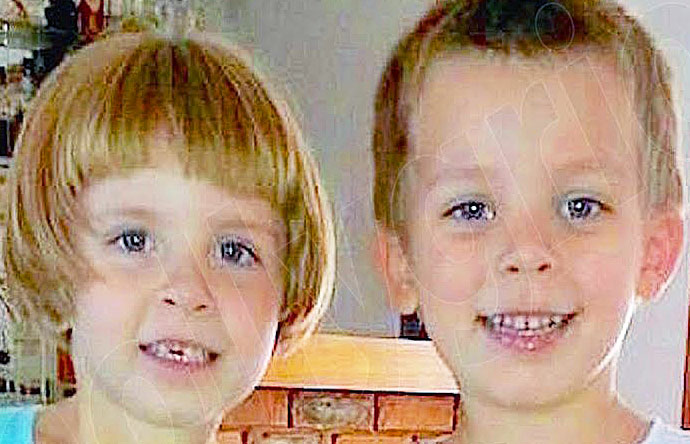 image via – youtube.com
As we all know, 50% of all marriages end in divorce. In the case of one of these couples, the situation escalated far beyond separation. Australian couple Harry and Jane divorced in October of 2014. Harry claimed the reason was because Jane lost interest in the marriage. Regardless, the couple had two children whose custody would need to be worked out. 
After various court hearings, it was decided that Harry would watch his kids during the week and Jane would take them on weekends. On Friday, December 5th, Jane came to collect the kids for their first weekend. For some reason, Thomas, Harry's 4-year-old son was particularly distraught over leaving. Harry reassured him he would see them soon and that it was only for the weekend. Little did he know that it would be much longer.
A few days later, Harry came to collect the kids from their school. He waited and waited but they never came out. After a little investigating, he found out that they hadn't been at school that day. Harry instantly knew that Jane had taken them.
Harry immediately began to search for his kids. He went to any place he thought Jane might take them. He traveled to Brazil to no avail. He then traveled to London as he knew Jane had a British passport. Again, he found nothing. He then went to New Zealand as he knew Jane had acquaintances in a town there. Still, nothing.
3 years later, Harry received shocking news. The police came to his house to inform him they had found his kids. As he had suspected, Jane had taken them. They were living only 100 miles away from where she had abducted them. Harry finally reunited with his kids and was able to begin raising them far from his tyrannical ex-wife.
Watch the video below for the full story:
Please SHARE This With Family and Friends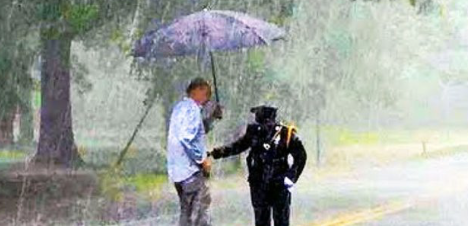 image via – youtube.com
Police officers work to serve and protect the public, it's the motto they swear by and everyday they answer calls all across the country of people seeking help.  While the majority of their time is spent dealing with traffic issues and disturbances involving people, sometimes they have to assist other animals in need. Simply put, cops never know what they are going to come across when on the job, and one Maryland police officer could have never guessed she'd be praised for what she did one dark and stormy day.
When Carolyn Hammett and her husband were driving near their home in Greenbelt, Maryland they witnessed the cops selfless act.  Rain was coming down in sheets, it was absolutely pouring outside, and yet up ahead in the middle of the road was a dark figure.  As they got closer the couple realized that it was a police officer and she was standing over something on the road. The officer was soaking wet and yet she was smiling down at her feet, looking as happy as a clam out in the storm.  
When they finally got close enough the Hammett's realized that the cop was standing guard over a snapping turtle!  Someone had luckily spotted the turtle trying to cross the road and told the officer who then stopped to assist it.  Since it was raining hard the little guy wasn't easy to see and she didn't want it to get hit by a car, so she pulled over and stood by it.  Being a snapping turtle, she couldn't just pick it up without risking getting bit, plus it's best to not handle any wild creatures. Either way, the officer wanted to keep it safe and had become the turtle's bodyguard for the duration of his crossing.
Carolyn and her husband were amazed at what the officer was doing.  They knew most people would just keep driving, and even fewer would actually stand in the rain in the middle of the road to protect a turtle.  Inspired by the selfless act, they too pulled over and Carolyn's husband jumped out of the car with an umbrella in hand. He ran over to the officer and shielded her from the rain while they chatted about the turtle's predicament.
The officer had called animal control to come move the turtle out of the road, but there was no telling when they'd arrive.  For now, all she could do was stand guard and wait. Having dealt with snappers before, the Hammett's knew just what to do. They ran home and got two shovels, then used them to pick the turtle up off the road and place him on the side where he'd be safe.  Now they could all rest easy and change into warn, dry clothes!
The cop who was guarding the turtle that day was Officer Sharnise Hawkins-Graham.  She ended up being awarded the 2017 Greenbelt Police Officer of the Year for her outstanding service and dedication, shown not only on that rainy day, but all throughout the year.  It's inspiring to see others act so unexpectedly compassionate towards even the smallest of creatures among us, and when the Hammett's saw Officer Hawkins-Graham, they were moved to help out as well.  
Watch the video below for the full story:
Please SHARE This With Family and Friends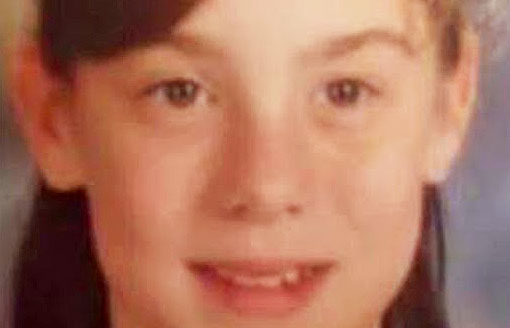 image via – youtube.com
When you are a child the world can be a pretty big and scary place. Luckily for most kids they a great home and a safe place to go where they are surrounded by loved ones. Knowing that no matter what happens in the outside world they can come home to peaceful and happy sanctuary eases the struggle of their everyday life.
While many children do have a great house and family to grow up in some aren't as lucky. Sometimes, there are rotten parents who decide to not bother taking care of their kids and neglect them. Growing up in a house with no love, can really take it's toll on a child and lead to permanent psychological issues. In today's story a young girl from Kansas City, Missouri named Klynn Scales who waves to a police officer everyday as he passes by.
Klynn and her brothers had parents who hardly took care of them and neglected them. They didn't pay much attention to their kids and sometimes they would forget to even feed them! So many nights, Klynn and her brothers were literally starving, so she would go to the local 7-11 and actually have to steal food so her and her brothers could eat.
Klynn was a great kid even though she grew up under terrible conditions and she knew it was wrong to steal, but she really had no choice because she and her siblings would starve. During the afternoons, Klynn would hang out on her front porch and a cop who she trusted would patrol by her house and she would always wave to him and he would wave back. Klynn really didn't trust many adults because of her neglectful parents but deep down she knew if things ever got really bad this special cop would be her knight in shining armor and make sure she was fine.
One day the police officer came by her house and Klynn wasn't on the porch for the first time ever. Something inside told him to check the house just to make sure she was okay. He approached the front door, knocked and nobody answered. He did hear something inside that just didn't sound right. He jiggled the door knob and luckily it was unlocked. He went inside and saw the little girl on the floor in the fetal position. Klynn was literally starving to death and suffering from severe malnutrition. If this hero cop didn't follow his gut Klynn would've died on the floor that day……
Watch the video below for the full story and find out what happened to this little girl:
Please SHARE This With family and Friends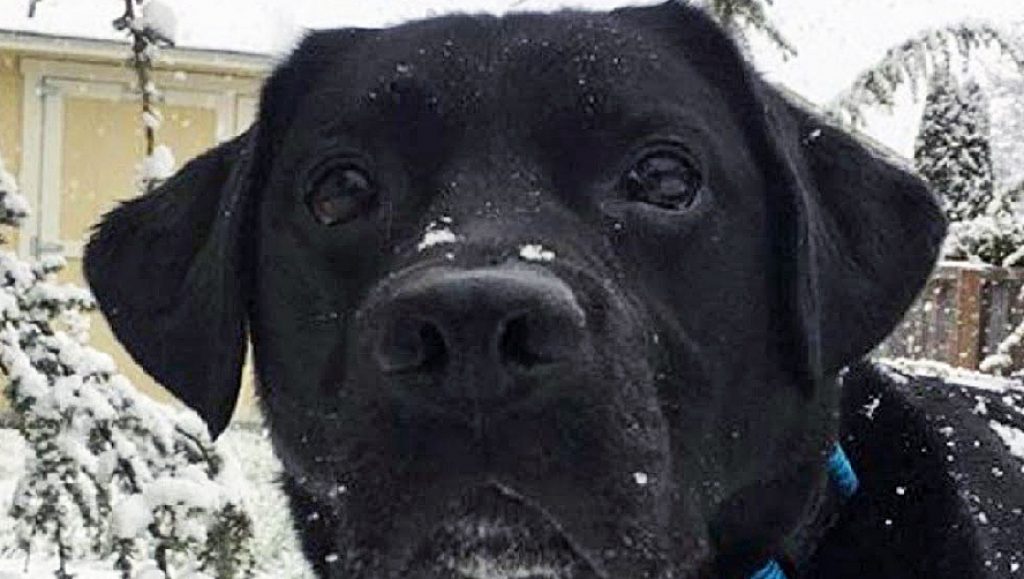 image via – youtube.com
Humans have surprisingly good instincts. Sometimes, that gut feeling will just pop up and you instinctually follow it. It seems almost that individuals have an intimate familiarity with the world around them, one that they are completely unaware of. Well in one situation, one officer's instincts made the difference between life and death.
On a cold February morning, officer Jeff Gonzalez was patrolling a quiet neighborhood in Wisconsin. As he drove down the road, he noticed a dog running alongside the car. The labrador retriever seemed to be looking for someone.
Gonzalez had a pit in his stomach. For some reason, he suspected there was more to this dog than what met the eye. He decided to investigate. Gonzalez stepped out of his car and approached the dog but as soon as he got close, the retriever was off again. Gonzalez got back in his car and followed the dog down the road. What he saw next shocked him.
The dog led the officer around the bend to a driveway. From a distance, Gonzalez made out a person sitting on the porch of the house at the end of the driveway. The body was slumped over and didn't seem to be moving. Running up to the house, the Gonzalez checked the icy woman's pulse. He searched for a while until he found the faintest hint of a pulse. He moved her inside and called for paramedics.
Finally, the woman was taken to the hospital. Her daughter had arrived and was waiting impatiently for news. Finally, a doctor came out. He informed Gonzalez and the woman's daughter that thankfully, she had been saved just in time. Apparently, she had fallen unconscious due to a heart condition she hadn't even been aware of. If she had gotten a checkup beforehand, this all could've been prevented.
Watch the video below for the full story:
Please SHARE This With Family and Friends