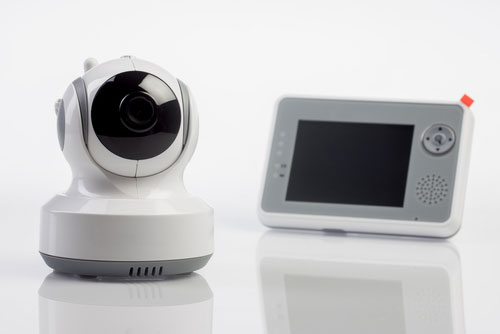 image via – shutterstock.com
Some people dream of being a mother their whole life.  Ever since Bernita Roger's was a little girl she had looked forward to the day when she'd have children of her own to raise.  After marrying her high school sweetheart Roy, the two set out to become parents. However, the couple struggled and their dreams of starting a family were crushed after Bernita suffered a series of miscarriages.  
After all the heartbreak Bernita set aside her plans of being pregnant.  She decided that for the time being she would adopt, not a baby but instead a pet.  Feeling depressed, she just knew that having a furry animal companion was what she needed in her life and was set to go look a puppy at the local shelter.
Before she could even go to the animal rescue center fate stepped in.  Bernita was out in her garden one day when a black cat appeared and started to rub against her legs.  The friendly feline was a stray but not for long because she fell in love with the kitty and adopted him on the spot.  She brought the cat inside and ended up naming him Midnight after his shiny black coat.
Soon after Midnight had joined the Rodgers family Bernita and Roy learned that she was pregnant again.  The unplanned pregnancy was a blessing and nine months later a healthy baby girl named Stacey was born. When Midnight first met the new baby it was love at first sight and he was always close by.
The new parents were extremely protective of their little miracle baby and watched over her closely.  When Stacey was just 6 weeks old she suddenly became ill and after checking her out a pediatrician told Bernita it was just a common cold.  She took her baby home and had put her down for a nap when Midnight suddenly started acting very strange. He kept pawing at her legs and seemed to be trying in vain to get her attention, but she brushed him off thinking not much of it.  
Midnight ran away and moments later she heard him screeching and crying over the baby monitor.  His strange moans sounded terrible and scared Bernita who jumped up and quickly ran to the baby's room.  When she got there, she found the cat near the crib and when she looked in to check on Stacey, she noticed something was terribly wrong.  The baby was struggling to breathe and starting to turn blue.
Bernita and Roy rushed baby Stacey to the hospital and because of their quick action doctors were able to save her after she went into full respiratory failure.  If not for Midnight's insistent crying alerting them to the dire situation, she may not have been so lucky.
Midnight's story was shared on YouTube and it brought a lot of media attention and interest.  Even Oprah Winfrey contacted the couple and they made an appearance on her show. As for Midnight, he and Stacey are inseparable, they're each other's best friend, and he's always by her side.
Watch the video below for the full story:
Please SHARE This With Family and Friends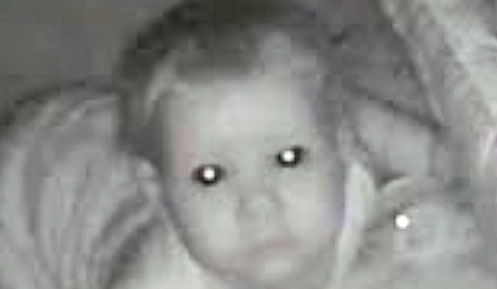 image via – youtube.com
In today's world technology surrounds us in every corner of our life. From our smart phones, smart tvs, computers, alexas, video games, apps, bluetooths, wifi and everything else that comes with modern technology it's hard to ignore. Sometimes we get so caught up in all the new flashy bells and whistles of a technology that we forget what life was like before tech took over. For the most part, the technologies we use everyday are there to make our lives easier however, sometimes they can turn on us and make our lives 1000's times more difficult.
In today's highlighted story we will focus in on a couple from Cincinnati, Ohio who had just had their first baby. Like many new parents in their position they went ahead and purchased a brand new state of the art baby monitor so that they could make sure their little toddler stayed safe. Many parents also feel guilty leaving their child alone so the baby monitor is a great tool to have so that even when you aren't physically with your baby, you can keep track of them while you do adult stuff.
Also, many toddlers can be a tad mischievous as they are just learning to walk around and their minds are analyzing and trying to understand everything in their new world. While this is a completely and healthy behavior for a toddler, sometimes this curiosity can lead accidents.
One evening, mom and dad put their baby to bed. They tucked her in tight, read her some bed time stories, sang some lullabies and the baby peacefully fell asleep. They then went into their room to get some much needed rest before work the next day. Little did they know something unthinkable was about to occur.
The couple was super exhausted and fell asleep just as their head hit the pillows. Then, the mother woke up an hour or two later because she heard a strange sound on the baby monitor. Being that she was half asleep and a bit out of it she though it was probably just daddy checking on the baby. But when she turned around in the bed she saw her husband peacefully sleeping in dreamland.
Then the sound stopped for a minute or two and she honestly questioned if she was dreaming or possibly even hallucinating. After about two minutes the odd noise was back but it was much more clear this time. She distinctly heard the words 'wake up baby' through the baby monitor! Her heart dropped into her stomach in pure fear, the hair on her arms stood up and she was shaken to the core of her soul.
She rolled over and began shaking her husbands shoulder to get him up immediately. She told him she believed somebody was possibly in the babies nursery because she had heard a super creepy voice over the monitor. On their phone app one of the great features is being able to control the video pans and audio levels inside the babies room.
They looked at the monitor in the room from their baby monitor phone app and saw that nobody was in the room with the baby girl.  They felt a sense of relief, however the camera then moved without either of them touching it. The camera was panning and swinging shots wildly all around the room….
Now they knew something sinister was definitely going on inside the baby's room so dad jumped out of bed as fast as he could and sprinted to the nursery. When he got in there again felt a sigh of relief when he saw his darling baby girl fast asleep and no stranger was in the room with her. However, seconds later the baby monitor camera focused in on dad and began aggressively speaking to him, saying disgusting things and many profanities.
Dad quickly ripped the baby monitor out of the wall and smashed it into the wall. He had no clue what was happening but he wasn't about to take any chances…. What was happening? Who was this man speaking to him and his child? How would this ever even be possible? He had no answers, but then they would soon find out the bone-chilling truth..
Watch the video below for the full story:
Please SHARE This With Family and Friends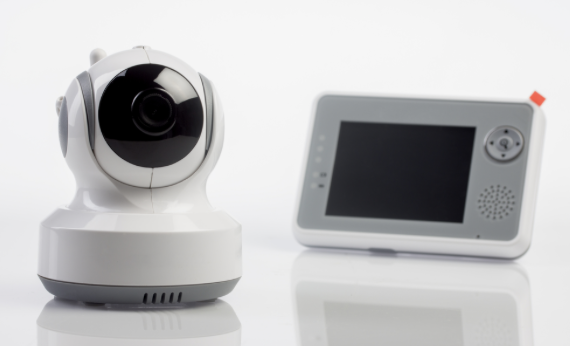 image via – shutterstock.com
You would think that having a baby monitor, that has a camera, would make life easier for parents of young children.  Not so, says the parents of a 3-year-old boy in Washington.  The little boy kept complaining that some stranger was talking to him through the monitoring device.
His parents, Jay and Sarah, were confused about what he could be talking about.  Soon their confusion turned to horror as they discovered that their toddler was being spied on by a stranger who had hacked the monitor!
CBS News reported on this in the upcoming video, where you will actually hear the intruder speaking in a really creepy way to this scared child.
Sarah discovered this when she walked into her son's room and heard a voice say, "wake up little boy, daddy's looking for you".  Later on,  Jay heard the same voice coming from the monitor continue, "look someone's coming", as Sarah entered the room.
Needless to say, both parents were alarmed and became more frightened when they noticed that the night-vision lens was being controlled by someone to follow their movements.  They immediately contacted the manufacturer of the monitor, Foscam, who informed them that it was more than likely someone had hacked their monitor using a smartphone app or computer.
They have shared this terrifying experience anonymously, to alert other parents of this danger.  CBS News confirmed, that due to the fact that monitors come equipped with internet and smartphone connectivity, this type of crime is occurring more and more frequently.
Watch the video for further description of this incident, and what is recommended to keep hackers from being able to access your baby monitor.
Please Share This Story With Family and Friends