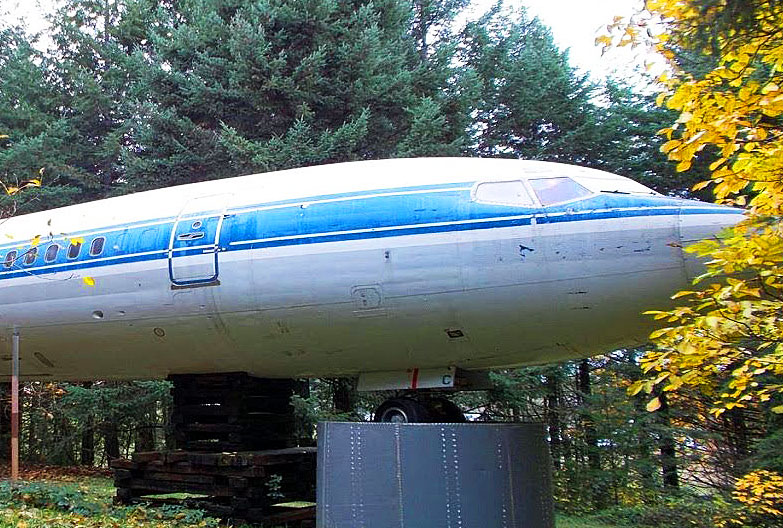 image via – youtube.com
Many people want that nice colonial house, in the burbs with a well mown lawn and a perfect little white picket fence. While others prefer more; shall we see exotic shelters that are completely unique, creative and many times out of this world! I myself am somewhere in the middle, I'd like the nice comforts of a small town, or maybe even a small city, but at the same time I could see myself going off the grid living in an old in one of the houses from the tiny house movement! Anyway with all that being said, this brings us to today's fascinating story which features a unique man named Bruce Campbell age 66, citizen of planet earth..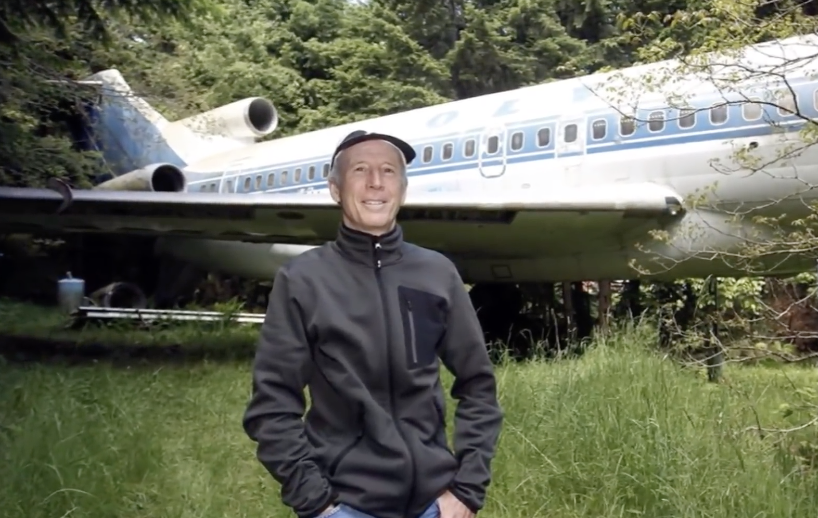 Bruce spent the greater portion of his life as an engineer before he retired a few years back. Ever since his retirement he's found himself with a lot of extra time on his hands. He wasn't sure what he was going to do after he retired but after many hours of contemplation he came up with up with an idea.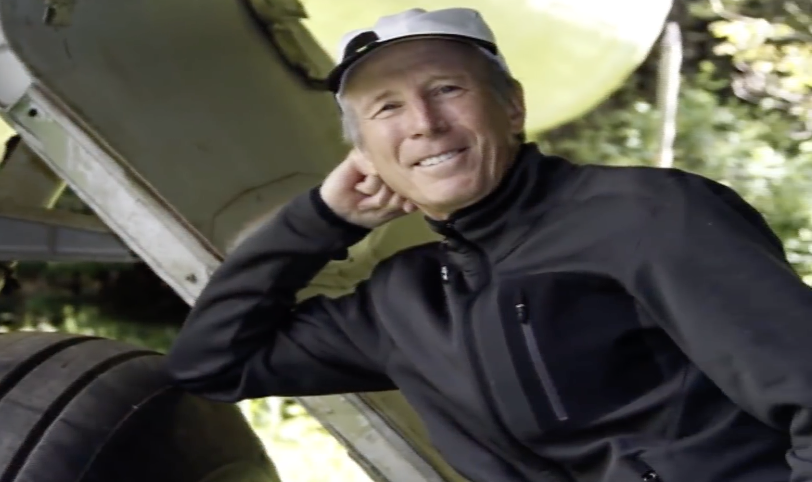 Bruce has pretty much always been obsessed with airplanes ever since he was a kid. He owned a plot of land he bought many years prior, now he just needed to find the cashflow to get an old retired plane that can't fly anymore. He pursued his goal and ended up purchasing a Boeing 727 Jet Airplane for $100,000! Seems like a good deal? Maybe I'm not really familiar with old, none functioning plane prices…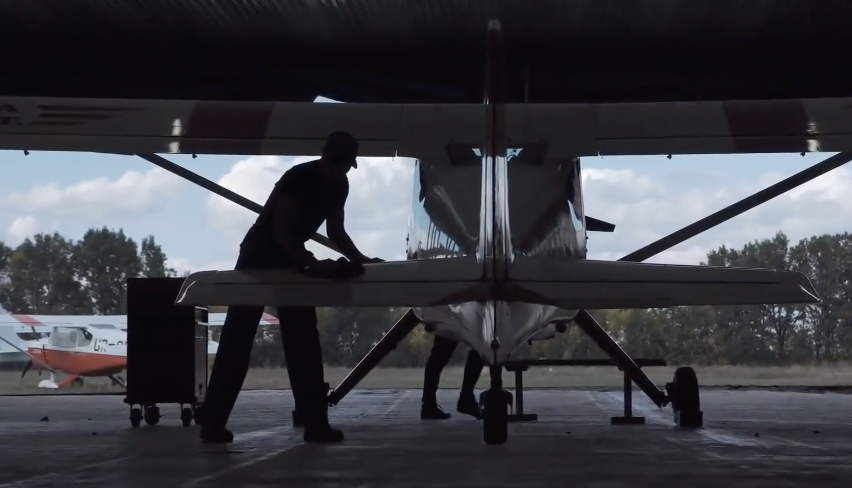 The easy part had been accomplished. Bruce was now the proud owner of a broken down Boeing 727 that will never fly again. But now the hard part was just beginning…. Bruce had to somehow get the plane from the place he bought it from and transfer it 1000's of miles into the lush forests of Oregon.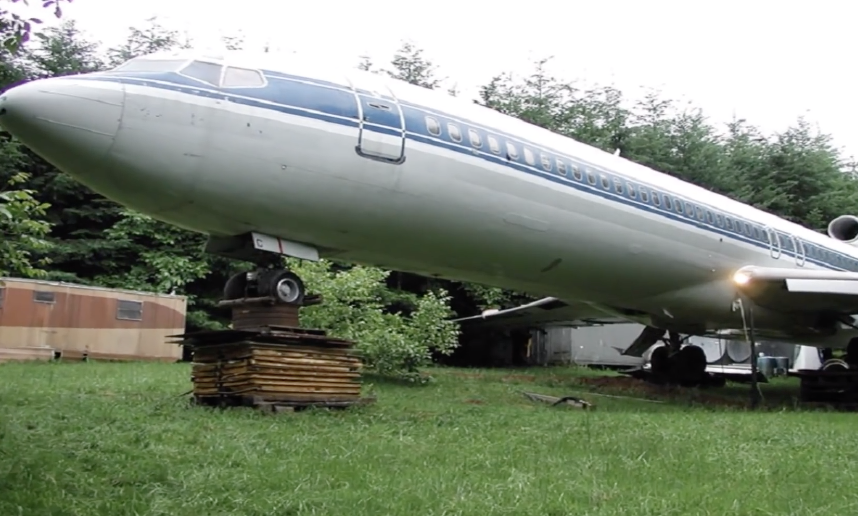 Somehow Bruce figured out how he was going to transport the big plane. The only problem was, this transportation job was going to end up being more expensive than the 727 itself! At this point he was so zoned in on his goal of having his airplane dream house in the middle of the forest was happening no matter what the cost! For those of you interested the transport alone was $120,000!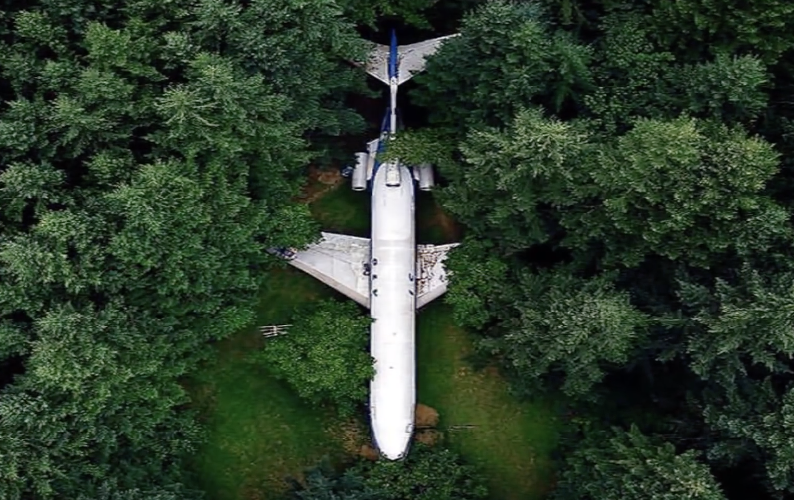 So now he found himself with an empty plane in the middle of the woods and he was already $220,000 deep into this once in a lifetime project. He initially thought he could get it done from start to finish in a year…. However he completely underestimated the complexity of this job. It took him years of planning, he was going to make sure everything was perfect…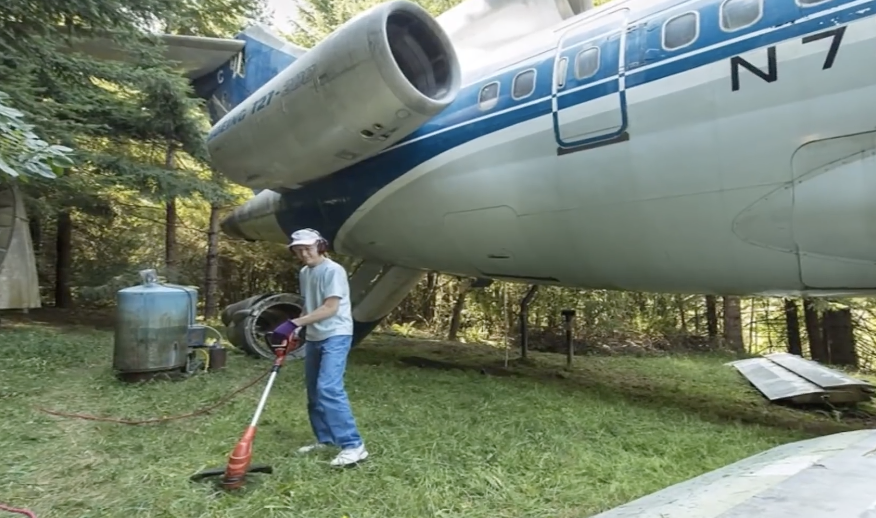 Have a great day!
Please SHARE This With Family and Friends
——————————————————————————
IF YOU FOUND THIS STORY INTERESTING — KEEP SCROLLING FOR MORE OF OUR HANDPICKED FEATURED STORIES OF THE WEEK..
——————————————————————————
Every Time This Spoiled Bunny's Human Stops Petting He Throws The Funniest Hissy Fit: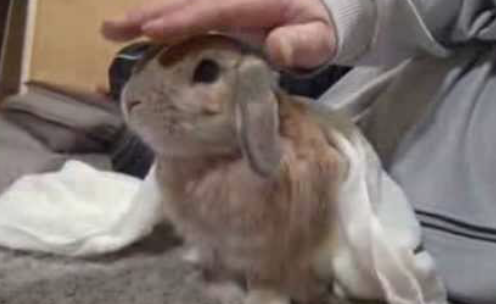 image via – facebook.com
Some animals know exactly what they want and oftentimes they enjoy receiving a nice, gentle, relaxing hand massage from their human companions. It's no secret that many of our furry pets love to be pet, which may be why we call them "pets" in the first place. Or maybe it's the other way around, and we call it petting because they are our pets. Whatever the case may be, lots of animals simply love being stroked and scratched. They usually have a sweet spot where they especially like being rubbed. For cats it seems to be around the cheeks, dogs like their ears and back scratched, and then there are some pets whose sweet spot is everywhere and anywhere.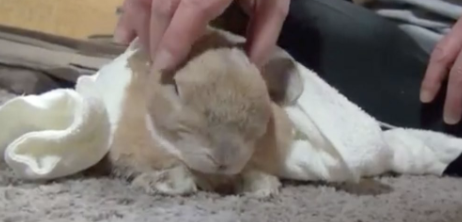 The little bunny in this video seems to fall in the latter category. From the looks of it he likes being pet all over, especially down his backside. The man in the video gently strokes his ears, nose, cheekbones, temples, head, and back, while the bunny twitches his nose and sits with a content expression on his face, his body completely relaxed, at ease and perfect peace.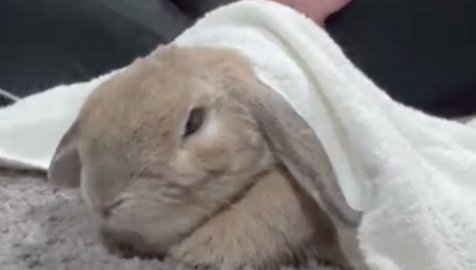 When the man stops petting him the bunny is clearly not happy about it. He stamps his furry little paws and lets out adorable growling sounds in protest. It might just be the cutest behavior I've ever seen a rabbit do! At one point the furry little guy searches for more pet-pets by crawling under the man's hand, urging him to resume the mini-massage that he so rudely ended. This bunny knows what he wants and he's basically telling the man through his grunts, growls, and foot thumping that he is not pleased the cuddle session ended!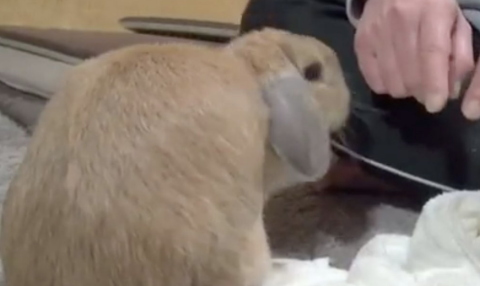 Contrary to popular belief, lots of bunnies love being pet and shown affection. The areas they most enjoy being pet is on their head and down their backside. Many often like their dewlap, the roll of skin underneath their chin, scratched and rubbed, but some don't like this at all. The bunny will let you know whether or not it's enjoying the attention. When they purr, chatter their teeth, flip flop over, and close their eyes it means they like it and if you stop and they poke your hand with their head it means "don't stop, keep petting forever!"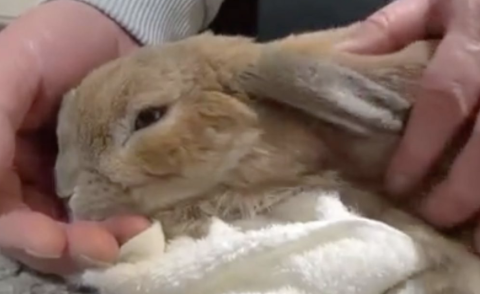 Rabbits and bunnies are very expressive, you just have to know how to read them, and over time you become familiar and accustomed to an individual one's behavior. Like every other pet in the world, they have their own distinct quirks and personality traits…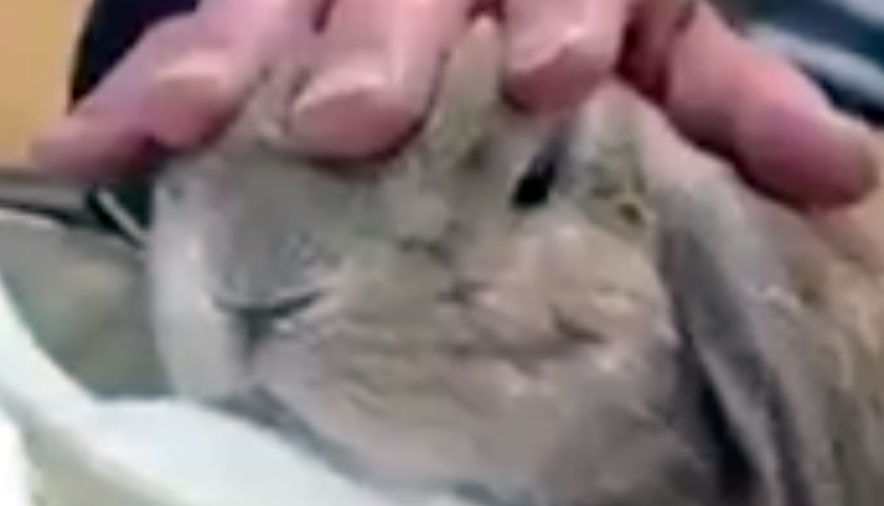 The cute rabbit in this video has certainly bonded with his human friend as he feels comfortable demanding the man do what the lil bunny wants him to do. The little cutie looks so happy being pet and snuggled in his blanket, and if that can't put a smile on your face then I don't know what will. Enjoy this lil' fussy bunny and his adorable antics. It sure. brightened my day.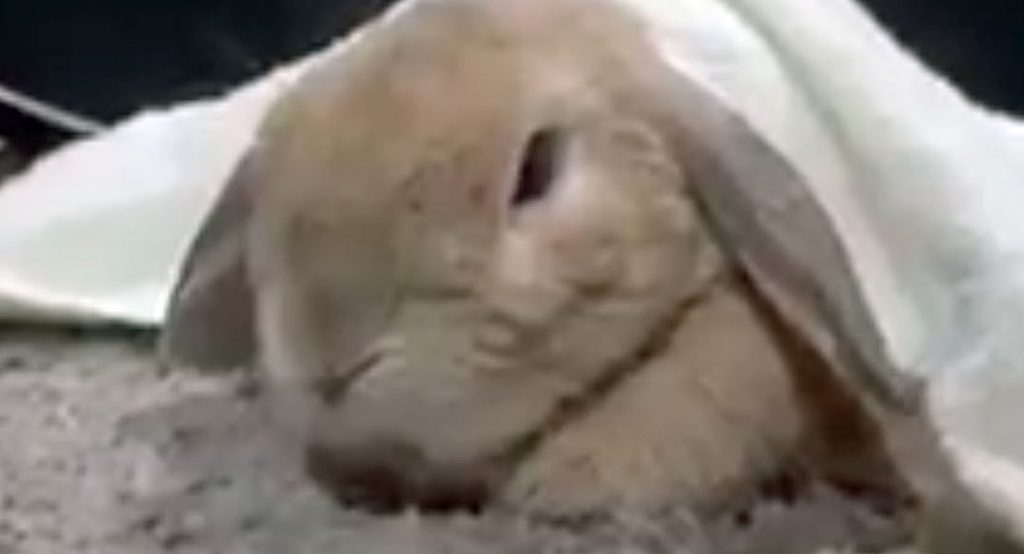 Pass This Adorable Bunny On To Your Friends and Fam
In our next featured video of the day take a tour of The Château de la Mothe-Chandeniers which was built in the 13th century and has remained untouched since 1932: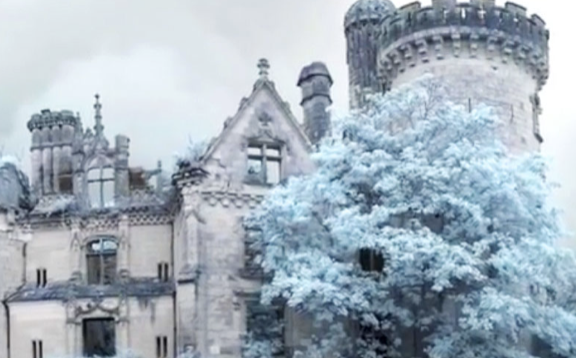 image via – youtube.com
When you think of a castle you likely imagine a sturdy, imposing fortress that was built from stone and surrounded by a water-filled moat. After all, castles were purposefully constructed to keep people safe and protected inside their walls. They are what stood between everything from marauding enemies to wild beasts and the destructive forces of mother nature. Castles were meant to be strong and had to be able to withstand long, drawn out, aggressive sieges. In later years they took on a more extravagant role and today they are seen as dreamy, fantasy-like places, filled with magic and romance.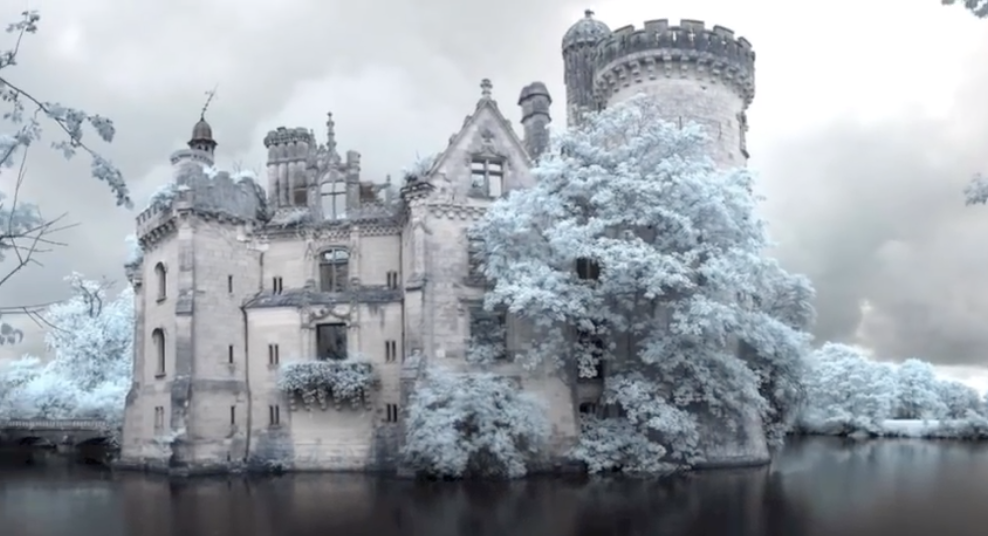 The abandoned castle seen in this incredible footage is called Château de la Mothe-Chandeniers and it looks like it comes straight out of a Disney movie. The beautiful ruins are located in the town of Les Trois-Moutiers, in the west of France. For centuries the majestic castle has sat in the middle of a heavily wooded area, surrounded by a water filled moat, imposing and elegant all at once.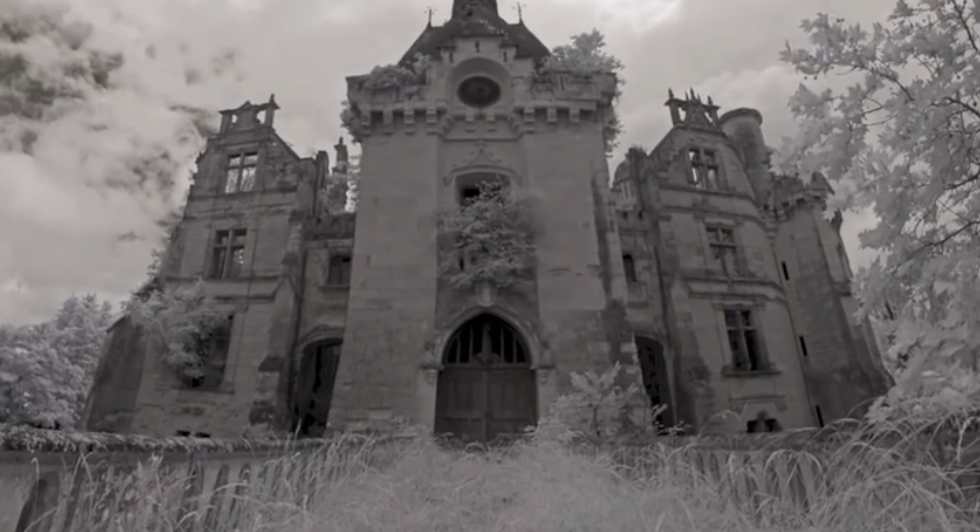 Today it is being left to slowly fade away back into nature, yet despite the years of neglect, the castle still looks like it's fit for royalty. All that it needs is the right owner or group to step in and restore it to its former glory. To truly understand the amount of detail and thought that went into constructing this castle, you need to take the video tour because it's the only thing that gives it justice. You can feel and sense all of the tragedies and triumphs this castle has borne witness to.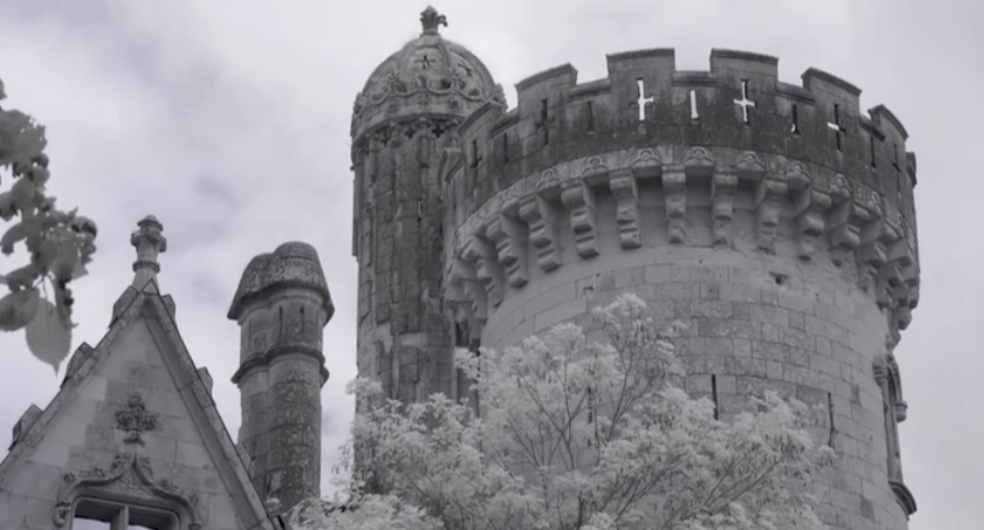 It may have been overtaken by nature and seemingly forgotten about, but if these walls could talk they would tell tales of epic battles and grand celebrations. Be sure to check it out and take the tour, here's more on the history of the Château de la Mothe-Chandeniers.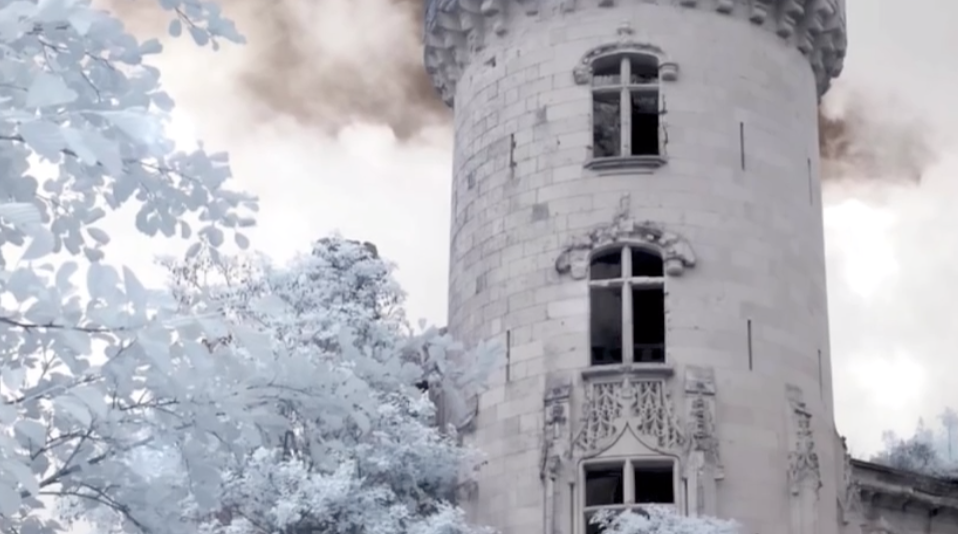 First and foremost, the castle is filled with history and has quite the tumultuous past. It dates back to at least the 13th century and was originally built as a safe haven for the notable Bauçay family, who were lords of Loudun and answered directly to the king of France himself. Over the following centuries the castle was overtaken twice by English forces during the middle ages before it was eventually given back to the French.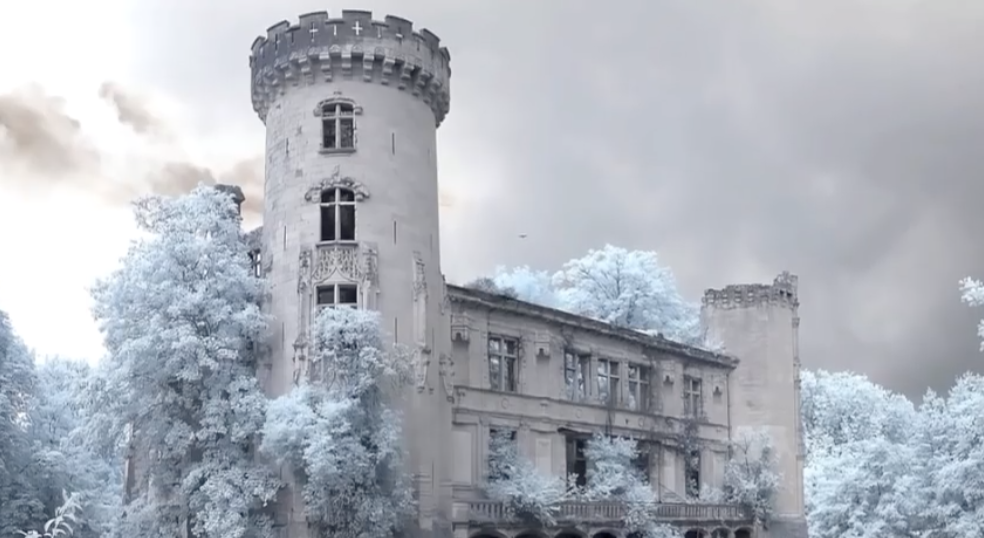 After being restored it went on to become a very popular place where nobility gathered for magnificent galas and lavish, extravagant, over the top parties. The good times didn't last long though and during the French Revolution the castle was once again destroyed after being sacked.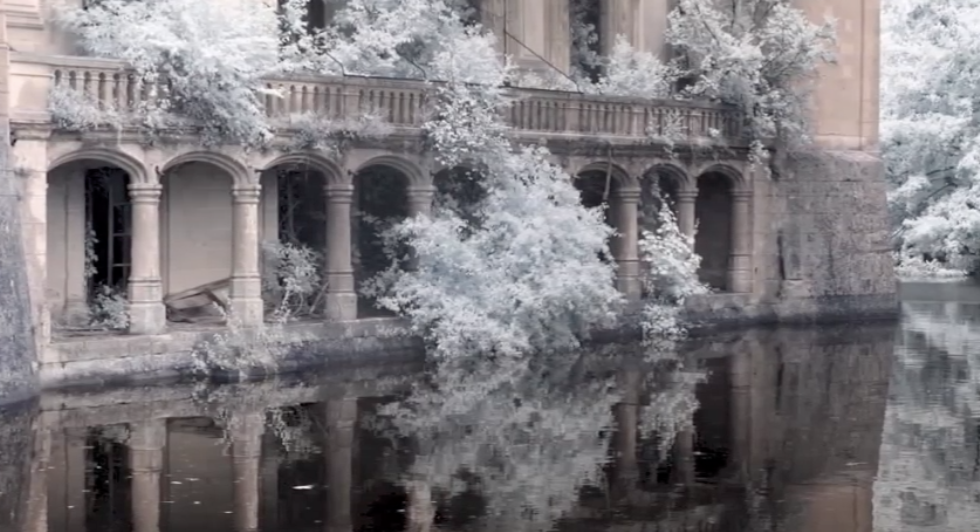 There it sat for some ten years or so before a well-heeled businessman named Francois Hennecart bought the property with the intent to once again restore it. He managed to add a vineyard but in 1857 it was taken over and passed on to Baron Joseph Lejeune, a wealthy relative of Napoleon III. He rebuilt the castle extensively in the romantic style that was popular at the time and continued on the tradition of holding lavish parties.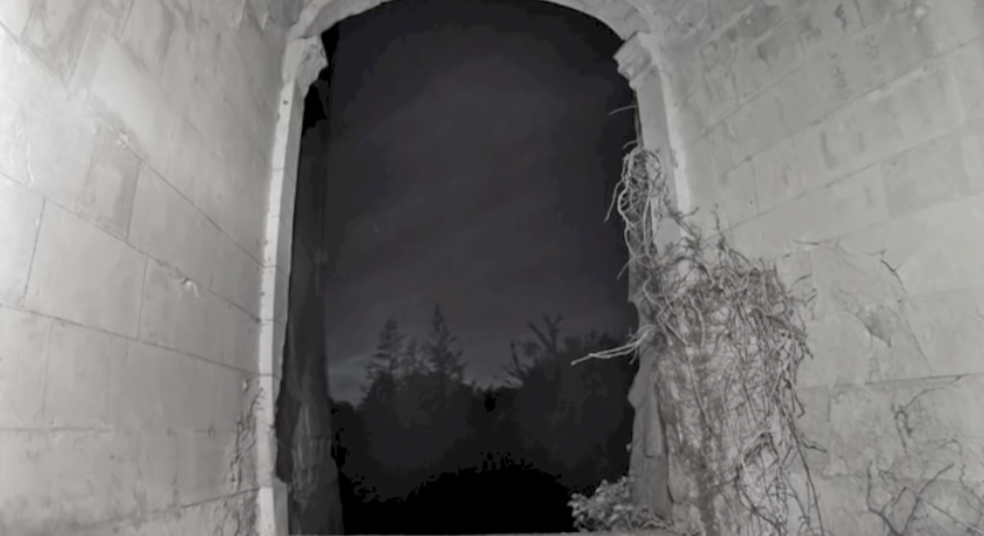 It was during a subsequent renovation in 1932 that the castle succumbed to its latest major setback and ever since then it has sat vacant. At the time, the current owner had been installing central heat and somehow a fire was sparked. The resulting damage not only devastated most of the structure, numerous rare pieces of art, furniture, tapestries, books, and paintings were sadly destroyed as well and lost forever.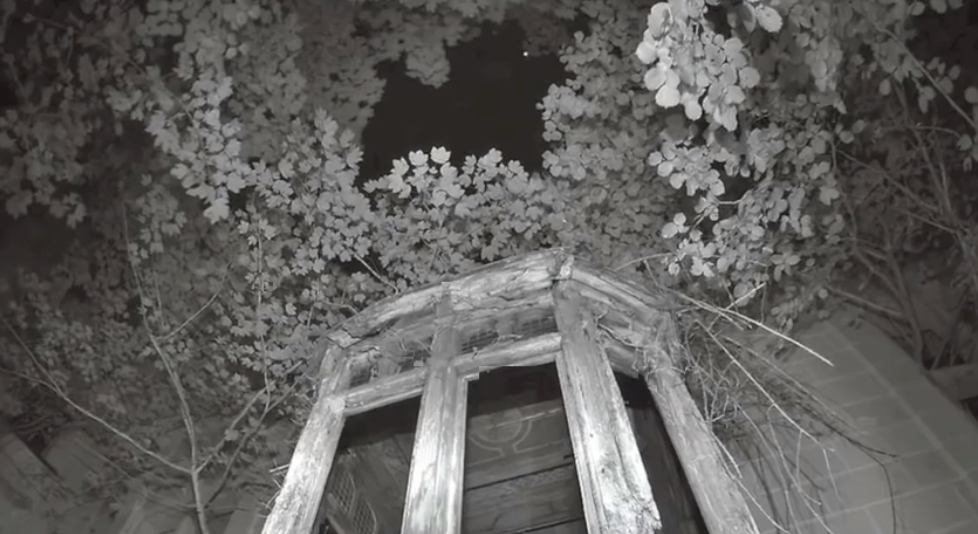 In recent years there have been a number of efforts to restore Château de la Mothe-Chandeniers, but it seems that everyone who tries gets railroaded into giving up. Hopefully a preservation society or some group can step in and help to rebuild it because it is a seriously beautiful, magically impressive castle that deserves saving.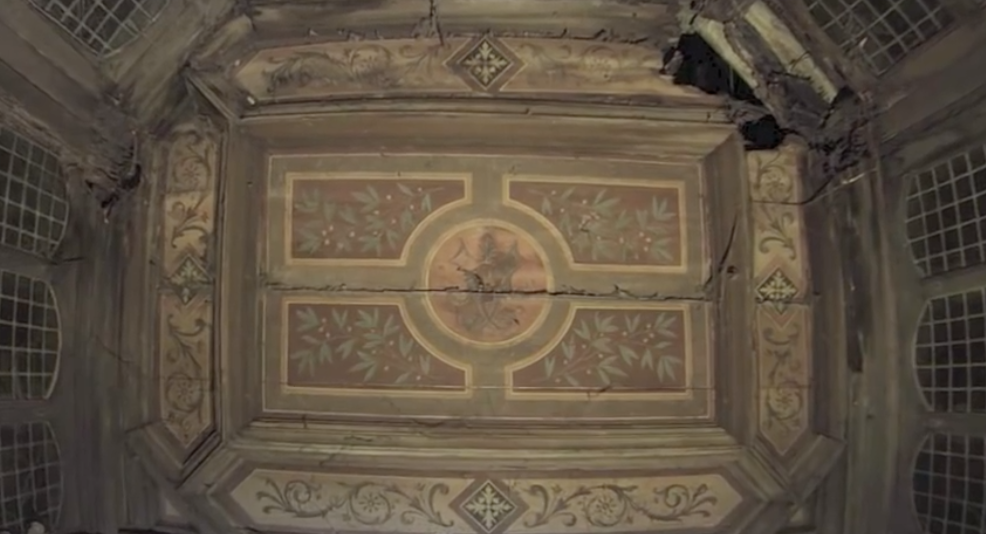 Have a wonderful day!
Please Pass This On To Your Family and Friends
In our next featured video we have handpicked one of our favorite houses from the 'Tiny House Movement'. This house may only be 140 Square Feet but it is so nice inside and out: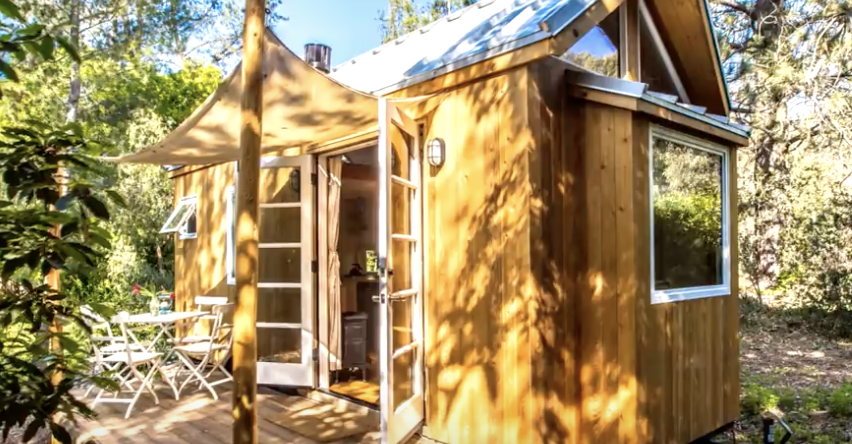 image via – youtube.com
The tiny house movement and lifestyle that embraces simple living in small spaces has grown immensely in recent years. People from all walks of life the world over are trading in their big open homes for much more modest ones. Many are attracted to the low cost of constructing, maintaining and living in these homes.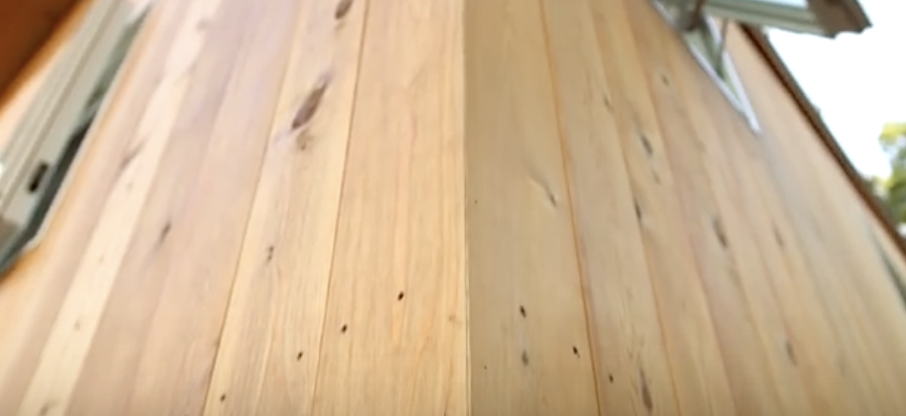 Others prefer the freedom they can often provide by being mobile or easily moved. In some places they have even become a popular option for housing the homeless. With such versatile and ever expanding uses its easy to see why tiny house living has become so popular.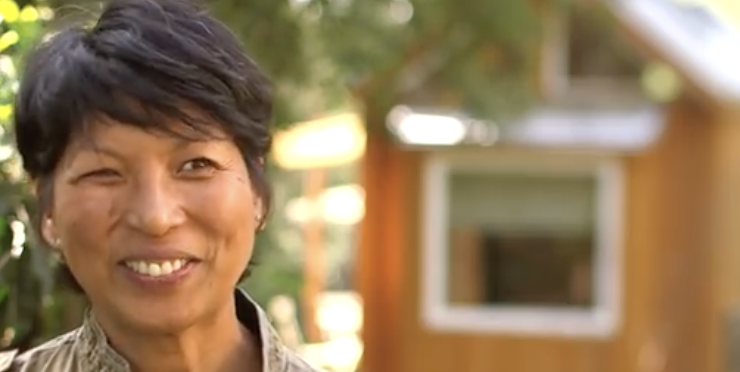 A video uploaded by YouTube channel HouzzTV gives an inside look at one woman's beautiful 140 square foot house for all those curious as to how these houses can look and what they fit. The tiny residence is located on a 1 acre lot in Ojai, California where owner Vina Lustado chose to permanently settle down.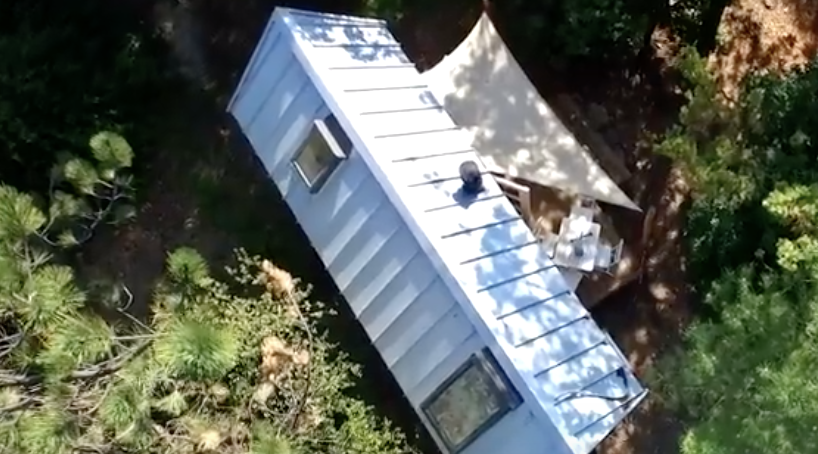 The house was constructed on a trailer with wheels so that it's classified as temporary housing in order to comply with state law that requires permanent living units be at least 600-700 sq. feet. All of the electricity is supplied by four batteries which are fed by three solar panels and a 7 gallon propane tank fuels a fireplace, stove, and hot water heater.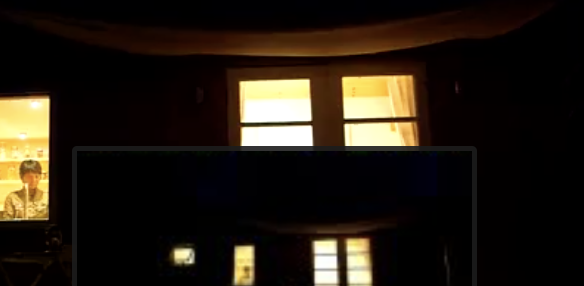 Inside, the space holds a built in desk, sofa, and loft. There are lots of neat floor to ceiling storage solutions that allow much more to fit than you would expect. Sturdy butcher block kitchen counter tops double as work space and a small refrigerator sits under them.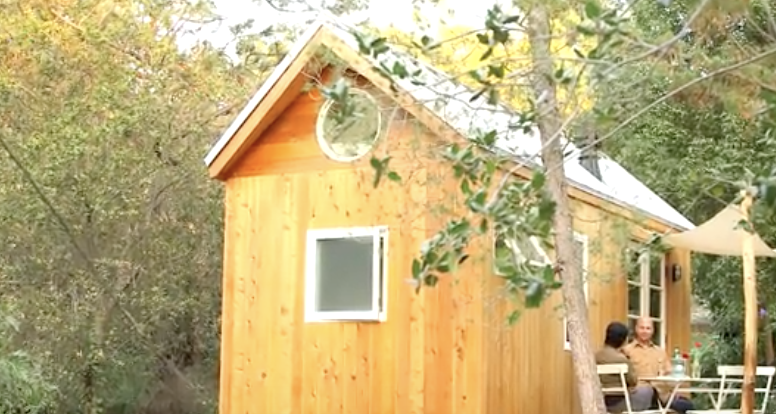 A skylight in the sleeping loft lets in natural light and can also act as a fire escape in case of emergencies. A large porch seems to double and expand the inside space outwards and can fit up to 10 people comfortably.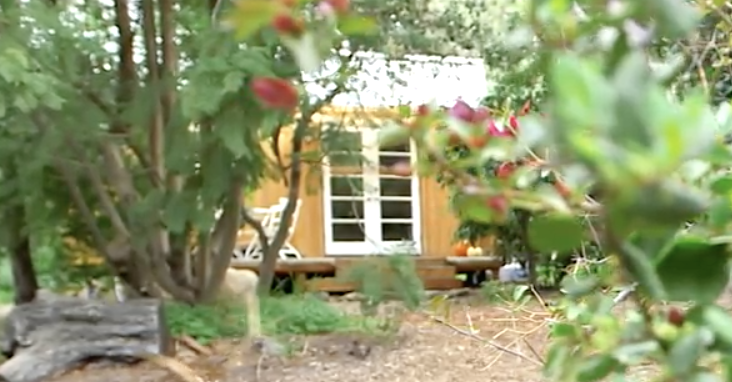 The scaled down house is eye opening as to how little a person actually needs to be comfortable and happy. Vina has fit everything in such a neat and organized fashion that she even has room for guests to sleep over in a lofted area above the desk.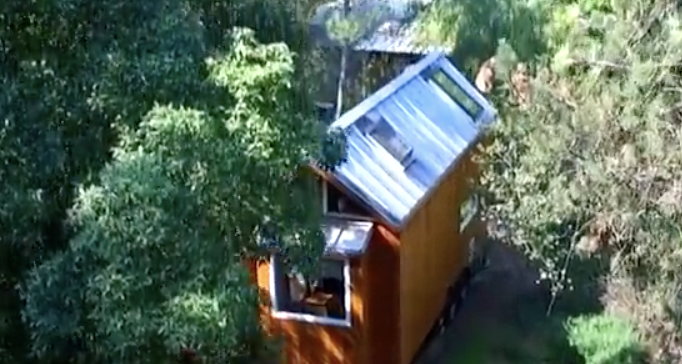 Her micro home sits among a scenic forest, surrounded by beautiful trees and nature. The lifestyle fits exactly what the relaxed and content owner was after, as she says "It's my house. If I move, it will move with me." Would you like to live in a home like this?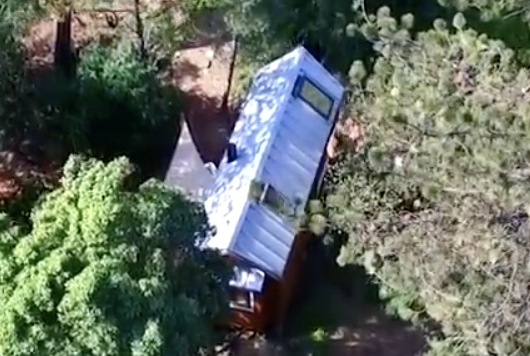 Hope you enjoy this home as much as I did.
Please Pass This On To Your Family and Friends
In our next featured video we found another tiny house built at the top of a mountain completely off the grid. The man who built this beautiful house is a professional snowboarder who wanted to live away from all the hustle and bustle of everyday life and find piece in nature: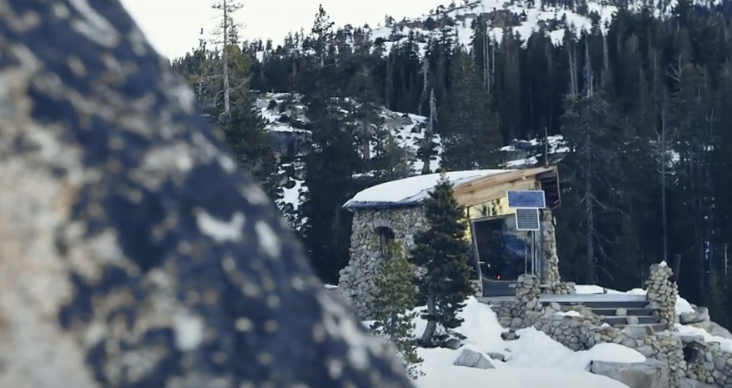 image via – youtube.com
Going Of The Grid is a series on the Seekers Stories network where Laura Ling explores the lives of people who are completely disconnected from the grid. Currently their are over 180,000 Americans a year who are choosing to veer away from the modern internet-focused world in pursuit of something simpler and more sustainable.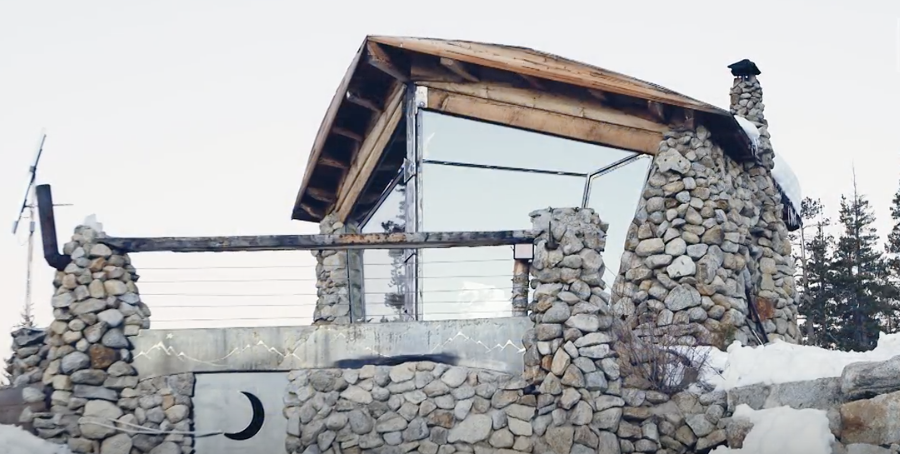 Mike Basich a pro-snowboarder decided to live life off the grid, where he built a tiny cabin on top of a mountain in Truckee, CA. His house is only 225 square feet, and sits in the lap of nature, where he awakens to the sun and goes to sleep to the sunset.  He states that unlike the city life where you are always racing time, here he can be in sync with nature while living a simple life of solitude.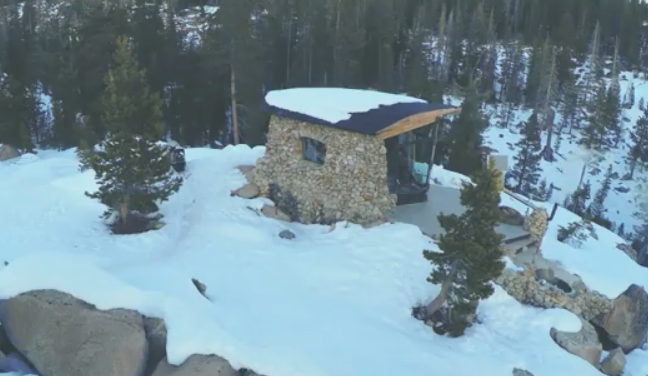 The house does not have plumbing, but does pick up running water from a stream that runs close to his tiny cabin.  The house doesn't have an indoor toilet or a real shower, but he did build a sweet hot tub outside.  The shape of the house is designed through the golden ratio which makes things more pleasant to the eye.  This cozy cabin is absolutely amazing.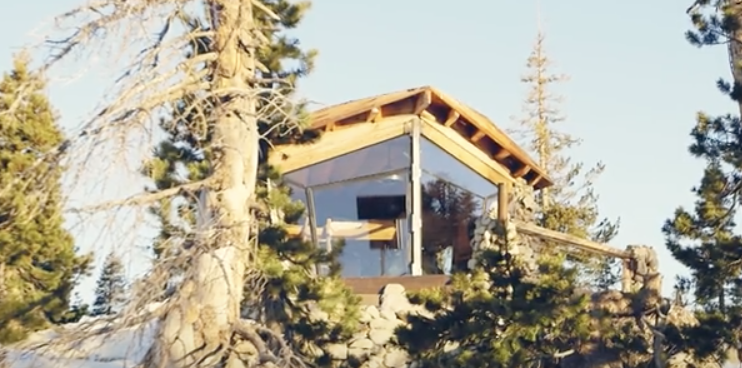 He is inspired by nature and allows it to fuel his creativity through photography.  Living off the grid is a dream that Mike has had since he was a little kid and he is finally living his dream. Would you ever live off the grid, why or why not? What do you think of Mike's tiny cabin off the grid?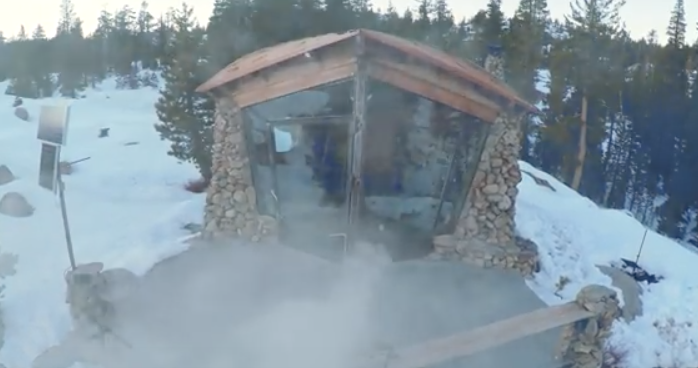 Please Pass This Beautiful On To Your Family and Friends
In our next featured video we found a cave discovered by an artist who decided to be secluded from society for 25 years and transformed this cave into beautiful art and living space.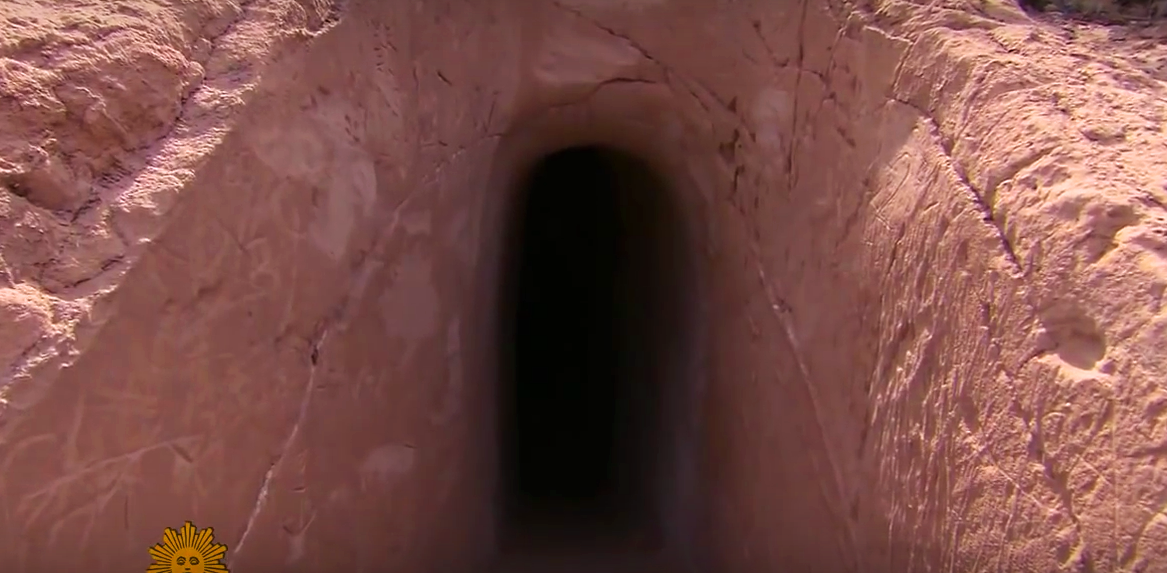 image via – youtube.com
In the high desert of Northern New Mexico, you can hear the sounds of a man entranced in his work underground in a cave.  You will see a small entry that opens into a cavern, where Ra Paulette has spent the last 25 years carving New Mexico's sandstone into magnificent art. He's spent years doing this work with the company of only his dog.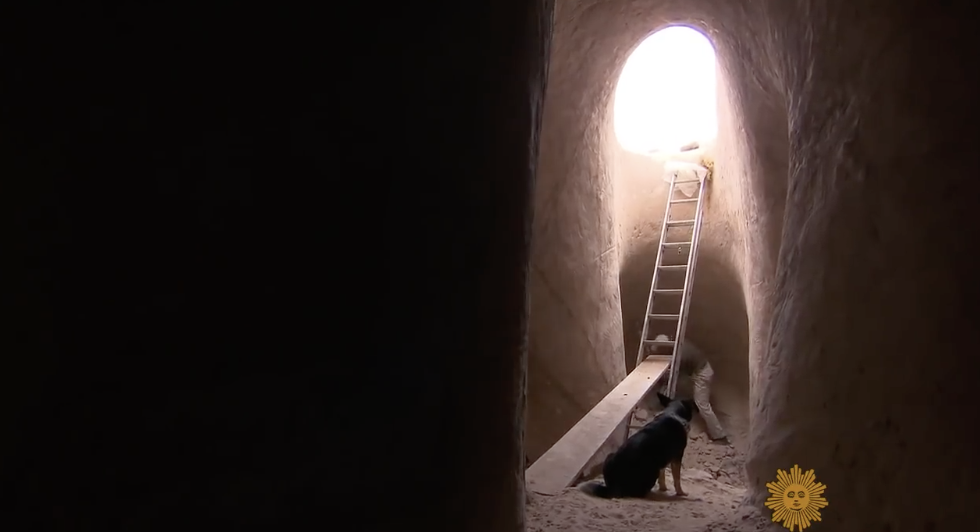 When asked if he is a man obsessed with cave digging, he gives the really thoughtful response: "Is a child obsessed with play?"  He waxes on to say, that when you love what you are doing, you are driven to do it all the time.  He sees his majestic pieces as environmental projects; his goal is to inspire people such that they open up emotionally, in response to the enormity and power of what his carvings evoke.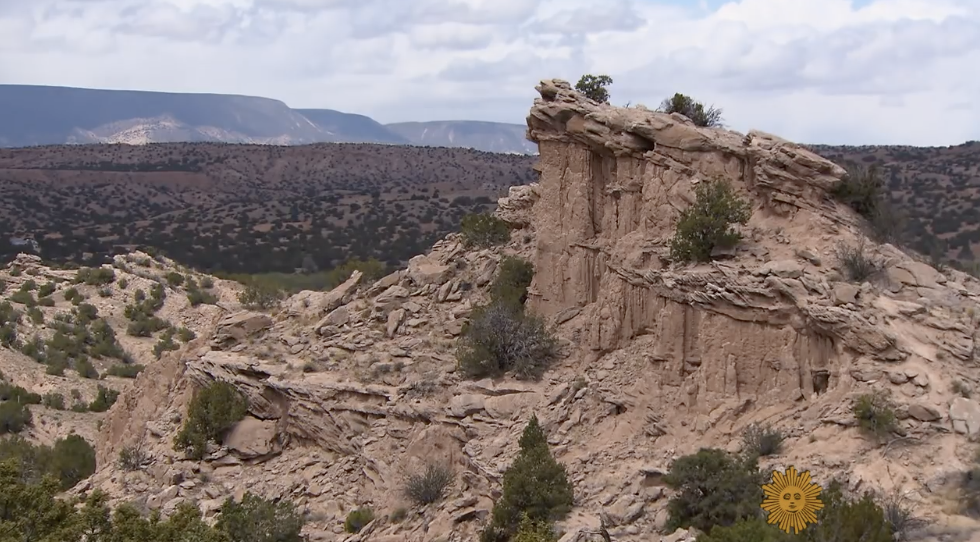 It can be said that he has created magic in the underground caves that he has carved.  They are at once intimate and overwhelming.  Interestingly, Ra doesn't see himself as an artist, but simply as a man expressing his sense of wonder in a passionate way.  I would beg to differ with his opinion that he is not an artist.  What he has created, is livable art of unbelievable power.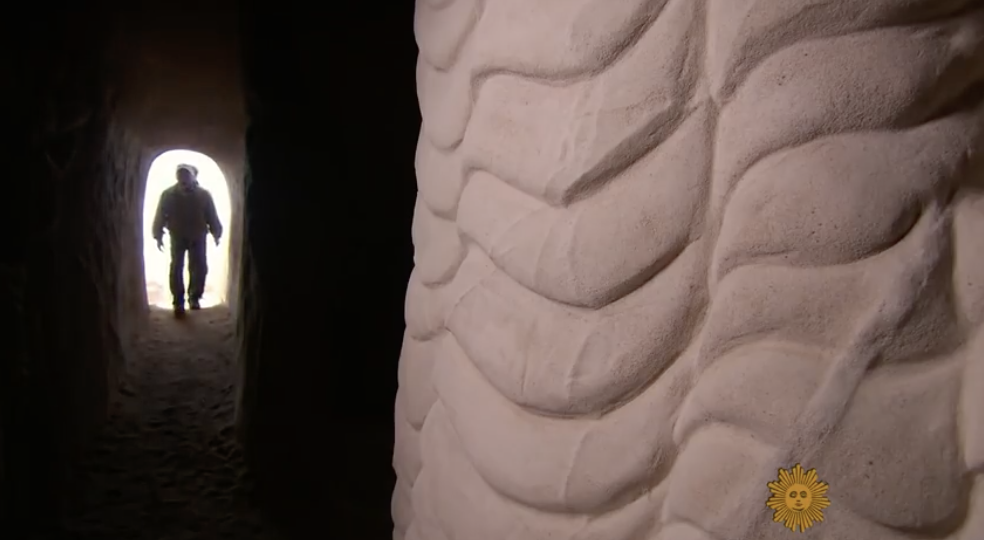 The video you are about to watch tells the rest of his story, and gives you a tour  of his magnificent caves.  Unbelievably, his work had no notoriety until a filmmaker asked to do a documentary about Ra.  Called "Cave Digger", the film ended up winning an academy award!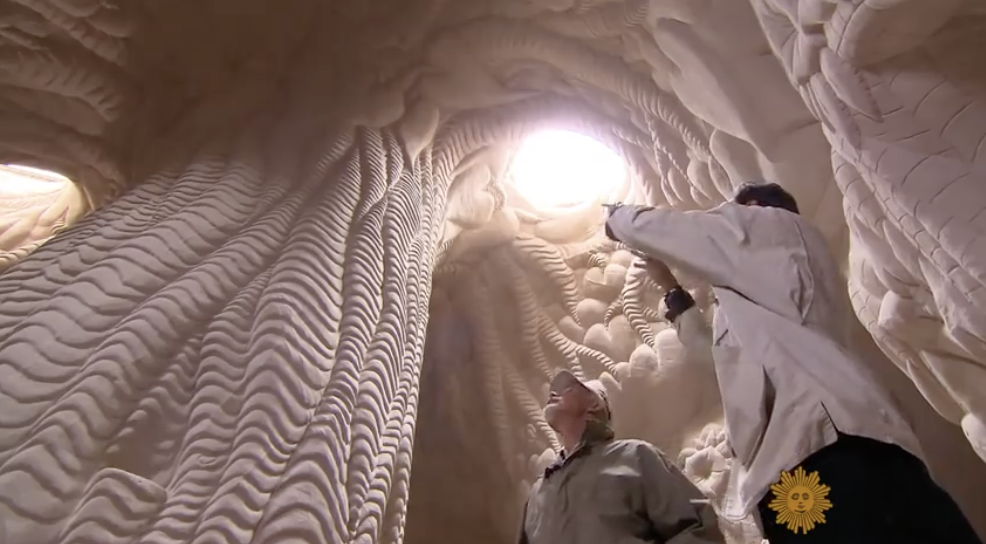 Let us know your reaction to this story of peaceful man who's purpose was a dedication to his craft.  I can guarantee that you are about to view something you have never seen before.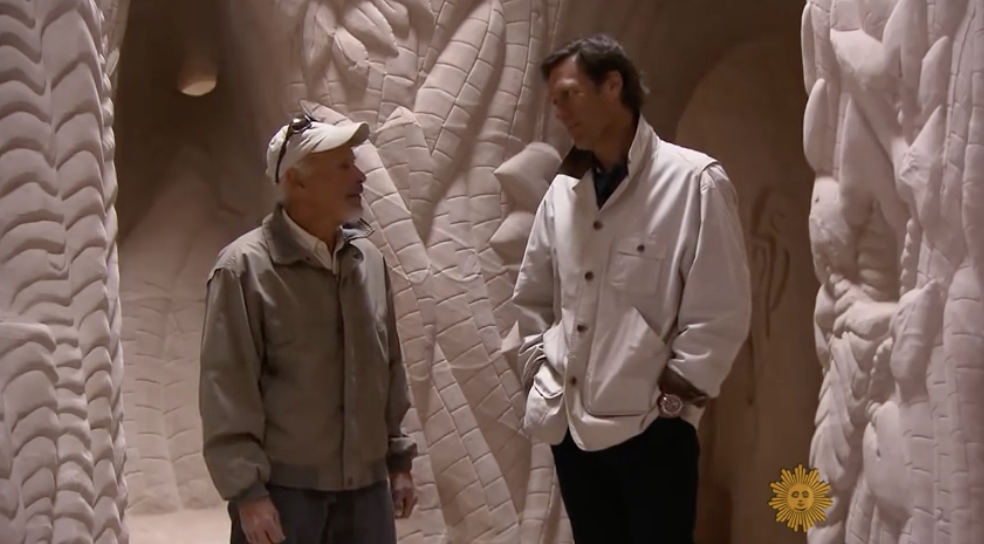 Please Pass This Onto Your Family and Friends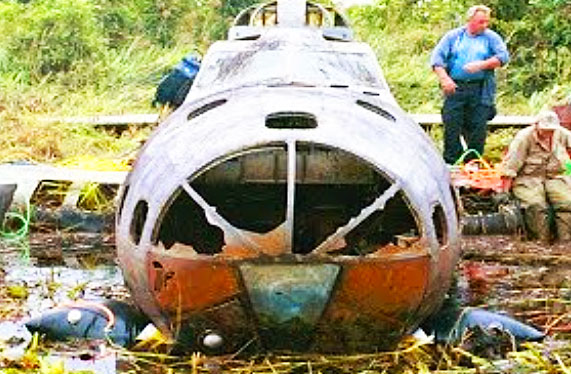 image via – youtube.com
There are so many things on this planet that we haven't yet discovered. Whether it's a medicine found from the venom of a snake to cure and incurable disease, new species of sea life deep in the oceans, new ideas that will change the world forever, incredible technologies exc..
Some people by nature are just curious and love to find things that haven't been discovered yet.  The thrill of the hunt and finding out the truth about something that no one has yet known about can be a huge factor that drives these very special individuals.
This brings us to today's incredible story. We are featuring a very briliant and wealthy resturant tycoon named David Tali. He owns and operates many restaurants all over the world and is well known in the restaurant community. He is also a veteran who served his country during World War 2 as a copilot.
After the war is when his restaurant life would begin, but because he had been a pilot he was pretty obsessed with planes for his entire life! As his restaurants were all extremely successful and he was making big money he was able to start his own airplane collection! His favorite hobby was buying old broken down planes and restoring them back into pristine condition. However, in this story David discovers a mysterious abandoned airplane in the middle of the jungle! According to David this incredible find is his number 1 most important achievement of his life..
As his money grew his love for planes expanded even further. He not only wanted to just buy planes from people he wanted to hire a team and map out places where abandoned planes could potentially be found. After his team was hired and did their homework they believed there was a pretty good chance that one of these planes could be located in in the jungles of Papua Guinea.
David and his team quickly booked their flights and headed out to their destination. He would need this team to help him navigate through the jungles so he wouldn't end up getting caught out there alone. He wanted to avoid a tragedy at all costs so he made sure this team of experts were the most exceptionally qualified candidates for this hidden treasure adventure.
After they flew out and began searching through the deep and unforgiving jungles of Papua, New Guinea they found the plane they were looking for within only a few short days….
Watch the video below for the full story:
Please SHARE This With Family and Friends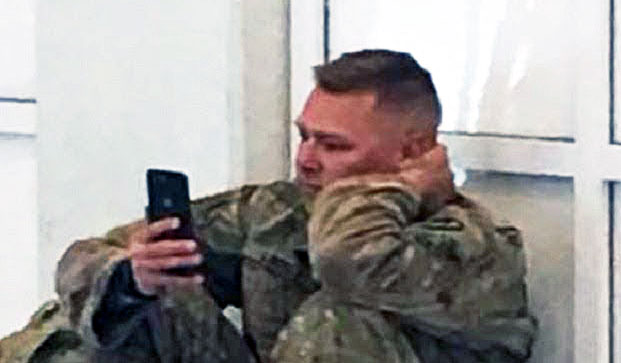 image via – youtube.com
Most of us can't really understand or appreciate the complete magnitude of what the soldiers in our country sacrifice day in and day out for us. These great men and women truly deserve to be celebrated for what they do. Not only do they all leave their family and friends when they are on active duty, but they miss out on the important events in life, such as their child's first steps, their wedding anniversary, their jobs or even the little things like a Sunday afternoon BBQ.
They are out there in the trenches sacrificing their bodies and m,any of these men and women never make it back home alive. Many are permanently wounded physically and mentally and suffer from all sorts of mental illness such as anxiety and PTSD.
Today we focus in on a great story featuring an active duty soldier named Brooks Lindsay. At the time he was deployed, his wife was pregnant and the date was set for their baby girl's birth. Brooks set up his schedule that he could fly back home from deployment 14 days before her actual due date just to make sure he didn't miss the big moment when his daughter would be born!
Like most stuff in life, things tend to not go exactly how you plan them. As the due date drew closer, his wife began to realize something didn't feel right. She went to her doctor who did an exam and realized she and her soon to be daughter were suffering from preeclampsia under a heavy load of stress! This set off a domino effect of changes, which would ultimately lead her to an induced labor 14 days before the planned date.
Remember, Brooks was thinking ahead and wanted to make sure he didn't miss this moment and also be there to hold his wife's hand, breathe and just support her during the whole birthing process. So as the doctors were inducing his wife's labor, Brooks was trapped at the airport! When he got the news that she was in labor now and the birth was going to happen within the next hour or two he was completely devastated. Luckily his mother jumped into action and was their the whole time giving his wife support during the entire birth.
Not only that, his lovely mother, who happens to be quite tech savvy got him on FaceTime video chat on her phone so Brooks could be their at least in digital form. As the birth proceeded, it began to look like there was a snowball effect of complications compiling on each other. Brooks watched helplessly from the airport wishing he could just jump through his phone and be with his wife and soon to be daughter in the flesh.
Then over the loudspeaker the announcement called for his flight to begin boarding. Feeling even more down now that he would miss the finale of the birth and he wouldn't even be sure if his wife or baby would be fine until he landed. He grabbed his carry on and began walking towards the line to get into the terminal. Then suddenly a voice pierced through the entire airport, "Don't let that man board this flight!"
Upon hearing this obviously the TSA and Airport security and staff immediately went into high alert. But they quickly realized where the strange voice was coming from. It was emanating out of the man's smart phone through FaceTime! It was his wife's doctor who was in charge of her pregnancy and birth. The doctor knew it would only take 2-3 more pushes and the baby would be born, but if Brooks got on that plane he would miss the moment he waited so long to see and experience.
When the Airport Staff realized what was happening and that there was no threat, just an incredible miracle about to unfold. The amazing staff and TSA at the airport did something that is pretty much unheard of in the airline industry…. They delayed the flight to let this soldier watch his baby daughter be born. Word quickly traveled through the airport and soon pretty much everyone who was boarding everyone on the surround flights and pretty much all humans in between were watching Brooks as he stood seated glued to his FaceTime on his phone!
A fellow passenger on the flight named Tracy Dover quickly pulled out her phone and began to record the soldier watching his baby be born. Just as the doctor promised within the next 3 pushes and only a few minutes later the soldier's daughter was born and he boarded the flight.
As soon as the plane landed, he ran to the terminal, grabbed his bags, flagged a taxi and head directly to the hospital! When he got there he was so filled with joy and happiness seeing his wife and new princess healthy, safe and sound.
Around the same time, Tracy Dover the girl who filmed the soldier watching his wife give birth on his FaceTime uploaded it to social media. Within just a few days, the video spread like wildfire and becoming an instantly viral!
Watch the video below for the full story:
Please SHARE This With Your Family and Friends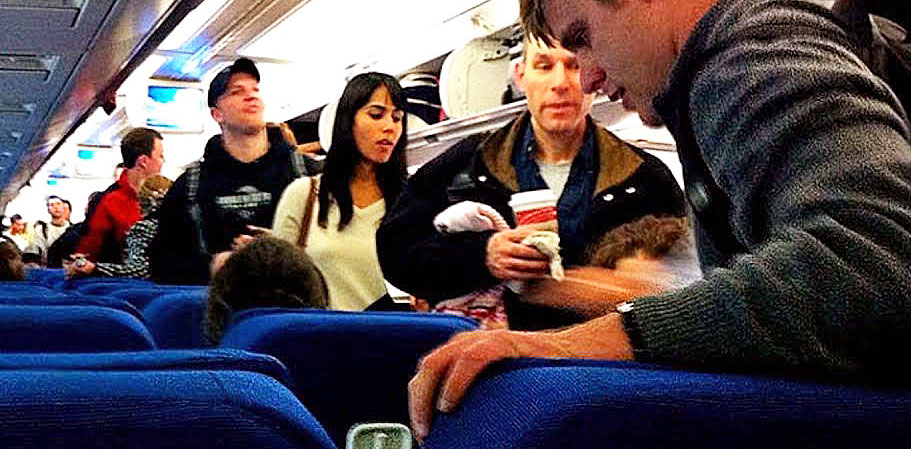 image via – youtube.com
Serving in the military is a sacrifice few make in order to protect the many. These brave men and women risk their lives so that the people back home can have their freedom. Many in the military don't make it back home to say goodbye to their loved ones as they make the ultimate sacrifice losing their life in combat. We sometimes forget just how much these selfless individuals put on the line each in everyday they are out on the battlefield risking it all for the rest of us.
We should all just take a few seconds right now to just really let it sink in how courageous and brave these people are. So many don't get to see their children grow up, or say goodbye to their spouse and parents. Let's all just give them a big thank you for their service out of respect before we get into today's story…
In our story today we feature Jessica a military member serving her country. Everyday as a military officer she put her life on the line to make sure her fellow soldiers and civilians back at home were safe. After this long tour of duty she had just finished up and was heading home for Christmas and the holidays. She missed her family and friends so much and was truly so excited to see all their smiling faces and catch up with everybody.
Although her heart yearned for her loved ones, she knew that serving her country right now was the most important thing for her to do. But now she was more than ready to hop on her flight and get home to all the people in her life that meant so much to her.
Jessica had literally just finished her tour and she booked her flight so that she could head up the same day it ended. She was in such a hurry that she decided not to change out of her army uniform, packed up her belongings, got a ride to the airport, checked her bags, went through security and then waited at her gate for boarding her flight. Finally over the loudspeaker they announced that her row was being seated, she grabbed her carry on, her passport and her plane ticket and headed for the terminal.
She could already tell by the line and sheer amount of people waiting at her gate, that the flight was completely booked and there wouldn't be an empty seat available. She was totally prepared to be squished in coach with no leg room, no comfort and no amenities. This was all fine because compared to her day to day duties in the military this would be a piece of cake. She boarded the plane and just as she predicted the flight was filled to capacity. There were basically people hanging from the rafters.
As she slowly made her way to her seat, she could just sense that something was off in her gut. She couldn't quite put a finger on it, but something just didn't seem right. She kept her eyes wide open and kept moving towards her seat. Little did she know someone was talking to a stewardess about her quietly and that was probably the weird energy she was picking up.
Finally she got to row 31 put her carry on up top and sat down in seat 31b. The flight was cramped, uncomfortable and loud but she truly didn't mind because she knew she was about to be in her cozy home with all her loved ones very soon. As she waited in her seat she reflected on her service she had just finished up and before she knew it the plane wasn't taking off. First five minutes then 10 then 20 then 30 and she began to get a bit nervous that the plane was going to be super delayed or even worse canceled and she wouldn't get home in time for the holidays!
That initial feeling she had about something being off about this flight was now manifesting fully as nervousness and a bit of fear. It was a beautiful day outside so she knew that the delay wasn't weather related. She looked over and saw all the flight crew whispering and huddled in a corner and then she really thought something could be wrong.
It seemed like they were discussing somebody on the plane and they were whispering pointing slightly and then it dawned on her that they were talking about her. She tried to ignore it, but then a man dressed in civilian clothes walked towards her and it looked like he had some kind of agenda on his mind.
She wasn't on duty, but at any moment she knew if necessary her training could kick in gear and she could handle any situation thrown at her. As the man got closer and closer the fight or flight inside her gut started kicking up full throttle. Finally he got to her row and said to her this seat is taken and you can't sit here.
She was super confused because she was holding her ticket that said 31b so this guy was either totally crazy or misinformed. Even after she showed the guy politely this was in fact her seat with her ticket he wouldn't stop. She wondered if this was going to get into some kind of physical altercation so she stood up and double checked she was in the right row and seat and again told him you are wrong this is my seat.
Then he said no, I am in your seat. She really didn't understand what he meant and confusion levels rose. She looked towards the flight attendants for some kind of help or support but they wouldn't come in help. This is when things really took a turn….
Watch the video below for the full story:
Please SHARE THIS With Family and Friends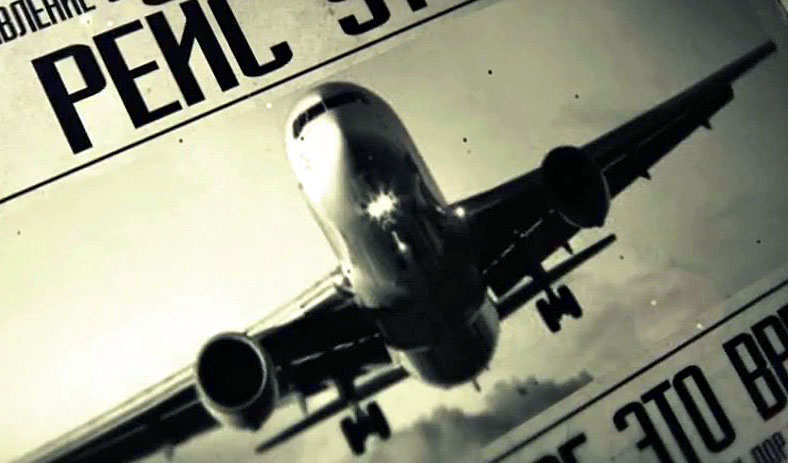 image via – youtube.com
The world is full of strange unexplained mysteries and the story of Pan Am Flight 914 is one of them.  The chartered aircraft with 57 passengers and four crew on board landed in Caracas, Venezuela in 1992 after it had disappeared 37 years earlier in 1955.  The plane originally left New York on a flight path scheduled to land several hours later in Miami. However, shortly after taking off the plane seemingly vanished into thin air.  
When it landed years later, the passengers all thought it was still 1955 and that they had landed in Florida rather than Caracas.  Air traffic controllers claim that the plane did not appear on their radar screens, rather they spotted it as it approached the airport.  When they radioed the pilot and asked for identification, he responded in frightened voice and asked where he was. He then told controllers that he was charter flight 914 coming from New York and destined for Miami with four crew and 57 passengers aboard.
Upon hearing the pilot, the control room fell eerily quiet.  An air traffic controller named Juan De la Corte informed him that he was in Caracas, Venezuela and then asked if the plane was experiencing a disaster.  After receiving no reply, the runway was quickly cleared for an immediate landing and the plane was brought down smoothly.  
After it had landed, the pilot was overheard talking to his copilot saying "Jimmy, what the hell is this?"  It was assumed that they were looking at the new model jets surrounding them on the tarmac as they sounded incredulous and confused, it was probably as if they were looking at a spaceship.  The pilot then informed controllers that he was scheduled to land at Miami International Airport at 9:55 A.M. on July 2, 1955. They radioed back that he had landed at Caracas International Airport and the date was May 21, 1992.  
Upon hearing the date the pilot could be heard breathing heavily as he sputtered "Oh my God."  In an effort to calm him the controller said they were sending a ground crew to help them out. Instead of being relieved, the pilot shouted not to come near the plane and that they were leaving.  As the approaching ground crew neared the plane, they could see passengers looking out the windows and then the pilot opened his up to wave them away. While waving them off he held a file in his hand and a small calendar, that was later found to be dated from 1955, dropped to the ground.
The pilots then restarted the plane's engines and took off without saying another word despite pleas for them to stay grounded and answer further questions.  Venezuelan Civil Aviation leaders quickly came in and confiscated all records relating to the strange event, including the recorded conversations and the calendar.  They claimed to be investigating the incident further and yet nothing ever came of it.
Since then many conspiracy theories have emerged that try to make sense of it all.  Some claim paranormal activity is to blame, others point to a time travel portal of sorts, but nothing is for certain.  It remains one of the world's biggest aviation mysteries to this day.
Watch the video below for the full story:
Please SHARE This With Family and Friends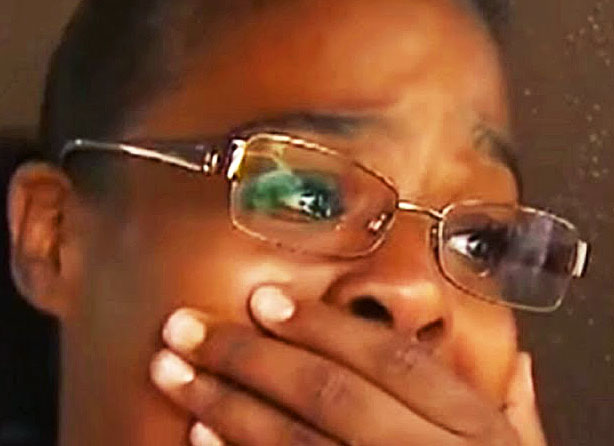 image via – youtube.com
Whenever you fly you have to pass through airport security first and any belongings that you wish to bring on the plane with you must be screened and checked over.  The Transportation Security Administration (TSA) are the ones who set the rules for what can and cannot be brought on an aircraft and the list seems to always be changing.  
Most people know about the liquid container rule, that no bottles with liquids over 3.4 ounces are allowed, but smaller travel sized ones are ok.  There are also obvious things that are absolutely banned, such as guns, brass knuckles, pepper spray, num-chuks and throwing stars (yes, people have tried).  However, there are some things that aren't allowed which may surprise you. For example, magic 8-balls fall afoul of the 3.4 ounce liquids rule, cast iron skillets can be used as weapons, and certain types of paints are flammable and therefore banned.
While it's always best to check ahead to make sure you can bring questionable items on the plane with you, that's not always possible and sometimes the most innocent and unlikely items end up getting confiscated and thrown in the trash.  
When Ivelise Hernandez headed to the St. Petersburg-Clearwater International Airport in Florida to catch a flight she headed straight to the security line.  Her boyfriend Rico had driven her and was accompanying her until she passed through when they noticed that a man up ahead was taking longer than usual. He was being held up by TSA security who refused to let him go through with a small package he was clutching.  He was arguing with them and clearly frustrated, but eventually the TSA agents forced him to throw the item in the trash. They wouldn't even let him bring it to lost and found where he could try to claim it later and have it sent to him.
Watching on, Ivelise and Rico saw that the man was practically in tears as he discarded the package in the trash bin.  Wanting and being able to help since her boyfriend wasn't going through security, she told him to get the item out of the trash.  A couple hours later she had landed and immediately called Rico who told her that he'd found the item and unwrapped it. What it turned out to be was a beautiful bespoke snow globe that contained a picture of a little girl and her dog on one side and an older couple on the other.  Engraved on the bottom were the words "We love you Katie Nana & Papa 1/25/2016."
Seeing that the snow globe clearly held sentimental value, Ivelise decided to try and track down the owners.  She uploaded a picture of it to Facebook where it quickly went viral and was shared over 48,000 times. Eventually a woman who worked at a gift shop called "Things Remembered" saw it and sent the picture to the company headquarters in hopes they could locate the order and match it with the owner.  Her idea worked, the company found who placed the order and that was Linda Modry.
Linda had ordered the snow globe for her 5 year old granddaughter Katie and the girl's dad was supposed to deliver it, but TSA made him throw it out.  Linda happened to live nearby so she got in touch with Ivelise and Rico and made plans to stop by their place. She arrived with a bouquet of flowers in hand and told them that the globe was a present for Katie's birthday and the date inscribed on the bottom was the date of her adoption.
Once she had the snow globe, Linda called her granddaughter to let her know and the girl was over the moon happy.  As for Ivelise, the positive feedback she received for helping a stranger was unexpected yet wonderful. She's also pregnant now and will no doubt be a great mother!
Watch the video below for the full story:
Please SHARE This With Family and Friends