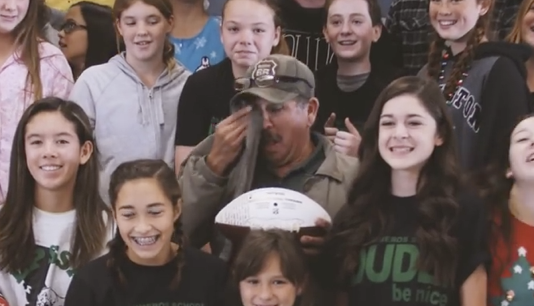 image via – youtube.com
Rocky has been a janitor at Los Primeros School in Camarillo, California for 37 years. He is the kind of man who has the special gift, of spreading his own happiness, gratitude and joy of living to all those who are fortunate enough to know him.
For generations he has brightened student's days with his genuine caring and happiness at seeing them each day. The current students at this school just adore him, and wanted to surprise him with a showing of their gratitude for the sunshine he brings into their school each day!
The video you are about to watch below, came about as a result of the kids teaming up with a clothing company called "Dude Be Nice". The goal of their company is to " [encourage] inclusiveness, kindness and gratitude."
Rocky is called by walkie talkie to the school auditorium by the principal, who told him a child had gotten sick during the assembly, and that they needed his assistance cleaning up. When he enters the auditorium the kids start chanting "We Love Rocky!", and he can't contain his emotions.
Other surprises ensue, in this heartwarming video posted on the YouTube channel, "Dude Be Nice". This will make your day!
Watch the video below:
Please SHARE this amazing moment with family and friends 🙂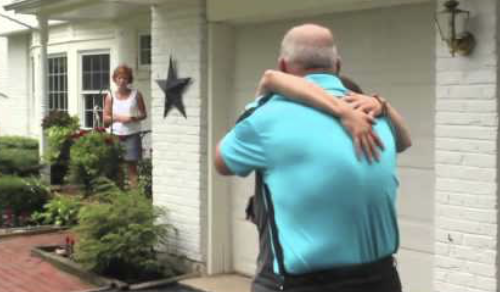 image via – youtube.com
Becoming a step-parent can be a mine field, as you blend into an already existing family, and learn through trial and error what works with children who aren't yours biologically.  For a man or a woman, to marry someone who already has kids of their own, is no small thing.
To begin with, building a life with someone you love who has previously been married, has challenges as well.  Adding in the extra factor of creating a loving bond with a child who needs a dad, and being successful at it, deserves an award!
Well…if not an award, perhaps a reward?  When Dave met Kirstin Russell's mother, he fell deeply in love; he knew how important it was to find a way into little Kirsten's heart and provide her with the father figure she so badly needed.  He became the dream stepdad; playing Barbies, showing up for all her karate tournaments and coaching her softball team!
As devoted and loving a husband and stepdad Dave became, he did have another love that he had to give up, in order to afford to get married when he met Kirstin's mom…his 1973 Porsche 914.  It was an old car that needed restoring, and Dave was paying for it little by little, as money allowed.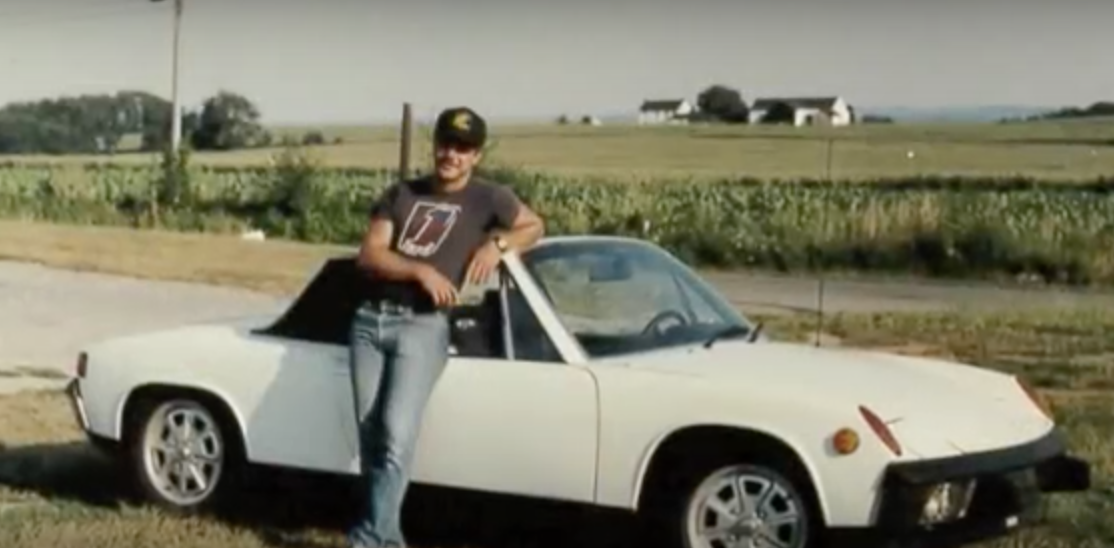 Image via: Youtube
To afford the wedding he had to give up this car that he cherished and dreamt of  driving one day.  As much as it hurt, he sold it for scrap, and would always reminisce about it over the years, as Kirsten was growing up.
Thanks to her loving stepdad's sacrifice, Kirsten who is now an adult, got to have an idyllic childhood.  She got an idea about how to show Dave how much all that he had done meant to her.  Could she find the exact 1973 Porsche 914, that he had sacrificed, to give her mom a wedding she would love?
The video you are about to watch begins at this point…get some tissues and enjoy this lovely story!
Please SHARE This Story With Your Family and Friends 🙂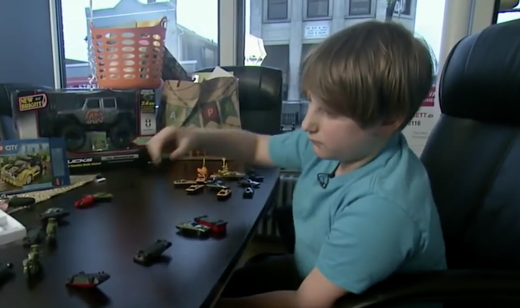 image via – youtube.com
Some of my happiest memories are of my birthday parties during early childhood.  The parties were great, but the anticipation of having all my friends come, planning the party games, blowing out the candles on the beautiful cake and of course the excitement of opening presents!
Gerald Hamilton, a sweet 9-year-old boy was anticipating his birthday party on April 2nd, with the same kind of excitement.  He had invited all 30 of his classmates, and 12 had responded that they could come.  The party was called for 3:00…and none of his guests arrived.  At 4:00, still no one!
By 5:00 Laura Hamilton, Gerald's dejected mom, suggested they cut the cake.  Gerald, still holding onto hope said, "But one of my friends might come"…but no one did.  Laura called  the parents of the kids who had RSVP'd they were coming, to find out why their child didn't show up, and was told over and over, that the children did not like Gerald!
I am heartbroken just reporting this story, so you can imagine Gerald's and his family's sadness.  On the video you are about to watch below, you will see this sweet boy talk about his sadness, and what his greatest advocate, his grandma, did about it.
After the kid's parents were actually so insensitive and heartless, to tell Laura that their children didn't want to come to the party because Gerald is too different for them to play with him, his Grandma took to social media.  You see, Gerald is a bit slower than his peers, as he has had to undergo several skull expansion surgeries.
Grandma Amelia Lara reported, with tears in her eyes to Channel 2 News, that she just felt she had to do something to help her heartbroken grandson.  With hurt and determination she took to social media, and posted the following on Facebook: "How sad; he is 9, he just wants to have friends.
So no one came, no cards, no presents. So, it is my mission to have as many cards as I can mailed to my little guy. You can send them to me and I'll make sure he gets them … this breaks my heart."
The response from around the world, as far away as Vietnam and England, was overwhelming kindness and generosity. Gifts and cards came from everywhere, wishing this sweet boy Happy Birthday, love and best wishes.  This outpouring of caring brought comfort and a big smile to Gerald's face, whom you will see reading his cards which meant so much to him.
No child should ever have to suffer the isolation of rejection of having no friends, due to a handicap.  Clearly the sadness of Gerald's situation can and should be remediated for the future.  But the kindness of strangers took the sting out of what happened to him on his 9th birthday.
If you want to send Gerald a small gift, or just a card or letter so that he knows that people care, you too can help lift  his spirits via the mailing address below: Gerald Hamilton c/o Amelia Lara 238 Main Street Hobart, IN 46342.
Watch the video below
Please SHARE This Story With Family and Friends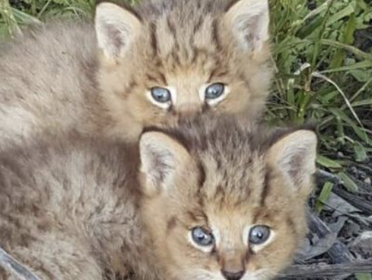 image via – youtube.com
Coming face to face with a wild cat is a breathtakingly rare occurrence. The larger, undomesticated animals are usually quiet, shy, and elusive, choosing to stay out of sight and away from humans and even other cats. At least that is true of full grown, adult cats who roam large territories hunting in search for food.
Young baby kittens, not so much, they're more inquisitive and less afraid of people and other animals. Everything is new to them and that's why they need their mother to watch over and keep them safe from harm. So when 18 year old Hamdan Shibli, from Israel, was walking to work and stumbled upon three tiny kittens, he was quite surprised and concerned.
The kittens were just sitting in plain sight on the side of the dirt road he walked down every day. There was no mother in sight and they looked weak and in need of help. Thinking that their mother might be around and come back for them, Hamdan moved them away from the road and placed them under a bush so they'd be out of plain sight. He took a few pictures, then continued on his way to work.
Later on, when he was looking at those pictures, he suddenly realized that the kittens he saw were not your average domestic cats. Instead they were actually Jungle cats! Jungle cats are similar in size and appearance to the lynx, but they live in Southeast Asia, India, parts of southern China, and in pockets throughout the middle east and the Nile Valley.
Even though they are not on the threatened or endangered species lists, their numbers are dropping quickly due to many factors including loss of habitat and hunting. When they are young, they look just like domestic kittens at first glance, so it's easy to overlook them like Hamdan did.
He rushed back to the spot he placed them and thankfully they were still there. Once again there was no mother in sight and they looked just as weak and vulnerable as before. He scooped all three into a basket and took them straight to a veterinarian who specialized in wild animals to get them checked out.
Unfortunately, one of the kittens passed away but the other two were treated. The vet removed all of the ticks that covered their tiny bodies and nursed them back to health with special formula and round the clock care.
It was determined that the poor little kitties were no older that 5 weeks old and extremely dehydrated and weak. The vet put a plan in action to get their weight up and then get them eating solid food, before finally releasing them back into the wild once they were strong and healthy enough.
Thanks to Hamdan's quick thinking and desire to help another animal in need, the two surviving Jungle cats have a second chance to live a normal life, free in the wild, as nature intended. What a wonderful and inspiring rescue story, I wish all could end so well.
Please Share This Story With Family and Friends 🙂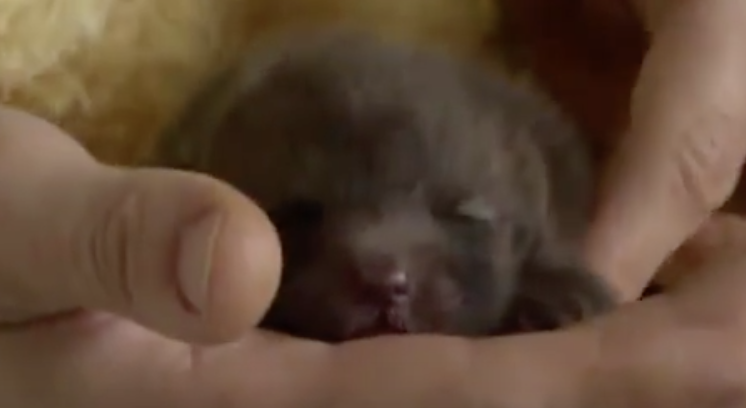 image via – youtube.com
When a family came across a hurt and abandoned baby animal in the Marsh Lake woods of Whitehorse, Canada they assumed it was a puppy. The tiny ball of fur certainly looked just like a weeks, or even days, old dog as its eyes were yet to even open.
Ralph Shopland, the father of the family who found the little guy told CBC News "I just defaulted to thinking it was a dog." After posting notices on Facebook, asking for help and a wet nurse, the baby was placed with a surrogate dog who nursed and cared for it!
Soon it became clear this baby was no puppy. Guesses as to what he could be ranged from otter to wolverine and soon the answer appeared. The baby's face changed, his ears stood up, a white tip appeared on his tail, and he became very smelly.
He was so stinky that staff even had to change his blanket every 3 hours to minimize it. All this evidence pointed to the fact that he is a red fox! The Yukon Wildlife Preserve ended up taking in the tiny kit, nursed him to health, and gave him a place to live.
Since he had been partly raised and imprinted on by humans, it is in his best interest to stay there. The staff try to spend as little amount of time possible with him in order to minimize his comfort level around, and dependence on, humans.
Initially, they did not have the proper habitat for a fox cub but were able to build him one after raising enough money. Today he is full grown and lives in the new habitat, but he is all alone. The word has been put out to zoos and the like that the Yukon Wildlife Preserve is looking for a friend to keep the fox company.
Hopefully they will get a response and the fox can soon play with and share his home with a new friend. Share this story and video to help spread the word and find the fox a companion all the sooner!
Please SHARE With Your Family and Friends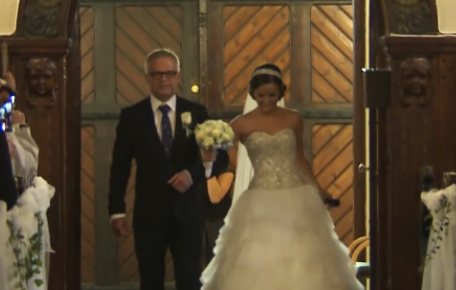 image via : youtube.com
We have all seen many videos from weddings that show something funny, clever, unexpected or extremely touching that gets shared online, and becomes viral on Facebook.  I've seen many of the choreographed dances with father of the bride or mother of the groom.
There have been wedding parties taking a picture on a small bridge and falling in a lake!  But I've never seen one like the footage you are about to view in the video below.
It is rare to wow your guests, and incorporate it into something really meaningful, that no one witnessing it will ever forget.  The amount of thought, creativity and love that went into this walk down the aisle is both impressive and heartwarming.  It gave me goosebumps and I shed more than one tear.
The doors open and the beautiful bride Maria, is on her loving father's arm.  They start the walk towards her beloved, Ronny, who awaits his bride eagerly. He has absolutely no idea, as he smiles broadly, what his bride-to-be is about to do.  His emotion, as well as everyone who has come to celebrate, is palpable.
Watch the video below! I hope you enjoy this truly beautiful moment as much as I did!
Please SHARE This Story With Family and Friends