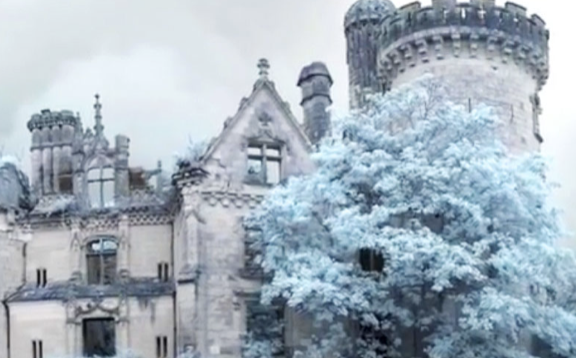 image via – youtube.com
When you think of a castle you likely imagine a sturdy, imposing fortress that was built from stone and surrounded by a water-filled moat. After all, castles were purposefully constructed to keep people safe and protected inside their walls. They are what stood between everything from marauding enemies to wild beasts and the destructive forces of mother nature. Castles were meant to be strong and had to be able to withstand long, drawn out, aggressive sieges. In later years they took on a more extravagant role and today they are seen as dreamy, fantasy-like places, filled with magic and romance.
The abandoned castle seen in this incredible footage is called Château de la Mothe-Chandeniers and it looks like it comes straight out of a Disney movie. The beautiful ruins are located in the town of Les Trois-Moutiers, in the west of France. For centuries the majestic castle has sat in the middle of a heavily wooded area, surrounded by a water filled moat, imposing and elegant all at once. Today it is being left to slowly fade away back into nature, yet despite the years of neglect, the castle still looks like it's fit for royalty. All that it needs is the right owner or group to step in and restore it to its former glory.
To truly understand the amount of detail and thought that went into constructing this castle, you need to take the video tour because it's the only thing that gives it justice. You can feel and sense all of the tragedies and triumphs this castle has borne witness to. It may have been overtaken by nature and seemingly forgotten about, but if these walls could talk they would tell tales of epic battles and grand celebrations. Be sure to check it out and take the tour, here's more on the history of the Château de la Mothe-Chandeniers.
First and foremost, the castle is filled with history and has quite the tumultuous past. It dates back to at least the 13th century and was originally built as a safe haven for the notable Bauçay family, who were lords of Loudun and answered directly to the king of France himself. Over the following centuries the castle was overtaken twice by English forces during the middle ages before it was eventually given back to the French. After being restored it went on to become a very popular place where nobility gathered for magnificent galas and lavish, extravagant, over the top parties. The good times didn't last long though and during the French Revolution the castle was once again destroyed after being sacked.
There it sat for some ten years or so before a well-heeled businessman named Francois Hennecart bought the property with the intent to once again restore it. He managed to add a vineyard but in 1857 it was taken over and passed on to Baron Joseph Lejeune, a wealthy relative of Napoleon III. He rebuilt the castle extensively in the romantic style that was popular at the time and continued on the tradition of holding lavish parties.
It was during a subsequent renovation in 1932 that the castle succumbed to its latest major setback and ever since then it has sat vacant. At the time, the current owner had been installing central heat and somehow a fire was sparked. The resulting damage not only devastated most of the structure, numerous rare pieces of art, furniture, tapestries, books, and paintings were sadly destroyed as well and lost forever.
In recent years there have been a number of efforts to restore Château de la Mothe-Chandeniers, but it seems that everyone who tries gets railroaded into giving up. Hopefully a preservation society or some group can step in and help to rebuild it because it is a seriously beautiful, magically impressive castle that deserves saving. Please help spread the word, the more awareness, the better the chance this gem can be preserved for centuries to come!
Please SHARE This Incredible Footage With Family and Friends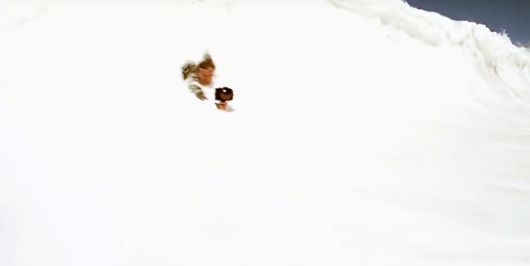 image via – youtube.com
If a 50 foot wave was barreling down upon you, the last thing you'd do is sit there and dive right into it! Waves are incredibly powerful and way too easy to underestimate. Even a 10 foot one is quite daunting to face, let alone one over six stories tall. Only a few brave souls on Earth would dare do such a thing and the majority of them, if not all, are big wave surfers.
Clark Little likes to surf but he takes on monster waves for a different reason, one that doesn't involve riding a board. He gets in the water for the unique photo opportunities the waves present when they break on the sandy shore.
The avid wave photographer is no stranger to danger. For him, being tossed and thrown about by the ocean surf crashing onto the beach is all in a days work. The images he has managed to capture are absolutely beautiful and majestic. They're full of light, liquid, movement, and are worthy of being framed and hung up on the wall for all to admire. You can view some of them in the accompanying video where he talks about his passion and love for what he does.
Little didn't ever plan on making a career out of photographing waves. He kind of fell into it after his wife came home one day with a piece of art that featured the nearby Waimea shore break. He looked at the photo and thought that he could capture an even better picture so he took a waterproof camera and headed to the beach.
He proved himself right and the awesome photos he's taken over the years speak for themselves.
Please SHARE This With Family and Friends 🙂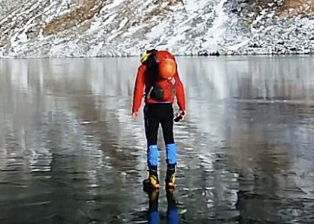 image via – youtube.com
Mere mortals can only dream of walking on water, but a group of hikers came close to doing exactly that. They walked on ice that was so crystal clear and smooth that it looked as if they were walking on water. Tomas Nunuk was trekking through Slovakia's Tatras mountain range with some friends when they came upon a lake called Velke Hincovo Pleso.
The beautiful body of water is located 6,300 feet above sea level near the looming Koprovsky stit mountain. This isn't just any old lake, it's the deepest one in all of Slovakia, measuring 176 feet at its deepest point.
When the hikers reached the waters edge, a spectacular sight met their eyes. The surface of the lake was completely frozen solid but the ice was crystal clear, to the point that it was see through. There were no white spots or gas bubbles marring the clarity of the ice and the rocky bottom of the lake was perfectly visible in the shallow spots.
Thomas recorded the moment that he and his friend stepped out onto the ice and they can be seen gingerly walking across glassy surface. The video quickly went viral after he posted it online, with many people calling it beautiful, and others expressing skepticism about whether or not it was truly real.
The skeptics claimed the ice was too thin to hold the men and that ice that clear simply doesn't exist in nature. Those claims were subsequently proven false by locals, weather experts, and science. A Slovakian man, Igor Ludma, explained that ice can look like glass "when the temperatures fall from being relatively mild to very cold very quickly, and at the same time it's important that there has not been any snow which tends to make the ice very cloudy.
And we have had those conditions lately which would explain this very clear ice." AccuWeather, a provider of weather forecast services worldwide, affirmed that Slovakia had experienced the type of weather conditions described by Ludma. In addition, when addressing the video in a post online, AccuWeather also cleared up the other issue surrounding the clear ice.
They added that according to the Minnesota Department of Natural Resources, "clear ice is about twice as strong as white ice since it is much more dense…Ice looks cloudy and white when it has air bubbles due to thawing and refreezing." Thus, the ice could have indeed held the men and exist in the first place at that time, in that area.
It seems to be that the lake ice that day was simply another one of mother nature's beautiful and strange phenomenons. One thing is for certain, the footage of it is amazing and I'd love for the chance to be able to walk across a lake like that!
Would you walk across this ice? Let us know!
Please Share This Story With Your Family and Friends 🙂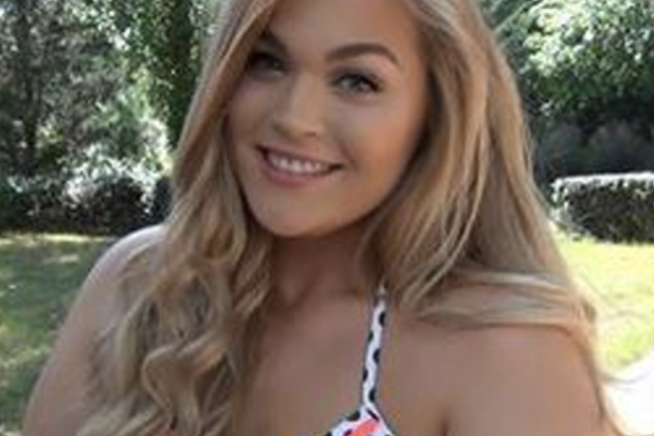 image via – youtube.com
Loey Lane is an army wife, animal lover, college student, and a beauty blogger. She uploads lots of videos to her YouTube channel, LoeyLane, and receives a ton of comments and feedback from them. Sometimes she wears revealing outfits in her videos, like bikinis, and some people feel the need to say things about it.
While many commentators in her audience are positive, non-judgmental, and even defend her, others are quite cruel. To effectively deal with these 'haters' and address them directly, Loey made a video titled "Why fat girls shouldn't wear bikinis." She runs through the main reasons that people reference when they say that she should cover up and promptly points out the wrong in their reasoning.
She has some very poignant and thoughtful responses and it's refreshing to see her stand up for herself while taking the high road. She doesn't lower herself to the level of the trolls who spout off cruel jibes and hide behind their computer screens, and that makes her all the more authentic and worthy of listening to.
Loey's message is all about body positivity, loving life, and believing in yourself. Every single body type whether it be fit, thin, fat, average, large, and so on, is beautiful. If someone has nothing nice to say then they should keep their mouths shut. Loey is spreading the message that you are free to do what you choose, and that includes wearing whatever you want to.
Life is too short to be miserable and always worried about what others think. Live it for you and only you, not random, judgmental jerks on the internet. Check out her awesome response video and please help to spread and share her body positive message.
No one person's body is completely perfect, but all of our bodies are beautiful.
Please Share With Family and Friends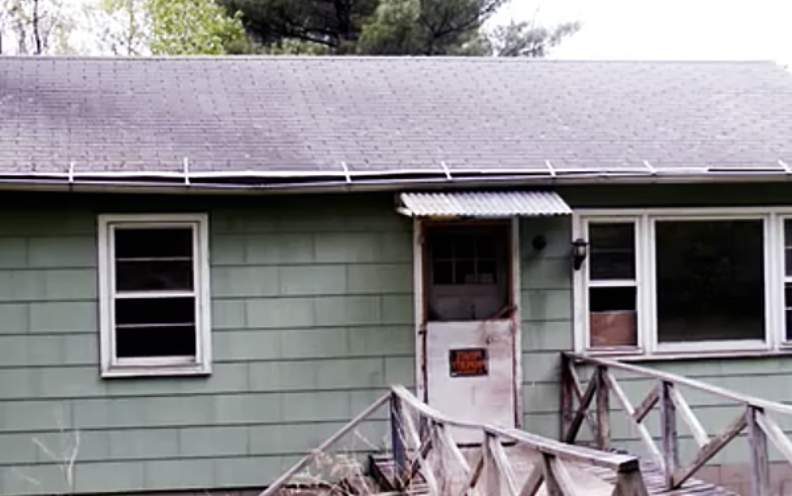 image via – youtube.com
About two hours northwest of New York City lies the tiny hamlet of Narrowsburg, New York. As of 2010 the village's population was just 431 people and Tina Spangler is one of the residents who calls it home.
After living in the hectic city for years she was ready for a change of pace and scenery. The peaceful, scenic mountains upstate drew her to them and in 2004 she moved to the Luxton Lake area part of town after purchasing a foreclosed cottage that had originally been built in the 1950's.
The house needed a lot of work but the structure had stood up against the elements over time and overall it was still in good shape. What initially drew her eye towards what the property could become was the hardwood floors, and after further inspection Tina decided she could do a lot with the place once she cleaned it up and did a few renovations.
Once the house was updated Tina set about filling it with items and antiques that she had collected over the years. She loves retro décor from the 1930-40s and while attending college in Boston she came across an apartment whose previous owner left behind a bunch of furnishings from that era.
Ever since then she's been steadily accumulating various pieces and adds anything interesting that she happens to come across to her collection. Even her refrigerator is a monitor-top type from the 1930's and the cupboards are filled with Fire King Jadeite cups and dishes.
In the living room a linoleum rug dating back to the 1920's graces the floor and protects the hardwood underneath. All throughout the cottage are unique and interesting pieces, from old glass bottles to Joseph Unger paintings that hang on the wall.
The end result is that when you go through the doorway into Tina's house it's like taking a step back time. The retro furnishings and comfortable surroundings transport you to another era and the overall feel of the house is that it's been lived in and loved.
When explaining her interior decorating style, Tina sums it up perfectly when she says "my goal isn't to have a perfect house, it's just to have a house full of things that I love and that have a history." From the looks of it all, it appears that she has accomplished that goal.
Check out the video to take a tour of Tina's 1950's Luxton Lake cottage and see all of the neat things she's collected over the years. She knows her stuff well and explains some of the items history in great detail.
All in all, the space she has created in the once run down building is warm, comfy, inviting, and makes it feel like a home again.
Please Share This Story With Family and Friends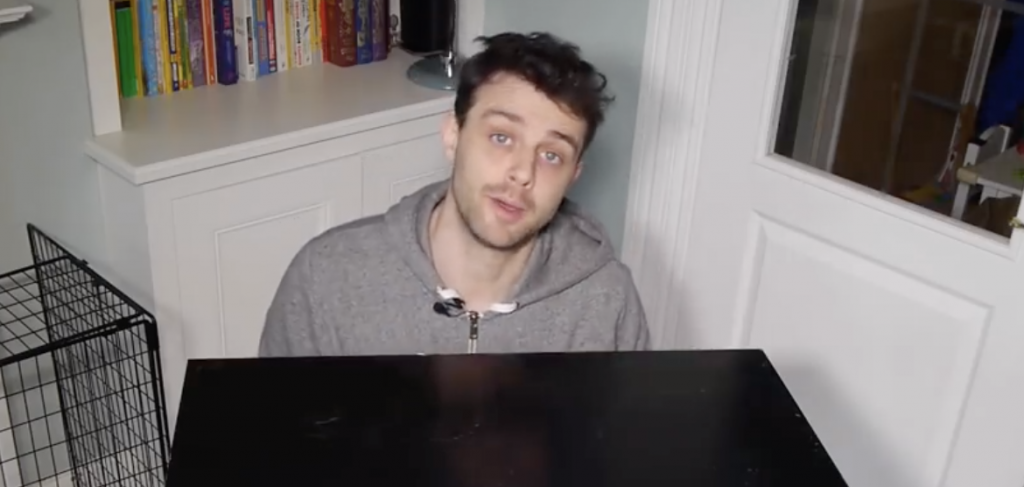 You are about to watch a demonstration unlike anything you've probably ever seen before. A young man exhibits a kind of experiment in the video below, that has gone viral on YouTube, and I can see why.  He has a black metal square table, ( the size of a card table), upon which he randomly spills a cup of raw couscous (a Mediterranean grain somewhat like rice).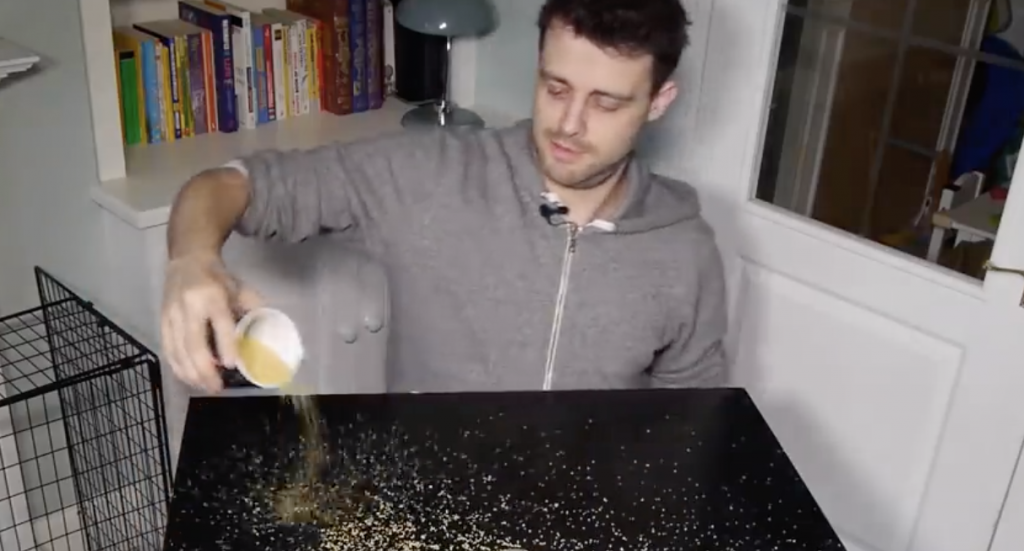 I wondered what in the world he was up to, when he takes out what looks like a cello bow, (which is made of horse hair and wood), and rubs the horsehair part of the bow along the edge of the black metal table.  The sound it makes at first has a slightly low tone, as he pulls it down the edge the random mess of couscous forms the most unbelievable geometric pattern!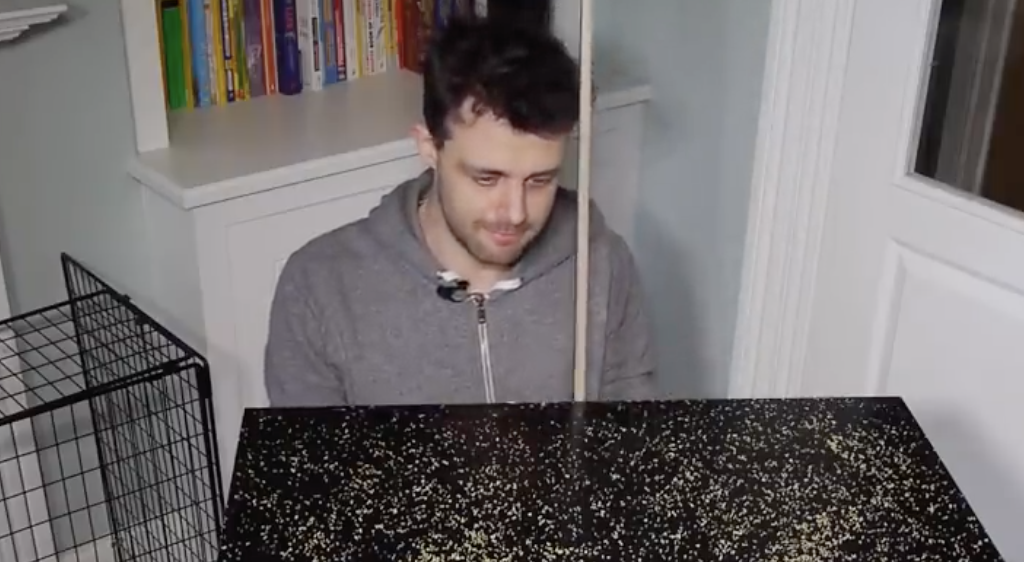 He then messes up the couscous, so it is once again randomly spread around the black square, and then takes his bow and draws it down another part of the edge of the table.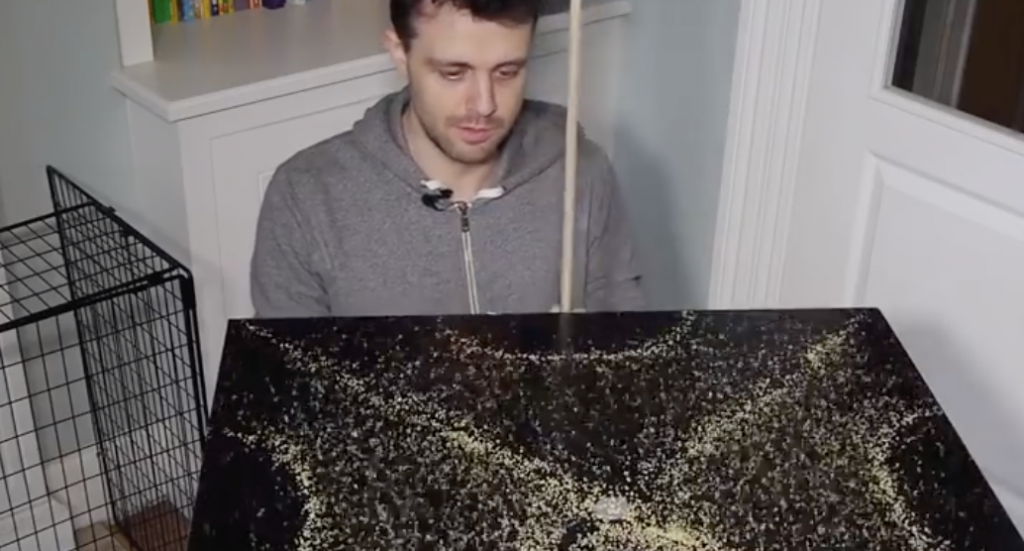 This time the tone produced is higher pitched, and right before your eyes you will see the couscous move into a completely different pattern!  Known as the "Chladni Phenomenon", he keeps drawing his bow at different parts of the edge of the table and each tone produces a different geometric pattern!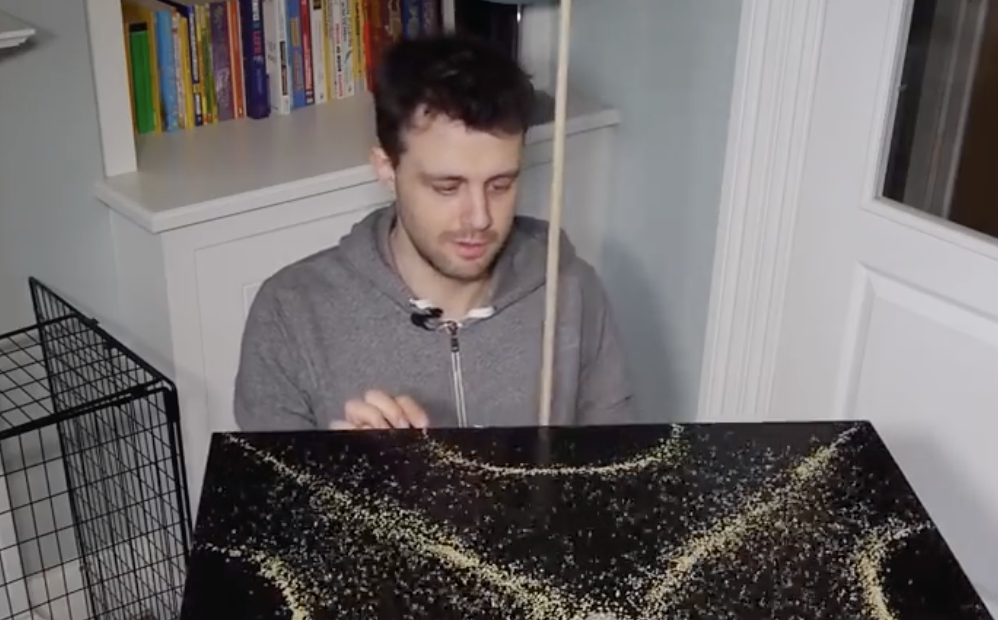 You will be nothing short of amazed at what you see in this footage, during which he explains how this "magic" occurs.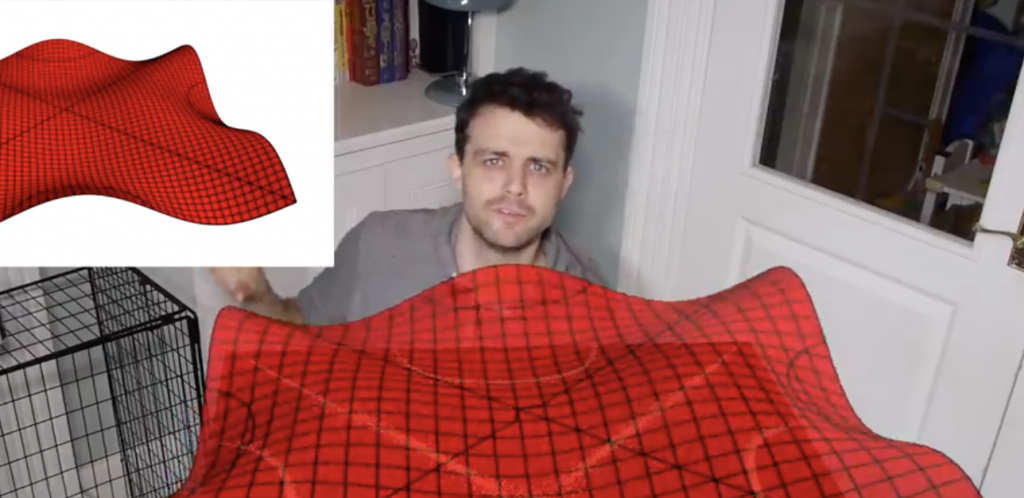 Please SHARE this MESMERIZING VIDEO with your family and friends!