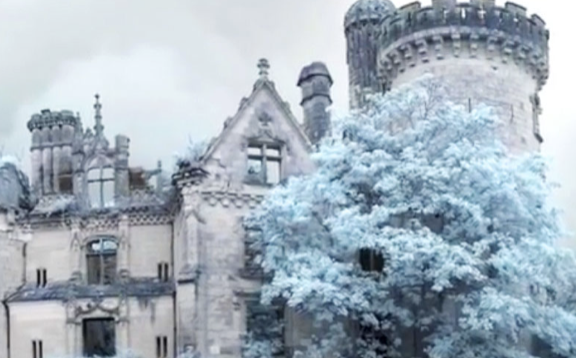 image via – youtube.com
When you think of a castle you likely imagine a sturdy, imposing fortress that was built from stone and surrounded by a water-filled moat. After all, castles were purposefully constructed to keep people safe and protected inside their walls. They are what stood between everything from marauding enemies to wild beasts and the destructive forces of mother nature. Castles were meant to be strong and had to be able to withstand long, drawn out, aggressive sieges. In later years they took on a more extravagant role and today they are seen as dreamy, fantasy-like places, filled with magic and romance.
The abandoned castle seen in this incredible footage is called Château de la Mothe-Chandeniers and it looks like it comes straight out of a Disney movie. The beautiful ruins are located in the town of Les Trois-Moutiers, in the west of France. For centuries the majestic castle has sat in the middle of a heavily wooded area, surrounded by a water filled moat, imposing and elegant all at once. Today it is being left to slowly fade away back into nature, yet despite the years of neglect, the castle still looks like it's fit for royalty. All that it needs is the right owner or group to step in and restore it to its former glory.
To truly understand the amount of detail and thought that went into constructing this castle, you need to take the video tour because it's the only thing that gives it justice. You can feel and sense all of the tragedies and triumphs this castle has borne witness to. It may have been overtaken by nature and seemingly forgotten about, but if these walls could talk they would tell tales of epic battles and grand celebrations. Be sure to check it out and take the tour, here's more on the history of the Château de la Mothe-Chandeniers.
First and foremost, the castle is filled with history and has quite the tumultuous past. It dates back to at least the 13th century and was originally built as a safe haven for the notable Bauçay family, who were lords of Loudun and answered directly to the king of France himself. Over the following centuries the castle was overtaken twice by English forces during the middle ages before it was eventually given back to the French. After being restored it went on to become a very popular place where nobility gathered for magnificent galas and lavish, extravagant, over the top parties. The good times didn't last long though and during the French Revolution the castle was once again destroyed after being sacked.
There it sat for some ten years or so before a well-heeled businessman named Francois Hennecart bought the property with the intent to once again restore it. He managed to add a vineyard but in 1857 it was taken over and passed on to Baron Joseph Lejeune, a wealthy relative of Napoleon III. He rebuilt the castle extensively in the romantic style that was popular at the time and continued on the tradition of holding lavish parties.
It was during a subsequent renovation in 1932 that the castle succumbed to its latest major setback and ever since then it has sat vacant. At the time, the current owner had been installing central heat and somehow a fire was sparked. The resulting damage not only devastated most of the structure, numerous rare pieces of art, furniture, tapestries, books, and paintings were sadly destroyed as well and lost forever.
In recent years there have been a number of efforts to restore Château de la Mothe-Chandeniers, but it seems that everyone who tries gets railroaded into giving up. Hopefully a preservation society or some group can step in and help to rebuild it because it is a seriously beautiful, magically impressive castle that deserves saving. Please help spread the word, the more awareness, the better the chance this gem can be preserved for centuries to come!
Please SHARE This Incredible Footage With Family and Friends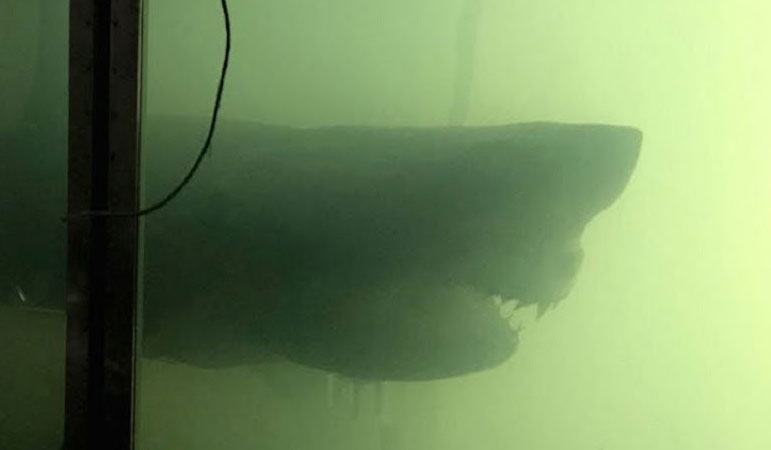 image via – youtube.com
Today's story is one of the stranger stories we have ever covered. It takes place in the land down under Australia at the place formally known as the Australian Wonderland Park. This wildlife park was one a thriving tourist haven, for locals and people just visiting to come get a close up look at rescued wildlife from all continents across the globe. This wildlife attraction had been around for decades and was the go to place in Bass Victoria Australia.
Late in 2012, the park shut down, to put it into perspective in 365 days the park would receive 1 million visitors! You can imagine their dismay when it suddenly shut down without warning. It was the habitat for over 600 mostly Australian rescued animals where you could really get a feel for that vintage Australia vibe.
One man, named Luke Macpherson had being going to the park with his family since he was a young lad. This was a once a year extravaganza that the Macpherson family did for decades. Luke had been fascinated and studied animals his entire life, so not only was he losing his once a year education, getting up close and person with the wildlife, but it felt like a piece of his family was being torn away from him. All his memories as a boy felt like they were being cut away from the fabric of his mind.
Eventually the young man moved on, but he soon started a new hobby which is known as an urban explorer. For those of you unfamiliar with the term 'urban explorer' it is somebody who discovers and looks through abandoned places that once were a big deal, but now we're nothing more than a slowly decaying artifact of the past.
He had gone to many places to discover and explore hidden treasures in places that just didn't exist anymore, but the remnants of their footprint fascinated young Luke. One morning he woke up, and something just told him to go check out the abandoned and shut down Australian Wonderland Park which he loved so much growing up. As it turns out the owners of the old park hadn't been keeping up with proper hygiene and Australian protocol and the animals weren't being properly cared for. The news reported that all the wildlife and animals were sent off to other zoos and wildlife parks in the surrounding area.
Luke's mind was running a mile a minute. What if they were in such rush to shut the place down, that animals were left there to fend for themselves? Could they have survived without human care and intervention? Was anything left of the park at all, or would just be a deserted wasteland overgrown junk with nothing exciting to find. He wouldn't know till he actually traveled to his old favorite place and explored for himself.
When he got through the gates, to check out what was let of the park, he couldn't have been more let down. The park was in complete shambles. Trash was everywhere, graffiti, all the buildings were completely dilapidated and the place had truly become a complete dump. That is until he found a strange building with the door slightly open.
He walked in and couldn't believe his eyes. It was pretty much a scene out of a horror movie. There was a tank filled with what looked like green sewage water and a giant that looked like a ghost or zombie was just floating in the green murky water. This shark's name was Rosie and her story is fascinating.
Watch the video below for the full story and find out what happened with Rosie the Giant Shark:
Please Share This Fascinating Tale With Family and Friends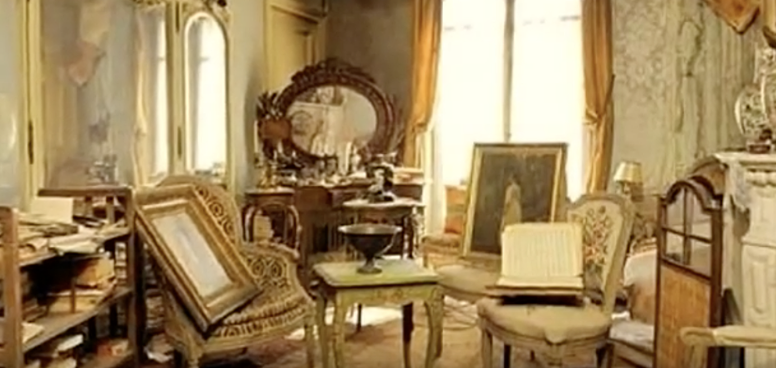 In 1939 a young woman locked the door to her Paris apartment for the last time ever and fled the city of light. Word War II had begun and with the German defensive nearing the city she knew she'd be much safer in the south of France. She was 23 years old when she left the apartment her grandmother had bequeathed her, and over the next 70 years, she never returned. Her name was Madame de Florian and year after year, up until the age of 91, she dutifully paid the rent and upkeep on the apartment.
Upon her death in 2010, it was transferred and given to her family, who hired an auctioneer to go through and inventory its contents. Oliver Choppin-Janvry was the man who first stepped into the long-ago forgotten apartment and he was immediately blown away by the sight that lay before him. Everything was covered in a thick layer of dust and yet it appeared as though Madame de Florian had only been gone for just a moment.
There was an assortment of makeup, brushes, and perfume bottles laying in a dressing table, candle stubs were scattered about, and glassware and books lined shelves. The artwork had been taken down off the walls and sat propped up against furniture, one of the inventory experts described it as "stumbling into the castle of Sleeping Beauty." True in a sense, but it was more like stepping into early 1900s Paris, a glamorous and exciting place.
Among all of the treasures lay the most valuable and exciting discovery of all, a painting of a woman in a luxurious pink gown. The woman turned out to be Marthe de Florian, the owner Madam de Florian's grandmother. She had been a well known actress in Paris who lived lavishly and had many lovers. The man who had painted her portrait was one of them, an Italian artist by the name of Giovanni Boldini.
The painting had never been displayed before and no record of it existed but researchers had a hunch that it was done by him. They only discovered that to be true when they found a love note from him in the apartment, which also showed her to be his muse. The painting was put up for auction and sold for $3.4 million dollars, a record for a Boldini work.
Take a peek inside the amazing apartment and check out the video. See for yourself all of the little details and the unbelievable shape it's in after being forgotten for 70 years! It's so cool 🙂
Please Share This With Family and Friends