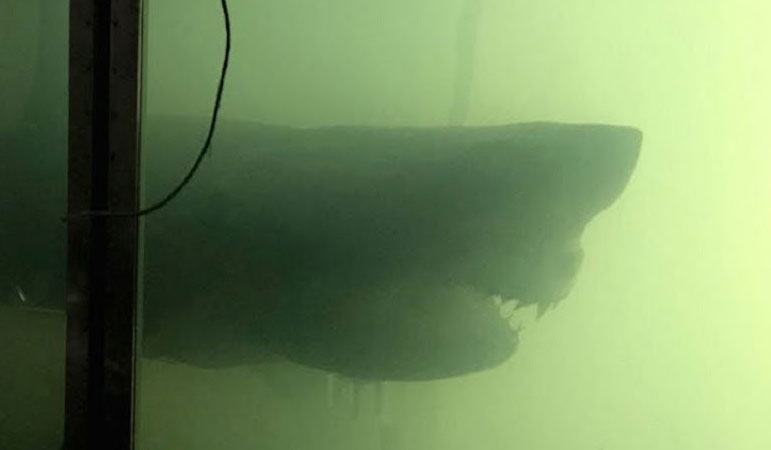 image via – youtube.com
Today's story is one of the stranger stories we have ever covered. It takes place in the land down under Australia at the place formally known as the Australian Wonderland Park. This wildlife park was one a thriving tourist haven, for locals and people just visiting to come get a close up look at rescued wildlife from all continents across the globe. This wildlife attraction had been around for decades and was the go to place in Bass Victoria Australia.
Late in 2012, the park shut down, to put it into perspective in 365 days the park would receive 1 million visitors! You can imagine their dismay when it suddenly shut down without warning. It was the habitat for over 600 mostly Australian rescued animals where you could really get a feel for that vintage Australia vibe.
One man, named Luke Macpherson had being going to the park with his family since he was a young lad. This was a once a year extravaganza that the Macpherson family did for decades. Luke had been fascinated and studied animals his entire life, so not only was he losing his once a year education, getting up close and person with the wildlife, but it felt like a piece of his family was being torn away from him. All his memories as a boy felt like they were being cut away from the fabric of his mind.
Eventually the young man moved on, but he soon started a new hobby which is known as an urban explorer. For those of you unfamiliar with the term 'urban explorer' it is somebody who discovers and looks through abandoned places that once were a big deal, but now we're nothing more than a slowly decaying artifact of the past.
He had gone to many places to discover and explore hidden treasures in places that just didn't exist anymore, but the remnants of their footprint fascinated young Luke. One morning he woke up, and something just told him to go check out the abandoned and shut down Australian Wonderland Park which he loved so much growing up. As it turns out the owners of the old park hadn't been keeping up with proper hygiene and Australian protocol and the animals weren't being properly cared for. The news reported that all the wildlife and animals were sent off to other zoos and wildlife parks in the surrounding area.
Luke's mind was running a mile a minute. What if they were in such rush to shut the place down, that animals were left there to fend for themselves? Could they have survived without human care and intervention? Was anything left of the park at all, or would just be a deserted wasteland overgrown junk with nothing exciting to find. He wouldn't know till he actually traveled to his old favorite place and explored for himself.
When he got through the gates, to check out what was let of the park, he couldn't have been more let down. The park was in complete shambles. Trash was everywhere, graffiti, all the buildings were completely dilapidated and the place had truly become a complete dump. That is until he found a strange building with the door slightly open.
He walked in and couldn't believe his eyes. It was pretty much a scene out of a horror movie. There was a tank filled with what looked like green sewage water and a giant that looked like a ghost or zombie was just floating in the green murky water. This shark's name was Rosie and her story is fascinating.
Watch the video below for the full story and find out what happened with Rosie the Giant Shark:
Please Share This Fascinating Tale With Family and Friends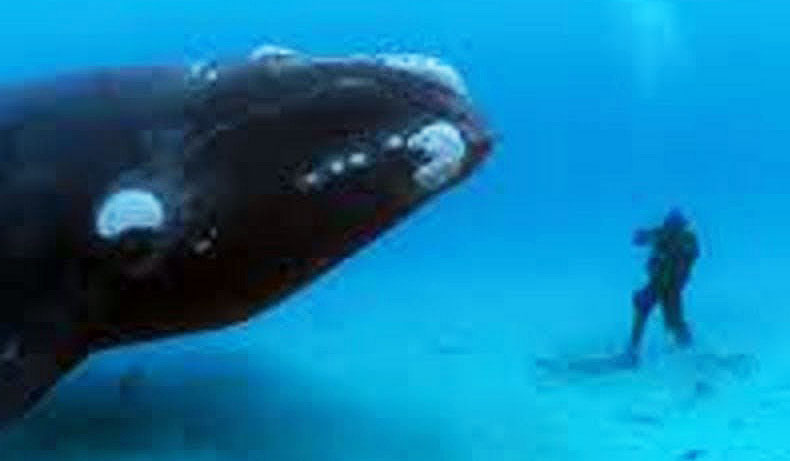 image via – youtube.com
If you ever have been lucky enough to go whale watching, you know how incredible the first moment is when you see a giant whale breach the surface. Their sheer size and magnificence is breathtaking and an experience you will never forget. It's even better if you get to go scuba diving and swim with the giant aquatic creatures.
This brings us to today's incredibly unbelievable story featuring a marine biologist named Nan. For almost 30 years Nan has been following whales all across the planet. Nan like many other marine biologist is fascinated with these gigantic mammals of the sea. She has studied their behaviors, biology, physiology and every other aspect of these beautiful animals. Over the past 30 years, Nan has been an avid scuba diver as she loved swimming beside the creatures she has tried so hard to protect and understand.
Nan lives on the Cook Islands located in the stunning South Pacific. She created a Research center called the Center For Cetacean Research and Conservation. Throughout her 30 years as a marine biologist she has all been an avid activist and a spokesperson for protecting whales from illegal poaching which if left unchecked will ultimately lead to their extinction from planet earth.
One morning September morning Nan put on her scuba gear jumped into the ocean, began to swim and explore the area that had lots of active whale sightings. Within just a few minutes a giant humpback whale swam toward the veteran marine biologist. Most people would probably be terrified if a 40 ton/60 foot long animal was coming directly at them, but not Nan, she was used to this sight and was pleasantly surprised by how quickly she came across the humpback.
But very soon, Nan realized this wasn't going to be like any encounter she had previously had with a whale. It began displaying very odd behaviors for a humpback and she really didn't know what to make of it. For some weird reason, the giant whale was holding Nan under its fin! Luckily she had enough oxygen in her scuba gear, but she was beginning to panic because the whale was showing no sign of releasing her. She wasn't being hurt by the whale, but it just wouldn't let her go. While Nan was underneath the whale she had all her camera and video equipment because she was making a documentary on whales.
After about 10-20 minutes of this Nan's panic go even worse as she knew if the whale didn't release her soon she was most likely going to die that September morning. As she began to come to terms that she was going to die by the fin of the creature she devoted her entire life to, a second whale was coming towards her. As the second whale got closer the first humpback who had her pinned under his pectoral fin finally released her near the surface of the water and she jumped back onto the boat as fast as she could happy to be alive!
Besides for a couple scrapes and bruises Nan escaped with very minimal injury. Immediately after she got on the boat, the scientist within her quickly kicked into gear. She was completely baffled and could not understand what had just happened between her and the giant male humpback whale. She began watching the two whales she had jus encountered in the waters swim by the side of the boat.
She then looked over and spotted another fin that had just breached the surface.  This was no whale, it was the second most lethal shark to humans in the world Tiger Shark. The only other shark that is responsible for more human deaths per year is the notorious Great White Shark! It suddenly dawned on Nan what the giant humpback was doing for that 10-20 minutes where she was pinned beneath his fin. She believed the whale was actually protecting her from coming into visual sight of the ferocious and deadly Tiger Shark.
She couldn't be 100 percent positive, however humpback whales have been known to do this exact same thing to their babies and sometimes even other aquatic creatures such as sea turtles and seals. Also the fact that the second whale approached when it did was a clear sign both whales knew of the oncoming danger. Humpback whales usually come together as a group to try to avoid predators from attacking.
Whether the whale was truly trying to shield her and save her life from the threat of the looming Tiger Shark is still up for debate. However Nan, is thankful and completely amazed that whales could potentially have the capacity to exhibit such behaviors! Nan has spent her whole life helping whales and this humpback may of just paid her back by saving the veteran marine biologist's life from the hungry Tiger Shark!
Watch the video below for the footage and full story:
Please SHARE This With Family and Friends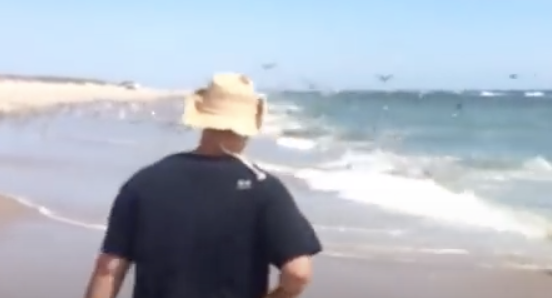 Sharks have been in the news recently, with two back to back attacks taking place less than a week ago at North Carolina beaches. The Atlantic waters all up and down the East coast hold a wide variety of the ocean's most feared beasts. Anytime you step into the ocean you are in the shark's home territory, and therefore must be aware and cautious at all times.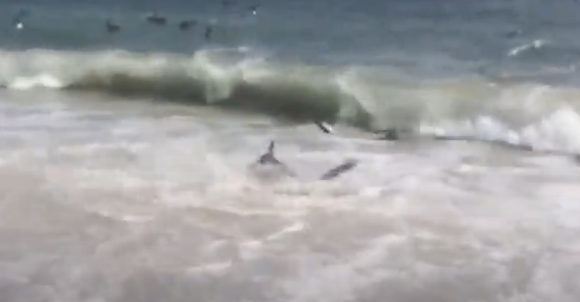 While shark attacks are extremely rare, they do happen. One thing you should do is avoid going into the water at times when they are most likely to be feeding which is at dawn and dusk. Hungry sharks are extremely aggressive and they are smart, fast, resourceful, masters at hunting.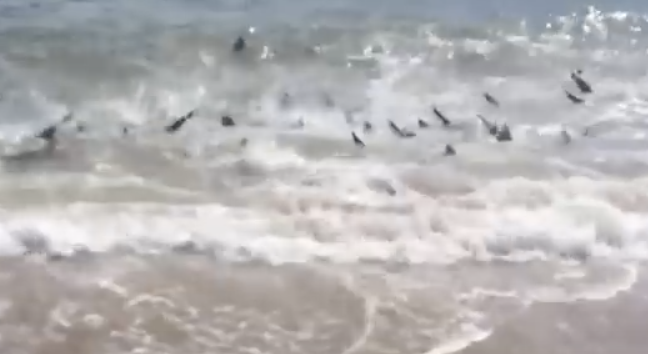 Video of a rarely seen shark feeding frenzy proves these points. A group of fishermen were out fishing for dinner at Cape Lookout National Seashore, which is located in the Outer Banks off of North Carolina. They noticed a commotion in the water that was hard to ignore.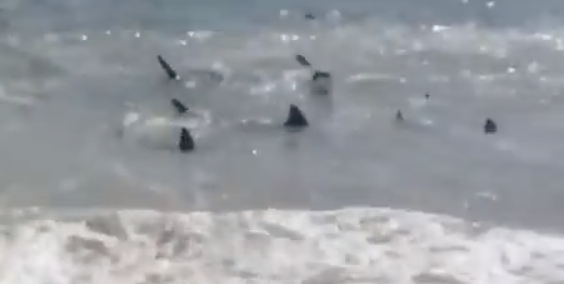 A group of about 100 sharks were attacking a school of blue fish, which had also attracted hungry seagulls and pelicans. For over 5 minutes the sharks furiously swam in and out of the crowded surf. Several managed to even beach themselves temporarily because they came in so close, and a few got extremely close to the people's feet. The rare sight of hundreds of sharks gathered so close and hunting in a what looks like a pack is crazy to see!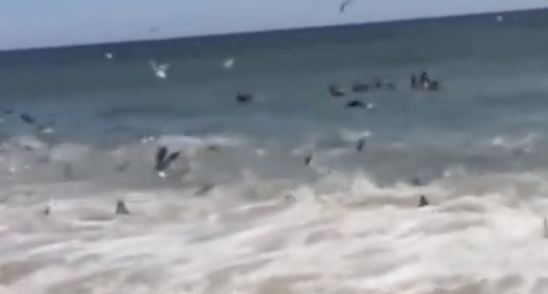 The fishermen watching didn't want to miss out on a chance to catch dinner so they cast their lines. Even without using any bait they were able to catch some fish and get in on the action. Now they all have an incredible, and quite unbelievable, fishing story to tell.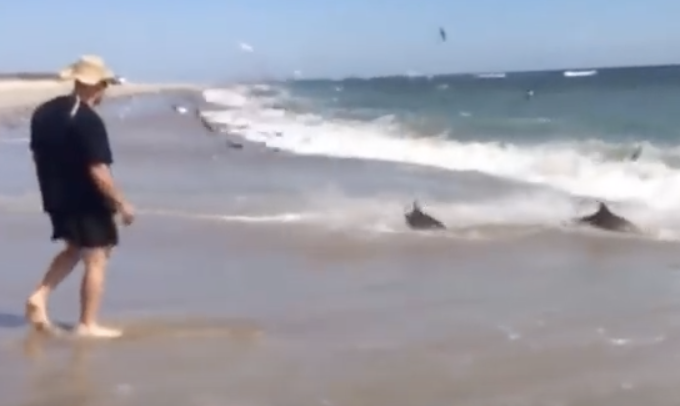 They fished alongside hundreds of sharks who were beaching themselves and coming in dangerously close to their feet, without any bait on their lines, and still managed to pull in lots of blue fish, some which were "this big………" Check out the awesome video and see the commotion that 100 ferocious, hungry sharks make, it's pretty neat and unforgettable.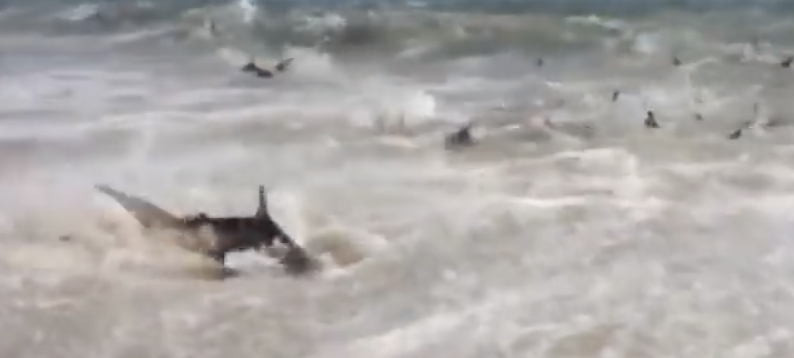 Please Share This Rare Experience With Family and Friends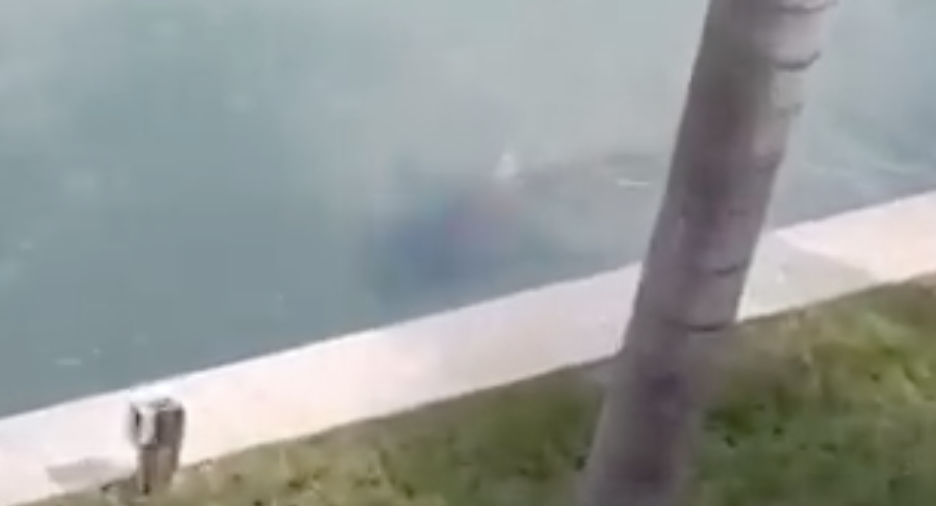 Bonita Springs, Florida has the luxury of condos that are adjacent to the lovely backwater bay on Hickory Avenue.  What could be better than owning a condo where you can just jump into the ocean to cool off or just enjoying kicking your feet in the cool bay? Seems like the perfect place to live in paradise. Sounds relaxing right? Well not anymore.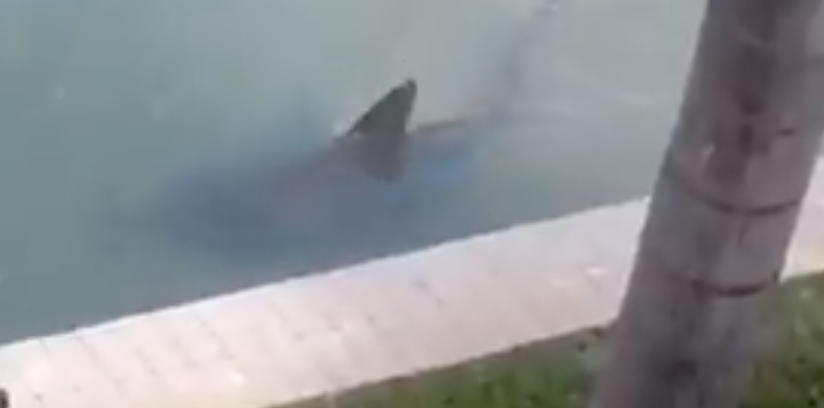 Due to greedy fishermen "chumming", that is throwing fish guts into the bay so they can catch bigger fish, an eight-foot-long bull shark has been sighted swimming right up to people's docks!  The residents complained about this scary encounter. They requested some legislation against the fishermen's chumming. So, was the problem resolved?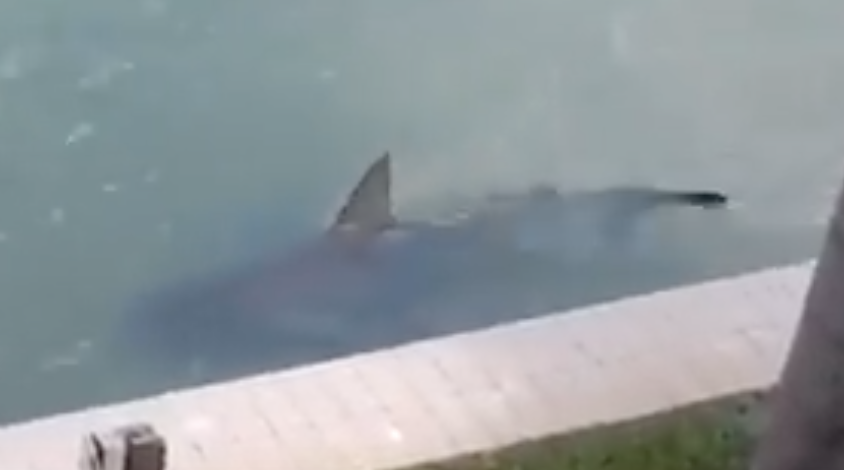 Safety wasn't a priority for the city who told the residents its not our jurisdiction.  Take your problem to the state's Fish and Wildlife Conservation Commission.  The coastline is their jurisdiction and it's not illegal to chum.  So the best laid plans of living right up near the peaceful bay isn't so peaceful anymore.  If one shark is trolling the bay could there be more on the way?!  So much for a calm day by the water.  Check out the video in someones backyard!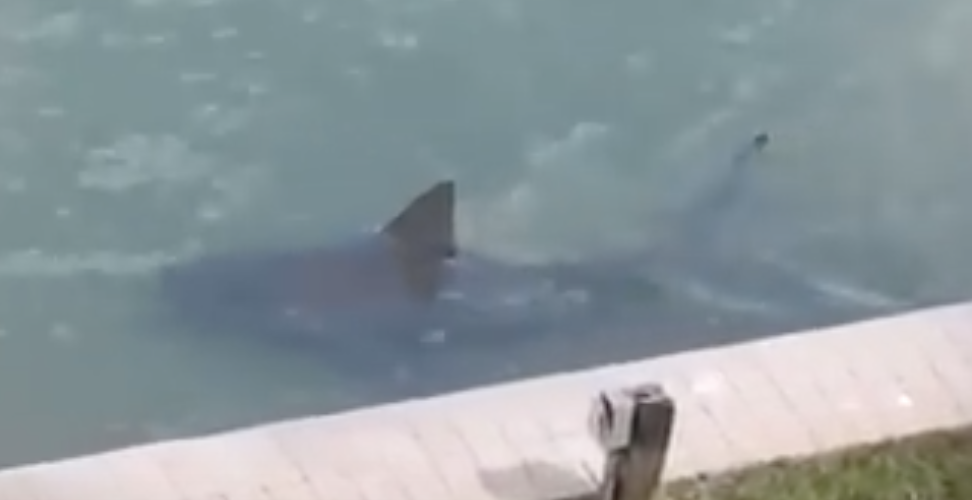 Please SHARE With Family and Friends