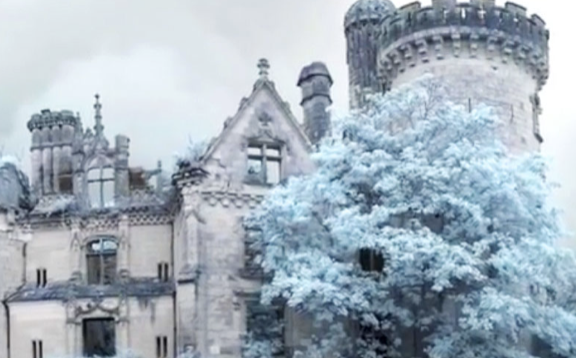 image via – youtube.com
When you think of a castle you likely imagine a sturdy, imposing fortress that was built from stone and surrounded by a water-filled moat. After all, castles were purposefully constructed to keep people safe and protected inside their walls. They are what stood between everything from marauding enemies to wild beasts and the destructive forces of mother nature. Castles were meant to be strong and had to be able to withstand long, drawn out, aggressive sieges. In later years they took on a more extravagant role and today they are seen as dreamy, fantasy-like places, filled with magic and romance.
The abandoned castle seen in this incredible footage is called Château de la Mothe-Chandeniers and it looks like it comes straight out of a Disney movie. The beautiful ruins are located in the town of Les Trois-Moutiers, in the west of France. For centuries the majestic castle has sat in the middle of a heavily wooded area, surrounded by a water filled moat, imposing and elegant all at once. Today it is being left to slowly fade away back into nature, yet despite the years of neglect, the castle still looks like it's fit for royalty. All that it needs is the right owner or group to step in and restore it to its former glory.
To truly understand the amount of detail and thought that went into constructing this castle, you need to take the video tour because it's the only thing that gives it justice. You can feel and sense all of the tragedies and triumphs this castle has borne witness to. It may have been overtaken by nature and seemingly forgotten about, but if these walls could talk they would tell tales of epic battles and grand celebrations. Be sure to check it out and take the tour, here's more on the history of the Château de la Mothe-Chandeniers.
First and foremost, the castle is filled with history and has quite the tumultuous past. It dates back to at least the 13th century and was originally built as a safe haven for the notable Bauçay family, who were lords of Loudun and answered directly to the king of France himself. Over the following centuries the castle was overtaken twice by English forces during the middle ages before it was eventually given back to the French. After being restored it went on to become a very popular place where nobility gathered for magnificent galas and lavish, extravagant, over the top parties. The good times didn't last long though and during the French Revolution the castle was once again destroyed after being sacked.
There it sat for some ten years or so before a well-heeled businessman named Francois Hennecart bought the property with the intent to once again restore it. He managed to add a vineyard but in 1857 it was taken over and passed on to Baron Joseph Lejeune, a wealthy relative of Napoleon III. He rebuilt the castle extensively in the romantic style that was popular at the time and continued on the tradition of holding lavish parties.
It was during a subsequent renovation in 1932 that the castle succumbed to its latest major setback and ever since then it has sat vacant. At the time, the current owner had been installing central heat and somehow a fire was sparked. The resulting damage not only devastated most of the structure, numerous rare pieces of art, furniture, tapestries, books, and paintings were sadly destroyed as well and lost forever.
In recent years there have been a number of efforts to restore Château de la Mothe-Chandeniers, but it seems that everyone who tries gets railroaded into giving up. Hopefully a preservation society or some group can step in and help to rebuild it because it is a seriously beautiful, magically impressive castle that deserves saving. Please help spread the word, the more awareness, the better the chance this gem can be preserved for centuries to come!
Please SHARE This Incredible Footage With Family and Friends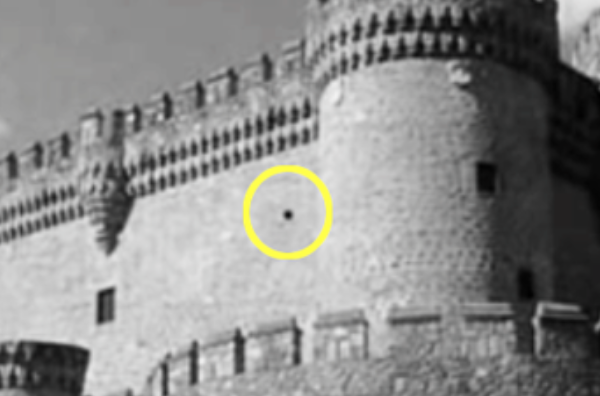 image via – youtube.com
If you can't believe your eyes, you may be looking at an optical illusion. That's because optical illusions, by definition, are images or sights that strongly disagree with physical reality. When we suddenly realize that not all is as it appears to be, our brains light up and we pay extra attention to whatever it is that's playing tricks on us.
Since it is our brains that interpret and make sense of all the incoming sights, we often love looking at optical illusions because they're new challenges for us to take on and figure out. According to Aude Oliva, a cognitive research scientist at MIT, "Anything that is new and surprising is something we naturally like because it means that we may learn something from it."
It's no wonder so many of us enjoy illusions, and this one here is no exception! The video features a black and white image of Dunstanburgh Castle, a centuries old fort located on the sea coast of northern England. The directions that accompany the clip tell you exactly how to view the picture and all it requires is that you stare at the dot in the middle of the screen.
As the picture changes from black and white to color, and then back to black and white, your eyes will have a hard time keeping up with it. The cones in the retina of our eyes are responsible for color vision, but when you stare at the bright false color image that the picture switches to, they quickly become desensitized.
That's why, when the black and white castle appears for the second time, it looks to be in full color. It is because our cones are still briefly sending color signals to our brain and need time to readjust to the new color scheme. After a few seconds they should have re-adjusted and you're back to seeing the black and white castle.
Here's a little background information about the interesting visual phenomenons we experience. When it comes to optical illusions, they are all about the eyes, brain, and perception. Specifically, the eyes visually perceive an image which the brain then processes as not fitting in line with or matching the stimulus source that it's emanating from.
In other words, it's when you look at something and end up seeing something else that's completely different. You look at X but think you're seeing Y. Generally speaking, there are many different types of illusions and optical ones, also known as visual illusions, happen to be the most well known sub-category. To experience one right now, check out the video.
It's a fun way to fool your senses so have fun and enjoy!
Please Share This With Your Family and Friends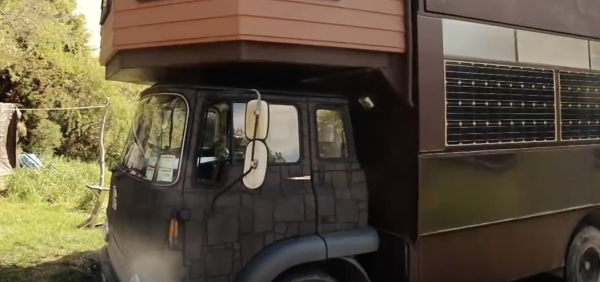 The idea of a man's house as his castle has been around for hundreds of years. It is embodied in philosophy, law, poetry, and so on, as a person's basic right to individual privacy when in his or her home. Castle's are seen as strong and sturdy places that keep occupants safe inside their walls and protect people from the elements or enemies. They are not meant to be mobile, at least in the past they weren't, but the 21st century castle is on wheels. The tiny house featured in this video is a modern day replica of a residence fit for royalty!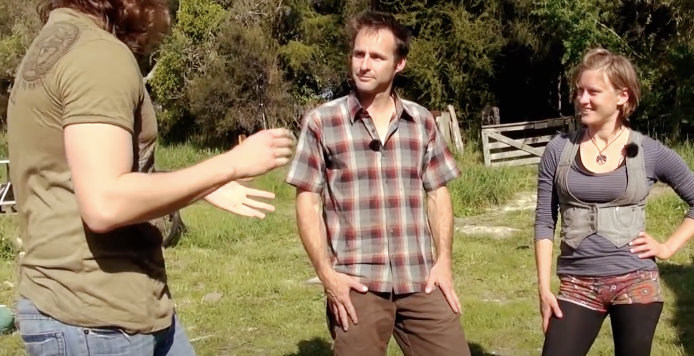 Every castle needs a king and queen. This role is filled by owners Justin, Jola and their son, prince Piko. The New Zealand couple have transformed an old truck into a castle on wheels with some very clever and unique design ideas. They made it completely off the grid with solar panels, gas, a wetback fire and captured rainwater stored in tanks underneath the truck.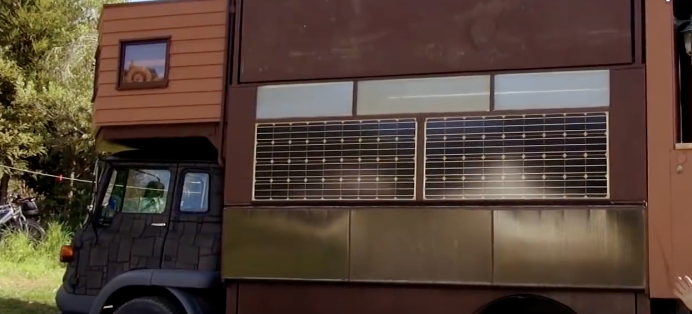 Two turrets hold bathroom facilities; in one a composting toilette and the other a shower and washing machine. The kitchen is huge with full size appliances, tons of storage space, and even a specially designed, built-in, much loved seat for Piko. The sleeping loft is a cozy, warm space filled with lyric-wallpaper centered on love and beauty. An impressive rooftop balcony rises up and boasts a bathtub, hammock, built in food dehydrator, and stunning 360 degree views of the land. It makes the perfect lookout and relaxation spot.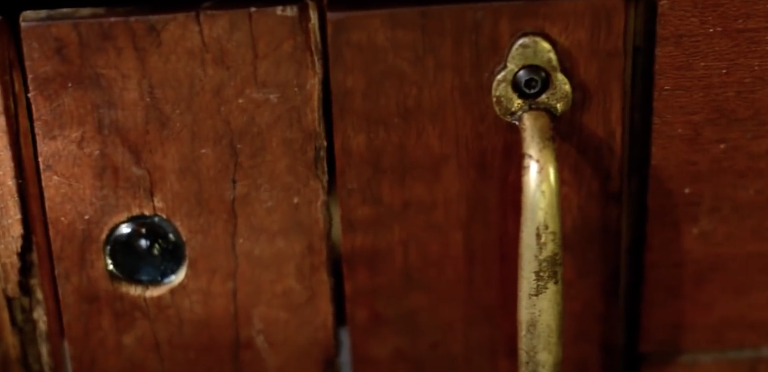 This castle has it all and so much more! You need to take the video tour to truly understand the amount of thought and detail that went into this labor of love. The ingenuity and engineering feats alone are comprehensive, but when you add the vision and art into the mix it leaves you shaking your head in awe at the outcome. It stands out as a one of a kind, mobile, 21st century castle fit for modern day creative royalty geniuses.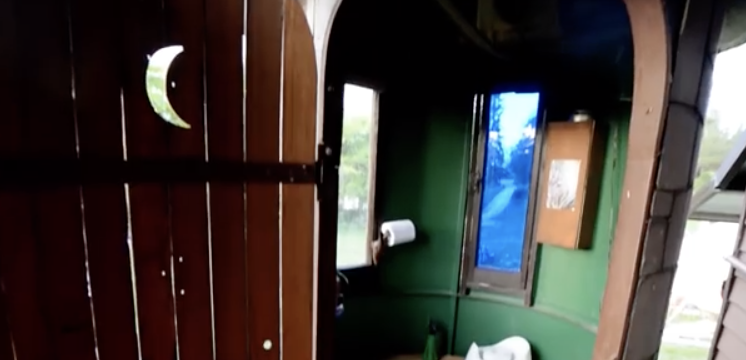 Please Share This Majestic Castle-Truck With Family and Friends