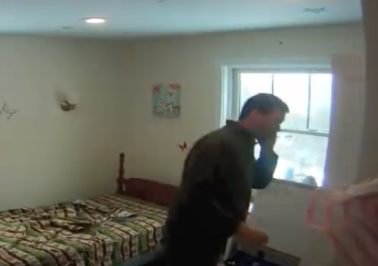 image via – facebook.com
Father Adam Hadlock says he is a "Garage-mahal-architect-builder, Maker, Do-er." After watching his DIY bedroom treehouse, you'll agree. Adam Hadlock is a dad that has created a bedroom for his girls that could only be imagined in a child's dreams!
The fact that he spun his magic in only three days makes it all the more fantastical. The guy totally transformed the girls room a magical tree house, visually awesome and an incredible place to for his daughters to sleep in!  I'm sure what this amazing father did will be a memory his daughters will never forget!
Papa focused all his creativity, ingenuity and big love for his 2 girls for an awesome present for his children. This man's talent, skill, persistence and devotion to his daughter is simply incredible!
Hopefully pops uses these magical and creative talent of his to build other kids something similar to this but not the same exact project as this one.  You must view this clip to the very end to get the full experience of what he pulled off! .
You will be amazed with the end result, but more importantly it will pull at your heart strings and remove your soul when he presents the tree house restoration for his kids room!
They never expected this as they were extremely joyful and thankful for their amazing dad! In the video you can hear them say "you must really love us" which really is what this whole project was all about for Adam Hadlock,. His daughters will never forget this and it will be a lifelong memory for them!
Would your dad ever do this for you?
Please SHARE With Your Family and Friends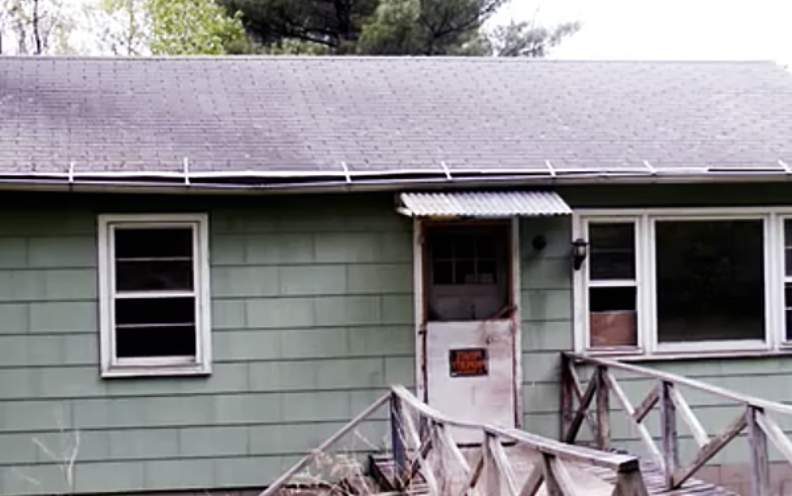 image via – youtube.com
About two hours northwest of New York City lies the tiny hamlet of Narrowsburg, New York. As of 2010 the village's population was just 431 people and Tina Spangler is one of the residents who calls it home.
After living in the hectic city for years she was ready for a change of pace and scenery. The peaceful, scenic mountains upstate drew her to them and in 2004 she moved to the Luxton Lake area part of town after purchasing a foreclosed cottage that had originally been built in the 1950's.
The house needed a lot of work but the structure had stood up against the elements over time and overall it was still in good shape. What initially drew her eye towards what the property could become was the hardwood floors, and after further inspection Tina decided she could do a lot with the place once she cleaned it up and did a few renovations.
Once the house was updated Tina set about filling it with items and antiques that she had collected over the years. She loves retro décor from the 1930-40s and while attending college in Boston she came across an apartment whose previous owner left behind a bunch of furnishings from that era.
Ever since then she's been steadily accumulating various pieces and adds anything interesting that she happens to come across to her collection. Even her refrigerator is a monitor-top type from the 1930's and the cupboards are filled with Fire King Jadeite cups and dishes.
In the living room a linoleum rug dating back to the 1920's graces the floor and protects the hardwood underneath. All throughout the cottage are unique and interesting pieces, from old glass bottles to Joseph Unger paintings that hang on the wall.
The end result is that when you go through the doorway into Tina's house it's like taking a step back time. The retro furnishings and comfortable surroundings transport you to another era and the overall feel of the house is that it's been lived in and loved.
When explaining her interior decorating style, Tina sums it up perfectly when she says "my goal isn't to have a perfect house, it's just to have a house full of things that I love and that have a history." From the looks of it all, it appears that she has accomplished that goal.
Check out the video to take a tour of Tina's 1950's Luxton Lake cottage and see all of the neat things she's collected over the years. She knows her stuff well and explains some of the items history in great detail.
All in all, the space she has created in the once run down building is warm, comfy, inviting, and makes it feel like a home again.
Please Share This Story With Family and Friends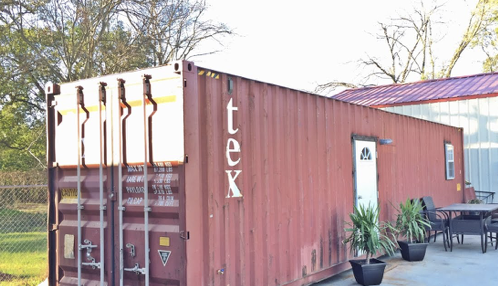 image via – facebook.com
When it comes to a home, most people assume that bigger is better. While that may have been true years ago, these days it's really not the case. In fact, the opposite is starting to catch on and small houses are more popular than ever before. Not only are they less costly to purchase initially, they're also cheaper in the long run in terms of things like taxes, maintenance, and heating and cooling.
If you've ever dreamed of owning your own house, but for whatever reasons thought it wasn't possible, perhaps a tiny home like the one seen here is the answer you've been searching for. From the outside it looks like it's just a shipping container, but we all know that looks can be deceiving.
Once you take a look inside you'll be shocked at how remarkably cozy, well designed, and spacious it actually is. Take the video tour to check it out now and see for yourself what a sleek and understated shipping container is capable of holding! Whoever designed this tiny house kept it simple and modern and the end result means the space has everything a person needs to live comfortably.
Small spaces are often tricky to design and things end up being crammed in until everything looks messy and cluttered, yet this container home isn't a jumbled mess. The 320 square foot home was for sale in Texas and boasts extra high ceilings as well as a bedroom that's completely separate from the kitchen and living area.
According to the listing it comes "Stocked fully furnished with washer/dryer, shower, toilet, bathroom sink, electric stove, refrigerator, kitchen sink, tankless water heater and cabinets. Unit comes standard 40ft long 8ft wide and 9.6 high they have Lg Ductless ac/heat units."
The best part about a compact house like this is the convenience and portability it affords an owner. You can move it anywhere you'd like by rail, truck, or ship and it really does give you the freedom to just up and move wherever and whenever you'd like. Plus, there's endless options on what you could do to a space like this to fit your needs and make it all your own.
In the meantime, be sure to check out this one for a little inspiration and maybe one day you'll be part of the tiny house movement!
Please SHARE This With Family and Friends 🙂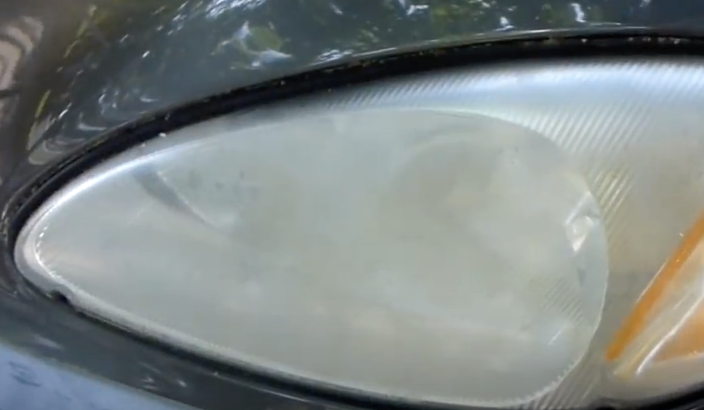 Headlights are an essential part of any vehicle for obvious reasons. The cleaner they are the better you can see and be seen by other drivers. If the lights are hazy and dirty, which they inevitably become over time, then the light output from the bulbs get diffused. This makes them seem dimmer, weaker and less effective.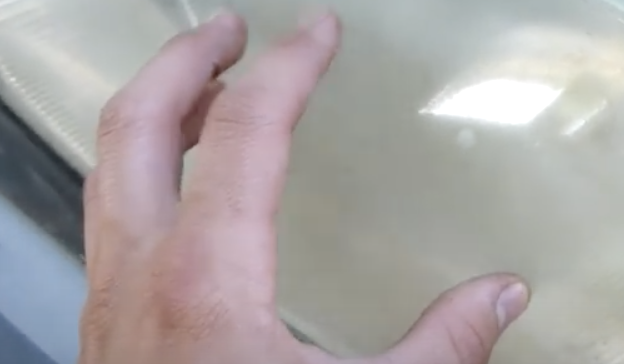 The light beam ends up covering a reduced area and poses a safety hazard, which is the last thing you want because driving is already dangerous enough. If you noticed that your vehicle's headlights have this issue then try this quick and easy method to clean the plastic covering. All it takes is toothpaste, a bottle of warm water, paper towels, and a smidgen of wax.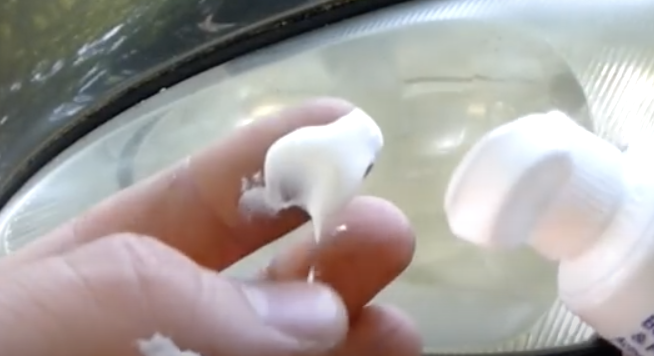 This quick fix works if your headlights are yellowing on the outside, pitted, and not smooth. However, if the headlight is smooth on the outside it won't work. You will need to use a toothpaste with a gritty texture to it, like ones with baking soda and peroxide or a whitening version.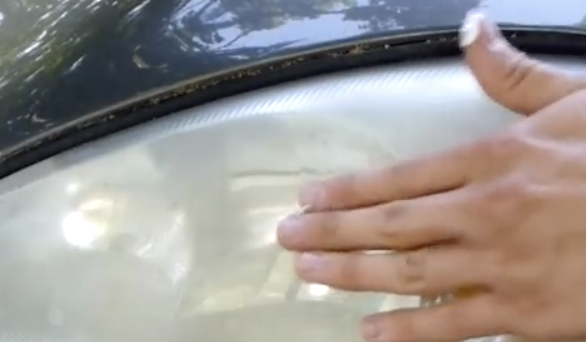 Do not use gel formulas, only pastes work, and if you need more grit try adding baking soda to it. Start by rubbing on a good amount of toothpaste onto the light and you can use a toothbrush to keep your hands clean. Work it in really well and soon the paste should start to turn yellow, with dirt and grime begging to come off onto the brush.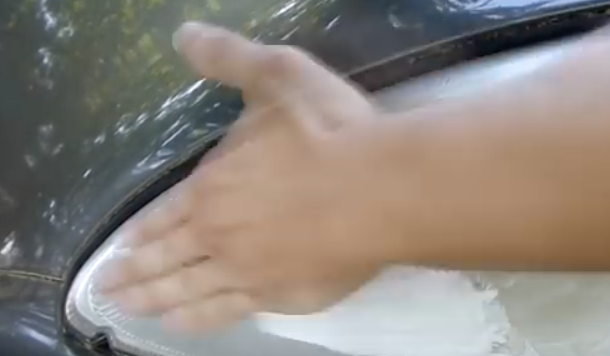 Then grab a spray bottle filled with warm water, spray the light, and rub it off with a paper towel. Apply a fair amount of pressure while buffing it away and when almost done get a clean paper towel and remove the last of the residue. Finish it off by applying a dollop of wax to it, wait for it to dry, then buff it off.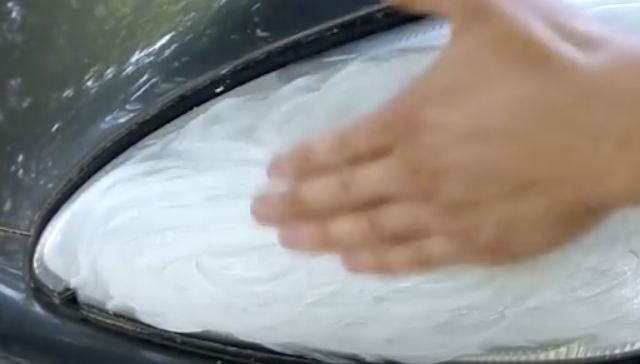 The older and more yellow the light the longer you will need to rub the toothpaste into it and if the light is still hazy, or you feel that it needs to be cleaner, apply more toothpaste again to try and get it cleaner. Adding wax at the end forms a protective layer over the now clean light and keeps it from becoming yellow again so soon.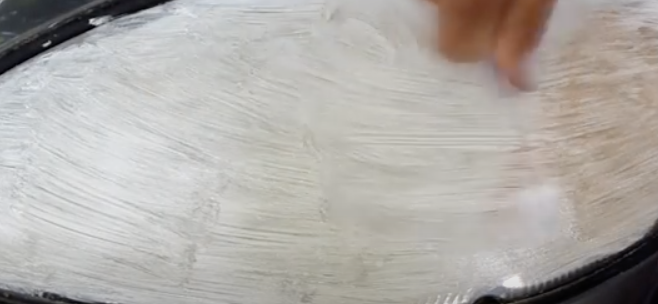 The best part about this hack is that it cost maybe a dollar, not even if you have a tube on hand that's the right kind then it'll only cost a few cents. Store bought headlight restoration kits sell from anywhere between $15-25 so this is the cheapest way to clean them by far. Hopefully this trick will work for you and restore your car's headlights to their former clear and shiny glory! Be safe and pass the video on to keep others informed.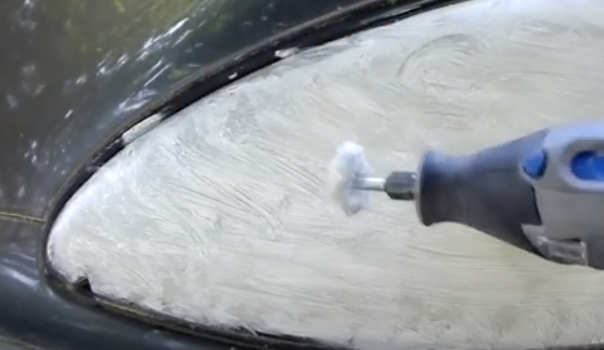 Please Share This Trick With Family and Friends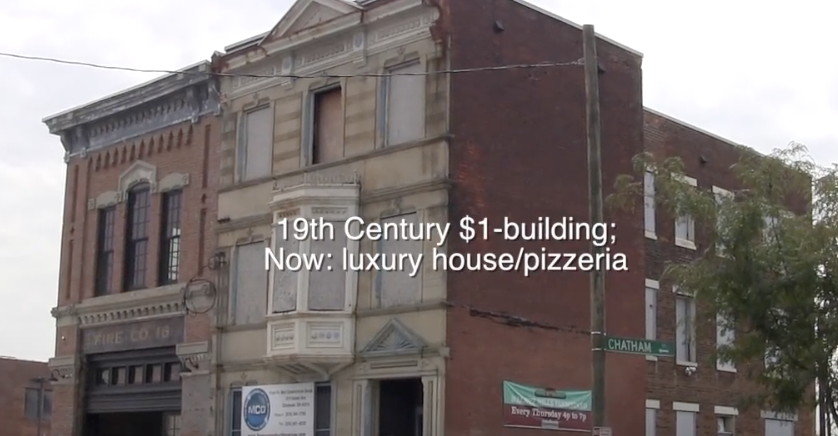 Kent Hartman bought a dilapidated old firehouse for $1. It had sat abandoned for over 30 years in the Walnut Hills neighborhood, located just outside of downtown Cincinnati, Ohio. The structure had been gutted by fire, lacked a proper roof, and a tree was growing on the first floor. It needed a lot of time, energy and work put into it, and Kent was prepared to do exactly that. The battered building had survived and remained standing long enough to eventually become Cincinnati's oldest remaining firehouses.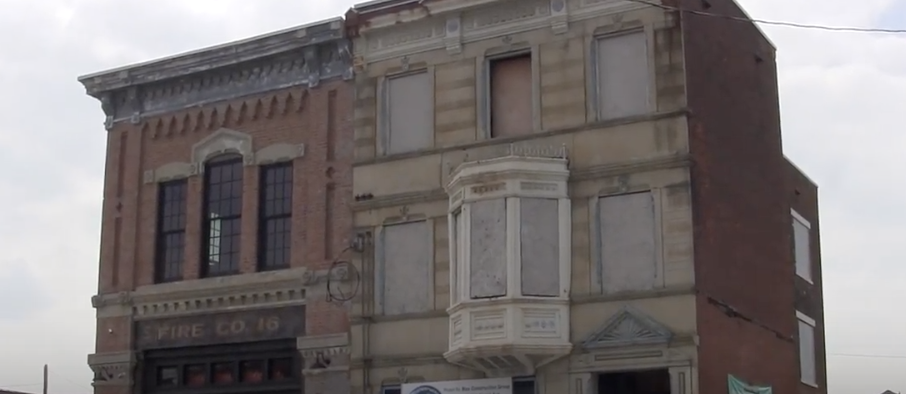 Originally built in 1870, out of beautiful red bricks and massive solid wood beams, it immediately began operating as Fire Co. 16 in July of that same year. As decades passed the horse drawn fire truck switched to steam powered and finally motorized engines in 1918. In an odd twist of fate, the firehouse caught fire in 1977 and was badly damaged. Less than a year later the station was disbanded and left to fade away. Parts of the roof collapsed from neglect and a hardy tree took root on the ground floor amongst the crumbling bricks.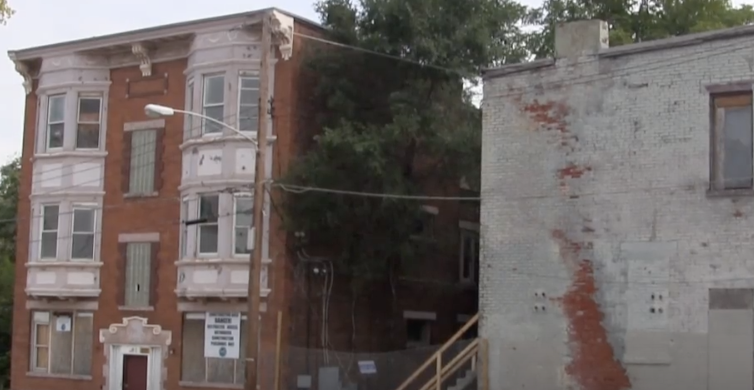 At least that was the scene a couple of years ago. After having it stabilized, Kent brought the historic building up to code and invested quite a lot more than the initial $1 into the project. He restored it into a multi-use building with a pizza place downstairs and his residence, a loft apartment, upstairs. He was careful to keep original woodwork and details intact, such as the holes in the floors where the fire pole used to be. And he's not done yet.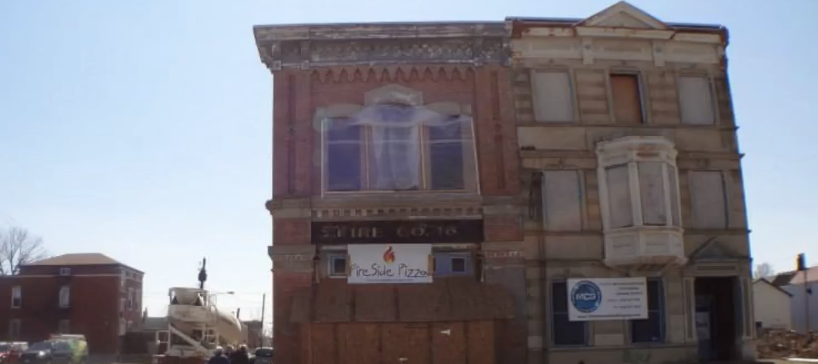 Kent's more ambitious long term plans are focused on bringing the surrounding neighborhood back to life. He has further invested in both the vacant buildings across the street and the one next door. He is working closely with the Walnut Hills Redevelopment Foundation to redevelop the area's business district, and hopes the pizza place will draw in traffic and make heads turn.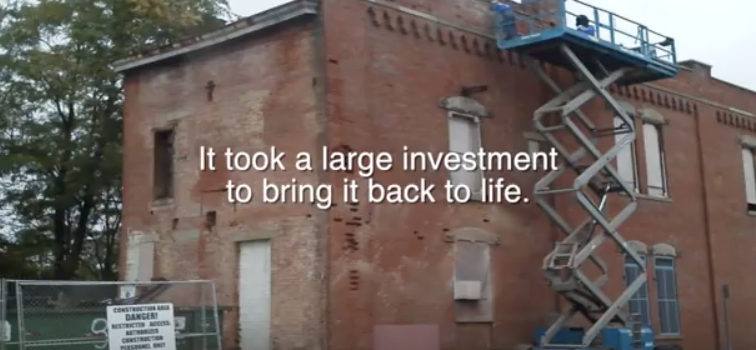 His vision is starting to come into focus and it's nice to see beautiful historic buildings saved and put to good use once again. Plus, when you combine a revitalization effort with tasty wood-fired pizza, you can't go wrong!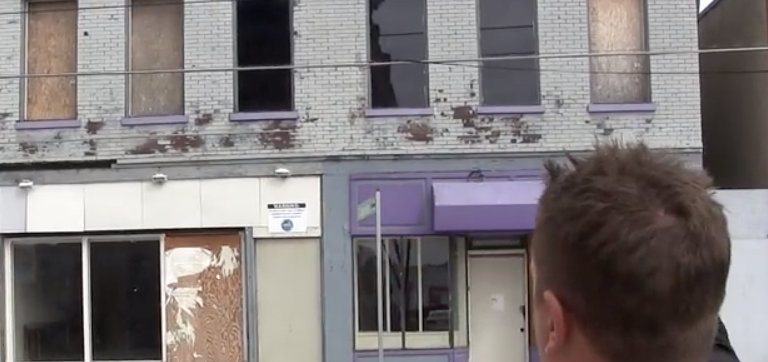 Please SHARE With Family and Friends