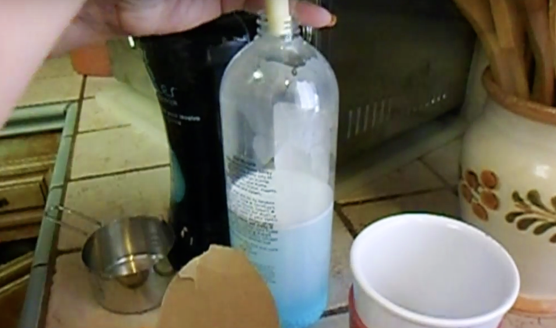 image via – youtube.com
For any active family, keeping your house fresh smelling is always a cross to bear and a priority.  I have found that deodorizing furniture, pungent sports equipment and stinky pet odors are best tackled by Febreze.  However, if you go through the stuff like I do, you will find that the cost mounts up incredibly.
The video you are about to watch below, not only circumvents the cost of endlessly having to buy Febreze, but offers a DIY freshening spray that doesn't include the residue caused by fabric softener.  With three ingredients you will be able to follow this simple, yet incredibly effective odor neutralizer.
The two active ingredients, which get blended with hot water, are BAKING SODA and DOWNY UNSTOPPABLES.  The Unstoppables are small scented beads that get added to laundry to boost freshness.
They do so without leaving residue on fabrics or irritating skin for those who are sensitive.  A funnel and empty spray bottle will aid in the ease with which you can follow this great home freshening tutorial.
Let us know if you will try this and how it turns out! Watch the video below for a more in depth step by step tutorial!
Please SHARE This With Tip With Your Family and Friends 🙂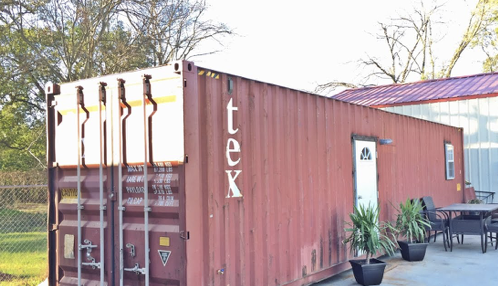 image via – facebook.com
When it comes to a home, most people assume that bigger is better. While that may have been true years ago, these days it's really not the case. In fact, the opposite is starting to catch on and small houses are more popular than ever before. Not only are they less costly to purchase initially, they're also cheaper in the long run in terms of things like taxes, maintenance, and heating and cooling.
If you've ever dreamed of owning your own house, but for whatever reasons thought it wasn't possible, perhaps a tiny home like the one seen here is the answer you've been searching for. From the outside it looks like it's just a shipping container, but we all know that looks can be deceiving.
Once you take a look inside you'll be shocked at how remarkably cozy, well designed, and spacious it actually is. Take the video tour to check it out now and see for yourself what a sleek and understated shipping container is capable of holding! Whoever designed this tiny house kept it simple and modern and the end result means the space has everything a person needs to live comfortably.
Small spaces are often tricky to design and things end up being crammed in until everything looks messy and cluttered, yet this container home isn't a jumbled mess. The 320 square foot home was for sale in Texas and boasts extra high ceilings as well as a bedroom that's completely separate from the kitchen and living area.
According to the listing it comes "Stocked fully furnished with washer/dryer, shower, toilet, bathroom sink, electric stove, refrigerator, kitchen sink, tankless water heater and cabinets. Unit comes standard 40ft long 8ft wide and 9.6 high they have Lg Ductless ac/heat units."
The best part about a compact house like this is the convenience and portability it affords an owner. You can move it anywhere you'd like by rail, truck, or ship and it really does give you the freedom to just up and move wherever and whenever you'd like. Plus, there's endless options on what you could do to a space like this to fit your needs and make it all your own.
In the meantime, be sure to check out this one for a little inspiration and maybe one day you'll be part of the tiny house movement!
Please SHARE This With Family and Friends 🙂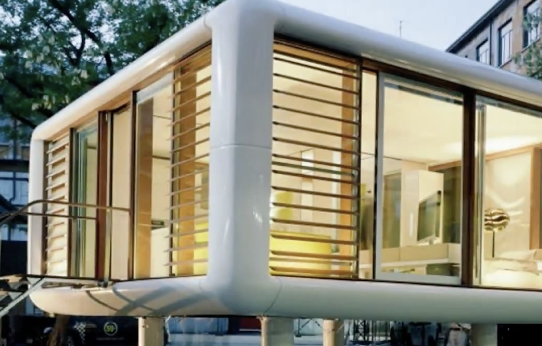 Have you ever dreamed of living in a penthouse apartment? Living high up above a city on top of a building would give you an amazing view of everything below, and much more natural light would shine in your windows.
For many, the expensive cost of such a space keeps them from ever living the top floor lifestyle. However, there is an alternative solution to that issue thanks to Werner Aisslinger. He is an architect who designed the Loft Cube, a compact living space that can be easily added onto an existing rooftop, or wherever your heart desires to live.
Aisslinger's Loft Cube design stemmed from his vision to create a rooftop community after he had looked out over the city of Berlin and noticed all the empty, flat space not being used on top of the buildings. What he came up with was an idea to build a compact space which could easily be added onto any existing rooftop. That idea manifested into the Loft Cube, an affordable, sleek, and modern living space.
The incredibly neat and compact design measures in at a total of 430 square feet. That small footprint holds all a person needs at a price most everyone can afford, they start at around $40,000. Not only are the spaces modern and sleek, they are comfortable and fit almost all the amenities found in much larger spaces or homes.
The cube can be built on location in as few as 5 days, and it can be disassembled and removed just as easily in even less time than it takes to build, 1 day. There is no need for a foundation because it rests on 4 legs, which are adjustable to accommodate uneven surfaces or ground. It's basically a portable house and can be take and set up practically anywhere.
The interior of the cube is comfortable and divided with adjustable panels into 4 separate areas, a living room, kitchen, bathroom, and bedroom. The entire home is built to be self-sufficient since it is portable and off the grid. Everything from the air conditioning to the entertainment system is built into the cube and controlled by a master panel with the touch of a finger.
If your thinking that since the cost is so low then they must have skimped elsewhere, they didn't. The built in appliances are quality, high end pieces and all of the fittings and minute details are meticulous and exact. The Loft Cube is a durable high tech home, and it was both designed and made to last a lifetime.
Please Share This With Family and Friends