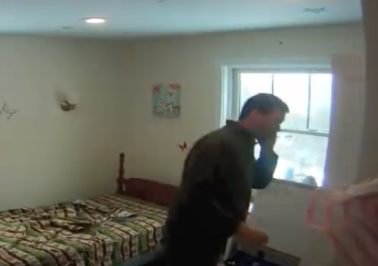 image via – facebook.com
Father Adam Hadlock says he is a "Garage-mahal-architect-builder, Maker, Do-er." After watching his DIY bedroom treehouse, you'll agree. Adam Hadlock is a dad that has created a bedroom for his girls that could only be imagined in a child's dreams!
The fact that he spun his magic in only three days makes it all the more fantastical. The guy totally transformed the girls room a magical tree house, visually awesome and an incredible place to for his daughters to sleep in!  I'm sure what this amazing father did will be a memory his daughters will never forget!
Papa focused all his creativity, ingenuity and big love for his 2 girls for an awesome present for his children. This man's talent, skill, persistence and devotion to his daughter is simply incredible!
Hopefully pops uses these magical and creative talent of his to build other kids something similar to this but not the same exact project as this one.  You must view this clip to the very end to get the full experience of what he pulled off! .
You will be amazed with the end result, but more importantly it will pull at your heart strings and remove your soul when he presents the tree house restoration for his kids room!
They never expected this as they were extremely joyful and thankful for their amazing dad! In the video you can hear them say "you must really love us" which really is what this whole project was all about for Adam Hadlock,. His daughters will never forget this and it will be a lifelong memory for them!
Would your dad ever do this for you?
Please SHARE With Your Family and Friends